Gabrielle, Contributing Editor
Put It On Me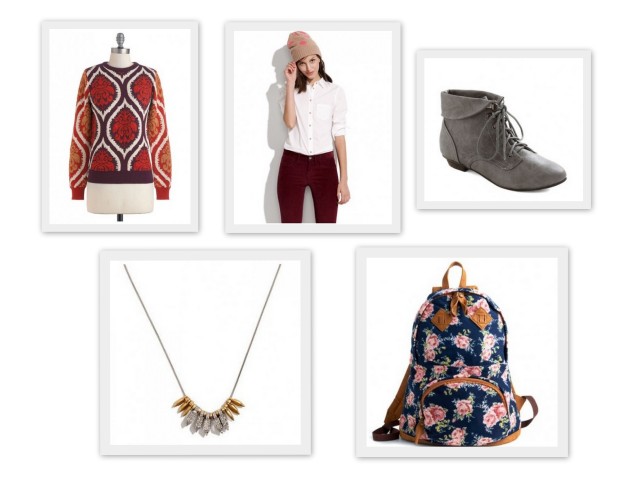 Get Dressed
I'm in love with the patterns and the colors of the Blog Cabin Sweater. This winter I'm going to try to NOT wear all black every day, and this seems like a really good way to start. It would look great over a button up with skinny jeans and boots, and also (if I'm being honest with myself) would make a great around-the-house layer. I need the Shrunken White Boyshirt because it's a high quality, super versatile basic that will look good with essentially everything I already own. Also it's really soft, and I appreciate the fact that it can be buttoned all the way up. And these Berlin the Know Boots — Gray ankle boots, where have you been all my life? Why have I only considered brown or black boots up until now?
This is going to look so good with the new white button down you got me, and also all my other button downs! And what's better than a mix of sparkles and spikes?
I was recently informed that there actually IS a cute coffee shop with wifi in my neighborhood, so now the only thing that's missing is a cute way to take my laptop there! I love this because usually backpacks are so boring and this is so beautiful.
---
Classy Art Shit and Pussy Bait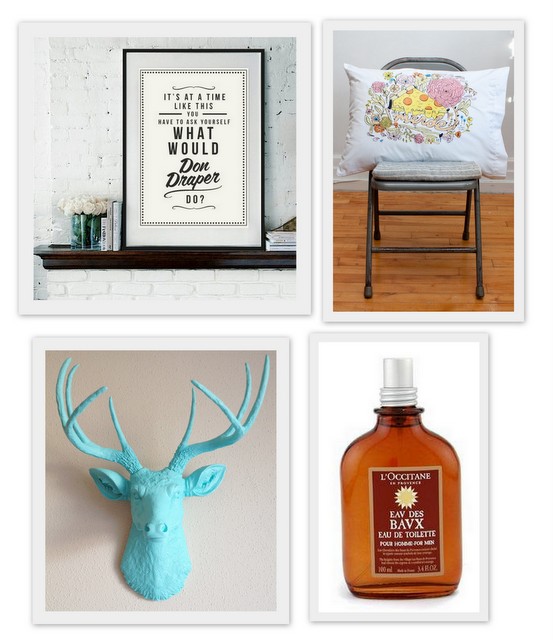 Oh Merde Pillowcase by Ohara Hale
This communicates to all potential pillow visitors that I love pizza, support independent artists, and am bilingual in bed. Boom.
What Would Don Draper Do? Print
The eternal question. Do I chase a burst of creativity, drink a lot of scotch, smoke a lot of cigarettes, ignore my children, or woo all the ladies? Answer: none of the above because if I was Don Draper, I would be like damn! Why am I not having sex with Joan? What the fuck is wrong with me? Megan's hot but she's more like my sister or something! Then I would get Joan to play hookie with me at some classy joint, and then I'd transform back into my lesbian self so I could have sex with Joan in that form.
That got weird, sorry. Um, buy me this print so I shut up about my bizarre fantasies.
Eau des Baux by L'Occitane en Provence
So my go-to scent for a while has been what I nicknamed "PUSSY BAIT," which is in actuality a cologne called Essential by Lacoste. It's a great scent for the spring and summer when you wanna smell bright and fresh to death, but come this time of year, I'm feeling on the woodier and smokier side of things. Cue my stumbling across this incredible scent at L'Occitane. It's so fucking delicious. As a butch who wants to smell…uh, butchy, shopping for scents is often a battle between drowning in incarnations of Axe, or eau de douchebag, and finding one too many stuffy old man smells, but oh, this is so perfect. It's sensual and manly and makes me feel like a sensitive lumberjack. I want to pour it on pancakes and roll in it. That's how strongly I feel about it.
The living room in my new apartment doesn't have any decorations right now, and I'm desperate for some kind of centerpiece to pull it all together. Since I'm 22 and have made a habit out of heaving buckets of caution to the wind, and since the furniture doesn't match anyway, I feel like getting a lifesize mounted deer head that's been painted bright blue is a great thing to do with my living space. There's something wonderfully charming about being a twenty-something whose sense of interior decorating is THROW ALL THE COLORFUL THINGS ON THE WALLS, so this feels like it is in perfect accord with my philosophy of housemaking. Plus the ears look kind of like vaginas and I feel like that will be a great talking point when there are a lot of queers hanging out drunk on my couches.
---
Decorate Your Walls & Your Body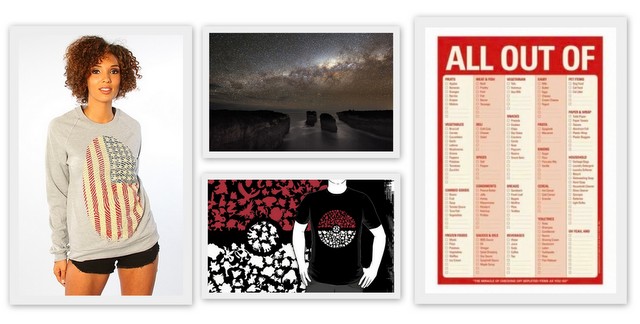 This print is so coooooool. Who doesn't love stars/the universe/space?
The American Fingerprint Raglan Fleece Crewneck
Lately I've been really into all things American flag and so this fingerprint crewneck speaks to me on so many levels.
Do I have to say more than Pokemon?
This is my obligatory "useful" item. And this is extremely useful, because I never remember what I am supposed to get once I actually make it to the store.
---
Living The Dream
I am a coffee freak. We have our own electric grinder that grinds beans right before we use them and this year I prided myself on making my own cold brew.
But after I found this photo on my tumblr-surfing: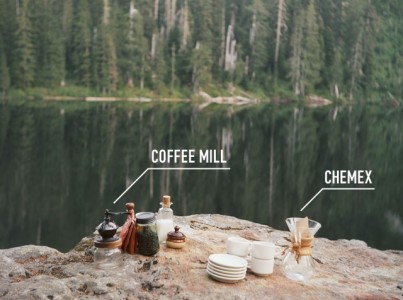 I decided that my new thing was not needing electricity to brew a good cup of amazing coffee. To make coffee completely electric-free and also to be able to, say, have coffee while camping or during the zombie apocalypse as the above photo would suggest, I will need two things:
Hario Coffee Mill 'CANISTER' C
I can only imagine how cool it would be to hand-grind my beans, rather than press a button on a machine. And even better, the sealed glass canister for storing extra ground coffee for the next day. There are cheaper hand coffee grinders, but this one has great reviews and has that prefect old-fashioned look to it that I cannot pass up.
Confession: I already have one. This is on my "gift list" because I highly recommend it for any Autostraddle reader who appreciates coffee. I started using my Chemex recently and I appreciate how I can better control the strength of the coffee than I can with an electric machine. And it's just my opinion, but this process produces a much smoother and less acidic cup than with an electric Mr. Coffee, just saying. You can see a bunch of cool pictures of the Cheme-in-action on my Pin board, "Coffee".
Herschel Supply Co Little America Backpack
So with that said, let's say you're going camping or to a friend's place for the weekend and you need to bring your Hario coffee mill, your Chemex brewer, cups, sugar, cream, and anything else that goes along with an over-night trip…
Where are you going to put all that stuff?
Obviously the only way a stylish lesbian would: in a Herschel Supply Co Little America Backpack. A friend of mine has this backpack in grey, and I want. It comes with a laptop pocket built inside and is just an overall well-constructed and well-respected bag brand.
---
Gentlequeer Swag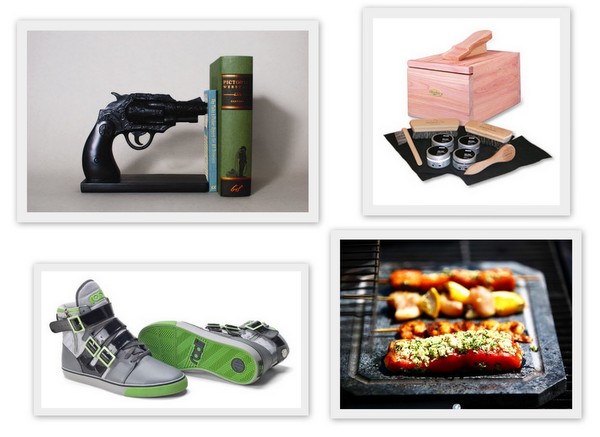 Radii Straight Jacket High Tops
These kicks stopped me in mid multi-task the way women wearing high heeled boots and slit skirts do. Holy fuck, Radii, way to combine stark metal with neons, primary colors and camouflage to give each pair a unique vibe. My heart belongs to this silver and green pair. Also, straps. Black leather straps make me think of consensually tense sex where bite marks are expected and only one word is safe. All of these feelings over sneakers and chicks = Autostraddle is my lifestyle choice. Have a merry happy everyone.
Woodlore Shoe Care Valet with Starter Kit
If you're a Dapper Q or someone with a sick ass boot fetish (or both or neither), a shoe shine set up is a must. As a kid, observing my father's grooming rituals fascinated me. He didn't do anything half-assed. My dad used a straight razor to shave, tied Windsor knots into Ralph Lauren ties and didn't step outside of the house without shining his shoes. My dad always looked fresh to death and dapper as fuck. I've got a serious legacy to uphold and so do you, gay baby army.
A black metal revolver bookend with a happy little homo star on the grip? Done. I mean, how else does one express rebellion and nerdiness? Also, it proves that you read things, have good taste and are probably insanely good in bed. Mostly it proves that to yourself and that's just as important.
Get started being a gentlequeer now. It's such a good look. Part one of that is being able to cook 1-3 signature (read = tastyyummymmmgood) dishes. One for each time of the day you can imagine feeding something to a beautiful somebody. This griddle cooks all of the things! Use the flat side for morning-after breakfast extravaganzas that involve pancakes and turkey bacon. Then flip the shit for a BBQ feel and when you just need a Ron Swanson steak moment. Also, the soapstone is untreated which means you won't also be eating nasty ass chemicals that are found in most non-stick cookware. Cook in-style and with the superiority that comes with doing something good for the environment. Eat well, familia.
---
Sarah Hansen, Contributing Editor
Cats, Earrings & Record Players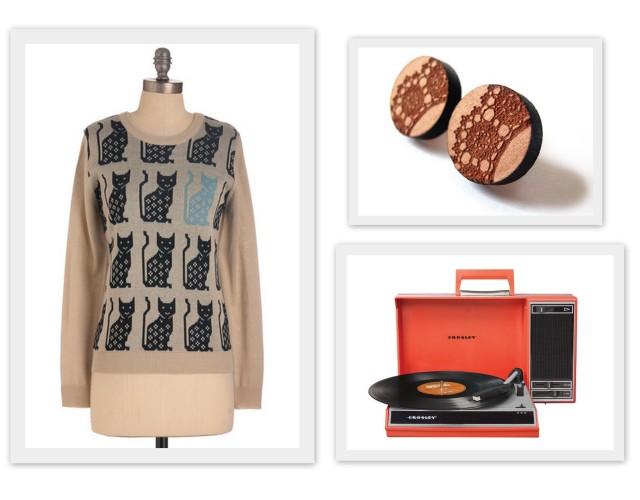 My old record player stopped working a few months ago and I still haven't gotten over the loss. This record player is portable and also one of my favorite colors, so I double-love it. Plus, it can connect to a Mac or PC or play your iPod, for those rare times when you decide you don't need to listen to Dolly on vinyl for a few minutes.
This year, I told everyone in my family to get me a cat sweater, kind of as a challenge. I'm already well on my way to being a crazy cat lady. I'm reclaiming that phrase. It is totally cool to love your cat(s) more than you love most people. This sweater is adorable and designed in a silly but not ridiculous way, so you can be the cutest crazy cat lady on the block.
Buying handmade has been one of my passions for a long time, and That Vintage earrings have been an obsession of mine for a few years. I have a few pairs of earrings from her and if you've seen me or even a picture of me, I'm probably wearing them. They go with everything, dressy or casual, and they're unique enough for people to notice what good taste you have. The artist, Sophie Hill, is one of the sweetest people in the world and she continually inspires me with her creative ideas. It feels good to buy directly from the artist, and bonus: she adorably gift wraps everything in brown paper and doilies and string, making it such a delight to receive something from her, even if you just bought it for yourself.
---
 Next Up: vibrators JUST KIDDING skateboards, animal pj's and a tea set!
Pages: 1 2 3 4 5 6See entire article on one page