For The Face, Shoulders, Eyeballs & Brain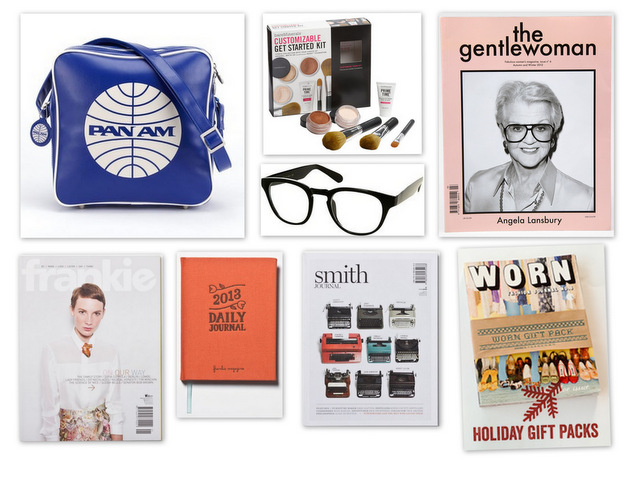 I'm so glad that show Pan Am got cancelled (it did, right?), because I've wanted a Pan Am bag for like a decade 'cause I think the design is so cute, and then it seemed tacky because it was a TV show, and now it's just an um, airline. I love blue & white bags in general.
bareMinerals Customizable Get Started Kit
It's really important to my furniture and my stuffed dog Tinkerbell that I look my best at all times. No really — if you're less-than-competent at make-up, this is literally a Starter Kit.
These are what Lizz recommended I get to fulfill my dream of becoming my new style icon Jenna Lyons.
All We Know: Three Lives, by Lisa Cohen
This book looks so good! It sounds like it'll be all the most intriguing parts of Gay L.A. and The Sewing Club extracted and expanded upon — with a focus on three queer ladies from history including Mercedes De Acosta, who had an affair with Gretta Garbo. There are promises of "glamorous choices, complicated failures, and controversial personal lives with lyricism and empathy." That's so many feelings!
Magazines!!
I'm obsessed with magazines, obvs, and therefore could really use some of these magazines and issues I don't have: Gentlewoman, a WORN Journal gift pack, Smith Journal, Upper Case, make/shift and Lula . Also Crystal got me a subscription to Frankie and I love it (and Crystal) so much, and I recommend it and look, back issues. Also while we're talking about Frankie, this day journal is adorable and will look cute with my Autostraddle memo book when it debuts.
---
Tiny Mail & Accessories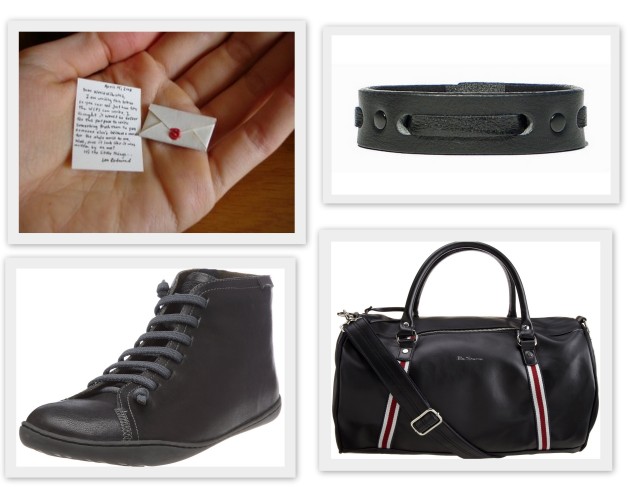 The World's Smallest Letter or Card
All I really want for Christmas is a hand-written card or letter that is so tiny it needs to be read with a magnifying glass. Last year I ordered one for a friend and it was basically the raddest thing I've ever seen and since then I've been secretly hoping that someone will send me one. Available from Leafcutter Designs, aka the World's Smallest Post Office.
One day I would really love to replace the complimentary fluorescent green Cathay Pacific Airways carry-on bag that I've been using for the last decade with something a little less hideous, like this hot barrel bag by Ben Sherman. With the red and white stripes, it's probably the closest I'll ever come to fulfilling my dream of owning a Bally bag.
Lucky Dog Leather 'Black On Black' Leather Bracelet
Have you checked out Lucky Dog Leather's extremely appealing Black On Black leather bracelet range? You really should. This 3/4″ Black On Black Single Weave Cuff is very similar to this rad 3/4″ Black & Red Single Weave Cuff that I wear all the time except it's blacker and therefore more bad ass.
Camper's Lace-up Fashion Sneaker
I love these leather boxer-style "fashion sneakers" so much that I've started a coin jar fund so that one day they can be mine. Camper's shoes are a fairly expensive gift but they should last the recipient a very long time; I've worn my current pair almost every day for the past three years, including to known shoe-killing environments like basketball courts and the wilderness, and they still look and feel brand-new.
---
Circus & Liquor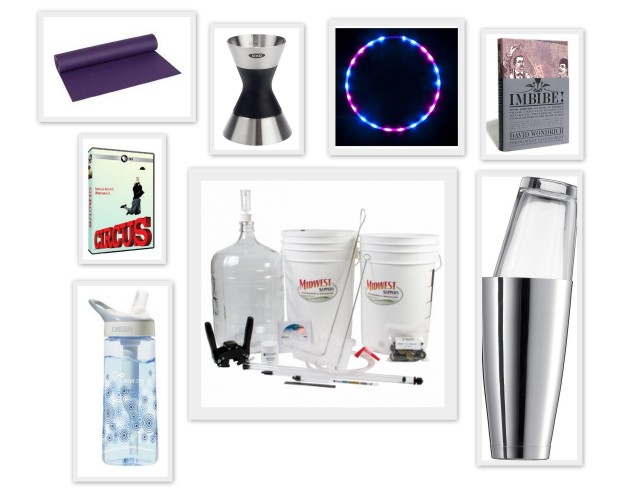 A Body In Motion
I have a Jade Fusion mat. It's huge and super thick. This makes it a pain in the ass to travel with, but you know what the extra pep in its step makes it good for? Headstands. You will not feel the floor through this sucker. A Camelbak water bottle is a necessity, as it won't leak all over your bag. This particular Camelbak also gives a donation to water.org, an organization dedicated to bringing clean drinking water to communities without. Don't forget the LED hula hoop!
This is a documentary about the Big Apple Circus. My mother got it for me for Christmas last year. I've watched it like four times. Believe me, your circus queer wants this.
Drinking Accessories
Everyone uses a Parisian shaker, but if you're anything like me you'll really want this Boston cocktail shaker because it's versatile. Your drink requires rolling? No problem! Also there's all sorts of technique to using this particular shaker, and that stuff is fun to learn. Also you should always measure the alcohol in your cocktails, so I'd like this steel jigger. The book Imbibe! has all sorts of stuff about the history of cocktails and cocktail recipes.
For all your beer loving queers, give them the tools to brew their own. There's a saying about teach a man to fish, but I don't think I can accurately remember because I've had a few beers.
---
All The Books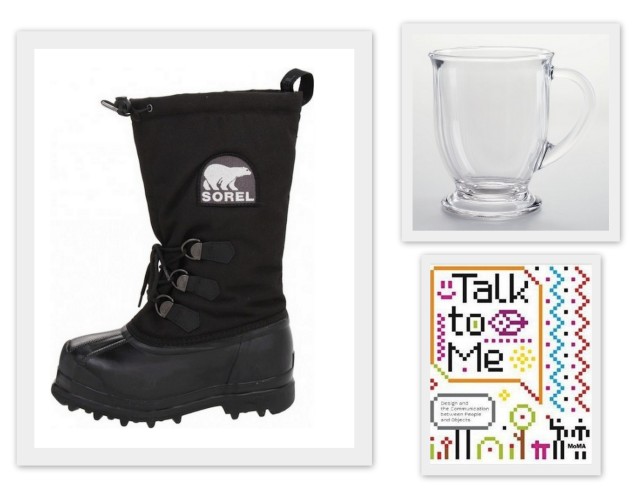 All fall I've been looking for boots for when it's cold and maybe wet and probably slippery that are also black and tall with a bit of a heel and that also look pretty and are not too expensive. I'm pretty sure they don't exist, and now it's almost December and Canadian winter is coming, which is why I want some black Sorel Glacier Boots instead.
These boots are recommended "for all-season hunting or fishing." They are warm until it is minus 100 degrees outside. The three negative Amazon reviews all describe them as "clunky," "ugly as sin," "about 10 pounds" (the shipping weight is two) and "Frankenstein," which means they should be at the cutting edge of Ottawa fashion. I also hear they last for years.
All the Books
I also really want to read a lot of books that everyone's been talking about lately and that my library will otherwise make me wait months if not years for, like This is How You Lose Her by Junot Díaz, The Middlesteins by Jami Attenberg and Mr. Penumbra's 24-Hour Bookstore by Robin Sloan, which has a cover that glows in the dark. I also want to expand my brain and my crush on Paola Antonelli with Talk to Me: Design and the Communication between People and Objects.
Nothing says "rediscovering caffeine addition without style" like using one stained Irish coffee cup that someone else stole from a bar circa 2002 almost exclusively. These glass mugs look like really good 16-oz (!) replacements.
---
Haviland Stillwell, The Talent
Mind, Body and Unicorns!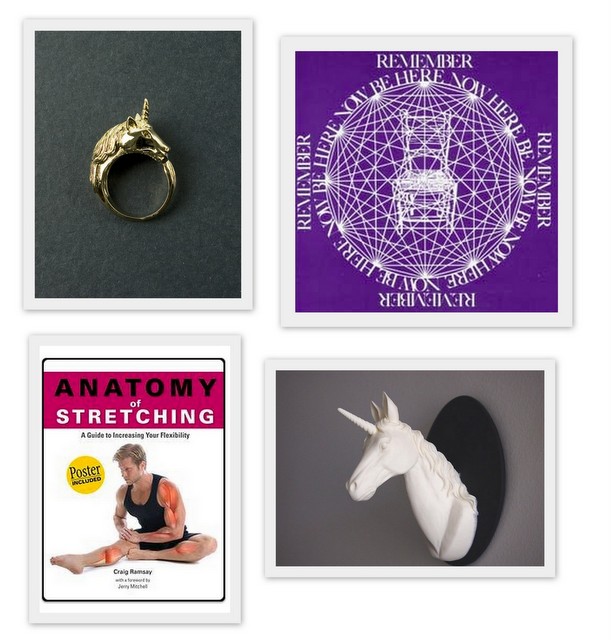 Anatomy of Stretching by Craig Ramsay
Flexibility is essential. – Harmony, Unicorn Plan-It
I am excessively into stretching, and believe everyone should be, too. I'm sure you'll all agree. While you're purchasing this book, feel free to contact the author, Craig Ramsay, about training. He's REALLY good, and makes you feel lots of love while you're sweating out those toxins.
I bought you that ring 'cause I never was cool – Indigo Girls
This ring is COOL – who wouldn't love to have a unicorn wrapped around her finger? WANT! #unicornplanit
I don't even know what to say about this. I co-created a show called "Unicorn Plan-It," and there is something called a "mounted unicorn" that isn't yet in my possession? WHAT? This is such goodness, I can't even.
An incredibly mind- and heart-opening book that changed my life the moment I opened it up. I highly suggest you obtain and read it immediately, and also, give it to loads of friends! Happy 2012!
---
Haviland Stillwell
What I want for Christmas, what I REALLY want is for Christmas is for one Haviland Stillwell to stand under my window and sernade me. I'll have to settle for an approximation thereof from Amazon or iTunes.
---
 Next Up: shoe shines, coffee and record players!
Pages: 1 2 3 4 5 6See entire article on one page