Cozy!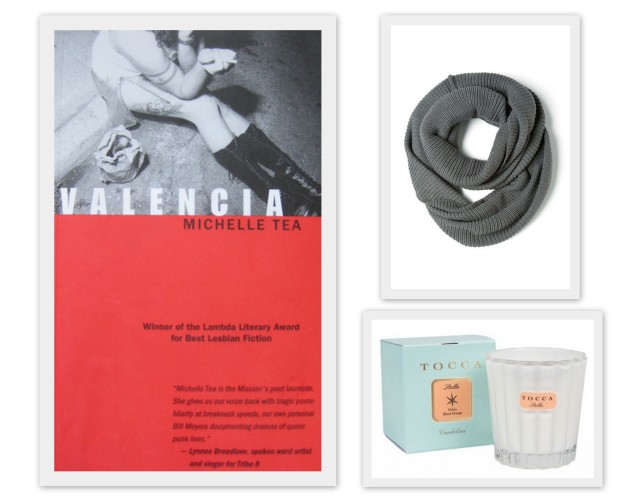 Infinity Party Scarf in Charcoal
Is this not the coziest thing you have ever seen?? I just want to bury my face in it and never leave. It's like a blanket you can wear out of the house. What could be better?
When the temperature's getting too far into the negatives for my liking, I plan on piling every blanket in the house on top of myself, lighting this blood orange-scented candle and reading/cuddling/having movie marathons/doing anything but going outside. Because everything is cozier when you light a candle.
I MUST READ MORE MICHELLE TEA.
---
Things That Aren't For A Cat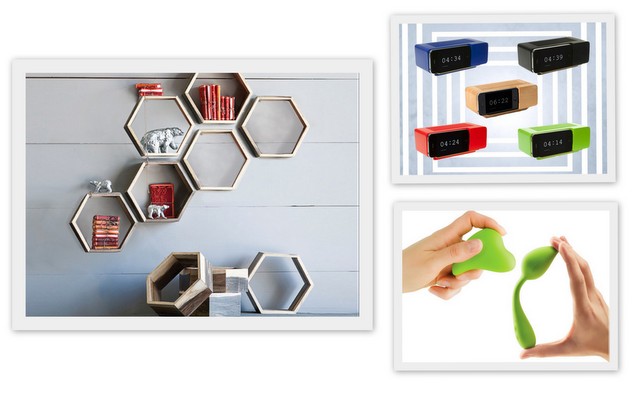 It's a little tricky for me to think of what might make good holiday-time gifts, because I don't want for a thing these days. See, there's this little gray and white cat that's been hanging around my house (I say "house," but I mean "semi-basement apartment") and lately she's been coming in and chilling out and napping on my bed and purring and playing with ribbons and being adorable. I feel like all I want this year is one of those domed kitty litter things that won't stink up my house (aka semi-basement apartment) and, like, maybe a carpeted climbing tower with shelves for her.
But if I wanted other things, I'd probably want this retro-looking iPhone alarm dock, some hexagonal honeycomb shelves, and this leaf vibrator.
The alarm dock is cool and practical, the shelves seem like a nice, eco-friendly way to break up some blank wall space, and the vibrator, well, c'mon. It's shaped like a leaf and Alicia Silverstone endorses it! It doesn't really matter whether it's a tea-kettle, a ukulele or a floor lamp. If it's leaf-shaped and endorsed by Alicia Silverstone, I want it. The fact that it helps facilitate sexy times and orgasms is just a bonus as far as I'm concerned. (Honestly, I feel like a leaf-shaped ukulele endorsed by Alicia Silverstone could do the same thing.)
If you (or the person you're looking to buy gifts for) don't have a cute little gray and white cat hanging around this holiday season, all these things could definitely perk up your semi-basement apartment. I mean house.
---
Non-Sequiturs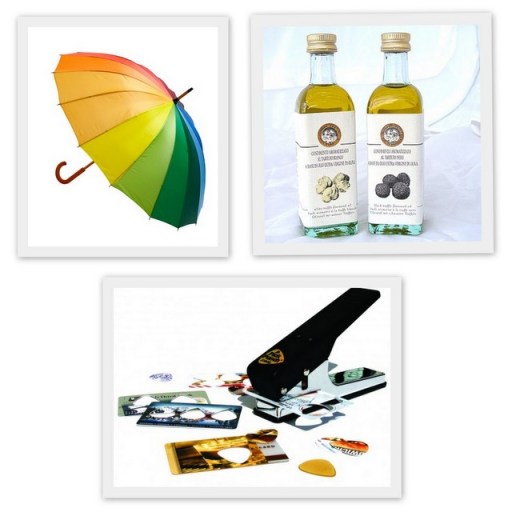 I really like dramatically pointy accessories, going out in bad weather without wrecking my top hat, and when people can tell I'm gay from space. This rainbow umbrella meets all of these needs simultaneously, and also promises to help with weather-induced gloominess.
As someone who A) is constantly destroying her guitar strings by playing with my teeth/coins/other peoples' teeth and B) keeps expired gift cards just because they're pretty, I am surprised that I didn't invent the guitar pick punch. But someone else did, and now you can turn any piece of plastic into a tiny shred machine! This means your Blockbuster Video card will finally be useful again, which is awesome, as it was such a cool color. (It also means you can control your plectrum thickness – I know this is something we all strive for.)
I know, I know – "real chefs" don't respect it, it's demeaning to actual truffles, it has caused a Midtown french fry renaissance some consider undesirable… truffle oil is problematic. But some of us can't afford to hire trained pigs and still want our boxed mac'n'cheese to taste like umami sunshine. This stuff is catnip to me and I alternate between hording it and pouring it on everything. Bonus points if it comes in a little glass bottle that makes me feel all alchemical.
---
Tools for Around the House and the Mind, also Underpants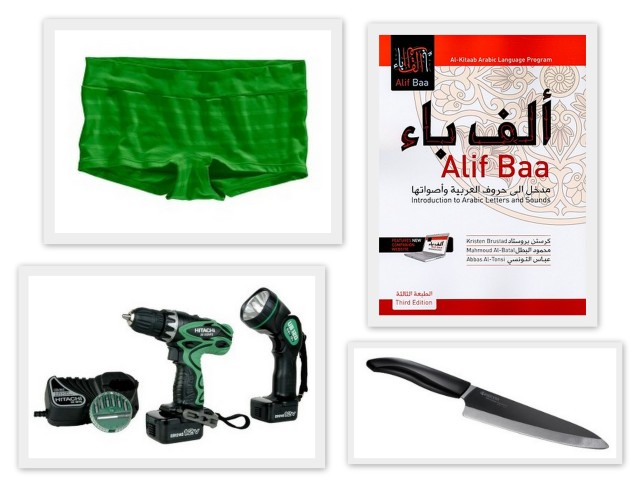 If you could see me typing this, you'd know that I have a bandaid on my right index finger and two nearly-healed cuts on my thumb. The thing is, you can usually trust me with a knife; I can slice a tomato paper thin and even dice an onion like a pro. But the knives in my apartment right now are only slightly sharper than bananas and are approximately 76 years old and so I keep gouging out bits of my hand every time I cook. Seeing as my career as a lesbian depends on the functionality of my hands, I would really appreciate a new chef's knife.
So what if I'm asking for a textbook for Christmas? I want to learn Arabic! Its southpaw-friendliness appeals to me.
After giving my cordless drill a break by not putting it on my Christmas list last year, I'm feeling pretty good about it's chances this time around. I'll be moving into a new apartment next year and I just know that there'll be so many opportunities to put it to use building fireplace mantles and seducing women.
Every year for Christmas, my brothers and I get underwear in our stockings. I remember being 14 and mortified when, on Christmas morning, I unwrapped a thong. And then another and another and another until I was sitting in our living room with 6 brand new thongs that I would proceed to never wear. But now that I'm all grown up and broke, getting really nice underwear as a gift is actually fantastic. Under Armour makes this beautiful little stuff that covers your entire bum and is generally the most comfortable thing to put under your wear.
---
Boots Bowties & Beans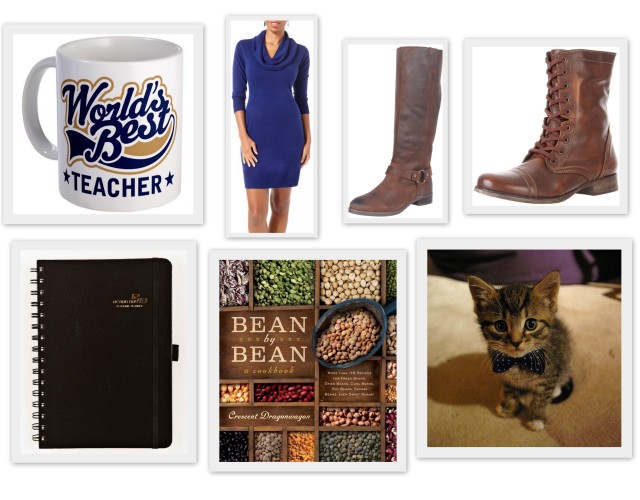 I need one of these in every color. Also maybe doubles of some colors. My cat is already beautiful and perfect, but these make her look so dapper that I am nearly moved to tears. I am usually pretty skeptical of people who dress their pets up like people and I want to be institutionalized if I ever use the words "furkids," but I also work like 70 hours a week and when I finally get home and my cat crawls into my lap wearing a bowtie, it makes everything 850% better.
Look, I'm a vegan grad student. I don't know what you want from me. If they also come out with Rice: A Cookbook, I'll buy that too.
I know there are like dozens of online to do apps and I do use them, but I keep fantasizing that there will be a physical object I can buy that will somehow make all of my tasks doable and my day comprehensible. This seems like it might work. It has space for "goals, projects and delegated tasks," and also something called a "teaching tool." What is that? I don't know, but as a person who is a teacher, I would like to find out!
Speaking of being a teacher, I feel like I'm constantly looking for clothes that make me look like more of an adult than my students but don't make me feel like a substitute teacher when I have to walk around campus wearing them for the rest of the day. I've started to feel like the answer may be sweater dresses?? I'm not usually a dress-wearer, but if I think of them as regular sweaters that just happen to be really long, maybe I can pull it off.
I don't think I need to do a lot of explaining about why I want these.
Also these. I want these also. It's not redundant, they're VERY DIFFERENT BOOTS, people.
It would be nice if an actual student of mine got me this, but I think it would be good for my self esteem regardless.
---
Sarah Fonseca, Contributing Editor
Things With Words & For Words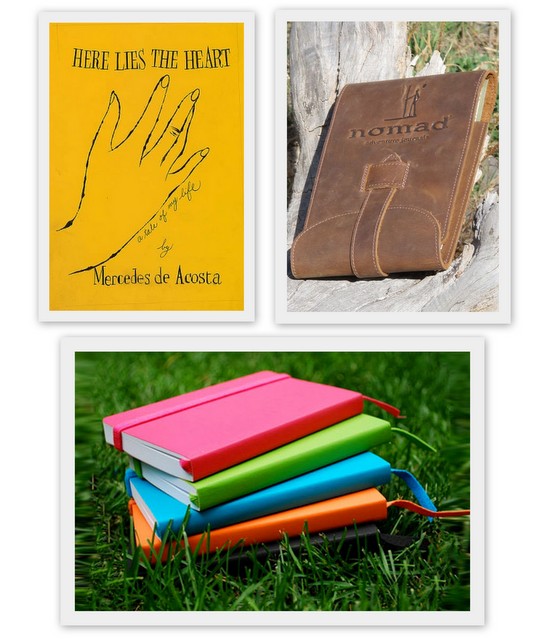 As someone who emails, Skypes, and instant messages like it's my religion, I didn't think this was something I'd ever need. Paperless communication reigned supreme. Then I started traveling more frequently and quickly realized that I'm obsessed with sending postcards. It's nice having addresses streamlined and accessible even when my phone is dead or out of service. Plus, postcards are always more romantic when I don't have to text a cute girl and ask her, "What's your address again?"
I am a fan of both durability and self-micromanagement. This travelog satisfies both of those desires. Each page has lines where you can list the meticulous details of any trip, from "weather conditions" to "observations/notes" and the vagabonds you "traveled with." Best of all, the journal comes with a leather sleeve which'll make you feel like Indiana Jones even if you're just traveling cross-town to your nana's.
Here Lies the Heart by Mercedes de Acosta
This memoir is a pain in the neck to find, and when you do finally run across it, it usually costs upwards of $200. But if you have a lesbian herstory buff in your circle of lovers and friends, she's bound to treasure ever penny of that investment. This is not your mother's tell-all celebrity memoir. Mercedes de Acosta might've been a hell of a Cuban-American lesbian lothario, but she was also a talented writer.
---
Next Up: magazines!!, unicorns and the circus!
Pages: 1 2 3 4 5 6See entire article on one page