As much as I don't want to be a lesbian cliché1, Autostraddle, I'm going to have to talk to you about cats for a minute. Rather, one cat in particular.
She's napping on my yoga mat as I write this, curled up into an adorable little gray and white ball of pure furriness. I'd like there to be a joke here, or at least some kind of memorable phrasing, but I can't think about jokes or crafting memorable phrases right now because when this cat is here my life is wholly and totally complete and I don't need to pander to strangers on the internet for acceptance and validation. All I can think about is her, how cute she is, how much I already love her, how I can love her more, how I can make her love me and almond butter. Almond butter has nothing to do with this situation but it's pretty much always floating around in the background of my thoughts, like a delicious, delicious, nutritious and protein-y ghost.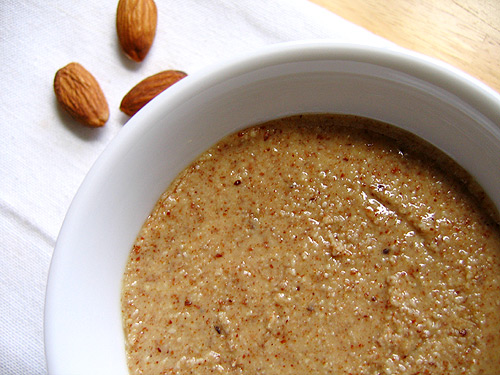 "Delicious, delicious, nutritious and protein-y ghost" hardly even makes sense as a concept or visual image2 and is probably the most meaningless set of words I've ever strung together but I already told you guys, I DON'T CARE ABOUT ANYTHING AT ALL IN THE WORLD EXCEPT THIS CAT AND OUR LOVE RIGHT NOW.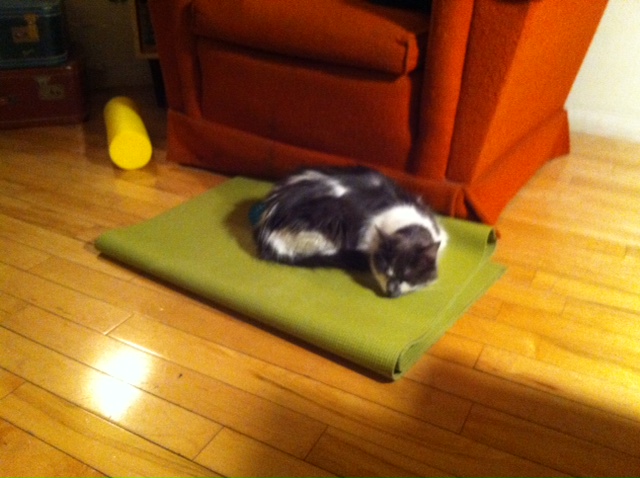 It all started a few weeks ago, when she pawed at my window3. Despite the chilly Montreal air, I started leaving the window open on the off chance she might want to wander in. Once in a while she did, but she'd always get freaked out and bolt. Then, one magical day last week, she came in, rubbed up against me, and didn't leave.
"She came in, rubbed up against me, and didn't leave." I've started many a relationship the same way. I think that's why I love this cat so much. I know what it's like. I've spent a lot of time prowling around girls' houses, looking underfed and extremely pet-able. When a girl finally relents and opens the window, I dash off. Not so fast, little lady! I'm an independent creature. I've got whole streets out here to roam around in. You don't know me! Maybe I got two, three, ten other houses I go to. I'll come back when I damn well feel like it. But P.S. if you really love me, you'll leave the window open and risk all of your stuff being stolen and/or freezing yourself to death. Deal? Oh, and if and when I do come back, get ready for my ass in your face when you least expect it. That's how I roll.
I'm sure the above paragraph is some kind of poignant metaphor about the ways in which I begin and, perhaps, ultimately doom relationships. If the cat wasn't here right this minute purring like a widdleteenytinygrumblewumble and embodying everything that is right and good with the universe, maybe I could think clearly enough to more fully draw it out but I can't because I can't think about anything except this cat and how now she's stretched out on the yoga mat like she actually knows how to do yoga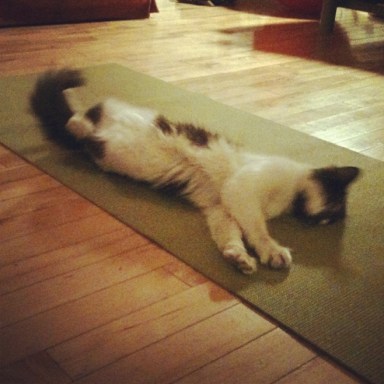 and the fact that "Come to my Window" is now stuck in my head and that I wouldn't put it past Melissa Etheridge to presciently write a song about me and this cat 19 years before our love manifested because no doubt she has secret lesbian powers and as much as I'm a lesbian cliché, Melissa Etheridge is cliché O.G. but it doesn't matter because once upon a time she gave us and all of humanity this amazing video with an insane Juliette Lewis scrawling on the walls
being hot and intense and kinda scary which I, for one, am totally into and what does that say about me and the kind of chicks I'm attracted to and even though I love this cat can I really commit to it and give it the love and attention it deserves or as soon as it's coming around regularly will I feel like wait a minute, I'm pretty screwed up and if this cat wants to hang around me, there must be something really wrong with it and I could probably do better, and is buying all this cat food and kitty litter just another example of me putting someone else's needs above my own and how much sacrificing of time and energy and resources is necessary in a healthy relationship and does it even feel like a "sacrifice" if it's meant to be and what if I get bored 'cause I usually get bored and hey, that other kitten I've had my eye on is pretty cute and I'm more comfortable with instability anyway than a solid, predictable thing I can rely on and maybe I should see if I can entice that kitten to start crawling in my window because that would be a fun challenge and if I succeed in snagging that kitten I'm probably actually really a loveable human and how about the fact that I'm writing all of this on a borrowed laptop, because a few days ago the cat spilled a full mug of coffee on mine but I hardly even cared because within 20 minutes of the cat spilling coffee on my laptop, I was already Googling cat towers on my phone and am I in a codependent relationship with this cat or does actual love feel that way sometimes and what ever happened to Melissa Etheridge's ex with that strangely compelling but totally nuts blog and oh my gosh how good is almond butter and when can I eat it again and what am I gonna put it on. Probably toast. Yeah, definitely toast.
So I'm sorry to be cliché, Autostraddle, but I just had to talk to you about cats for a minute. Well, one cat in particular.
How about you? Have you ever felt the same way about, um, a cat?
1 But who am I kidding? I'm a gluten-free, vegan, sideways haircut-having, flannel-wearing, bowtie-rocking, hummus-loving, feelings-processing, ukulele-playing queer currently looking at copies of "Women's Bodies, Women's Wisdom," and "The Women's Encyclopedia of Myths and Secrets" on my bookshelf. The only way I could be more cliché would be if I had poor boundaries with my ex and was wearing a pair of her underwear right now. Which, um, I'm so totally not or anything. …What?
2 Also "visual image" is totally redundant. As is this aside.
3 I live in a semi-basement apartment so my windows are sidewalk-level. Upsides include cats pawing at my windows and relatively cheap rent. Downsides include everything else. (Unless you hate direct sunlight and love dead lily plants, in which case my semi-basement apartment is all upsides!)