Happy holidays, chums! Every year the Autostraddle staff puts together this giant-ass wish list gift guide, and this year is the most giantest-assed one yet! Perhaps it will help you find something extra special for your dearest friends, or maybe we are your dearest friends and you were wondering if we still wanted those Steve Madden boots (we do). In most cases, these items are linked through our affiliate programs, meaning when you spend money after clicking the links, we get some pennies and nickels, too! We like to think of it as Robin Hooding the big corporations and we really REALLY appreciate your support! Seriously.
We also think you should pick up a couple of t-shirts and pre-order the Autostraddle 2013 Calendar at the Autostraddle Goodsie Store while you're at it!
Ok grab some hot chocolate or tea, or let's be real — bourbon, and get comfy because this is gonna take a while.
For Your Fingers, Ears, Keys & Diseases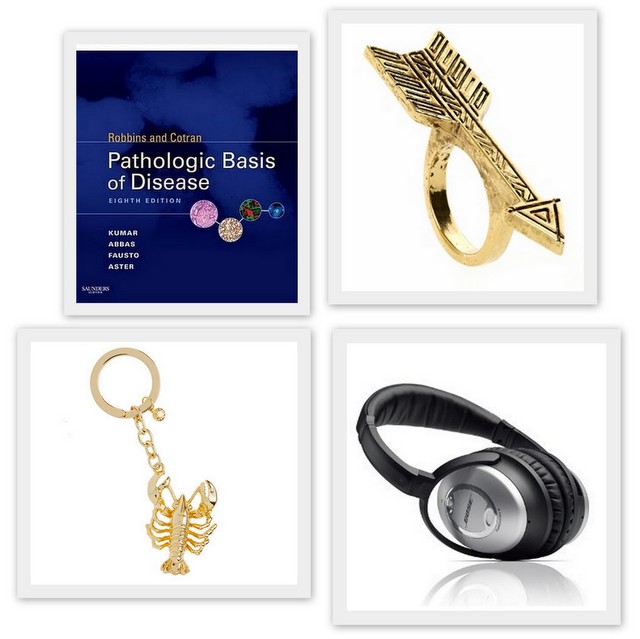 Noise canceling headphones are truly the only thing I feel like I genuinely need this Chanukah. I tried to fake it with a pair of good quality outside-my-ears style headphones but I can still hear the commotion of the coffee shop when I'm studying. I understand that some people thrive on the background noise of public spaces, but I really need all that to go away immediately.
I lost my key chain later winter and never replaced it. Obviously this lobster is most amazing thing ever to be attached to keys.
Robbins and Cotran Pathologic Basis of Disease
Yes, I understand that I'm asking for a med school textbook for Chanukah this year, thus making me the biggest loser of all time, but hear me out! This is like a really expensive textbook. No, seriously, it's like $150 and it's even expensive used. Normally I would just nut up and buy it, but I already bought the abridged version Robbins Basic Pathology for like $60 and I'm having trouble justifying buying the bigger version. Except it's the biggest and most amazing textbook of all time. So.
I'm usually against giving rings for the Holidays unless you're on one knee, but I'll make an exception for this bad boy. I've been eyeing this arrow ring from House of Harlow 1960 ever since Emily wore the corresponding necklace on Pretty Little Liars last February. Every time I see it I'm like "Man, I want that ring," but it's the kind of thing I would never pull the trigger and just buy for myself. It's cool because it has that look where it crosses your fingers without actually forcing you to wear an uncomfortable double ring situation.
---
Femmecessories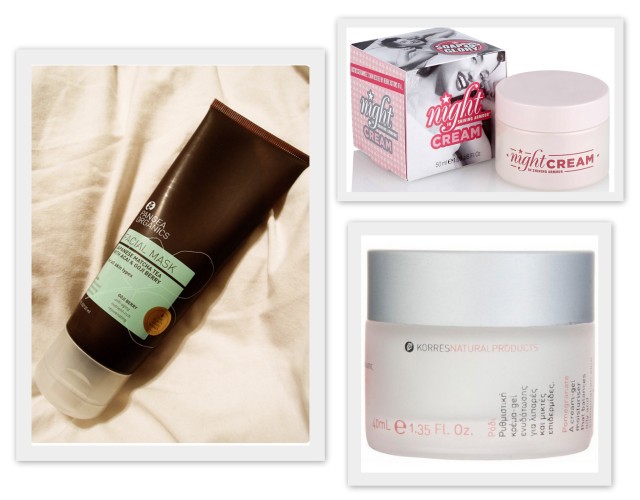 In addition to mistletoe, office holiday parties, and awkward family get-togethers, the Holiday Season also means the beginning of months of dry skin and chapped lips. Here area few of my favorite skincare products to help you (or the femme in your life) survive the winter.
Pangea Organics Facial Mask – Japanese Matcha Tea with Acai & Goji Berry
This exfoliating mask helps clear your pores and always leaves my skin feeling soft and healthy. It's loaded with everything you want (all-natural ingredients and essential oils) and nothing you don't (parabens and synthetic fragrances).
Soap & Glory Night in Shining Armour Night Cream
Ignore the heteronormative product name — this calming and moisturizing night cream is one of the best that I've tried. I apply it to my face and neck right before going to bed, and I always wake up feeling refreshed. Your skin does most of its repair work at night, so it's important not to neglect this important step in your beauty routine!
Korres Balancing Cream-Gel Moisturiser, Pomegranate
This lightweight, natural moisturizer helps minimize pore and tone skin without every feeling greasy or heavy. I use it under my primer and foundation, but this moisturizer is perfect on its own as well.
---
Real Needs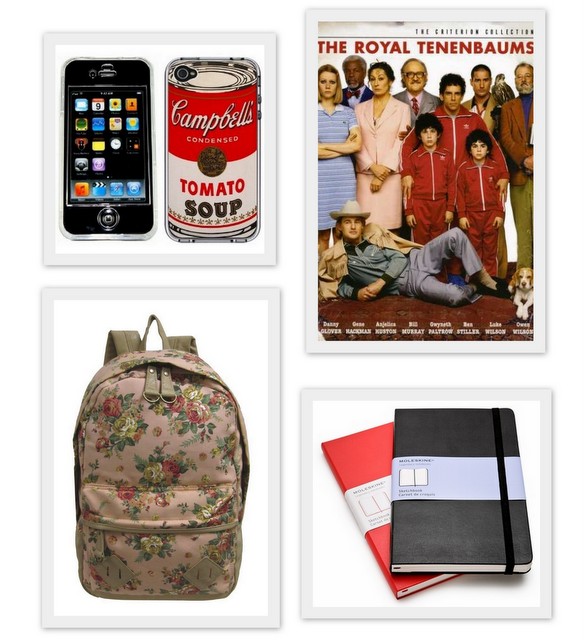 If I were writing to Santa this year I would start, "Santa — Can you save Hostess?" But I digress.
I want Wes Anderson movies, but particularly The Royal Tenenbaums because once I couldn't watch it and wanted to so badly that I read the screenplay on the way to the work and listened to the soundtrack at the same time. Also because I think Margot Tenenbaum is my new fashion icon.
I need a notebook I can bring to work and camp and into my bed where I sometimes have lots of feelings I need to write down, but almost never a pen. So I want this red leather Moleskine sketchbook because I love Moleskine shamelessly and you can't change a person.
Once I get all this shit I'll need to transport it, though. And guess what? My backpack fucking broke, you guys. I guess now I need a new one and therefore need to find a way to get it for free. What great seasonal timing! To be honest, the decision of which one I want is causing me to have a reluctant femme moment about this floral one. I like this pink beige color but really any will do.
I hate only asking for shit I need though, so if we're gonna get into what I really, really want the answer is going to be this case for my now-outdated iPhone. If I had an Andy Warhol soup can iPhone case it would be the final memento in my weird, mall-caliber collection of his memorabilia.
---
Stef, Contributor
Weird But Useful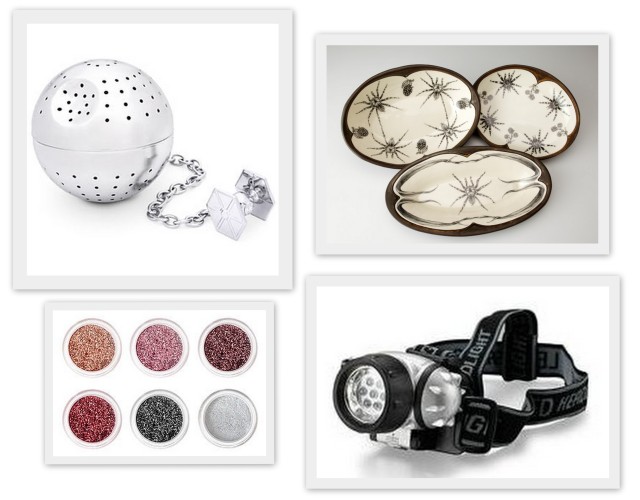 Star Wars Death Star Tea Infuser
Cleverly combines two of the best things in the world: loose leaf tea and the dark side of the force.
Obsessive Compulsive Cosmetics 6 Piece Glitter Set
Basically everything that comes from this all-vegan cosmetics company is pure magic. The colours are amazing, and I love knowing that I've bought an ethically-made product that wasn't tested on animals. Also, GLITTER.
This is a really good way to prepare for A-Camp, Frankenstorms and slumber parties.
Spider Serving Dishes by Laura Zindel
Because if there's one thing I want to think about while eating a lovingly prepared meal, it's the giant spiders crawling around on the dish underneath.
---
Just Practical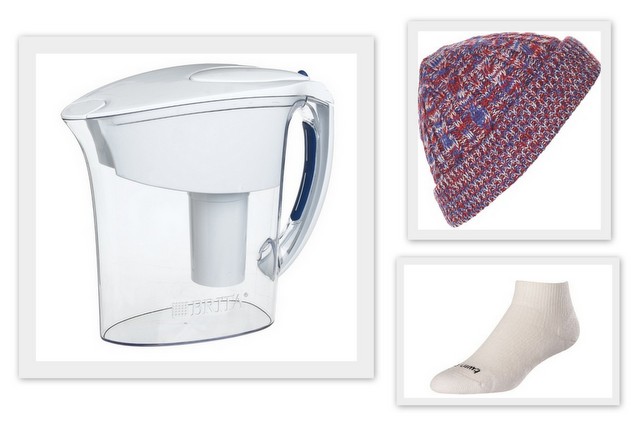 I'm literally the worst person to shop for in the world because I don't like anything and the things I do like, people deem too boring to be called a "gift." When my girlfriend asked me what I want for Christmas, I said a strip tease and a Brita filter. I don't think I'll be getting either but it's worth a shot.
The aforementioned Brita filter. Whatever you have to say about water filters, I don't care. I want one. It's this kind of blind consumerism that drives this country.
Beanies have never sat well with me. I love hats but for some reason beanies always seemed odd. I think I've finally realized this was no fault of beanies but more an issue with people wearing beanies that aren't doing them any favors. I'm now open to beanies, is what I'm saying.
I lost two good socks to holes this year. These are dark times in the sock drawer, but it's a good enough reason for me to add the best pair of socks in the world to this list. They are so thick and comfortable and perfect for winter. It's like hot chocolate for your feet. They also aren't a brand name, so no worries of mixing Adidas socks with your Nike shoes or vice versa. I know you might not care about that kind of thing but I, like most black people, do.
---
 Next Up: vibrators, lizard skulls and bento boxes!
Keep It Real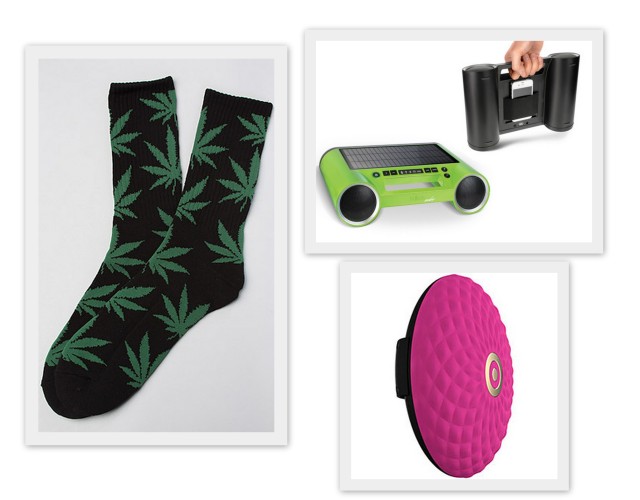 I love this product because it combines two of my favorite things: warmth and grass.
The "Make Me Over" clitoral vibe by Kandi Burruss is handheld and looks like a compact!
Bluetooth Solar Powered Portable Sound System
Do you know what's better than snow angels? Lying outside, in the sand, listening to music. For those of you who, like me, cannot wait for winter to be over, this charming trinket should accompany you during the next bathing suit season.
---
Going Places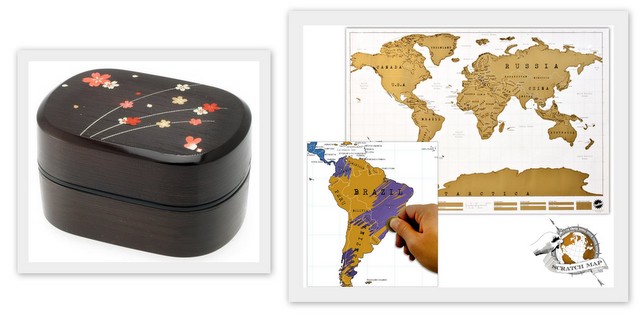 I've been wanting a bento box ever since Laneia wrote a post about them. Not only are bento boxes adorable, their small compartments are perfect for eclectic weirdo eaters like myself. Why yes I would appreciate a divider to prevent the croutons from mixing with the pomegranate seeds. And aren't bento boxes the #1 doctor recommended treatment for queer girls prone to wasting money on fast food during their lunch breaks? Yeah, I'm pretty sure that's true.
Scratch Personalized World Map Poster
Possibly the creation of a jet-setting gambling addict, the Scratch Personalized World Map lets you scratch off the countries you've traveled to lottery ticket-style. Even though there's no chance of winning money for this scratch-off, but hang it in your apartment to win the awe of visitors who'll see what a stylish and badass traveler you are.
---
Special Things Are Special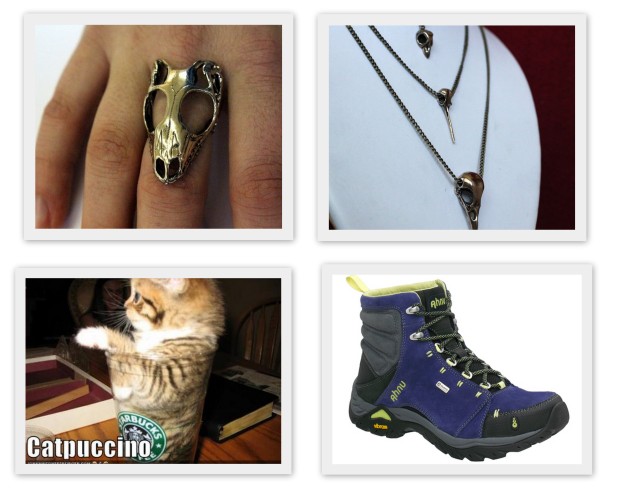 I like odd accessories, particularly because I wear a lot of solid colors so I have the flexibility to add anything extra to my outfit without feeling like it's competing with my clothes. Also, I became fascinated by animal skulls after going to a friend's house that was decorated with some she found during work related desert field trips. I don't have anything of the sort, so I've been dropping hints about this ring or the Bird Skull Necklace Cluster in Bronze for a while now.
Ahnu Montara Boot in Austral Aura
I kind of fell in love with these boots the second I moved to the Bay Area. I never went hiking in Rhode Island and there are so many places to go here, I feel like my kicks are going to fall apart by the end of the year if I don't substitute them with some serious business boots. I really like these boots. Not only does Ahnu's last fit my problematically narrow feet super well, these boots also have a padded ankle collar that makes me want to go to sleep in them. In addition, this style of Ahnu boot has a layer of eVent material that makes them completely waterproof yet breathable — sort of like Goretex in other brands, but minus the excessive sweating. They also have a Vibram sole that gives them phenomenal traction, which I'll need for running around the mountains, showing off my boots.
People have this weird aversion to gift cards, but I'm including them here because some of the most thoughtful presents I've gotten have been just that. I've gotten gift cards accompanied by letters, elaborate stories, and even direct guidelines for their use. I've never gotten one that is just kind of "here's some money" for whatever I choose, but more like "I can't get you a particular thing, and I know what you really want is to not have to drag your books around, so I'd like to chip in $10 for you to get closer to getting that eReader on Amazon. ¡Feliz Navidad!" Eventually I end up collecting enough cards that whenever I spend them, I end up with a gift that reminds me of more than one person, and I really like that. In fact, this winter I would love to get a gift card for any coffee shop so I can avoid going broke due to my need for caffeine, all while thinking about the rad human who is enabling me this time around. Some people may find it odd, but I think it's super useful and sweet because it's like the person is buying me coffee everyday on my way to work, even when they are not around to physically do so. That's the kind of thoughtful treat I'm talking about.
---
Classy!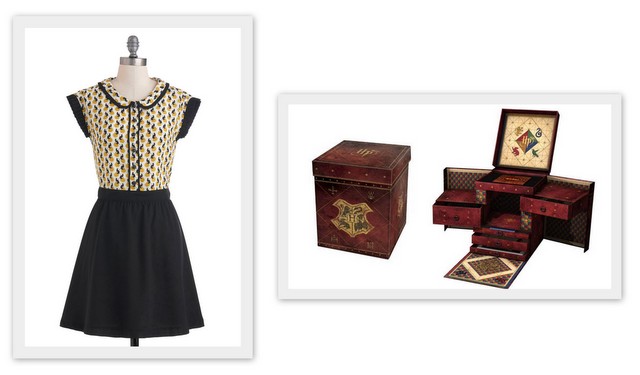 Harry Potter Wizards Collection
My mom used to tell me to think very hard on whether something was a want or a need. Now, the Harry Potter Wizard's Collection definitely falls into the "wants" category, but I feed the need in my bones. The ultimate collection of DVDs and resources and special features and everything wonderful about Harry Potter packed inside a neat, compact box. Sigh.
What better way to start my descent into cat lady-dom than with this cute dress? I could wear this dress anywhere — work, to get coffee, on a date. The opens are limitless.
---
Reading In Our Underwears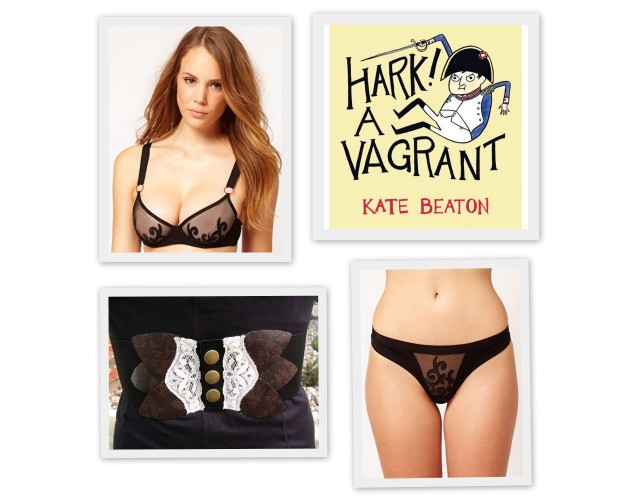 High-Waisted Belt from Je Suis Une Femme
I love dresses and t-shirts that masquerade as dresses. From the Je Suis Une Femme line, this high-waisted belt is perfect for turning otherwise ordinary dresses and long t-shirts into stylish, quirky works of art. Designer Nicola Inman handcrafts each belt herself, so no two belts are the same. As an added bonus, whoever buys this belt for me will be supporting a queer artist, just sayin'.
Kate Beaton is this great Canadian comic I discovered last year while writing a research paper on comic book adaptations of Macbeth. Instead of finishing my paper in a timely fashion like the good student I try to be, I spent hours on her website browsing through her historical comics. I never knew Canadian history could be so funny and entertaining. When I found out her website also comes in book form, I knew I had to get my hands on a hard copy of Hark! A Vagrant! the book! But I still haven't bought it yet, so if someone would like to get it for me that would be great.
Lingerie!
If I didn't have responsibilities, I would probably end up spending all my money on books, bras, and plane tickets. When I first read about the Lingerie Lesbian here on Autostraddle, I fell in love. Words can't describe how happy I am that there's another lesbian on the internet who loves lingerie as much as I do. Words also can't describe how much I want the Vero Moda bra and underwear set she advertised on her blog.
---
Signature Floral Prints
The FitBit is the kind of thing that should totally not be necessary in my ongoing quest to become a regular enthusiastic gym-goer, but I've convinced myself that if I don't get it I'll never run a 10k. It makes no sense and I know this, which is why I could never buy it for myself but I do really want it. It's so cool! You wear it on your bra or your belt or in your pocket, and it tracks your exercise and your sleep cycle and your meals and it can sync everything up on your computer or on the app! And and and — you can have competitions with other FitBit users! I mean actually it's all I can do to just put one foot in front of the other when I go running, but I like the idea of one day holding FitBit competitions with the whole Straddleverse.
Every single product on Printstagram
Since I joined Instagram in April, I've been searching for the perfect way to print my little digital square images. As a photographer and film enthusiast, I'm always sort of bemoaning how nothing is tangible anymore and how I miss the darkroom and how one day technology is going to fail us and then where will all our memories go? (Yes, I'm dramatic, but yes, I've suffered hard drive failure with no backup, so.) After a lot of research, it's become clear to me that Printstagram is the best service for printing Instagram images. You can get a memory box filled with every Instagram photo you've ever taken, or you can make a poster of 50-400 images, or you could make a cute Polaroid-esque business card, OR YOU COULD MAKE A TINY BOOK THAT HAS A MAGNET IN IT AND CAN STICK TO YOUR FRIDGE. A TINY BOOK, PEOPLE. I'm, um, a little bit excited about that last option.
No one can really buy this for me as part of the joy is choosing your own shit, but I'm hoping the people behind Printstagram will see this post and realize they should make gift certificates for next year. Think of the possibilities!
I used to be really afraid of online shopping but then I met ModCloth and now I think I have to get over my fear because they have an entire section devoted to floral print dresses. If you've stalked me sufficiently you may know I have a "penchant for floral print dresses" and actually my Autostraddle username is "floralprintdress" because back in the day I was trying to be secretive and anonymous lest my mother ever Google me and find all my comments about how hot Sarah Croce is. But back to my point: If it's floral print, I'll buy it. I've been dying for a new dress for New Year's Eve, but there's a 95% chance that I'll be staying in with my girlfriend and falling asleep by 12:05am, so I can't really justify the purchase. That rational perspective doesn't stop me from actively wanting every single floral print dress featured on ModCloth, particularly this one, this one, and this one.
Runner Ups / Things I'll Probably Buy Myself Come January: the perfect rug (I need to find it before I can buy it but winter is making my wood bedroom floor mighty chilly), iPhone gloves, and a Moleskine Planner preferably featuring Le Petit Prince.
---
 Next Up: power tools, bow ties and more vibrators!
Cozy!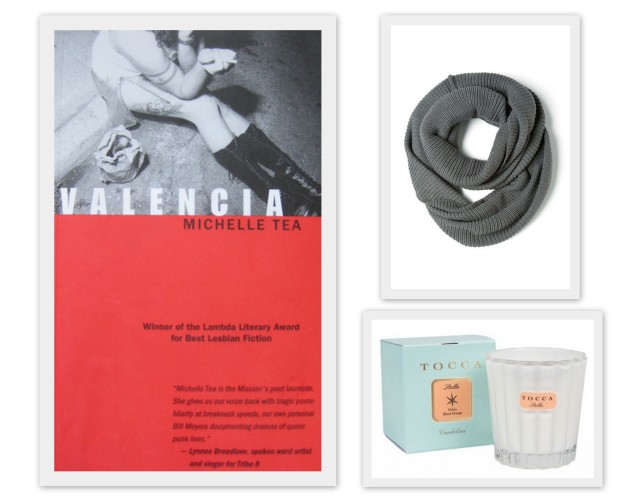 Infinity Party Scarf in Charcoal
Is this not the coziest thing you have ever seen?? I just want to bury my face in it and never leave. It's like a blanket you can wear out of the house. What could be better?
When the temperature's getting too far into the negatives for my liking, I plan on piling every blanket in the house on top of myself, lighting this blood orange-scented candle and reading/cuddling/having movie marathons/doing anything but going outside. Because everything is cozier when you light a candle.
I MUST READ MORE MICHELLE TEA.
---
Things That Aren't For A Cat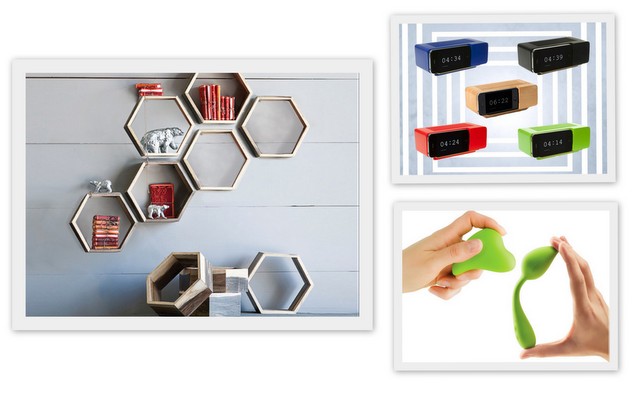 It's a little tricky for me to think of what might make good holiday-time gifts, because I don't want for a thing these days. See, there's this little gray and white cat that's been hanging around my house (I say "house," but I mean "semi-basement apartment") and lately she's been coming in and chilling out and napping on my bed and purring and playing with ribbons and being adorable. I feel like all I want this year is one of those domed kitty litter things that won't stink up my house (aka semi-basement apartment) and, like, maybe a carpeted climbing tower with shelves for her.
But if I wanted other things, I'd probably want this retro-looking iPhone alarm dock, some hexagonal honeycomb shelves, and this leaf vibrator.
The alarm dock is cool and practical, the shelves seem like a nice, eco-friendly way to break up some blank wall space, and the vibrator, well, c'mon. It's shaped like a leaf and Alicia Silverstone endorses it! It doesn't really matter whether it's a tea-kettle, a ukulele or a floor lamp. If it's leaf-shaped and endorsed by Alicia Silverstone, I want it. The fact that it helps facilitate sexy times and orgasms is just a bonus as far as I'm concerned. (Honestly, I feel like a leaf-shaped ukulele endorsed by Alicia Silverstone could do the same thing.)
If you (or the person you're looking to buy gifts for) don't have a cute little gray and white cat hanging around this holiday season, all these things could definitely perk up your semi-basement apartment. I mean house.
---
Non-Sequiturs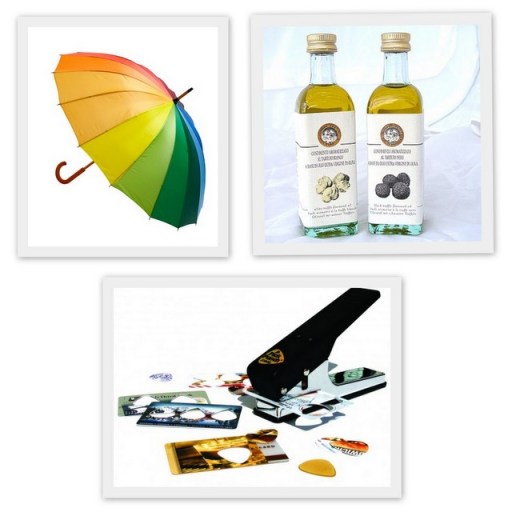 I really like dramatically pointy accessories, going out in bad weather without wrecking my top hat, and when people can tell I'm gay from space. This rainbow umbrella meets all of these needs simultaneously, and also promises to help with weather-induced gloominess.
As someone who A) is constantly destroying her guitar strings by playing with my teeth/coins/other peoples' teeth and B) keeps expired gift cards just because they're pretty, I am surprised that I didn't invent the guitar pick punch. But someone else did, and now you can turn any piece of plastic into a tiny shred machine! This means your Blockbuster Video card will finally be useful again, which is awesome, as it was such a cool color. (It also means you can control your plectrum thickness – I know this is something we all strive for.)
I know, I know – "real chefs" don't respect it, it's demeaning to actual truffles, it has caused a Midtown french fry renaissance some consider undesirable… truffle oil is problematic. But some of us can't afford to hire trained pigs and still want our boxed mac'n'cheese to taste like umami sunshine. This stuff is catnip to me and I alternate between hording it and pouring it on everything. Bonus points if it comes in a little glass bottle that makes me feel all alchemical.
---
Tools for Around the House and the Mind, also Underpants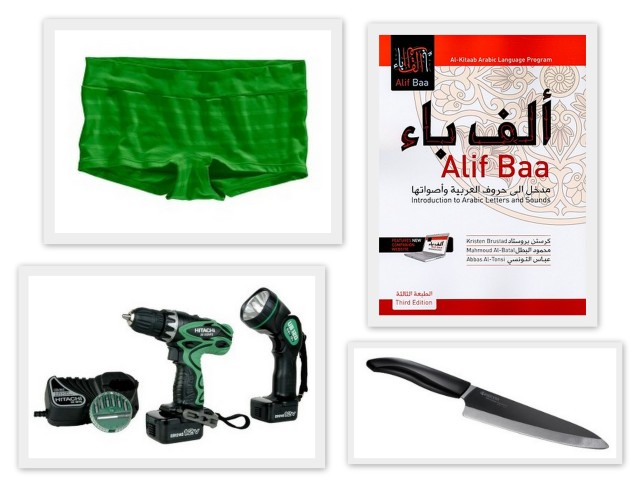 If you could see me typing this, you'd know that I have a bandaid on my right index finger and two nearly-healed cuts on my thumb. The thing is, you can usually trust me with a knife; I can slice a tomato paper thin and even dice an onion like a pro. But the knives in my apartment right now are only slightly sharper than bananas and are approximately 76 years old and so I keep gouging out bits of my hand every time I cook. Seeing as my career as a lesbian depends on the functionality of my hands, I would really appreciate a new chef's knife.
So what if I'm asking for a textbook for Christmas? I want to learn Arabic! Its southpaw-friendliness appeals to me.
After giving my cordless drill a break by not putting it on my Christmas list last year, I'm feeling pretty good about it's chances this time around. I'll be moving into a new apartment next year and I just know that there'll be so many opportunities to put it to use building fireplace mantles and seducing women.
Every year for Christmas, my brothers and I get underwear in our stockings. I remember being 14 and mortified when, on Christmas morning, I unwrapped a thong. And then another and another and another until I was sitting in our living room with 6 brand new thongs that I would proceed to never wear. But now that I'm all grown up and broke, getting really nice underwear as a gift is actually fantastic. Under Armour makes this beautiful little stuff that covers your entire bum and is generally the most comfortable thing to put under your wear.
---
Boots Bowties & Beans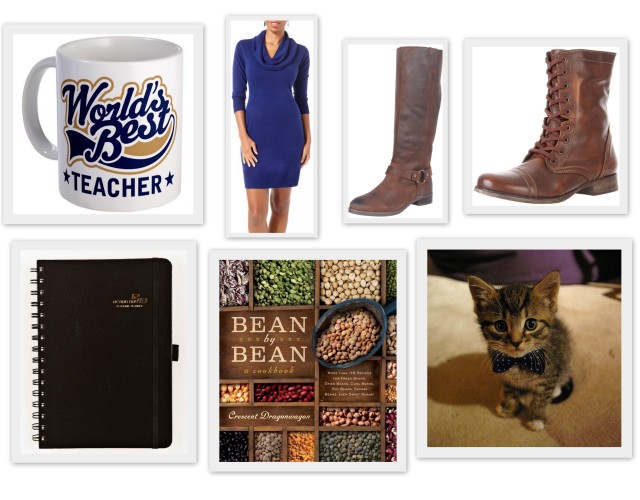 I need one of these in every color. Also maybe doubles of some colors. My cat is already beautiful and perfect, but these make her look so dapper that I am nearly moved to tears. I am usually pretty skeptical of people who dress their pets up like people and I want to be institutionalized if I ever use the words "furkids," but I also work like 70 hours a week and when I finally get home and my cat crawls into my lap wearing a bowtie, it makes everything 850% better.
Look, I'm a vegan grad student. I don't know what you want from me. If they also come out with Rice: A Cookbook, I'll buy that too.
I know there are like dozens of online to do apps and I do use them, but I keep fantasizing that there will be a physical object I can buy that will somehow make all of my tasks doable and my day comprehensible. This seems like it might work. It has space for "goals, projects and delegated tasks," and also something called a "teaching tool." What is that? I don't know, but as a person who is a teacher, I would like to find out!
Speaking of being a teacher, I feel like I'm constantly looking for clothes that make me look like more of an adult than my students but don't make me feel like a substitute teacher when I have to walk around campus wearing them for the rest of the day. I've started to feel like the answer may be sweater dresses?? I'm not usually a dress-wearer, but if I think of them as regular sweaters that just happen to be really long, maybe I can pull it off.
I don't think I need to do a lot of explaining about why I want these.
Also these. I want these also. It's not redundant, they're VERY DIFFERENT BOOTS, people.
It would be nice if an actual student of mine got me this, but I think it would be good for my self esteem regardless.
---
Sarah Fonseca, Contributing Editor
Things With Words & For Words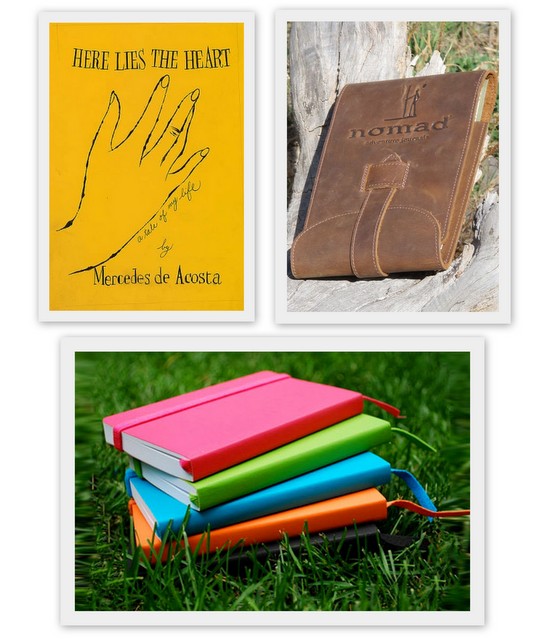 As someone who emails, Skypes, and instant messages like it's my religion, I didn't think this was something I'd ever need. Paperless communication reigned supreme. Then I started traveling more frequently and quickly realized that I'm obsessed with sending postcards. It's nice having addresses streamlined and accessible even when my phone is dead or out of service. Plus, postcards are always more romantic when I don't have to text a cute girl and ask her, "What's your address again?"
I am a fan of both durability and self-micromanagement. This travelog satisfies both of those desires. Each page has lines where you can list the meticulous details of any trip, from "weather conditions" to "observations/notes" and the vagabonds you "traveled with." Best of all, the journal comes with a leather sleeve which'll make you feel like Indiana Jones even if you're just traveling cross-town to your nana's.
Here Lies the Heart by Mercedes de Acosta
This memoir is a pain in the neck to find, and when you do finally run across it, it usually costs upwards of $200. But if you have a lesbian herstory buff in your circle of lovers and friends, she's bound to treasure ever penny of that investment. This is not your mother's tell-all celebrity memoir. Mercedes de Acosta might've been a hell of a Cuban-American lesbian lothario, but she was also a talented writer.
---
Next Up: magazines!!, unicorns and the circus!
For The Face, Shoulders, Eyeballs & Brain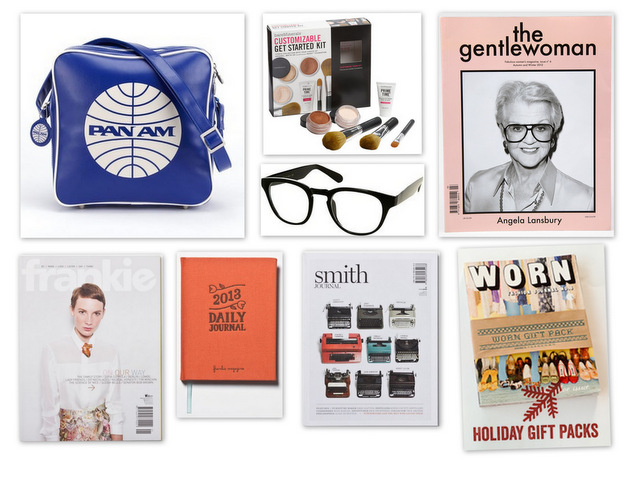 I'm so glad that show Pan Am got cancelled (it did, right?), because I've wanted a Pan Am bag for like a decade 'cause I think the design is so cute, and then it seemed tacky because it was a TV show, and now it's just an um, airline. I love blue & white bags in general.
bareMinerals Customizable Get Started Kit
It's really important to my furniture and my stuffed dog Tinkerbell that I look my best at all times. No really — if you're less-than-competent at make-up, this is literally a Starter Kit.
These are what Lizz recommended I get to fulfill my dream of becoming my new style icon Jenna Lyons.
All We Know: Three Lives, by Lisa Cohen
This book looks so good! It sounds like it'll be all the most intriguing parts of Gay L.A. and The Sewing Club extracted and expanded upon — with a focus on three queer ladies from history including Mercedes De Acosta, who had an affair with Gretta Garbo. There are promises of "glamorous choices, complicated failures, and controversial personal lives with lyricism and empathy." That's so many feelings!
Magazines!!
I'm obsessed with magazines, obvs, and therefore could really use some of these magazines and issues I don't have: Gentlewoman, a WORN Journal gift pack, Smith Journal, Upper Case, make/shift and Lula . Also Crystal got me a subscription to Frankie and I love it (and Crystal) so much, and I recommend it and look, back issues. Also while we're talking about Frankie, this day journal is adorable and will look cute with my Autostraddle memo book when it debuts.
---
Tiny Mail & Accessories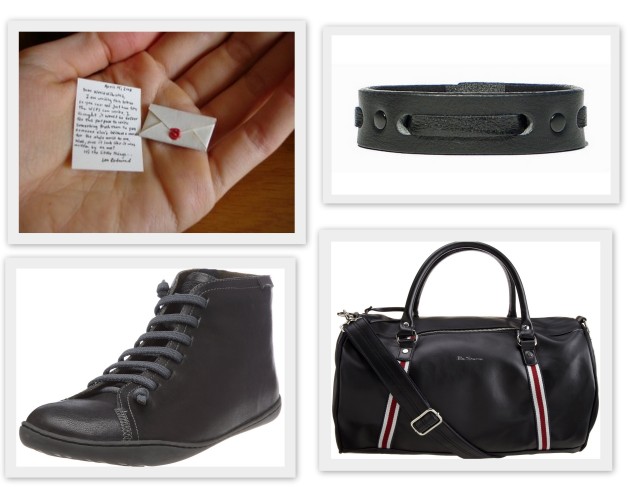 The World's Smallest Letter or Card
All I really want for Christmas is a hand-written card or letter that is so tiny it needs to be read with a magnifying glass. Last year I ordered one for a friend and it was basically the raddest thing I've ever seen and since then I've been secretly hoping that someone will send me one. Available from Leafcutter Designs, aka the World's Smallest Post Office.
One day I would really love to replace the complimentary fluorescent green Cathay Pacific Airways carry-on bag that I've been using for the last decade with something a little less hideous, like this hot barrel bag by Ben Sherman. With the red and white stripes, it's probably the closest I'll ever come to fulfilling my dream of owning a Bally bag.
Lucky Dog Leather 'Black On Black' Leather Bracelet
Have you checked out Lucky Dog Leather's extremely appealing Black On Black leather bracelet range? You really should. This 3/4″ Black On Black Single Weave Cuff is very similar to this rad 3/4″ Black & Red Single Weave Cuff that I wear all the time except it's blacker and therefore more bad ass.
Camper's Lace-up Fashion Sneaker
I love these leather boxer-style "fashion sneakers" so much that I've started a coin jar fund so that one day they can be mine. Camper's shoes are a fairly expensive gift but they should last the recipient a very long time; I've worn my current pair almost every day for the past three years, including to known shoe-killing environments like basketball courts and the wilderness, and they still look and feel brand-new.
---
Circus & Liquor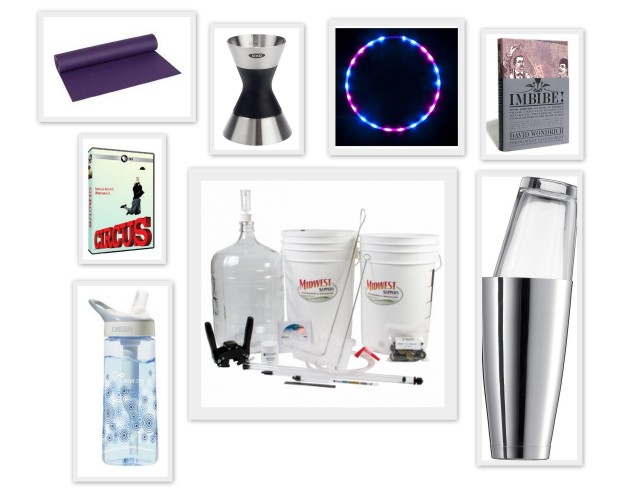 A Body In Motion
I have a Jade Fusion mat. It's huge and super thick. This makes it a pain in the ass to travel with, but you know what the extra pep in its step makes it good for? Headstands. You will not feel the floor through this sucker. A Camelbak water bottle is a necessity, as it won't leak all over your bag. This particular Camelbak also gives a donation to water.org, an organization dedicated to bringing clean drinking water to communities without. Don't forget the LED hula hoop!
This is a documentary about the Big Apple Circus. My mother got it for me for Christmas last year. I've watched it like four times. Believe me, your circus queer wants this.
Drinking Accessories
Everyone uses a Parisian shaker, but if you're anything like me you'll really want this Boston cocktail shaker because it's versatile. Your drink requires rolling? No problem! Also there's all sorts of technique to using this particular shaker, and that stuff is fun to learn. Also you should always measure the alcohol in your cocktails, so I'd like this steel jigger. The book Imbibe! has all sorts of stuff about the history of cocktails and cocktail recipes.
For all your beer loving queers, give them the tools to brew their own. There's a saying about teach a man to fish, but I don't think I can accurately remember because I've had a few beers.
---
All The Books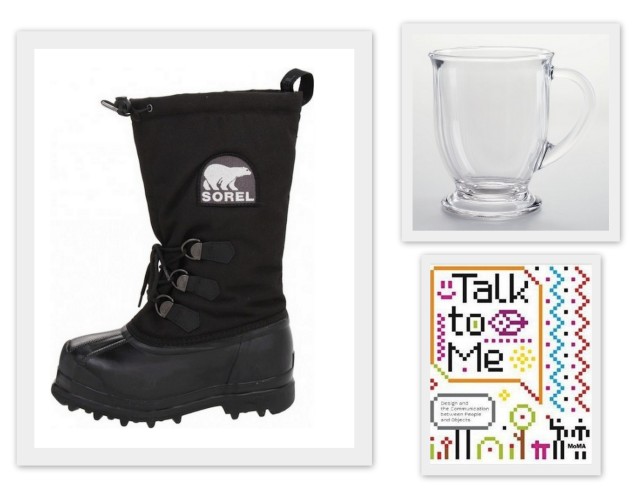 All fall I've been looking for boots for when it's cold and maybe wet and probably slippery that are also black and tall with a bit of a heel and that also look pretty and are not too expensive. I'm pretty sure they don't exist, and now it's almost December and Canadian winter is coming, which is why I want some black Sorel Glacier Boots instead.
These boots are recommended "for all-season hunting or fishing." They are warm until it is minus 100 degrees outside. The three negative Amazon reviews all describe them as "clunky," "ugly as sin," "about 10 pounds" (the shipping weight is two) and "Frankenstein," which means they should be at the cutting edge of Ottawa fashion. I also hear they last for years.
All the Books
I also really want to read a lot of books that everyone's been talking about lately and that my library will otherwise make me wait months if not years for, like This is How You Lose Her by Junot Díaz, The Middlesteins by Jami Attenberg and Mr. Penumbra's 24-Hour Bookstore by Robin Sloan, which has a cover that glows in the dark. I also want to expand my brain and my crush on Paola Antonelli with Talk to Me: Design and the Communication between People and Objects.
Nothing says "rediscovering caffeine addition without style" like using one stained Irish coffee cup that someone else stole from a bar circa 2002 almost exclusively. These glass mugs look like really good 16-oz (!) replacements.
---
Haviland Stillwell, The Talent
Mind, Body and Unicorns!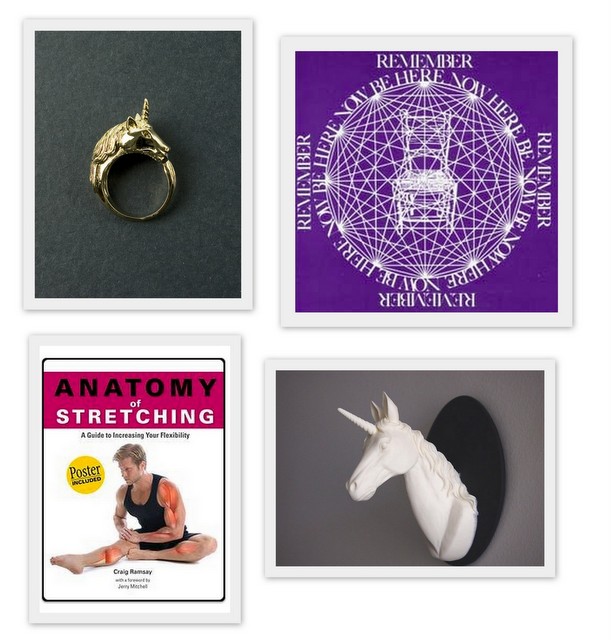 Anatomy of Stretching by Craig Ramsay
Flexibility is essential. – Harmony, Unicorn Plan-It
I am excessively into stretching, and believe everyone should be, too. I'm sure you'll all agree. While you're purchasing this book, feel free to contact the author, Craig Ramsay, about training. He's REALLY good, and makes you feel lots of love while you're sweating out those toxins.
I bought you that ring 'cause I never was cool – Indigo Girls
This ring is COOL – who wouldn't love to have a unicorn wrapped around her finger? WANT! #unicornplanit
I don't even know what to say about this. I co-created a show called "Unicorn Plan-It," and there is something called a "mounted unicorn" that isn't yet in my possession? WHAT? This is such goodness, I can't even.
An incredibly mind- and heart-opening book that changed my life the moment I opened it up. I highly suggest you obtain and read it immediately, and also, give it to loads of friends! Happy 2012!
---
Haviland Stillwell
What I want for Christmas, what I REALLY want is for Christmas is for one Haviland Stillwell to stand under my window and sernade me. I'll have to settle for an approximation thereof from Amazon or iTunes.
---
 Next Up: shoe shines, coffee and record players!

Gabrielle, Contributing Editor
Put It On Me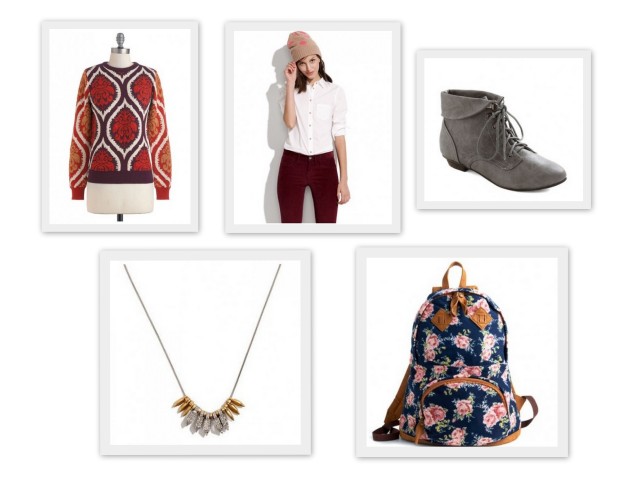 Get Dressed
I'm in love with the patterns and the colors of the Blog Cabin Sweater. This winter I'm going to try to NOT wear all black every day, and this seems like a really good way to start. It would look great over a button up with skinny jeans and boots, and also (if I'm being honest with myself) would make a great around-the-house layer. I need the Shrunken White Boyshirt because it's a high quality, super versatile basic that will look good with essentially everything I already own. Also it's really soft, and I appreciate the fact that it can be buttoned all the way up. And these Berlin the Know Boots — Gray ankle boots, where have you been all my life? Why have I only considered brown or black boots up until now?
This is going to look so good with the new white button down you got me, and also all my other button downs! And what's better than a mix of sparkles and spikes?
I was recently informed that there actually IS a cute coffee shop with wifi in my neighborhood, so now the only thing that's missing is a cute way to take my laptop there! I love this because usually backpacks are so boring and this is so beautiful.
---
Classy Art Shit and Pussy Bait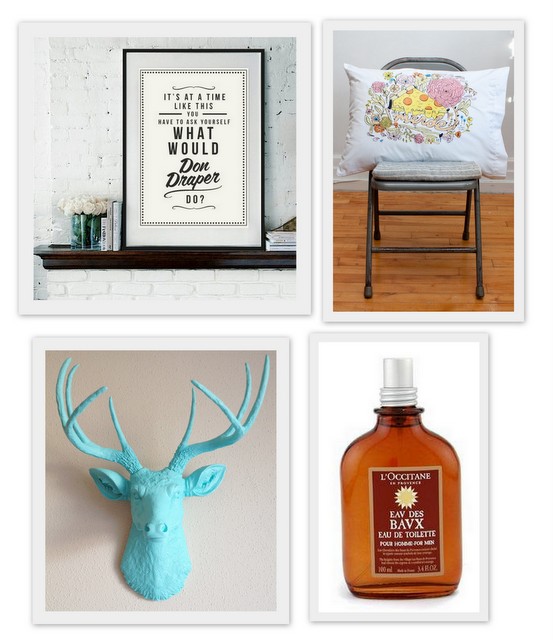 Oh Merde Pillowcase by Ohara Hale
This communicates to all potential pillow visitors that I love pizza, support independent artists, and am bilingual in bed. Boom.
What Would Don Draper Do? Print
The eternal question. Do I chase a burst of creativity, drink a lot of scotch, smoke a lot of cigarettes, ignore my children, or woo all the ladies? Answer: none of the above because if I was Don Draper, I would be like damn! Why am I not having sex with Joan? What the fuck is wrong with me? Megan's hot but she's more like my sister or something! Then I would get Joan to play hookie with me at some classy joint, and then I'd transform back into my lesbian self so I could have sex with Joan in that form.
That got weird, sorry. Um, buy me this print so I shut up about my bizarre fantasies.
Eau des Baux by L'Occitane en Provence
So my go-to scent for a while has been what I nicknamed "PUSSY BAIT," which is in actuality a cologne called Essential by Lacoste. It's a great scent for the spring and summer when you wanna smell bright and fresh to death, but come this time of year, I'm feeling on the woodier and smokier side of things. Cue my stumbling across this incredible scent at L'Occitane. It's so fucking delicious. As a butch who wants to smell…uh, butchy, shopping for scents is often a battle between drowning in incarnations of Axe, or eau de douchebag, and finding one too many stuffy old man smells, but oh, this is so perfect. It's sensual and manly and makes me feel like a sensitive lumberjack. I want to pour it on pancakes and roll in it. That's how strongly I feel about it.
The living room in my new apartment doesn't have any decorations right now, and I'm desperate for some kind of centerpiece to pull it all together. Since I'm 22 and have made a habit out of heaving buckets of caution to the wind, and since the furniture doesn't match anyway, I feel like getting a lifesize mounted deer head that's been painted bright blue is a great thing to do with my living space. There's something wonderfully charming about being a twenty-something whose sense of interior decorating is THROW ALL THE COLORFUL THINGS ON THE WALLS, so this feels like it is in perfect accord with my philosophy of housemaking. Plus the ears look kind of like vaginas and I feel like that will be a great talking point when there are a lot of queers hanging out drunk on my couches.
---
Decorate Your Walls & Your Body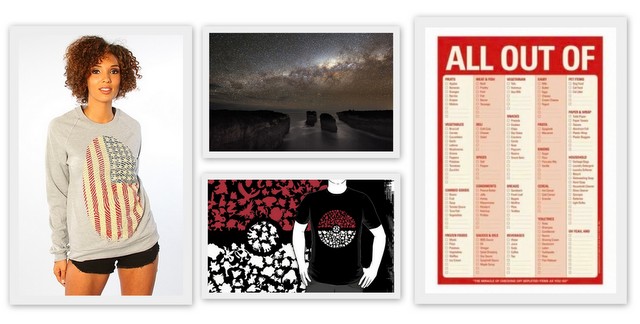 This print is so coooooool. Who doesn't love stars/the universe/space?
The American Fingerprint Raglan Fleece Crewneck
Lately I've been really into all things American flag and so this fingerprint crewneck speaks to me on so many levels.
Do I have to say more than Pokemon?
This is my obligatory "useful" item. And this is extremely useful, because I never remember what I am supposed to get once I actually make it to the store.
---
Living The Dream
I am a coffee freak. We have our own electric grinder that grinds beans right before we use them and this year I prided myself on making my own cold brew.
But after I found this photo on my tumblr-surfing: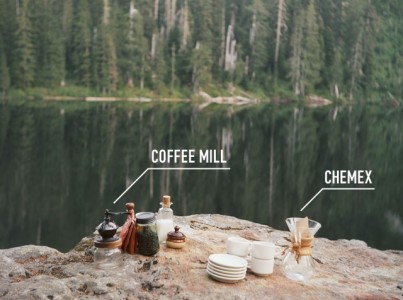 I decided that my new thing was not needing electricity to brew a good cup of amazing coffee. To make coffee completely electric-free and also to be able to, say, have coffee while camping or during the zombie apocalypse as the above photo would suggest, I will need two things:
Hario Coffee Mill 'CANISTER' C
I can only imagine how cool it would be to hand-grind my beans, rather than press a button on a machine. And even better, the sealed glass canister for storing extra ground coffee for the next day. There are cheaper hand coffee grinders, but this one has great reviews and has that prefect old-fashioned look to it that I cannot pass up.
Confession: I already have one. This is on my "gift list" because I highly recommend it for any Autostraddle reader who appreciates coffee. I started using my Chemex recently and I appreciate how I can better control the strength of the coffee than I can with an electric machine. And it's just my opinion, but this process produces a much smoother and less acidic cup than with an electric Mr. Coffee, just saying. You can see a bunch of cool pictures of the Cheme-in-action on my Pin board, "Coffee".
Herschel Supply Co Little America Backpack
So with that said, let's say you're going camping or to a friend's place for the weekend and you need to bring your Hario coffee mill, your Chemex brewer, cups, sugar, cream, and anything else that goes along with an over-night trip…
Where are you going to put all that stuff?
Obviously the only way a stylish lesbian would: in a Herschel Supply Co Little America Backpack. A friend of mine has this backpack in grey, and I want. It comes with a laptop pocket built inside and is just an overall well-constructed and well-respected bag brand.
---
Gentlequeer Swag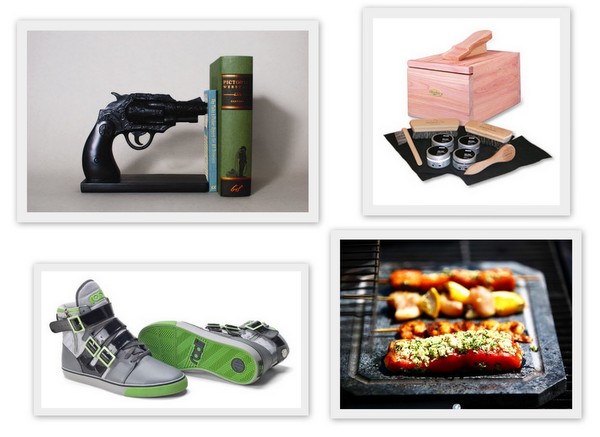 Radii Straight Jacket High Tops
These kicks stopped me in mid multi-task the way women wearing high heeled boots and slit skirts do. Holy fuck, Radii, way to combine stark metal with neons, primary colors and camouflage to give each pair a unique vibe. My heart belongs to this silver and green pair. Also, straps. Black leather straps make me think of consensually tense sex where bite marks are expected and only one word is safe. All of these feelings over sneakers and chicks = Autostraddle is my lifestyle choice. Have a merry happy everyone.
Woodlore Shoe Care Valet with Starter Kit
If you're a Dapper Q or someone with a sick ass boot fetish (or both or neither), a shoe shine set up is a must. As a kid, observing my father's grooming rituals fascinated me. He didn't do anything half-assed. My dad used a straight razor to shave, tied Windsor knots into Ralph Lauren ties and didn't step outside of the house without shining his shoes. My dad always looked fresh to death and dapper as fuck. I've got a serious legacy to uphold and so do you, gay baby army.
A black metal revolver bookend with a happy little homo star on the grip? Done. I mean, how else does one express rebellion and nerdiness? Also, it proves that you read things, have good taste and are probably insanely good in bed. Mostly it proves that to yourself and that's just as important.
Get started being a gentlequeer now. It's such a good look. Part one of that is being able to cook 1-3 signature (read = tastyyummymmmgood) dishes. One for each time of the day you can imagine feeding something to a beautiful somebody. This griddle cooks all of the things! Use the flat side for morning-after breakfast extravaganzas that involve pancakes and turkey bacon. Then flip the shit for a BBQ feel and when you just need a Ron Swanson steak moment. Also, the soapstone is untreated which means you won't also be eating nasty ass chemicals that are found in most non-stick cookware. Cook in-style and with the superiority that comes with doing something good for the environment. Eat well, familia.
---
Sarah Hansen, Contributing Editor
Cats, Earrings & Record Players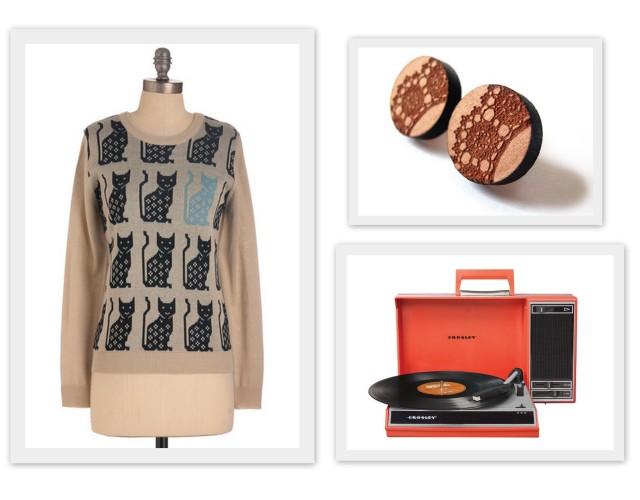 My old record player stopped working a few months ago and I still haven't gotten over the loss. This record player is portable and also one of my favorite colors, so I double-love it. Plus, it can connect to a Mac or PC or play your iPod, for those rare times when you decide you don't need to listen to Dolly on vinyl for a few minutes.
This year, I told everyone in my family to get me a cat sweater, kind of as a challenge. I'm already well on my way to being a crazy cat lady. I'm reclaiming that phrase. It is totally cool to love your cat(s) more than you love most people. This sweater is adorable and designed in a silly but not ridiculous way, so you can be the cutest crazy cat lady on the block.
Buying handmade has been one of my passions for a long time, and That Vintage earrings have been an obsession of mine for a few years. I have a few pairs of earrings from her and if you've seen me or even a picture of me, I'm probably wearing them. They go with everything, dressy or casual, and they're unique enough for people to notice what good taste you have. The artist, Sophie Hill, is one of the sweetest people in the world and she continually inspires me with her creative ideas. It feels good to buy directly from the artist, and bonus: she adorably gift wraps everything in brown paper and doilies and string, making it such a delight to receive something from her, even if you just bought it for yourself.
---
 Next Up: vibrators JUST KIDDING skateboards, animal pj's and a tea set!
Bras, Boots & Things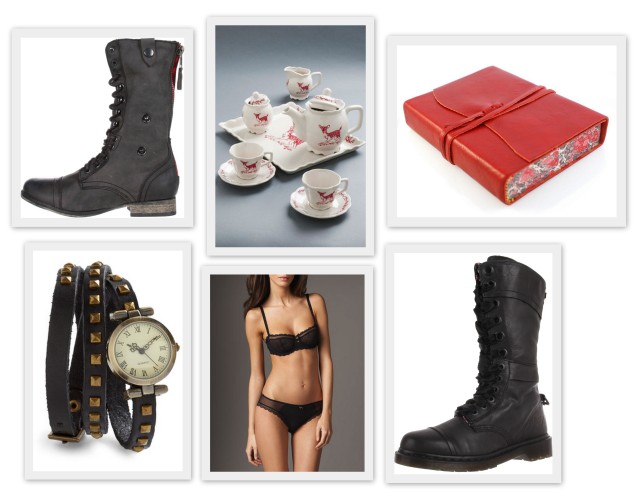 Do you know how hard it is to find small bras without any padding? It is so hard. Also world, here's a little-known fact about me: I don't have enough black things in my wardrobe. I'm becoming a person who needs more black things. I'm starting with bras.
If you really loved me, you would've already given me this.
Steve Madden Camarro Boots and/or Dr. Marten Triumph Boots
Boots, why are you so cute? Why are you the perfect shade of black? Why do you keep begging me to buy you when you know I can't afford you right now?
Leather Journal with that tie thing
Let's gaze back upon my life and count all the times when I wanted this leather journal with the tie situation — SO MANY TIMES. And because writing in a journal this nice is so intimidating, I've decided I'd like to glue and staple and tape things to it. I need this journal. Especially this exact one because look at the pretty paper!
I'm tired of looking at my phone when I want to know what time it is.
---
Aliens, Predators & Skateboards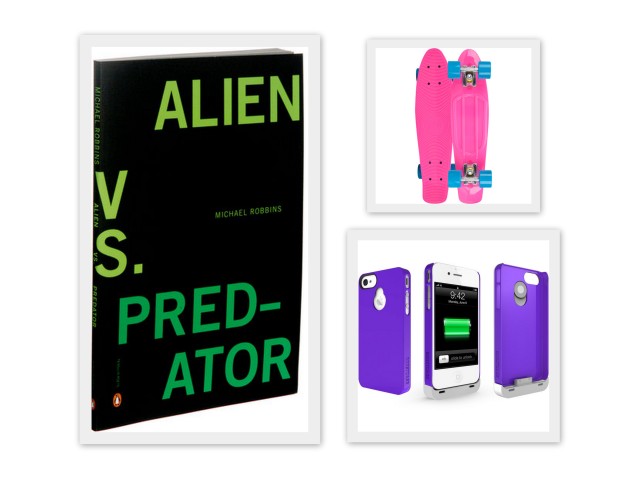 Bootcase Hybrid Snap-On Case (Purple/White)
Bootcase's Hybrid Snap-On and Detachable Extended Battery Case in purple is the Christmas gift of my dreams right now. It's basically a superhero: it's a normal, snap-on, slim-fitted case by day, but when those pesky 20 and 10% battery life notifications pop up, all you have to do is snap on the extra battery and your day is saved.
I'm not a very good skateboarder. I don't know how to do tricks, and I've never been to a skate park. But! I did have one when I was little that has since been devoured by my dad's garage, so that has to count for something. I also live a good half hour's walk from campus, which can get kind of tiring, so I've been revisiting the ol' skateboard, and it's the perfect compromise: it's portable, quick, and much easier to take on the subway. (Also just really, really cool.) Stereo's pink vinyl cruiser is my favorite right now, because it's stylish, functional, and comes with sunglasses and a sticker pack to customize your ride.
Alien vs. Predator, Michael Robbins
I've been trying really hard to get into poetry. I don't dislike it, but a long time ago (read: when I started my creative writing minor earlier this year and had to pick a style) I chose to follow the windy, often purple path of fiction, and so I don't get to read a lot of poetry. The title of Alien vs. Predator drew me in on its own, but after devouring my free Kindle sample, I need more. One of my favorite creative things ever is synthesizing pop culture or the modern with traditionally classical or historical invocations as a technique, and that's pretty much what AvP is all about so don't you doubt and check it out. (Voilà! My complete lack of poetry skills.)
---
Yep, An Animal Onesie
The Fault in Our Stars by John Green
In true Autostraddler fashion, I have a lot -and I mean a lot- of feelings. Over the years, this excess of angst has led me time and time again to YA fiction, the final frontier of heart-twisting/-racing/-wrenching. Word around the Intern Army is that John Green's The Fault in Our Stars is the pinnacle of YA, maybe even literary, fiction and these ladies have yet to lead me astray. Plus, plus, it takes place in my hometown, Indianapolis!
Since I've already given up all pretense of leaving my house during the more icy of the winter months, I figure I need something to keep me warm/let everyone ELSE know I have no intention of leaving the house. I'm a diehard fan of onesies and these animal ones are supafly. I think the tiger is my favorite, but the penguin one is suhhhhh cuuuuuuuute.
Remote Control with Bottle Opener by MyControl
Ok, wow, oh man, I just, can't even… I'm just imagining how much easier my nights/Sundays would be if I had this remote, which could accurately be named "The Enabler". Think of all the lazy cuddling that wouldn't have to be interrupted by scrambling for a bottle opener while camped out in front of multiple seasons of Buffy! …The more I think about it actually, this could be dangerous. I take it back, DO NOT get me this gift, people-frans.
---
Rainbows and Lap Desks
I am a cuddle monster thus I believe all activities should be performed while wrapped in a down comforter. Sadly, my netbook reminds me everyday of its impending doom by overheating and setting fire to my loins in the non-sexy way. This is not conducive to writing in a blanket fort. I need something that elevates my laptop to keep the fan blanket-free. A stable surface to keep my beer upright is also a plus.
I am a sucker for rainbows and somewhat prone to seasonal affective disorder. I have no idea if this actually works, but indoor rainbows could solve all the problems.
---
3. SNOOPY PILL HOLDER/MEDICINE BOX
6. NINTENDO GAMEBOY IPHONE CASE
8. JULIE GOLDMAN COMEDY DVD!!!
---
Whew! That was effing massive! What do you want this year? What did you want last year? If you could have one thing on this list, what would it be? Did you have a healthy breakfast this morning? Just checking! Happy holidays, queerdos!
Pages: 1 2 3 4 5 6See entire article on one page