Bras, Boots & Things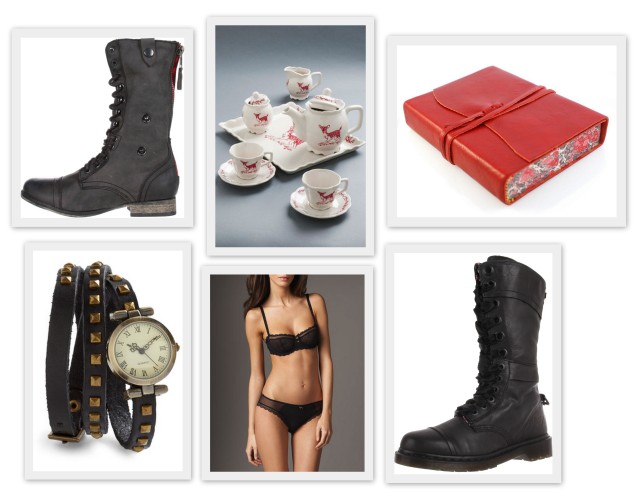 Do you know how hard it is to find small bras without any padding? It is so hard. Also world, here's a little-known fact about me: I don't have enough black things in my wardrobe. I'm becoming a person who needs more black things. I'm starting with bras.
If you really loved me, you would've already given me this.
Steve Madden Camarro Boots and/or Dr. Marten Triumph Boots
Boots, why are you so cute? Why are you the perfect shade of black? Why do you keep begging me to buy you when you know I can't afford you right now?
Leather Journal with that tie thing
Let's gaze back upon my life and count all the times when I wanted this leather journal with the tie situation — SO MANY TIMES. And because writing in a journal this nice is so intimidating, I've decided I'd like to glue and staple and tape things to it. I need this journal. Especially this exact one because look at the pretty paper!
I'm tired of looking at my phone when I want to know what time it is.
---
Aliens, Predators & Skateboards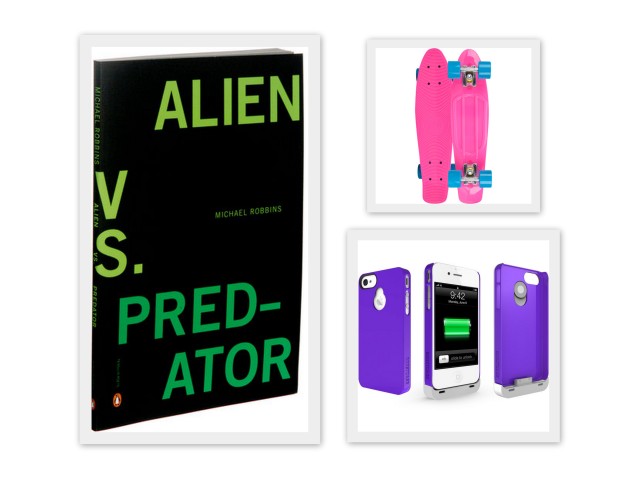 Bootcase Hybrid Snap-On Case (Purple/White)
Bootcase's Hybrid Snap-On and Detachable Extended Battery Case in purple is the Christmas gift of my dreams right now. It's basically a superhero: it's a normal, snap-on, slim-fitted case by day, but when those pesky 20 and 10% battery life notifications pop up, all you have to do is snap on the extra battery and your day is saved.
I'm not a very good skateboarder. I don't know how to do tricks, and I've never been to a skate park. But! I did have one when I was little that has since been devoured by my dad's garage, so that has to count for something. I also live a good half hour's walk from campus, which can get kind of tiring, so I've been revisiting the ol' skateboard, and it's the perfect compromise: it's portable, quick, and much easier to take on the subway. (Also just really, really cool.) Stereo's pink vinyl cruiser is my favorite right now, because it's stylish, functional, and comes with sunglasses and a sticker pack to customize your ride.
Alien vs. Predator, Michael Robbins
I've been trying really hard to get into poetry. I don't dislike it, but a long time ago (read: when I started my creative writing minor earlier this year and had to pick a style) I chose to follow the windy, often purple path of fiction, and so I don't get to read a lot of poetry. The title of Alien vs. Predator drew me in on its own, but after devouring my free Kindle sample, I need more. One of my favorite creative things ever is synthesizing pop culture or the modern with traditionally classical or historical invocations as a technique, and that's pretty much what AvP is all about so don't you doubt and check it out. (Voilà! My complete lack of poetry skills.)
---
Yep, An Animal Onesie
The Fault in Our Stars by John Green
In true Autostraddler fashion, I have a lot -and I mean a lot- of feelings. Over the years, this excess of angst has led me time and time again to YA fiction, the final frontier of heart-twisting/-racing/-wrenching. Word around the Intern Army is that John Green's The Fault in Our Stars is the pinnacle of YA, maybe even literary, fiction and these ladies have yet to lead me astray. Plus, plus, it takes place in my hometown, Indianapolis!
Since I've already given up all pretense of leaving my house during the more icy of the winter months, I figure I need something to keep me warm/let everyone ELSE know I have no intention of leaving the house. I'm a diehard fan of onesies and these animal ones are supafly. I think the tiger is my favorite, but the penguin one is suhhhhh cuuuuuuuute.
Remote Control with Bottle Opener by MyControl
Ok, wow, oh man, I just, can't even… I'm just imagining how much easier my nights/Sundays would be if I had this remote, which could accurately be named "The Enabler". Think of all the lazy cuddling that wouldn't have to be interrupted by scrambling for a bottle opener while camped out in front of multiple seasons of Buffy! …The more I think about it actually, this could be dangerous. I take it back, DO NOT get me this gift, people-frans.
---
Rainbows and Lap Desks
I am a cuddle monster thus I believe all activities should be performed while wrapped in a down comforter. Sadly, my netbook reminds me everyday of its impending doom by overheating and setting fire to my loins in the non-sexy way. This is not conducive to writing in a blanket fort. I need something that elevates my laptop to keep the fan blanket-free. A stable surface to keep my beer upright is also a plus.
I am a sucker for rainbows and somewhat prone to seasonal affective disorder. I have no idea if this actually works, but indoor rainbows could solve all the problems.
---
3. SNOOPY PILL HOLDER/MEDICINE BOX
6. NINTENDO GAMEBOY IPHONE CASE
8. JULIE GOLDMAN COMEDY DVD!!!
---
Whew! That was effing massive! What do you want this year? What did you want last year? If you could have one thing on this list, what would it be? Did you have a healthy breakfast this morning? Just checking! Happy holidays, queerdos!
Pages: 1 2 3 4 5 6See entire article on one page