So there are like "spoilers" in here for the films Friday the 13th and Scream 2 I guess — two movies that have been out for decades, so it seems a little silly to be telling you that, but I don't want anyone yelling at me on this fine Friday. Cheers!
---
Happy Friday the 13th! Every time a Friday the 13th happens, my girlfriend and I have to watch Friday the 13th, easily one of my favorite horror movies of all time. Normally, we would watch the film on actual Friday the 13th, but because I "had" to write this piece that I "assigned" myself ahead of time, we switched our tradition up and in turn accidentally created a new tradition. We watched Friday the 13th on Mother's Day and then were in such a giddy horror mood when it ended that we decided to put on Scream 2 simply because it's the Scream movie that we hadn't seen in the longest time. And then it dawned on us that we subconsciously picked two horror movies about killer moms to watch back-to-back ON MOTHER'S DAY. Like I said, a new tradition has been born.
But anyway, let's get on with it. From the same twisted mind that brought you The 30 Gayest Things About the Supposedly Straight Rom-Com 13 Going On 30 comes a new unwell list. I present: the 13 gayest things about Friday the 13th.
---
1. The moon
The very first shot of this movie is of the moon, and as Dani Janae has taught us, the moon is a lesbian.
---
2. Two people making out in matching polos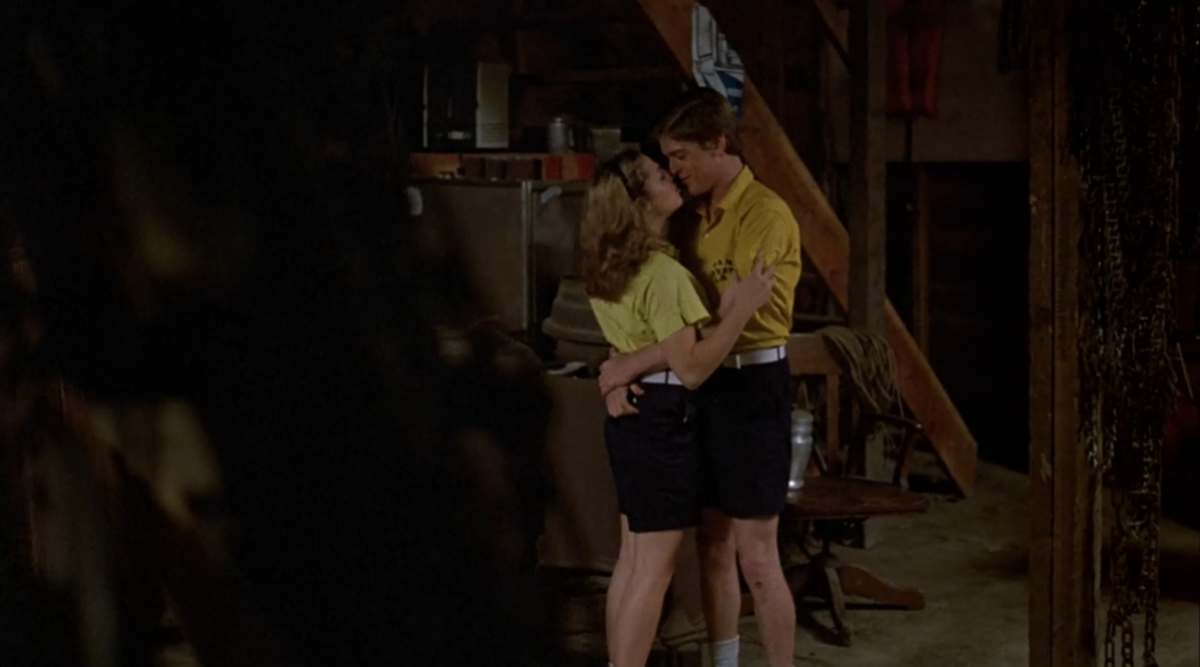 Wearing the same polo, long shorts, and wide belt as your crush? I know it's these teen counselors' "uniform" or whatever, but that's Dyke Culture, baby.
---
3. Having a conversation with a dog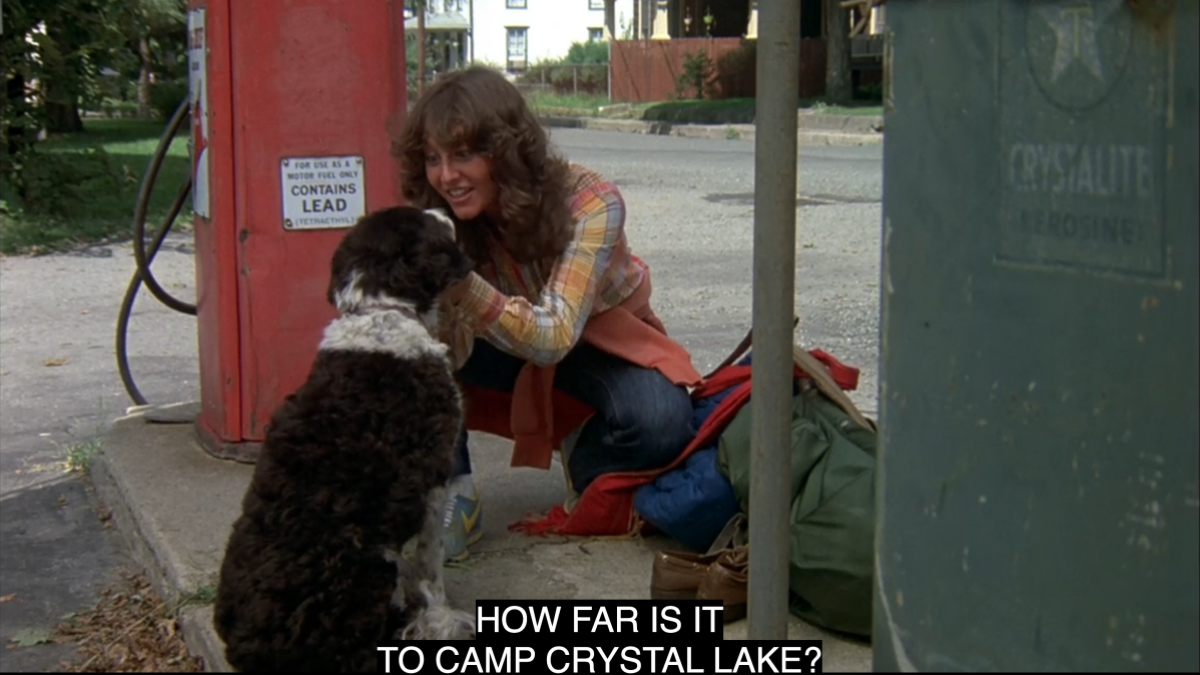 I am 100% convinced this flannel-wearing cook died before we could find out about her butch girlfriend who she co-parents a Mastiff with.
---
4. This outfit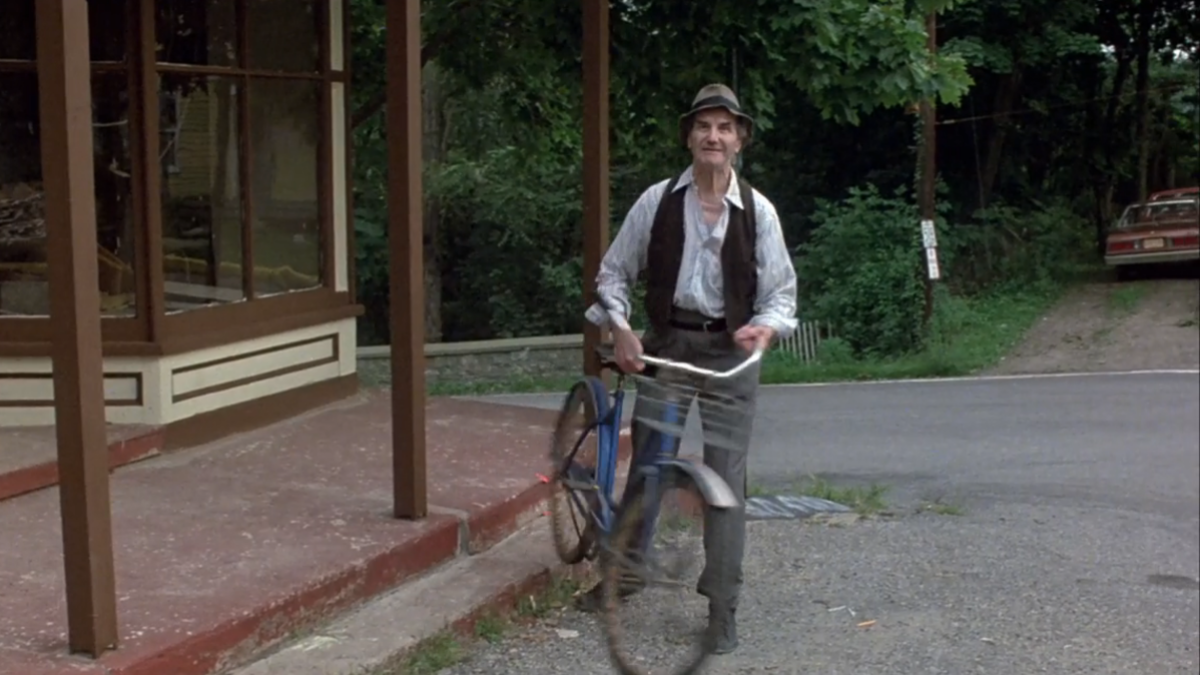 Tell me that's not an outfit a specific type of lesbian would have worn at a club in 2003. TELL ME.
---
5. Alice doing some lite construction with that haircut in that outfit
The fact that she outright rejects this man right after doing a roof repair? Gay.
---
6. Marcie telling her crush about a dream she had (also Kevin Bacon's entire look here)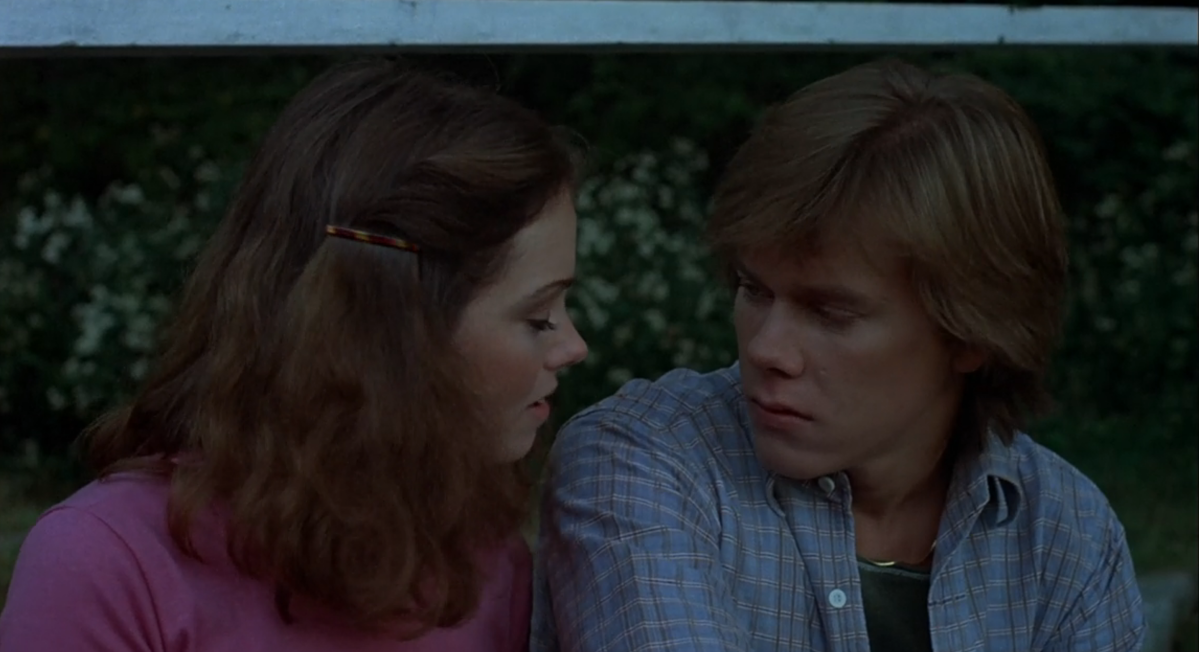 Gays love to talk about their dreams. I always do say that the best form of foreplay is telling someone about the violent recurring nightmare you have.
---
7. The bisexual chair sitting Alice is doing here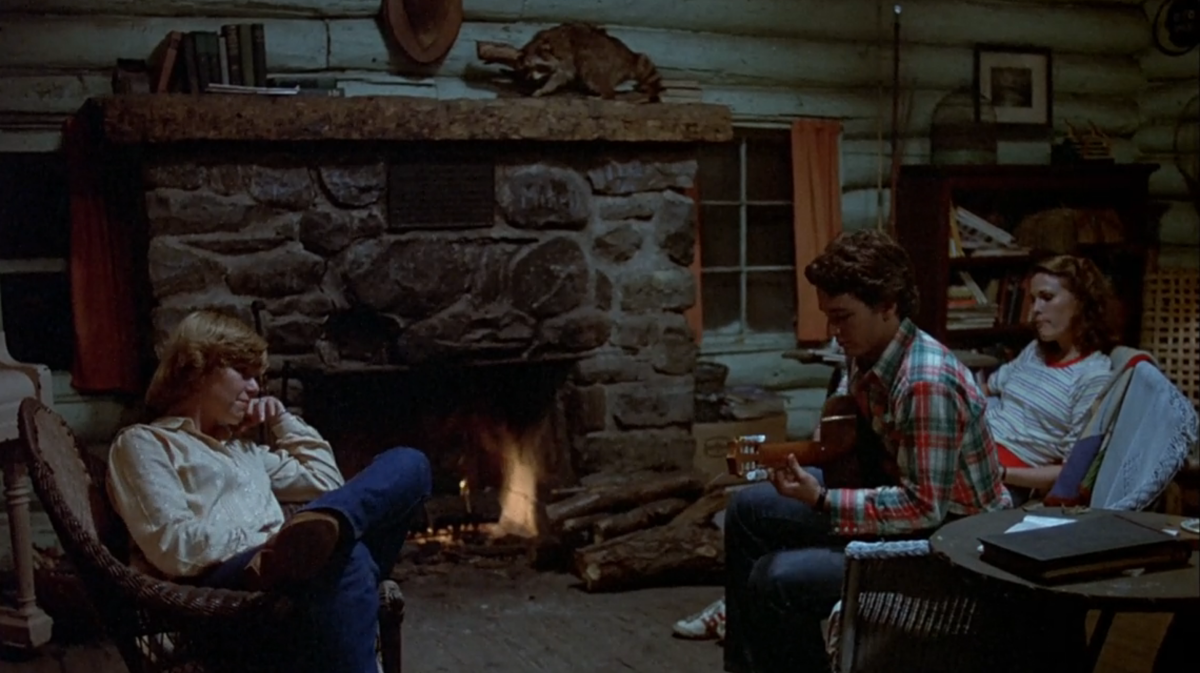 ---
8. Brenda suggesting they play "Strip Monopoly"
This one's obvious, but Brenda is just so jazzed at the opportunity to see both Bill and Alice naked!!!! Also, there's something fittingly bisexual about this striped sweater. Also turning a game about capitalism into a game about being horny for your friends? Iconic.
---
9. Marcie being a secret plumber????
Okay, I don't think fixing a faulty faucet makes her a full-on plumber, but the women in this movie are very capable!!!! The fact that the last thing Marcie does before dying is fix a sink??? This one goes out to the DIY/handy gays! Also, moments before this, she did a Katherine Hepburn impression to herself in the mirror, which doesn't NOT seem gay.
---
10. Brenda saying "just when it was getting interesting" to Alice re:Strip Monopoly…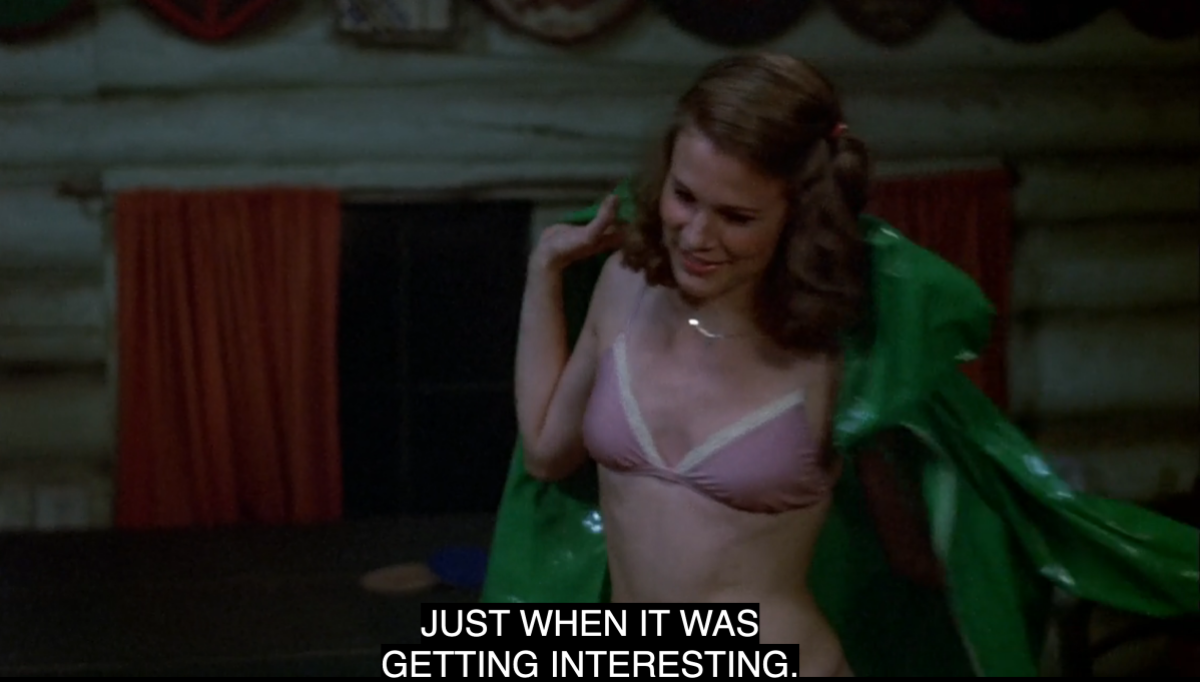 Alice had JUST been about to take her top off when Brenda remembered she left the windows open in her cabin and had to cut Strip Monopoly short. But before she goes, she delivers this line DIRECTLY at Alice in a very seductive voice while putting on a raincoat over her bra and underwear? Why doesn't she put her other clothes back on before leaving???? Also, there's a dream costume party I wanna throw one year for Halloween where people have to dress up as minor/side characters who die in horror films. No one's allowed to be final girls, just dead girls. And I wanna be Brenda and just wear a bright green raincoat over my underwear, because it's a great look!!!!!!!
---
11. Mrs. Voorhees' entire vibe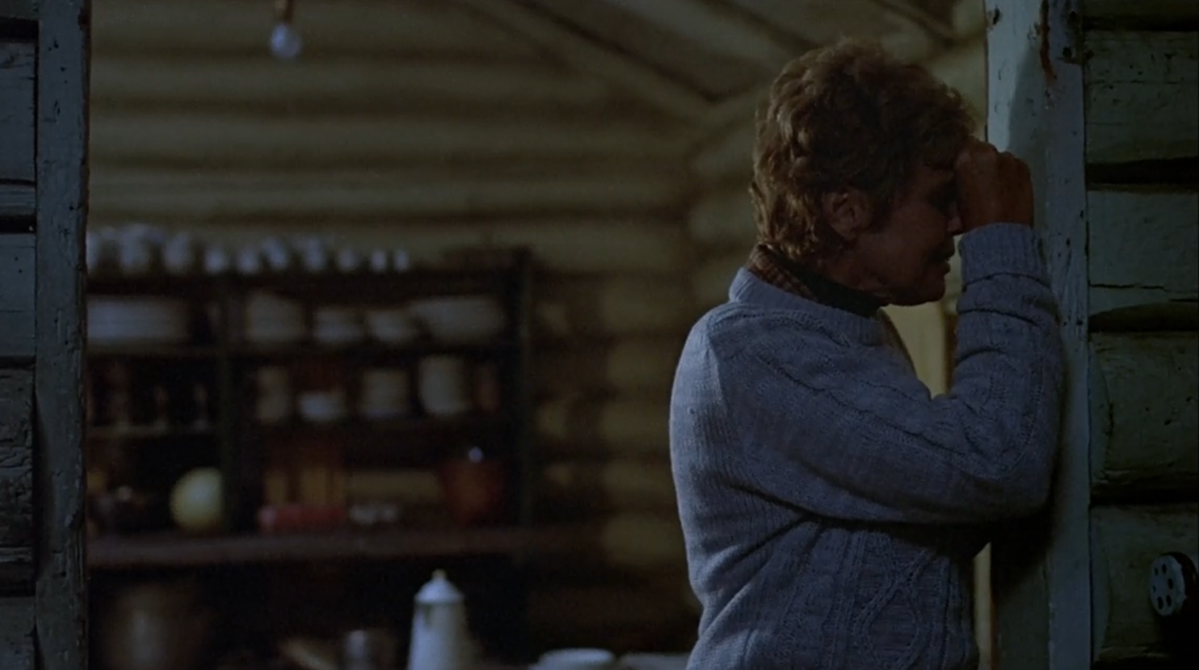 Ok, yes, sure, she's like famously sex negative. But the cableknit sweater? The drama? The PERFORMANCE she gives Alice? Mrs. Voorhees is the most Mommi slasher killer there has ever been.
---
12. Getting slapped around by an older woman
I mean, sorry Alice and reader, but I had to say it. Some people dream of this. Also, re:the above screenshot, why is this little head nod that Mrs. Voorhees does when Alice is throwing random objects at her so funny AND hot? Mrs. Voorhees has swagger??? Also also, I want to take this time to recognize Mrs. Voorhees' absolutely next-level upper arm strength????? When she punctured an arrow through a mattress AND an entire throat during the Kevin Bacon kill???? WHAT
---
13. Emotionally processing in the middle of a lake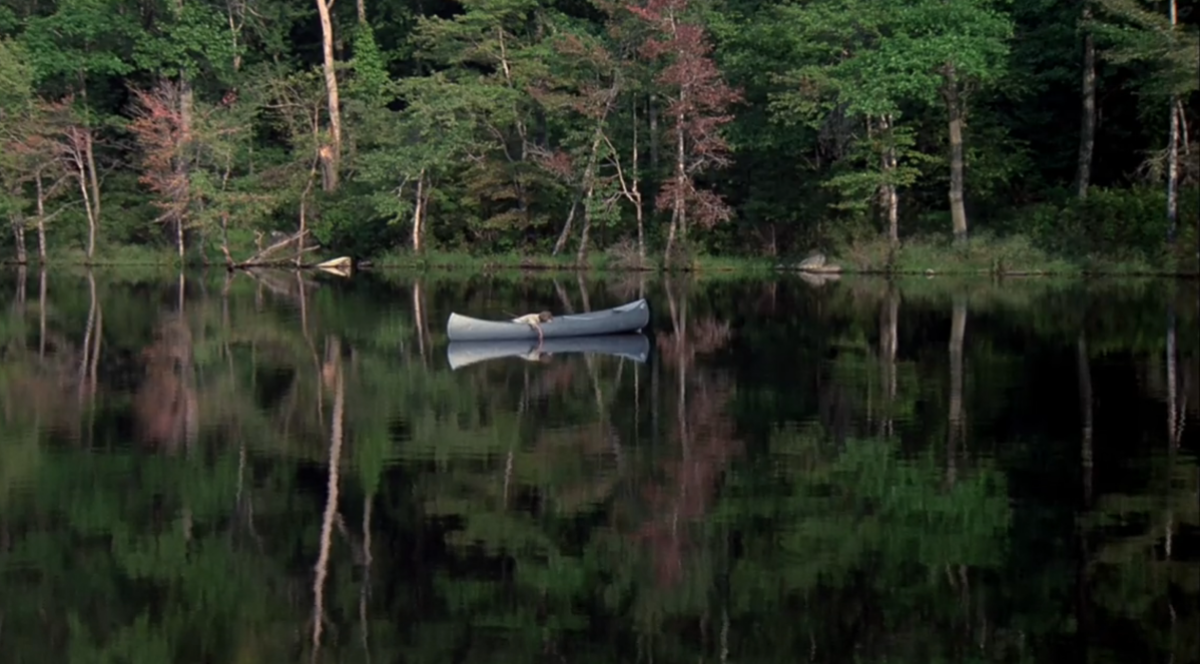 Okay, Alice is more so passing out from exhaustion in the middle of the lake after just having decapitated an old woman who was trying to kill her to avenge her dead son, BUT! The facts that she can repair roofs and appreciates a good little paddle out in a canoe at the end of the day absolutely confirm my belief that Alice is an outdoorsy handy gay who knows her way around a tool belt and a hiking trail.
---
I do love that the way I selected these screenshots basically makes the movie look like a cute indie film about a bunch of camp counselors doing shenanigans and not a blood-filled slasher movie. Love to recontextualize.
A bonus 14th gay moment in Friday the 13th is the final jumpscare. I can't explain it, but jumpscares are queer. And I refuse to screenshot this one, because I believe it to be the most effective jumpscare of all time, and even though I've seen it a million times and KNOW it's coming, my heart skips a beat every time, and even just seeing the image here would affect my pulse. If I had been alive in 1980 to see this movie, I would have…died in the theater during the jumpscare? Like I'm absolutely sure I would have left my body.