You weirdos probably leave your house during the day. Maybe you go to work or to school or to visit your grandmother. Perhaps you even have children who also leave your house and attend a school of some sort. You and your hypothetical children will get hungry at some point during your Big Big Day and you'll need to eat something nutritious so you don't die. This meal is usually called 'lunch.'
Lunch is my favorite of all the meals, for many reasons! First of all, you're fully awake, so the chances of you putting eggs in the coffee press instead of the skillet are SLIM. Lunches are typically uncomplicated times with uncomplicated foods, which I enjoy. Last but not least, lunch signals the middle of your Big Big Day, and that means the part when you get to have a fancy gin + tonic and watch Mystic Pizza is sooner than it was at breakfast. Yay lunch!
But gayfaces, what will you eat? If you're made of money and haven't donated all of it to Autostraddle, you'll probably buy lunch at a restaurant and feel very gifted and special. Good for you. But with back-to-school happening and our entire staff somewhat paralyzed by a variety of factors including it being a slow news week, everyone being in flux and our redesign taking a few extra weeks to complete, we thought now would be a great time to talk about a truly timeless topic: FOOD. There are a lot of factors that go into the perfect lunch. Here are some of our tips.
Riese:
1. Get a 24-Pack of Nature Valley Crunchy Granola Bars (only 25 cents a bar when you get the big boxes, as opposed to like 2 dollars each at the store) and while the granola bar is still wrapped, mash that sucker to death. Then it becomes like portable granola to pour gradually onto your yogurt as you eat it. I like Stonyfield Farms Fat-Free Yogurt because it's the only fat-free brand that doesn't use aspartame, which I am 75% sure is going to give people cancer. It's the only fat-free brand I'll eat of anything, actually.
2. I wish Go-Gurt had existed when I was still in school. It's portable yogurt, you guys. GOGURT. It's right up there with all my other favorite portable foods, like Fruit Leather, Peanut Butter Crackers and STRING CHEESE.
Laneia:
If you're in the business of packing lunches on a daily basis and you're so totally over plastic baggies and sandwiches and you enjoy compartments and creativity, I enthusiastically suggest bento boxes! There are about 872348 styles to choose from.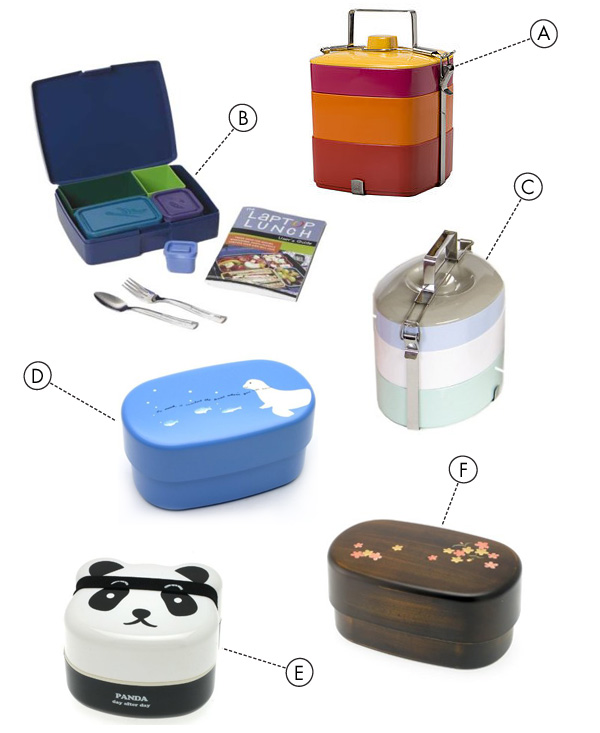 A. Vivo Square Bento Box $32.99
B. Laptop Lunch Bento Set 2.0 $22.99
C. Vivo Oval Bento Box $39.00
D. Kotobuki 2-Tiered, Seal / Fish $18.95
E. Kotobuki 2-Tiered, Panda Face $22.00
F. Kotobuki 2-Tiered, Woodgrain / Cherry Blossom $33.00
You can get really crazy with bento boxes. Like, people get crazy, you guys. I don't. I just pack some semi-creative things and call it a day. There are egg molds in the shape of animals and vegetable cutters so you can have cloud-shaped cucumber slices!
I found this Flickr set a couple of years ago. There are a million groups on Flicker dedicated to bento porn, like this one, which demonstrates how insane everyone is, but might also inspire your lunchbox creativity. Look, here's the Vegan Bento Pool! You guys are so special.
Rachel:
My main feeling about lunch is soup and my other feeling is to-go containers from Indian restaurants. I find that they are the perfect size for the amount of food I like for lunch. Anytime I make food (like for dinner) and have leftovers, I divide the leftovers up into a bunch of to-go containers from Indian restaurants, and BAM INSTANT LUNCH for the rest of the week. It's automatically the right portion size and also I can take it out into the world if I need to!
Also if I make a lot of something (like soup!) I will put it into single-serving-size containers and store them in my freezer, where they then becomes instant lunches for weeks or even months to come. I can either microwave it or take it out 24 hours beforehand to defrost.
Bonus recipe from Champaign Taste: Lentil Salad with Spinach, Chevre and Curry Tarragon Dressing. This is one of my favorites!
Sarah Croce:
I eat a vegan salad for lunch just about every day. I know that sounds potentially boring, but it doesn't have to be!
Let's start with the ingredients. They are totally interchangeable and should be bought fresh weekly so you can always have a rotating assortment of options!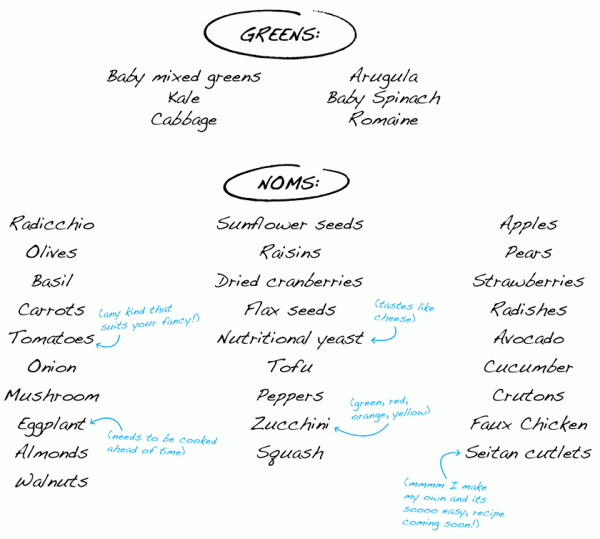 You get the idea, right? You can pretty much throw in anything you want and it will taste like heaven. Think: color and seasonal! Fucking whip that shit up together and you have a salad. I usually put these together at night before I go to bed. EASY.
Make your own dressing! This way you know what's in it (good stuff) and what's not (high fructose corn syrup).
Avocado Lime
splash of water
1 avocado
1 clove garlic
3T fresh squeezed lime juice
3 T cilantro
2 T honey
1/8 chopped jalapeno (if you like it spicy)
salt and pepper to taste
Combine in a food processor. Add more water if necessary.
Honey Mustard
2 T honey
4 T Dijon mustard
1 t lemon juice
Whisk together.
Lemon Balsamic
1/2 lemon
2 T balsamic vinegar
1/4 tsp oregano
1 clove garlic, minced
2 T olive oil
Whisk together.
Walnut Balsamic
4 T walnut oil
1 T balsamic vinegar
1 t Dijon mustard
dash of salt
Whisk together.
Asian-y Dressing
1 T Braggs Liquid Aminos
2 T soy sauce
1/2 lemon, juiced
1 T sesame oil