It is finally the time of year where the sun shines for more than a few hours at a time and it occasionally rises above 60 degrees, which means it's time for a lot of caffeinated iced beverages. Are you ready? I'm ready.
Once upon a time, I worked as a barista at a place that had its own homemade cold-brewed iced coffee, and while I don't mean to brag, it was generally understood to be really fucking good iced coffee. We would take a giant bag of coarsely ground coffee called "toddy," mix it with water, and let it steep for 24 hours or so before straining it intensively to get "coffee concentrate," which would then be diluted with water into delicious delicious iced coffee. Now that I do not work at that place or live in that city anymore, I was bemoaning my inability to make the same thing at home. Then I realized that while the ground coffee we used was called "toddy" it was actually still just coffee, and I have a ton of that. So! Largely thanks to this recipe from the New York Times, here's an easy way to make baller iced coffee according to your own preferences at home. Because you think that just putting hot coffee in the fridge is a good idea, but it's really not.
ICED COFFEE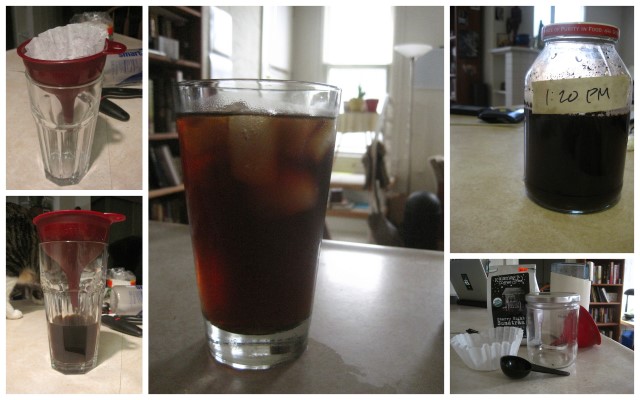 1. Grind about 1/3 cup of coffee beans, not too fine. Medium/coarse is good.
2. Put it in a jar or other glass container that can be covered/made airtight. I guess you can use tupperware if you want, but I wouldn't recommend it, at least not unless you want what's in that tupperware to taste like coffee forever.
3. Add about 1 1/2 cups of water, or more to taste. (My coffee is a super dark roast, so I added like two cups.) As is, this recipe will make 2-3 drinks worth of coffee; if you want more than that, feel free to use a larger container and double the amounts of coffee and water.
4. Leave your container at room temperature for somewhere between 12 and 20 hours. I know that's a big difference. I went with about 12, but other people like other things! Like stronger coffee I guess! Depending on what kind of beans you're using and what you think you like, do what you want, but maybe err on the side of less brewing time rather than more. I labeled my jar with the time I started so I wouldn't forget!
5. Strain the grounds out of your coffee. I did this by putting a funnel lined with a coffee filter into a tall glass and pouring the coffee concentrate through it, and then doing the whole thing again so that the silt and leftover grounds were totally gone. If you're fancy, you can actually just do this whole process in a French press, and press the mesh down to strain the grounds out. I didn't do this because I can't go a full 20 hours without using my French press to make actual hot coffee, but hey, you do you.
6. DON'T DRINK IT YET. What you have now is not iced coffee, but "coffee concentrate." Put some water in it! I went with a 1:1 ratio of concentrate to water, but you might like more or less. You can add water a little at a time and taste it? Up to you.
Now you have something you can pour over ice, and keep the rest of in the fridge to drink later! I have heard rumors that putting a pinch of salt in there tastes more refreshing somehow, but am skeptical. Let me know how that goes! Feel free to also weigh in on the regular iced cube/coffee iced cube controversy. Either way, enjoy on your patio or through a straw, in bed, while laying under a ceiling fan. Life is good, no?
---