This is so weird I almost don't know how to bring it up, but — do you guys not know how to make suntea? You do, right? Because I was pretty sure you did but then I found out sometimes people don't and was bewildered and upset. Obviously I'm going to work on the assumption that you, individual reader, already know about this, because it is such an essential life skill I just can't even deal with thinking about how you are getting through a day in August without it. So for maybe like some friends of friends of yours who are somehow missing out, here's the deal.
Suntea is essential because it provides you with iced tea, without which there is no point in even existing during the afternoon in August, but you don't need an iced tea pitcher (which, where do you even get those? I have never known) and you don't need to heat water or anything else in your kitchen, or do the thing where you then put hot water in plastic in your refrigerator and wait for it to cool and worry that the hot water is leaching carcinogens out of the plastic and into your drink. Also you don't have to time the steeping and then try to somehow fish like eight teabags out of a gallon of almost-boiling water so that it doesn't get too bitter and undrinkable. Anyways. Making suntea is really easy and also avoids all of those problems! Here is how it works:
Take a large Mason-type jar, the largest one you can find. It needs to have a lid. Take a handful of teabags, more than you would use for the same amount of water if it were hot, and put them inside the jar. I like to mix types – mostly black tea with maybe one or two bags of fruity tea, and a handful of fresh mint is very refreshing if you have it. See here: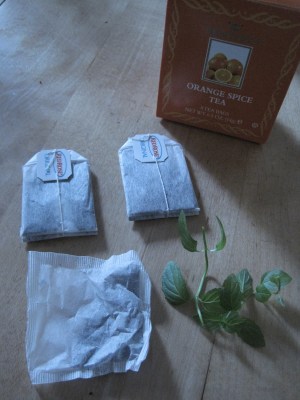 Did you do that? Good, great, you're doing really well. Now put it in the sun. Seriously, that's it. Do you have a porch? That's probably ideal. A windowsill would probably also work. Maybe the dashboard of your car if you have street parking? I haven't done this but I imagine it would work. Mostly the key for, you know, the SUNTEA is SUN. Leave it there for like 4-8 hours. I don't know. Somewhere in there. Until it looks like tea. The magic of this is that the gentle heat from the sun means it never oversteeps, so if you get wrapped up in watching every movie Ellen Page has ever been in and also Trailer Park Boys because it turns out she was in that too it will still be totally fine and delicious twenty-seven hours later. Here is an example of when I decided mine was "done:"
Okay, done! Pour it over some ice and drink it! Are there any questions? No of course there aren't because all you have to do is put some shit in a jar and then fill it with water. You could literally just pass out for hours after that step. In fact maybe you should. I find it works really well to do this right when you get up, just mix that shit up and stick it out on the porch, and then around noon (or maybe when you get home from work eight hours later) and are all "JESUS who do I have to commitment ceremony around here to get some iced tea" well hey, it's right there. Are you doing this right now? There is absolutely no excuse not to, unless you have some kind of strong personal reason from your past for avoiding Mason jars or maybe religious restrictions against, I don't know, things that will make you happy. Anyways what are you gonna put in your tea??