I want, nay, NEED to redeem myself from the last frozen cocktail recipe, the making of which resulted in the summoning of a Cthulhu blender monster. Luckily, an A+ member had a request for me that would allow me to try my hand once again at a smoothie-type drink. Something along the lines of an iced coffee cocktail. Well then! I can easily stick that in a blender and prove that I do, in fact, know how to use one. And could it be vegan? Well darn tootin', it could!
I looked up a few coffee cocktail recipes and my heart wasn't in them, so instead, I decided to whip up something I'd want to drink right this very second. I already associate the blender with monsters from the ocean coming up to get us (for no reason, obviously), so I decided that the way to go in this case would be the Kraken. I'm calling this drink From the Frozen Depths.
---
You will need: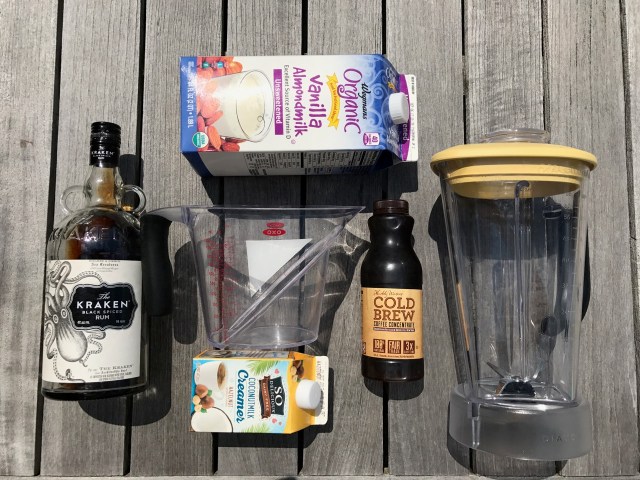 + 4 oz. cold brew coffee concentrate
+ coconut milk creamer in the hazelnut flavor
+ another sort of nondairy milk-esque situation (I'm using vanilla almond milk)
+ 3 oz. Kraken dark spiced rum
+ 1 cup ice
+ a blender
Using a liquid measuring cup, measure out approximately one cup of ice. Dump that into the blender and set it aside. You are now on a timer. Move quickly enough that your ice doesn't melt!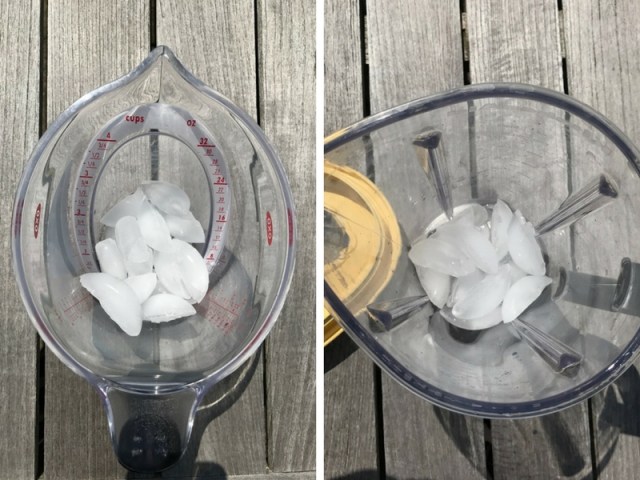 Mix up the coffee concentrate. In this case, I'm using Muddy Waters and the instructions say four ounces per serving. So I'll use my jigger to measure four ounces out, and then I'll pour it into that same liquid measuring cup. If your cold brew coffee concentrate has a different serving size than this, that's totally cool. Measure out that serving size into a liquid measuring cup. The important part is that it finishes in a liquid measuring cup.
Dump the 3 oz. of Kraken in there next. Give a little splash of the coconut milk creamer, but don't fill it all the way to the cup mark or it'll be too hazelnutty. Grab your other nondairy milk-esque situation and fill it to the cup mark to cut that sweetness. Once you've got all that going on, dump it into the blender over top the ice.
Put the lid on your blender and affix that sucker to the base. Do a couple ice-crushing pulses, then set it to purée. This is purely a texture thing, so judge by sight whether or not the smoothie is done. Pour the drink into a poolside margarita glass or a nice, clear coffee cup. There should be enough here for two folks to drink. Enjoy!
Don't have a blender? This would work great as an iced coffee drink as well. I just like the way it foams up at the top when you blend it and also I DIDN'T SUMMON BLENDER TENTACLES go me.