"Have you heard of this frosé thing?"
My mother-in-law is constantly tipping me off to things we have to try, stuff I should mix or bake or what not. I must admit, I had not heard of this frosé thing before she said it. But hey, I'm defo into mixing drinks that have a millennial pink hue. I thought, why not. Even if it's undrinkable, it'll be good fun. It's apparently trendy, with several bars and cafés serving it this summer. And the fourth of July was fast approaching, which meant basically a weekend-long barbecue filled with extended family. What better time to attempt a blender drink?
I started researching frosé and half the recipes made my screw my face up in a terrible wince. Vodka? Strawberry simple syrup? Could you even taste the rosé in the end? I decided to riff on a recipe that would cut the sweet down a bit — and for that, I involved Aperol. Aperol, if you've never had it, is in the same family as Campari. It's an Italian apéritif that, instead of the distinct grapefruit taste, has a bitter orange taste. It's perfect if you have any members of your family don't care for the amount of bitter that is Campari, but still want a light, refreshing taste to cut the sweet.
You will need:
+ An entire bottle of rosé, something on the darker side but not more expensive than $12 a bottle.
+ 2 oz. Aperol
+ The juice of four lemons (about 2 oz)
+ 1/3 cup sugar
+ 1/3 cup water
+ 3 trays of ice
+ the ability to learn from one of my giant mistakes
We're going to start by making up a simple syrup. Put the 1/3 cup of water in a pot on your stove and bring it to simmering. Then dump the 1/3 cup of sugar in. Keep it simmering and stir it until all the sugar is dissolved and it looks like you have water, but actually what you have is sugar water. Hey, remember that Men In Black villain? Edgar?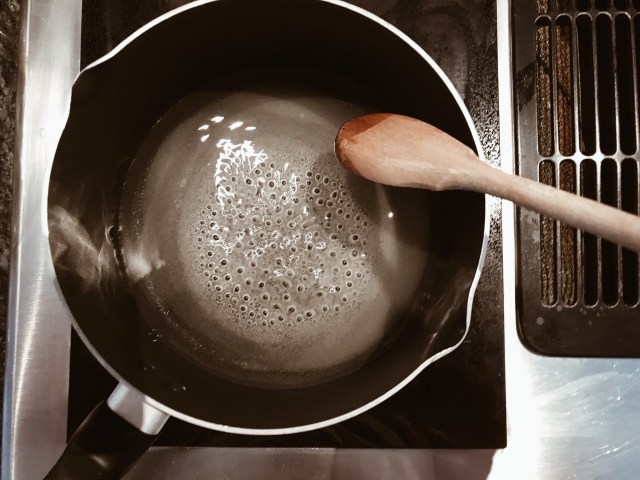 Anyhow. Set the simple syrup aside to cool. Now go ahead and juice your lemons. I used four, and as per ushe, I cut them lengthways because I believe you get more juice that way. Combine the lemon juice, 2 oz. Aperol and the 1/3 cup simple syrup and set it aside.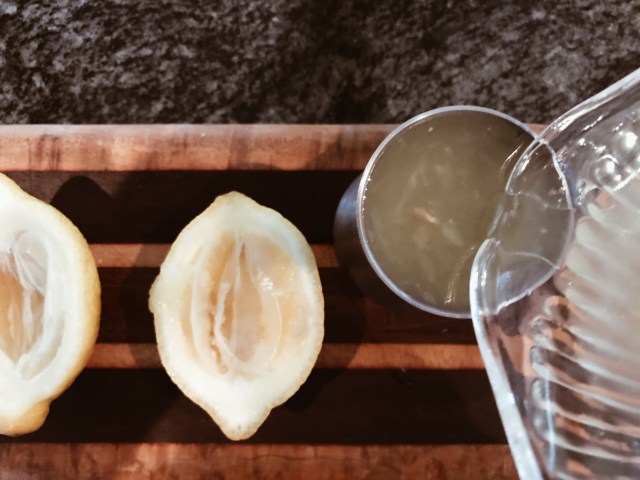 Now reckon with your blender.
This step, for me, is where it all went to Hades. As I made this drink in my in-laws' kitchen, I had access to a crazy margarita machine owned by my father-in-law, Richard (not to be confused with my father who is also called Richard). What it does is it shaves ice and then blends that ice with whatever you stick in the blender, making the perfect consistency of frozen booze treat. I could've just used a blender, we have one, but no. I had to try this f*cking contraption.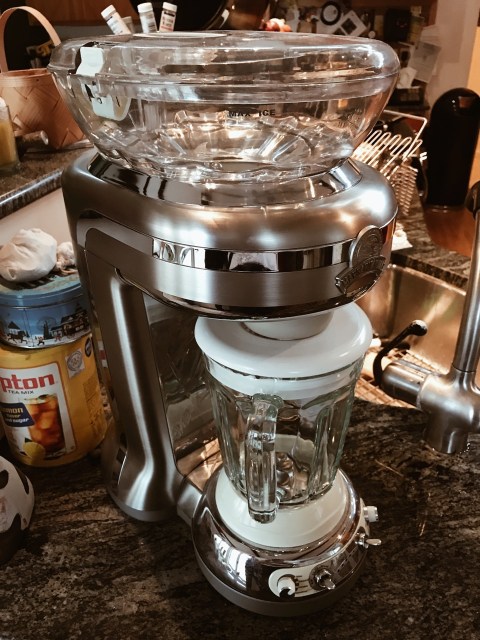 Nervously, Richard offered to run the margarita machine. "Oh, you don't have to do that!" I exclaimed. "Just show me how to do it." Richard wasn't drinking the frosé because he had little faith in the experiment, and I felt bad making him work for a drink he wasn't going to have. I turned to other family members, waiting behind me for their frosé. "It's basically just a blender, after all." Those were what one might call "famous last words." I combined the entire bottle of wine with the pre-combined Aperol, lemon juice and simple syrup in the blender. It did not fill past the line that Richard had pointed out to me just 30 seconds earlier. Then I dumped three trays of ice into the ice-doodad on this marg spaceship. And I turned it on.
You may notice that there are but a few photos of this particular drink-making process. That is because, when I flipped this switch, this drink rose up from the depths of the blender like Cthulu from the deep. One might even say it "rosé" up. My dog started barking, my family started screaming, and I, covered in frosé, attempted to turn the machine off.
Queermos. It. Would. Not. Turn. Off. Nothing I did to this machine made it stop. Finally, I leaned over the sopping mess and pulled the plug out of the wall. I was a little embarrassed until everyone in the kitchen started laughing and laughing and laughing.
Here is what I'm saying. What I'm saying is, DIVIDE THE MIXTURE INTO TWO PORTIONS AND BLEND EACH PORTION SEPARATELY. DO NOT BE A HERO.
Pour your frosé into margarita glasses, martini glasses or similar. Something large and in charge with a stem—you don't want your hot hands to melt your frosé faster. Miraculously, I still had enough for five full glasses and one smaller glass.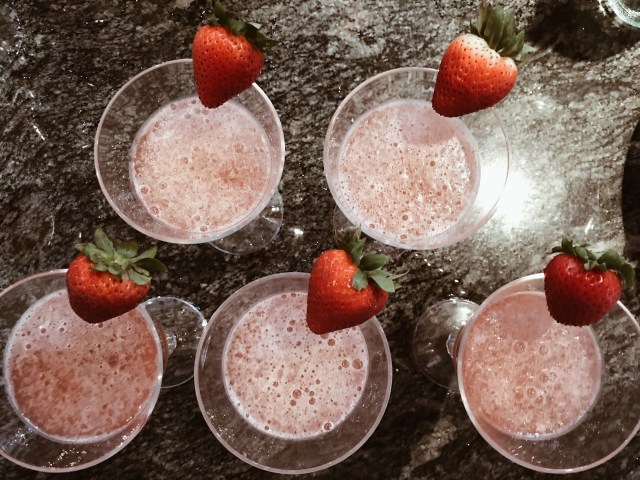 Take a strawberry for each glass and slice it with a knife. Slide it onto the lip of your glass. Clean up the remnants of the frosé monster before your dog gets drunk. And enjoy with a family that now thinks tremendously less of you than they did before.