Welcome to the 17th recap of the second season of Faking It, a reality show based in a post office staffed entirely by characters from Bill & Ted's Excellent Adventure from the network that brought you Engaged and Underage.
---
We open in Shane's boudoir, where his sister, the character formerly known as Paige McCullers — currently known as Sasha Harvey — wants Shane to play hooky so they can lie around in bed and say the word "snatch" all day.
See, Sasha's just left her boyfriend Jake and now she's got nothing to do and nowhere to be and doesn't wanna get a job. Instead she'd rather have sexual fantasies about Liam Booker. Did you know that the simple sight of Sasha gave Liam his first pre-pubsecent boner? Welp, now you do. Now you know that forever. The world will turn and turn and right there is where you shall remain, knowing that tidbit about Liam Booker. You'll never not know it. Shane's worried that Liam and Sasha are gonna do the horizontal mambo at Club Harvey, but Liam promises he won't! Sasha, however, can promise no such thing.
---
Cut to Blue Oasis No Homo Yes Lez Do It Hi-High School, where Amy's telling Karma that her parents are gonna still try to make it work even though Farrah cheated on her kind hubby with her ex, the Hank of Burning Love. More importantly: it's Lauren Junior Prom season, as illustrated by Lauren's Lauren Junior Prom Banners displayed throughout campus.
Karma thinks she and Amy should go together so they can request "Straight Up" on loop and dominate the dance floor, thus guaranteeing Karma will remain the least popular girl in school forever and ever. Amy would rather sit on the sofa and marathon prom movies, like Carrie! Felix is like, "the original or the remake?" and I mean, DUH the original, but we all know the point of this convo is for us to see that Amy and Felix Have So Much In Common. "The original," Amy says. "I'm insulted that you'd even ask me that."
Meanwhile, a vandal is on the loose at Hester High, tagging Turner's Big Brother murals with a menacing "B," which totally ruins the color scheme.
Lauren reports that they've barely sold any tickets to Lauren Junior Prom. At a normal school, Turner would punish the students by canceling prom or forcing them to get dressed up for prom and then sequestering them inside a small outdoor lot enclosed by an electrocuted fence in a rainstorm, but not these hippies — nope, the only way to show these ganja-smoking goons who's boss is to require them to attend prom — with dates.
Karma's eager to get Amy on lock as her prom date, but Amy's gotta protect her heart from Karma's repressed sexual fluidity. She can't actually tell her this, of course, because telling people things is not The Way Things Go Around Here, so instead she tells Karma it just wouldn't be fair for her to spend a night she's been obsessing over all her life with her platonic maybe-lesbian bestie instead of a boy she might be able to take back to her juice truck for a little rock-and-roll. Karma rejects Shane and Amy's date suggestion of "Felix," saying he's like a brother to her. But she's into Amy's suggestion of the lab partner she's been crushing on. They have chemistry… in more ways than one.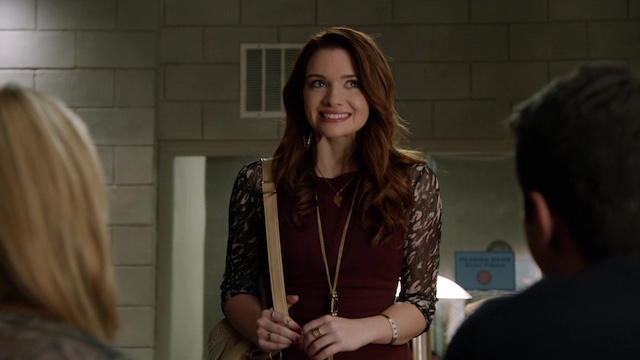 Amy: Problem solved!
Shane: What if their chemistry is all inside Karma's delusional self-absorbed head?
Amy: Don't talk about Karma like that, she's my best friend. Okay, maybe I should get a date just in case.
I think we all know where this is going.
---
Meanwhile, Lauren's bunsen burner is on fire with ire regarding Turner deciding to not just make Lauren Junior Prom mandatory, but to make prom dates mandatory, which turns out to be a wholly selfish maneuver — he wants his son to step away from the X-Box and into a woman's XXX-box, or something. Honestly Felix reminds me of my friend's ex-boyfriend so hard I can barely even view him as an independent character. He seems like a nice guy or whatever but I'm just not feeling this at all.
---
Amy tracks down our old friend Oliver in the drama department, where he's hanging posters for his new show, "Falling Down The Donut Hole: A True Story of Unrequited Love and Despair," starring his new girlfriend, who's basically Amy's stunt double. So, there goes that Lauren Junior Prom date idea!
---
Theo's not okay with Lauren going to Lauren Junior Prom with some other dude, but they've got no choice in this cruel cruel world. He must settle for veto power, just like Obama. Lauren tells Theo that she likes seeing him jealous of her. She says this while playing with his security uniform tie, at which point I realize Lauren and Theo would've made an excellent addition to the Halloween Costume Ideas for Couples With Significant Height Disparities post.
---
Shane tries beating around the bush rather than directly asking Wade to Lauren Junior Prom, which of course fails, and then Wade's gotta go to class.
He rounds the corner and runs smack-dab into… Karma, who's all like, "Hey there Chem-Buddy!" Karma's crush and Shane's crush are the same damn man.
---
Extreme hacktivist "B" has now wormed his mysterious way into the school's SkorklePad network, releasing a film which compares prom to prison? So obviously B is an idiot. However, the tackiness of that particular comparison isn't nearly as compelling to Shane as his conviction that Liam is B. Liam insists that he isn't B. Probably B is Ezra, let's be real.
"When did you become such a pretty little liar?" asks Shane, following with, "are you also lying about Sasha?" Oh but Liam's not lying about Sasha, he pretty-promises. He'd never do anything to screw up his new life with his new family, The Harveys. (Just wait 'til their long-lost underground captive sister Sara shows up, talk about a girl who doesn't know how to properly thank a family for taking her in.) Shane believes him. About Sasha, but not about being B. That's still up in the air. Speaking of Sasha Harvey, she got a lunch pass to eat with Shane 'cause she's so bored at home! There's something seriously wrong with this person.
Anyhow, Sasha licks Liam's ear and tells him the age of consent in Texas is only 17. Liam says he can't sleep with her 'cause she's six years older than him and she's his best friend's sister. If only he knew she was once a lesbian who tried to drown Emily Fields in a pool, then he'd hop into bed with her in no time!
---
Amy's Quest to get a date to Lauren Junior Prom continues with a call to Jasmine — remember her? The awkward date that ended up with Amy telling the story of her unrequited crush on her best friend? The glorious relationship that could've been but never was?
Jasmine: Lemme guess, she wants to go as friends and you're worried about old feelings coming up?
Amy: How did you know?
Jasmine: I told you, I've been there. And I hate to break it to you, but you're still not over her yet!
Amy: I am! In fact, I had a girlfriend —
Jasmine: And you two broke up because you're both "in really different places" or some other bullshit reason?
Amy: How did you know all this? Are you from the future?
So apparently Jasmine isn't interested in free punch and a meaningless hookup, so Amy's left to bang her head against the locker and await the inevitable realization that she will obviously be going to prom with Felix, world's coolest cat and world's fourth-coolest land mammal.
---
Elizabeth, however, has this shit in the bag: an adorable scrawny red-headed boy would like her to do him the honor of allowing him to escort her to Lauren Junior Prom. "Pick me up after Judge Judy," she commands. Leila's got three offers too. Two of them are from me. I hope the other one is from Amy. Then Tommy shows up bearing flowers and a red heart possibly made out of styrofoam or filled with chocolate to ask Lauren to prom and apologize for being a jerk now that he knows she's "not really a dude." Everybody says "awww" like what he just said wasn't terrible and gross. After all, he reminds her, they look great in pictures!
But, you know, Lauren needs a date to Lauren Junior Prom, and she can't take her main squeeze, so…
---
Pages: 1 2See entire article on one page