feature image of Calvin & Hobbes desktop wallpapers via comicbook.com by Nite4awk
---
When you're a giantess like me, dressing up with girlfriends has historically presented a challenge: primarily, I can't really wear heels if I want our interactions to happen at approximately the same ozone layer. But Halloween costume season is our opportunity to truly shine as the short and tall people that we are and embrace the inches between us.
Of course, all of these costumes work regardless of height, these are just especially adorable choices!
---
1. Peter Pan & Tinkerbell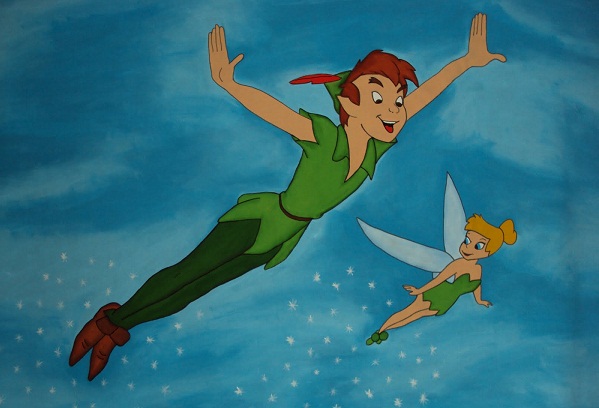 Peter Pan is a popular choice for our people because Peter Pan has a special spot in queer hearts. For Tinkerbell, you can buy a pre-made Tinkerbell costume (not sure if those are any good), patch one together with a shiny skater dress or make your own (and do your hair and makeup like a boss.) A Beautiful Mess has a great tutorial for a Peter Pan costume — there's plenty pre-made ones to buy, but in my experience as somebody who usually keeps Peter Pan or Robin Hood as my default costume, you're better off getting some green felt and doing it yourself.
---
2. Roger Rabbit & Jessica Rabbit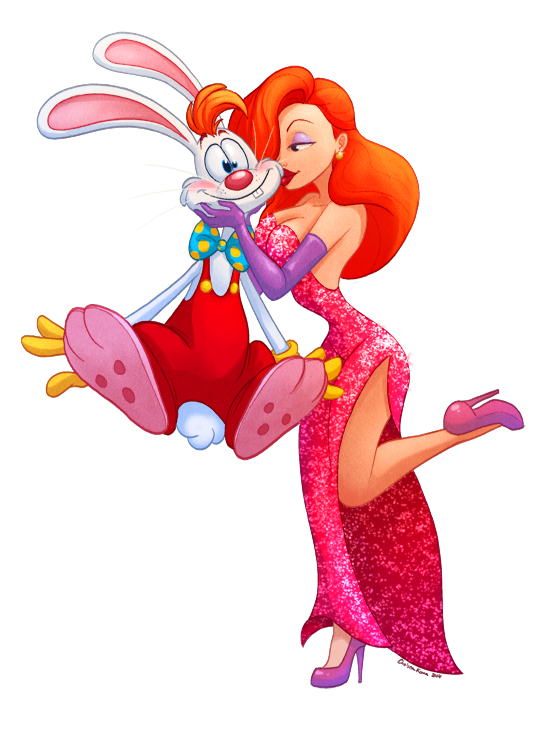 This is a classic that gives you or your girlfriend an excuse to wear a red sequined bodycon dress and those opportunities are really few and far between. Roger needs a bow-tie, bunny ears & tail, bunny shoes and red suspenders or overalls. Jessica needs long purple gloves, that dress and that hair. There's pre-made Jessica and Roger costumes too. Here's a very in-depth look at Jessica Rabbit cosplay possibilities which also includes hair and makeup tips.
Inspiration:
---
3. Paulie Bleeker & Juno MacGuff
This is especially good if one of you is already pregnant, and chances are good you've got most everything you need for this at home or can get it at Goodwill. Paulie's got those yellow track shorts, wristband, terry headband and the official t-shirt. You can buy the whole costume with the hoodie, too, but your mileage may vary. Then get yourself an oversized or maternity striped shirt, dig up some old jeans, a jacket/hoodie and sneakers, and you're good to go. Here's a DIY guide to getting pregnant at home and here's a different DIY guide with three easy ways to fake a pregnancy belly.
---
4. Calvin & Hobbes
Full disclosure: this is what my fiancé and I are going as this year, mostly because I think she looks exactly like Calvin. Sometimes I think she is Calvin. They even have all the same interests! And although she finds adults in animal onesies to be somewhat creepy, she's letting go of that in order for us to celebrate Halloween in style (a.k.a, hand out candy at my Mom's house after driving back from Chicago where our friends are getting married on the 30th!) For Calvin, you just need a Red striped t-shirt, black pants (you have some) and red tennis shoes. Hobbes requires simply a tiger onesie, which you probably have around the house. Who doesn't, right?
---
5. Kimmy Schmidt & Titus Andromedon from The Unbreakable Kimmy Schmidt
If you're poly or have a big group of friends you could all dress like Titus because he wears some pretty epic outfits: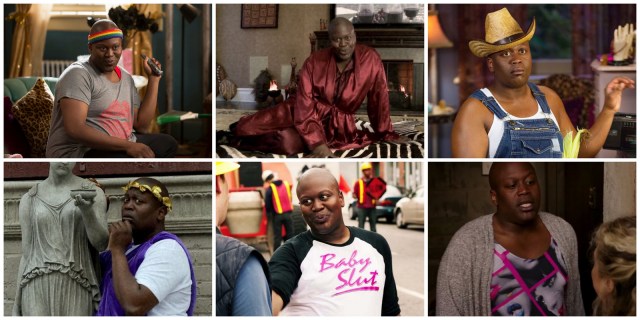 But obviously the most classic (and cheap) go-to look would be the maroon robe from Pinot Noir. Kimmy needs hot pink pants, a yellow cardigan, colorful sneakers and a floral-print shirt. Plus a purple backpack for all your bounty.
---
6. Electra-Woman and Dyna-Girl
You should definitely get a jump-start on this costume because after the remake with Hannah Hart and Grace Helbig comes out, everybody will do this costume. I mean, look at them! (Photographed by Robin Roemer, obviously.)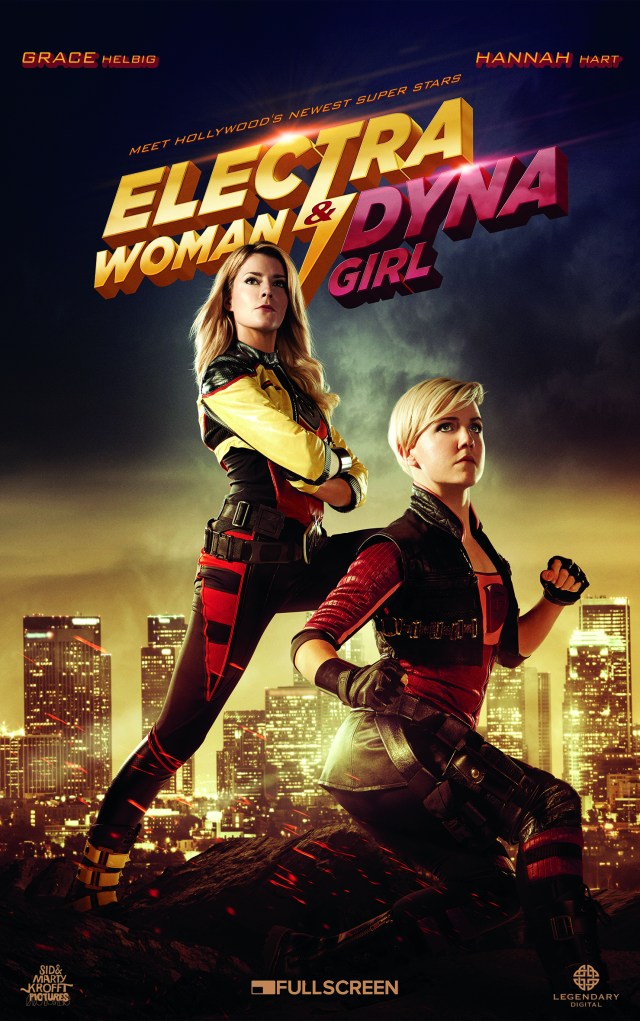 This reboot is the first time anybody has heard from these characters in quite some time, so you'll really be blazing your own path if you make this your Halloween 2015 ensemble. Seriously I have no idea what to tell you, but get crafty! Share your tips in the comments.
---
7. C-3PO & R2-D2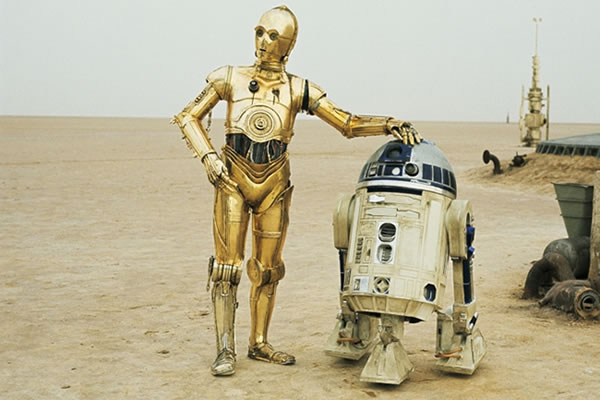 Both of these characters have lots of pre-made costume options, but they're pretty expensive for a one-off. So get some of the inspired apparel that you might be able to wear again for some other weirdo reason in your strange life. For R2-D2, try the Modcloth You R2 Cute Dress or the Her Universe R2-D2 Dress with Hot Topic's R2-D2 Pull Up Socks. Alternately, the You R2 Cute Top with silver leggings. For C-3PO, you can make do with a snapback, gold leggings and C3PO tank or gold tank. Or you can go DIY with these pretty intense projects from The Wishful Artist: DIY C-3PO and DIY R2-D2 — just make adjustments for the fact that you're a lot bigger as a human than her son.
---
8. Sue Sylvester & Santana or Quinn from Glee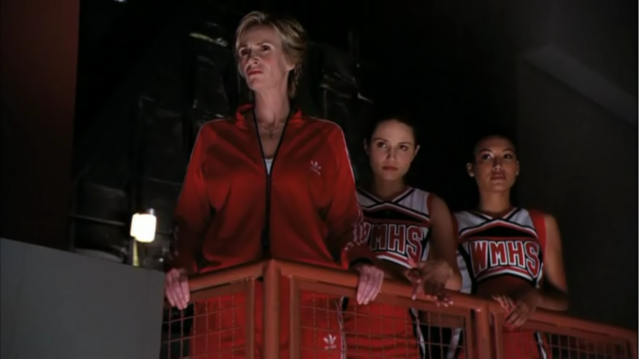 I'm not sure how much longer Glee will remain culturally relevant, so if you ever wanted to do a Glee-ish costume, this could very well be your last chance. For the time being, official Sue Sylvester costumes remain on the market (comes with wig), or you could just pick up an off-brand or Adidas tracksuit, a short blonde wig (if that's not already your hairstyle) and a cheap Glee Megaphone. Lizz has a great DIY tutorial for making your very own Cheerios uniform here, or you can get the official Cheerios Uniform with pom-poms, a Santana wig or a Quinn wig. Voila!
---
9. Will & Carlton from The Fresh Prince Of Bel-Air
Will Smith towers over his wife and also over Alfonso Ribeiro, who played his cousin, Carlton, in The Fresh Prince of Bel-Air. (Fun fact: Ilene Chaiken used to write for Fresh Prince!) Both of these costumes could be easily put together with a trip to Goodwill or Value World or just rifling through your closet, especially if you lived through the '90s and have the wardrobe to prove it. Carlton is easy: some boat shoes or brown shoes, a sweater-vest, button-up shirt and pleated khakis. You can really have some fun with Will 'cause it was the '90s and he wore some really special outfits. One possibility: Zubaz pants, Nike Retro Air Jordans, Blocked Pocket Tee and a Snapback.
Inspiration:
---
10. Sophia Burset & Sister Ingalls from Orange is the New Black
Orange is the New Black costumes will undoubtedly make an appearance at the imaginary queer Halloween party I imagine you all to be having in your busy social lives — but these two characters don't get done enough and would obviously be fantastic for a duo. Just get yourself some khaki scrubs (or the "prison costume" edition, which's probably lower quality and has a weirder fit) and make or buy the Prison Name Badge. Here's a good tutorial for Sophia Burset makeup and duct tape sandals. Sister will need a cross and a bible.
---
11. Katniss & Peeta from The Hunger Games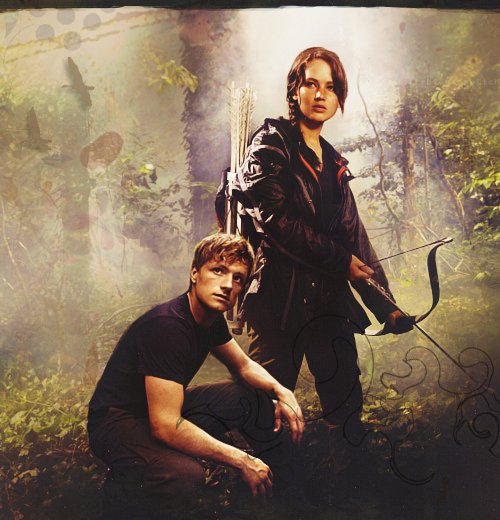 Yup, it's true: Katniss is way taller than Peeta, and it's pretty cool. Also awesome? Lizz's tutorial on Katniss Everdeen, Three Ways, which should be your first stop in pursuit of Katniss. (Tour second stop: these boots.) (Your third stop: that mockingjay pin you've always wanted.) For Peeta you'll need green canvas pants, a black t-shirt, a black hooded jacket and black outdoor boots. Or, for baker-era Peeta, a white t-shirt, a white apron, dark green pants and perhaps a loaf of bread to toss to his lady-love. If you're really dedicated to your art, there's an intense Girl on Fire DIY dress-making tutorial here.
---
12. Marty McFly and Doc from Back to the Future
Michael J. Fox, legendary shortie, clocks in at 5'4 while Christopher Lloyd exceeds six feet. I still want to be Marty McFly when I grow up, tbh. Marty needs a red puffer vest, denim jacket, a calculator watch, Calvins, the Marty McFly hat, throwback Nikes, the Grays Sports Almanac and jeans. If you really wanna splurge, this is your big excuse to get yourself a Mattel Back to the Future Hoverboard Prop Replica (does not fly) and if you really don't wanna splurge, you can make your own or get a cheaper version. Doc needs full-body white coveralls, mad scientist wig, goggles (or wraparound sunglasses) and a weird button-up shirt. Here's how to make Doc Brown's signature helmet.
---
What are your favorite height-disparity costumes?