Peter Pan holds a special spot in so many queer girls' hearts. For example, I'm pretty sure that Mary Martin playing Peter Pan in the televised 1960 version of Peter Pan is my root? Also, I maybe possibly once published a (terrible) lesbian erotica story titled "Straight (On) 'Til Morning" that indulged itself pretty intensely in Peter Pan imagery? Also, at least 25% of y'all have been Peter Pan for Halloween, don't lie.
Peter Pan's eternal youth and rascally, androgyne qualities are recalled in many modern conceptions of the term "boi," as it is employed to describe a particular style and attitude of boyish masculinity as embodied by female-bodied queers. Peter Pan has a special place in queer theory and queer cultural critique, too, as in papers like Gay, Innocent and Heartless: Peter Pan and the Queering of Popular Culture and Queer Theory Wrestles the "Real" Child: Impossibility, Identity, and Language in Jacqueline Rose's The Case of Peter Pan.
But perhaps most importantly, many of us are drawn to Peter Pan because she's played by a woman who can pass as a little boy, like so many lesbians in real life!
Why has Peter Pan always been played by a woman? Well, back in 1904 when the show debuted, kids under the age of 14 were prohibited by law from performing on a British stage after 9pm. This wouldn't necessarily be a huge problem for casting Peter — but if Peter was played by a teenage boy, then the rest of the cast would need to be "scaled down," meaning that characters like The Lost Boys would need to be played by even younger boys, and Wendy by a girl rather than a woman, and inevitably we'd be dealing with kids under the age of 14. Casting a grown man in the part seemed a tad creepy, but also would've been a strain on the already-challenging affair of making Peter Pan fly using rope and stage wizardry. Thus playwright James M. Barrie requested that they cast a woman. This wasn't an unusual practice in those times.
Things have changed over the years, of course, and now Peter Pan is often played by a male actor, as in the 2003 live-action version. The 1982 Royal Shakespeare Production was the first of many theatrical performances that went with a male lead, to very mixed reviews. (More recent productions have also attempted to dial back the blatant and gross racism of the original play.)
When NBC announced they'd be putting on a live-action performance of Peter Pan this December, rumors began swirling that a boy would be cast. Pretty much everybody was surprised when Allison Williams of Girls was announced as the new Peter Pan. NBC Chairman Robert Greenblatt enthused that Williams would "bring the perfect blend of 'boyish' vulnerability and bravado," while producers Craig Zadan and Neil Meron promised that "she will reinvent the iconic role of Peter Pan with her wit, her warmth, her dynamic flying and her wonderful musical abilities." Then the first photos of Williams as Peter Pan were released yesterday and the lesbian internet lost its shit, including so many of us here.
So, in honor of those photos and this situation, there seemed to be no day like today to  look back on the many women who have played this iconic role and to talk about which of them were total lesbians. Also, I'd like to give a shout out to Peter Pan on Stage and Screen, 1904-2010, by Bruce K. Hanson, which was a huge help in putting this list together.
---
1. Nina Boucicault, 1904-1905, London Play
When Peter Pan debuted in 1904, the title role was played by director Dion Boucicault's sister, experienced stage actress Nina Boucicault. When Nina went to James M. Barrie, the play's author, for advice on how to play Peter, he offered her only this: "Peter is a bird, and he is one day old."
---
2. Maude Adams, 1905-1907, 1912-1913, 1915-1916, Broadway Play
Maude Adams, one of the most successful actresses of her era, was Broadway producer's Charles Frohman's first choice for the role and thus originated it on Broadway a year after Nina's debut in the West End. Adams designed her own costumes for the play and henceforth personally invented what is now known as the "Peter Pan collar." She garnered rave reviews for her turn as Peter, which she prepared for by spending an isolated month in the Catskills running around in the woods.
It's pretty much agreed upon that Maude Adams was a lesbian — she lived a very private life, never married, and was living with her "companion" of 46 years, Louise Boynton, at the time of her death (in fact, the two women were buried side-by-side with a shared gravestone). Mercedes de Acosta, the legendary "lover to the stars" who has been romantically linked to women including actress Greta Garbo and dancer Isadora Duncan, was twelve when she saw Adams playing Peter, and noted that "To me she was Peter Pan, and when I saw her in the part, I was thrown into a state of ecstasy." Maude Adams, despite a twenty-year age gap, is one of a few ladies cited as an "early lover" of de Acosta, who pretty much hooked up with everybody.
---
3. Cecilia Loftus, 1905-1906, London Play
Loftus had just seen the Maude Adams production on Broadway when she was called to audition for the upcoming season's production in London. She is credited with bringing a "boyish" and "elfin" quality to the role which her understudy, Pauline Chase, would echo when she took over the ensuing year.
---
4. Pauline Chase, 1906-1913, London Play
Pauline Chase was a favorite of J.M. Barrie, which ensured she'd never "grow out" of the role as actresses had before her. Barrie has written, "There are only two possible ways of playing Peter. Either he must be the whimsical, fairy creature that Nina Boucicault made him or he must be the lovable tomboy of Pauline Chase. There is no other way."
---
5. Marilyn Miller, 1924-1925, Broadway Play
"She was the darling of the Jazz Age," writes Bruce K. Hansen of Marilyn Miller in Peter Pan On Stage and Screen. "She possessed youth, beauty, a sparkling personality, and an enormous talent for dancing." Miller had been working in vaudeville from a young age and appeared in The Ziegfeld Follies. Her production of Peter Pan wasn't a critical success, with many lamenting that she was too "beautiful and graceful" for the role.
---
6. Betty Bronson, 1924, Silent Film
The very first film adaptation of Peter Pan was a silent film released by Paramount in 1924. Bronson was only 17 when she went in for the role and her film experience was limited to a few spots as an extra, but Barrie personally selected her for the part.
"Indian Princess" Tiger Lily, a role which has offered producers the chance to make racially problematic casting decisions for over a century, was played by bisexual Chinese-American actress Anna May Wong in the silent film. Wong is widely considered to be Hollywood's first Asian-American movie star.
---
7. Eva Le Gallienne, 1928, Broadway Play
Eva Le Gallienne was only 29 years old when she directed and starred in a 1928 revival of Peter Pan. The New York Times liked her production a lot, although they noted that her costume "wears the limit of bare legs."
Le Gallienne was also a lesbian, a fact she was "relatively open" about within Broadway social circles. Le Gallienne was involved with Mercedes de Acosta for a significant period of time, including a blissful period in Paris when the two shacked up in one of the rooms reserved for visiting lesbian couples at Sylvia Beach's Hotel Foyot. According to The Sewing Circle, Mercedes and Eva broke up following a failed play production they'd collaborated on and partially due to "Eva's need for new conquests." Tallulah Bankhead once told Tennessee Williams that she'd been seduced by Le Gallienne when she was sixteen. Le Gallienne has also been linked romantically to Greta Garbo, Gladys Calthrop and Beatrice Lillie.
---
8. Jean Arthur, 1950-1951, Broadway Play
The last Broadway production of this particular adaptation of Peter Pan starred film actress Jean Arthur as Peter Pan and Boris Karloff as Captain Hook. It was directed by British filmmmaker Wendy Toye.
Arthur, like so many actresses of her era often described as "reclusive," was probably bisexual or a lesbian. She lived with her "unmarried army nurse" companion Ellen Mastroianni for decades at the end of her life, and also was married to a man for seventeen years, dated Oscar Levant… and told an interviewer in 1975 that "sex was something she could live without." She also apparently possessed an "almost pathological refusal to wear a dress even when a role demanded it." There were also crazy lesbian rumors about Jean Arthur and Mary Martin, which we'll talk about in the Mary Martin section!
---
9. Veronica Lake, 1951, National Tour
Lake's casting was a surprise to many, and the actress cut out booze and took up fencing to prepare for the role. She loved the break from Hollywood and enjoyed being on stage. "Theatergoers were amazed to discover how gracefully Veronica moved across the stage as Peter Pan," writers Jeff Lenburg in Peekaboo: The Story of Veronica Lake. "Especially in light of rumors that had her temper interfering with the show." She was devastated when the run ended and became very depressed.
---
10. Mary Martin, Broadway Musical and TV Broadcast (1954-1955), TV Movie (1960)
In 1954, Peter Pan debuted as a stage musical starring Mary Martin, who was already a well-established Broadway star. Martin had always wanted to play the part but figured she'd never get the chance until Edwin Lester, director of the San Francisco and Los Angeles Light Opera Company, invited Martin aboard as Peter Pan for what would be the excruciatingly long process of making the play into a hit Broadway musical. Variety raved that "Miss Martin is so completely right, so believable and infectious as the eternal boy that it seems incredible that Barrie didn't write the original play for her."
In 1955, NBC did a live broadcast of the show, making it the first-ever full-length Broadway production to air on color television. It was filmed straight through for a live audience on a set adapted for television cameras and was a huge hit for the network. In 1960, while Martin was on Broadway in The Sound of Music, she participated in the first-ever taping of the musical, which was eventually released on VHS so kids like me could watch it over and over and over again and wonder why we were so drawn to that woman.
As aforementioned, there were wild lesbian rumors about Jean Arthur and Mary Martin, who it turns out were actually good friends and neighbors for a while, apparently sharing "an obsessive love for Peter Pan." They'd even fight over who got to dress up as Peter Pan at costume parties. (They must have been invited to a lot of costume parties?) Although Mary Martin married twice, she was involved with actress Janet Gaynor, according to Lillian Faderman and Stuart Timmons' Gay L.A., in which it is noted that:
"When Janet Gaynor and Mary Martin, who were also lovers, took a vacation together (leaving their homosexual husbands at home), fan magazines considered it 'charming for them to enjoy some time for 'girl talk' — as their desire to be alone was naively dubbed. Gender ambiguity and "romantic friendships" such as female stars could enjoy without suspicion were verboten for male stars."
According to Stepping Out, Bob Fosse apparently called Mary Martin "Broadway's biggest closet king," declaring that "everyone thought that lovely little Mary was Miss Femme, and she was — except next to her gay husband."
Watch The 1960 Mary Martin edition here:
http://youtu.be/hJFtCfHDFfw
---
11. Hayley Mills, 1969 London Play
Peter Pan continued running every holiday season in London, and in 1969, film star Hayley Mills took on the titular role. It was her stage debut, but Mills was already well-known for her roles in Pollyanna and The Parent Trap, among other Disney live-action favorites.
---
12. Mia Farrow, 1976 TV Movie
Mia Farrow embodies so many aspects of the androgynous woman we associate with the Peter Pan archetype. However, this 1976 Hallmark Production was a disappointment to fans of the story. "As Julie Andrews sang a beautiful song, "Once Upon a Bedtime," over the opening credits, no one realized that they were witnessing the highlight of the evening," writes Bruce K. Hanson in Peter Pan On Stage and Screen. He also notes that "the actors playing the Lost Boys were excellent, but they were also too old and, as costumed by Sue Lucash, they looked as if they belonged at a casting call for Hair. And their collective overt masculinity only added to Farrow's femininity." See it for yourself:
---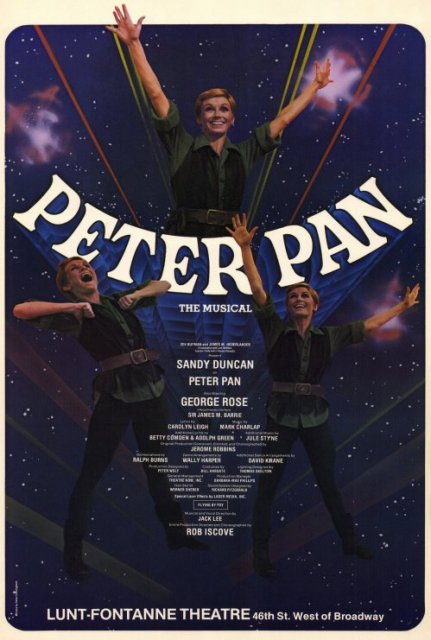 13. Sandy Duncan, 1979- 1981, Broadway Musical
Esteemed actress Sandy Duncan was the longest-running Peter Pan on Broadway. "From the moment she flies into the Darling nursery and throws a tantrum because she can't get her wayward shadow back on, Duncan alerts us that her Peter will be all boy," wrote Marilyn Stasio in The New York Post. "An adorable boy, to be sure, with her grin-cracked face and graceful bounds in mid-air; but a boy, for all that, with ants in his pants and a nose that runs and a downright willful disdain for authority. Without losing any of the fun of the role, she avoids even the most tempting moments to be cute, or to signal a flash of grown-up femininity. Her Peter is, at all times, a tough little guy who literally dances with the itchy joy of boyhood."
---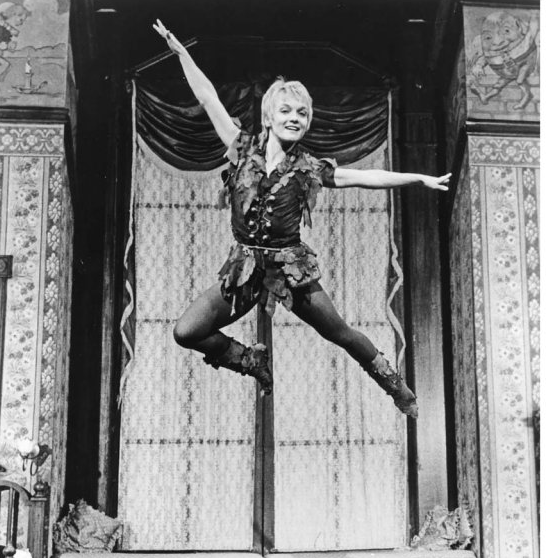 14. Cathy Rigby, 1973 (Tour), 1986 (West Coast), chunks of time between 1990-1999 (Broadway), 2000 (TV), 2005 (Farewell Tour), 2011-2013 (International Tour)
Cathy Rigby was a world-famous American gymnast in the '60s and '70s who competed in the Olympics and the World Championships. After retiring, she was picked up for an NBC Arena Touring Production of Peter Pan that same year, going on to play the role on out west in 1986. In 1990, Rigby began what would become a periodic Broadway engagement as Peter Pan, usually running throughout the holiday season. She's become iconically associated with the role, which she has played as recently as last year at the age of 60. She also appeared in the 2000 TV Movie on A&E.
http://youtu.be/NQDig7KAhlo
---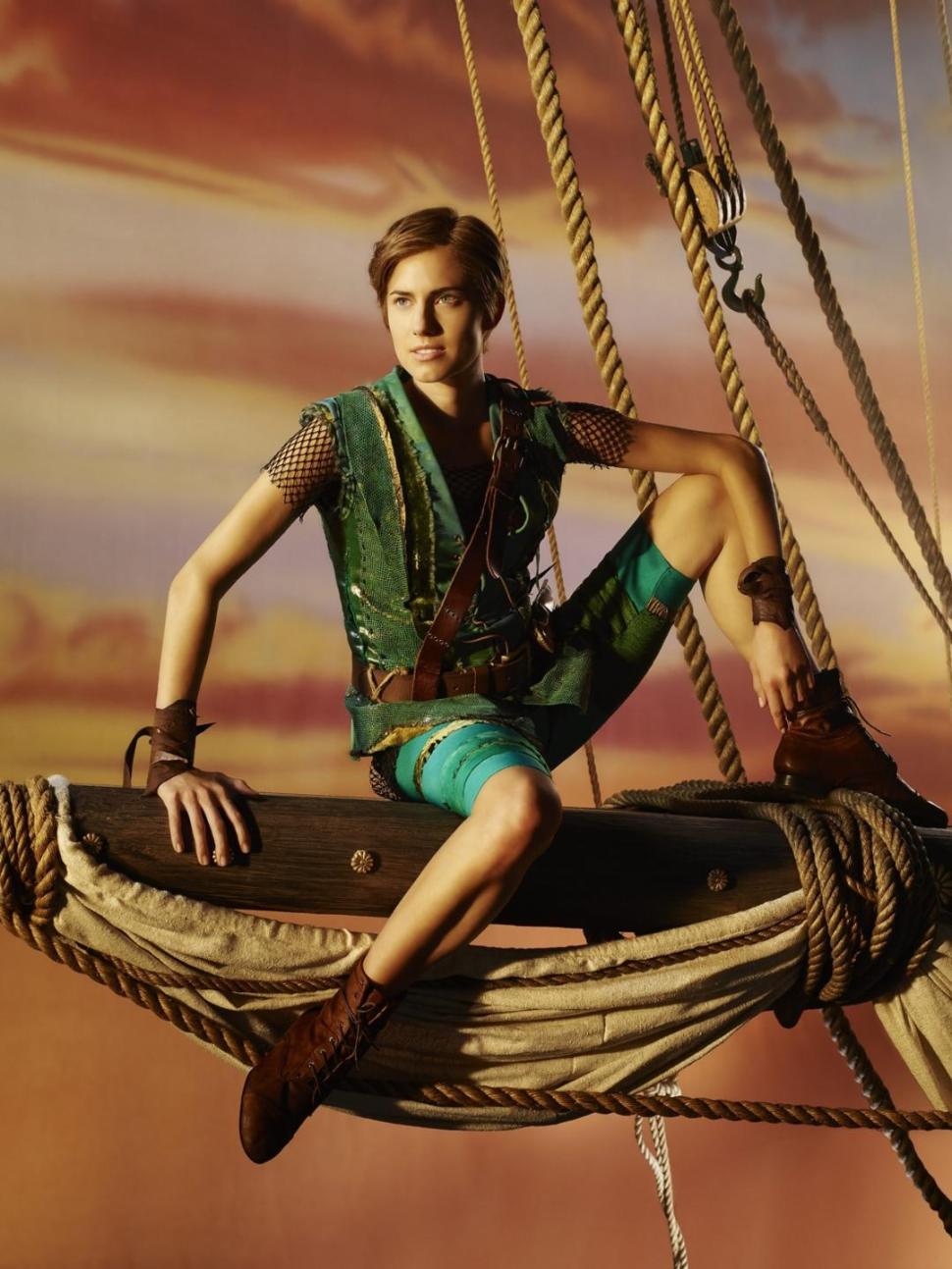 15. Allison Williams, TV Movie (2014)
Which brings us to this very week, when those pictures of Allison Williams showed up and a bunch of lesbians had a party in their pants. Fingers crossed this TV Movie will be a shit-ton better than that Sound of Music nightmare!