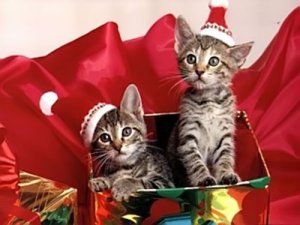 Hark the heraldsomething whatever it's almost time to open presents!
Aside from those presents and this tasty bloody mary, I think open threads are hands down the best part of any nationally recognized holiday AMIRITE HELLO OF COURSE I AM. And if we've learned anything from last year's Christmakwanzakah Open Thread, it's that our families are all crazy / AMAZING literally and that for every traumatic event you tell us about, be it hilarious or otherwise, there'll be at least 20 perfectly delivered reply comments to help take the edge off.
Not all of you / us are celebrating a holiday this weekend, but because Autostraddle is based in America and in America ALL THINGS ARE CHRISTIAN UNTIL PROVEN OTHERWISE, chances are, unless you're living on a secluded compound out in the woods (fuck we are so jealous), you're at least celebrating a day off from work.
Seems like just about every member of Team AS has gone home for the holidays, except for CEO of Ideas Riese and Executive of Emails Laneia. This has the potential to be depressing, so the onus is on you to keep them entertained and happy. Talking about yourself in the third person is weird you guys. Look I think Riese will like this, probably you too:
+
What about you hm? What's up with you these days. What new experiences and life lessons will you be bringing to this year's celebration. Did you bring your girlfriend home to meet the family? Let us know how that goes. Last year, Managing Editor of Feelings Sarah P*lmer introduced us all to Beerio Kart. That's the gift that keeps on giving, really.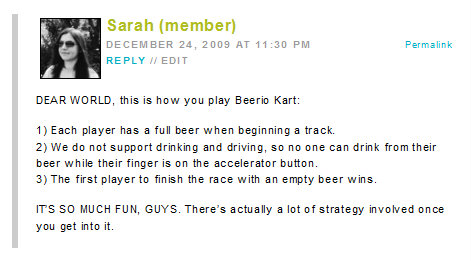 Here are some other ways we've tried to make the season merry and bright for you:
+ Lessons Learned: How a Jewy Lesbian Can Enjoy a Pleasant Chanukah with Her Uncharacteristically Bigoted Parents
(This is relevant even if you aren't a Jewy Lesbian.)
+ 16 Holiday Songs That Don't Suck
+ A Very Special Holiday Drinking Guide
Also even though Riese hates this as much as she hates Love Actually, Laneia will never not love it, which is how you can tell us apart when you're blindfolded:
+
Happy Holidays! Let's talk shit about your uncle!