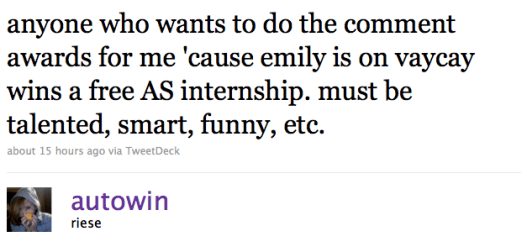 Hello, friendly friends! This is Dina (you may recognize me from "the comments") filling in for Emily for an extra special Australian Christmas edition of Hey! Did You See That Comment? Friday. Upon writing this it is already Friday, due to the Australianness mentioned above. My presents are all badly wrapped and my pumpkin pie looks like it was attacked by a dragon, but anyway.
This week, DADT repeal happened. Apparently we were very excited because we talked about it a lot. We also talked about the new moving picture Black Swan a lot (again, I guess?), probably because Natalie Portman and Mila Kunis are hot or we all secretly wanted to be ballerinas when we were kids or something.
We also talked about how dropping out of college is generally not the end of one's life. Who knew? Not my high school guidance counsellor, that's for sure.
Finally we learned that spiders in Australia are heinously scary, and that gender roles aren't all they're cracked up to be.
So wherever you are, whoever you're with, whichever season you happen to be in, raise a glass to your queermo Internets buddies and read you some comment awards!



On SENATE APPROVES DONT ASK DONT TELL ALL CAPS
The Alcomoholics Anonymous Award to Slevs, Natasha and Katelyn: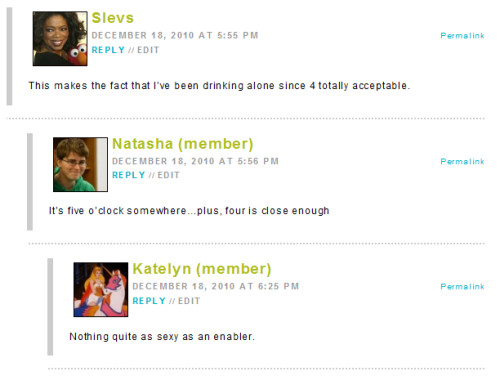 The I Put On Pants For THIS?! Award to LezGeek, Slevs and maria: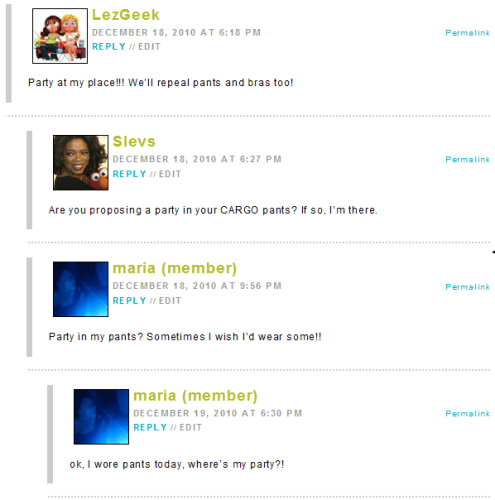 The Feminize This! Award to bdz and smartypants:
From What Does The DADT Repeal Actually Mean?
The Speaking For Us All Award to middlemuse:
DEAR STRAIGHT PEOPLE:
We do not want to have sex with you.
(PLATONIC) LOVE, THE GAYS
The Fact That I Adore You is Just One of my Truths Award to Truth/Brianna: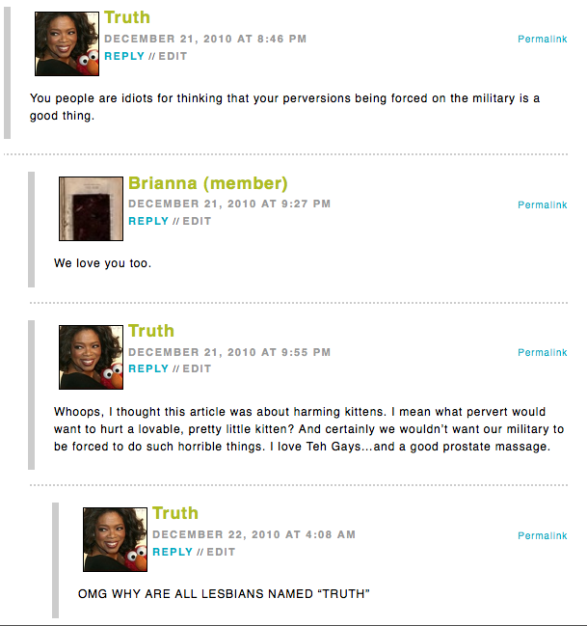 Movie Review: "Black Swan" Has Mad Chicks, Made Me Feel Crazy
The I'd Like To Subscribe To Your Newsletter Award to Mariee:
I'm glad this film is cinematically significant and everything, but I have to say all I really wanted for Christmas was "Center Stage II: Dykes in Tights."
From DeAnne Smith and The Powerful Surprise Absurdity of the Suddenly Topless
Anger Management Award to Irene JK:
Just ten minutes ago I wanted to rip off the head of a Santa Claus mannequin in the Apple Store window and throw it at an innocent passerby. But now I just want to hug everyone and blow sparkles out of every orifice in my body. So thanks for ruining my standard holiday scowl and putting a smile on this scrooge's face. Merry fuckin' Christmas.
From Get Toasted With Autostraddle:
Jesus Lemon Salsa Award to e:
The fanciest drink I've had is a vampiro because i'm 18 in the us. I take what I can get. But but but thankfully vampiros are delicious I think it contains grapefruit soda, something red and sweet, vodka (?), lemon salsa unicorn saliva Idk I can't tell what I'm mixing under the cloak of night