Hey, remember how Don't Ask Don't Tell was officially approved for repeal in the House and Senate last week? I KNOW ME TOO. You may have been vaguely aware at the time that there was some fine print underneath the giant DADT REPEALED! headline, but figured that you would look into all that later. Well, I think later is roughly now, so let's take a look at that.
If you feel like you're a little fuzzy on the details, there's a reason – a lot of what needs to happen is pretty vague and unsubstantiated. Basically, the repeal has passed through the House and Senate, and is waiting for the next step – certification by the President. Together with his top military advisors, Obama is supposed to declare, by the power of his signature, his belief that repealing DADT won't affect the military's fighting ability. Which is kind of the hundred billion dollar question.
As Senator McCain has demonstrated, there are a variety of ways to interpret the information we have on that issue, and no one knows what Obama and his advisors will come up with, or how they will draw that conclusion. Obama has definitely indicated that he plans to give the certification; the signing is on Wednesday at 9:15 am. But the full repeal won't take place until two months after that letter of certification is signed, after the military has done their analysis. Some, like Dan Choi, have implied that this certification might come later rather than sooner. Specifically, he said "…if you drag your feet and politicize this with your theoretical calculations as you have these past two years, you will be guilty of abetting those who loudly proclaim homophobia from their platforms and pulpits." Defense Secretary Gates has said:
"I will approach this process deliberately and will make … certification only after careful consultation with the military service chiefs and our combatant commanders and when I am satisfied that those conditions have been met for all the services, commands and units."
And once this hurdle is passed and DADT really is over, there's a whole other set of questions. Not to sound like a right-wing military official, but – really, how are we going to make this work? The New York Times has helpfully detailed every social barrier to full integration of open gay and lesbian servicemembers in the armed forces, and while they don't come close to being a reason not to repeal DADT, they do give one pause about how exactly this is going to work out, at least in the short term.
"Coming from a combat unit, I know that in Afghanistan we're packed in a sardine can,wp_postssaid Cpl. Trevor Colbath, 22, a Pendleton-based Marine who returned from Afghanistan in August. "There's no doubt in my mind that openly gay Marines can serve, it's just different in a combat unit. Maybe they should just take the same route they take with females and stick them to noncombat units."
Leaving aside for a moment the fact that gay Marines already serve in combat units and are just forced to lie about it – because everyone seems to feel like ignoring that fact, so why not? – it seems like a lot of people think that while there's nothing wrong with gay people, some changes need to be made. NYT says that "most of the approximately two dozen Marines interviewed said they personally did not object to gay men or lesbians serving openly in the military," and that's actually about as statistically sound as any research the military has done, so let's go with that.
Regardless, I can see how interacting with some of these servicemen in a combat situation could be tense; one Marine interviewed predicted that there would be "a difficult transition period during which harassment of openly gay troops would be common." Because, as his comrade says, "Being gay means you are kind of girly. The Marines are, you know, macho.wp_postsOther thoughts, from a former Navy man who called in to NPR:
JOHN: Well, my only concern about this is when I was in the Navy in the '80s, you would be in so much trouble as a guy if you were caught near women's berthing quarters on a ship. They absolutely kept berthing quarters separate.
Now we're going to have straight guys having to live with homosexual guys and straight women living with homosexual women. If a straight guy doesn't have privacy from a homosexual guy, why are women going to have privacy from men?
CONAN: Well, some would argue…
JOHN: If we don't, if straight guys don't have privacy or straight women don't have privacy, then nobody should have privacy.
CONAN: I can understand your point, but some would point out that there are a lot of lesbians and homosexual men in the military now, and the housing arrangements seem to work out OK.
JOHN: That doesn't make it right.
CONAN: So you would advocate that there should be separation now?
JOHN: Well, yes. If – basically, in a crude way, it comes down to: If I don't get to look at the women, then gay guys don't get to look at the straight guys.
CONAN: All right, John, thanks very much for the call, appreciate it.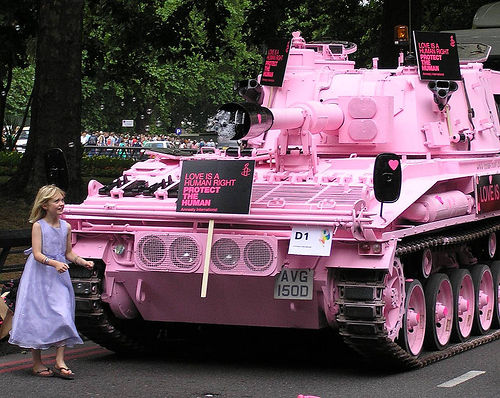 I guess most simply, the problem is this: Don't Ask Don't Tell is a symptom, not the cause, of a deeply homophobic institutional attitude in the military (and rest of the country). Repealing it is undoubtedly the ethical and American thing to do, but it won't change the homophobic and misogynistic climate, at least not overnight. Everyone seems to be in agreement that things can't continue as usual, but what needs to change is a point of contention. Do gay people need to be housed separately, like "females," or does the rest of the military need to attend some serious diversity training? It's a question that I'm sure will be torturously played out in every form of media and John McCain's press statements over the next few weeks.
Some changes are at least marginally positive; the president of Harvard notes that she's glad she can welcome the ROTC back onto campus soon. They were originally denied access to campus because then-dean and current Supreme Court Justice Elena Kagan had denied them; she felt that DADT was at odds with the campus's non-discrimination policy. Now students could once again have the option of attending school with the tuition paid by the military, and not later being forced to pay all of it back if someone outs them.
On the other hand, some (Christian conservative) people are concerned that, aside from curtailing a Marine's freedom to take a heterosexual shower, a DADT repeal might also oppress military chaplains. The Christian Post observes that "In Canada, they don't allow chaplains to preach… about homosexuality," and expresses fear that the same thing may come to pass here. They also write that "we know how it is going to end up according to the Bible," which sounds excessively ominous, but their concerns are probably shared by many.
And while many of you already know, it should be acknowledged – the passing of the DADT repeal came at the same time that the DREAM Act failed, which would have allowed a generation of young people a path to citizenship. Without it, thousands of youth who are working and attending universities in this country, contributing to our nation both economically and personally, may never be allowed to experience its benefits and protections. While we're glad that this one victory for our particular marginalized demographic could be won and we will be allowed to serve the country we call home, we're saddened that anyone else was denied the same right, and sad that these things are left up to the debate of politicians and government officials at all.
In short, no one is really sure what's happening or what will happen next, least of all the people in charge of making it happen. Sometimes (or arguably always,) progress is scary and confusing. But progress it is, and we're proud and grateful that this is a moment we're alive to witness.