Well, we couldn't help ourselves again. We probably have way more fun making these things than you guys do watching them (though I'm secretly hoping that's semi-not the case). Our Real L Word season one parody was kind of a hit, especially with Nikki and Jill Weiss-Goldstein, who we love/is our target market. Just kidding. You guys are our target market. You know, the weirdos that don't ever watch the actual show but you've read and enjoyed each one of Riese's recaps. You!
We are aware that this is very late-coming. I mean, we showed the opening sequence back in February. Better late than never I say. We shot so much shit, so much you guys. Team ChillRoom Productions (Sarah Croce, Lauren Aadland, etc.) really went for it. And maybe we'll edit some more stuff so we could just keep making fun of this show/ourselves/Ilene Chaiken.
Here's the cast for the "Real (Enough) L Word Season 2 Parody" video:

Okay, so on with it. Pull up a chair and grab a beer because you have to commit at least 14 minutes to this, which I don't think you'll regret at all because you clicked on this article to begin with let's be honest. Also, we've included some behind-the-scenes photos below too!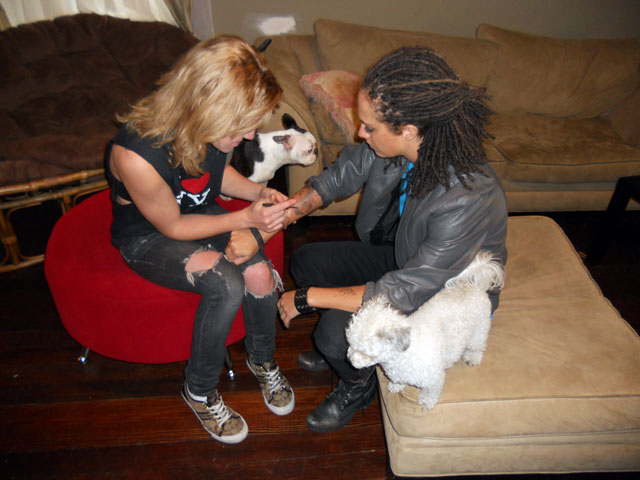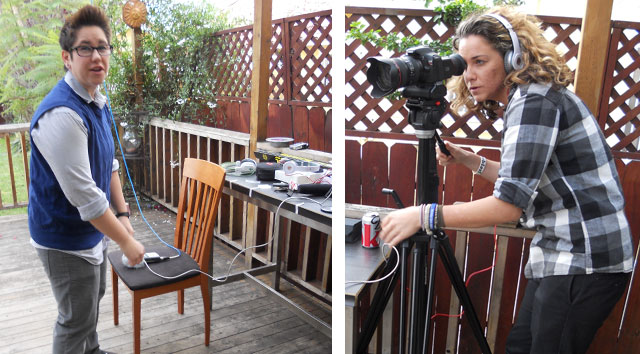 Credits
Director/Editor: Sarah Croce
Director of Photography/Assistant Editor: Lauren Aadland
Associate Producer: Jessica Shaffer
Sound/Assistant Editor: KP Przylepa
Assistant Editor: Christina Bly
Style Consultant: Sara Medd
Starring
Sarah Croce (Whitney), Morgan Hildebrand (Claire), Megan Jones (Sajdah), Natalie Brink (Romi), Alex Vega (Kelsey), KP Przylepa (Kacy), Jessica Shaffer (Cori), Rae Lynn as Chanel, Jessica Reid as our host Ginger Jones, Brittany Nichols as the girl that says "This is crazy", and Adam Croce as the sperm donor.