Hello! Welcome back to the music fix. So many amazing things have happened this week and it's only Wednesday, who knows what's gonna happen tomorrow.
No Doubt Are Back!
No typo. After a decade-long absence, No Doubt have returned to warm our hearts and rock our socks with their flamboyant musical goodness. Their first single, "Settle Down", dropped this week – it's a punchy rock track with a dash of reggae and an accompanying music video that delivers a life-makes-sense-again moment for those of us who still dance around in our bedrooms to "Just A Girl" like it's 1995.
What do you think?
The thing I love most about this video (and there are many things) is how chilled out it is. Sure, Gwen Stefani might roll onto the scene in an 18-wheeler while not-so-subtly endorsing a brand of lip gloss that probably paid for said truck, but for the following five minutes the band are hugging and dancing and just generally jamming the f*ck out warehouse-style like a group of friends who've been gone forever and who know that we needed them to bring the party back. Remarkably, Gwen looks and sounds exactly like she did in the 90s, adding weight to my suspicion that she's actually an immortal angel of music who's been sent back to earth to save us from Katy Perry.
No Doubt's new album, Push and Shove, will be out on September 25. That's only 69 sleeps!
New Music From the xx!
London trio the xx have released the first single from their sophomore album, Coexist (out Sept 10). It's called "Angels" and it sounds exactly like you hoped it might, which is probably something along the lines of 'amazing!' or 'brilliant!', at a guess.
While not the hookiest of xx singles, it's still a sure-fire crowd-pleaser; it's familiar enough to appeal to even the most passive fans, and lovely enough to win back the affection of those who might've suffered xx fatigue in 2010.

Missy Higgins Releases Album Worldwide, Dates A Koala

Missy Higgins' new album, The Ol' Razzle Dazzle, was released in the USA and other countries yesterday! Lots of queer girls in my twitter feed are jazzed about this news, how about you?
The Ol' Razzle Dazzle was released in Australia last month and I've been listening to it on repeat ever since because it's really lovely, you guys. It'll make you feel all the feelings. In my house it's been nick-named The OI' Reliable because even a few quirky new sounds thrown in, it's still very much Classic Missy™ – which is to say that her vocals are as comforting as a warm blanket on a cold winter night, a lazy but relevant comparison because it's winter in Australia and I'm really cold. Anyway, it's a solid record. You should consider buying it.
In other Missy news, her new video for "Hello Hello" is the most strange and wonderful thing. She attempts to have a relationship with a koala, basically. I can't embed the video here but you should definitely check it out over at Entertainment Weekly.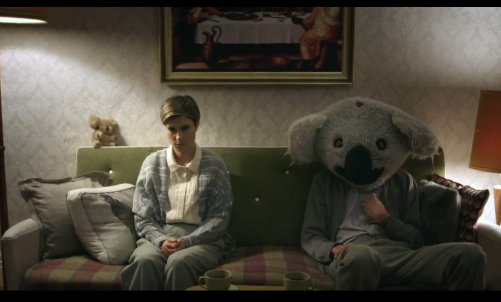 Also!
*  NPR are streaming Passion Pit's new album, Gossamer, in full. I've haven't heard it yet but if NPR thinks it's good then it's probably worth a listen.
*  I have a strong dislike for people who mix, mash or otherwise mess with Gotye's "Somebody That I Used To Know" due to the fact that the song has become annoyingly everywhere and does not need additional assistance. However! I've fallen a little in love with this Pomplamoose mash-up of "Somebody That I Used To Know" with Carly Rae Jepson's "Call Me Maybe".
*  Holly Miranda and Raimy Rosenduft have released a new podcast and it features lots of rad music, as always.
* Jack White has released a new music video for "Freedom At 21".
*  Death Cab's Ben Gibbard is releasing a solo record.
* Coachella organisers are planning a cruise ship festival called S.S. Coachella where music fans can be entertained by Pulp, Hot Chip, Sleigh Bells, Girl Talk, Warpaint and more while cruising around the Bahamas or Jamaica. It sorta sounds like a hoax but it isn't.