Society gets a pretty big kick out of whether or not the Disney Princess franchise is "feminist" enough. Figuring out if Disney is harming or helping young girls is a rite of passage for feminist critics, but the dialogue always feels a bit tired. Nerve has actually gone ahead and tried to rank the princesses based on their "feministiness," and the result is not terribly ground-breaking. While we could blog in circles trying to decide if Mulan is the ultimate powerful feminist warrior or if she is just a tool for the patriarchy, there are already badass feminist probably-queer ladies doing it for themselves in the Disney universe.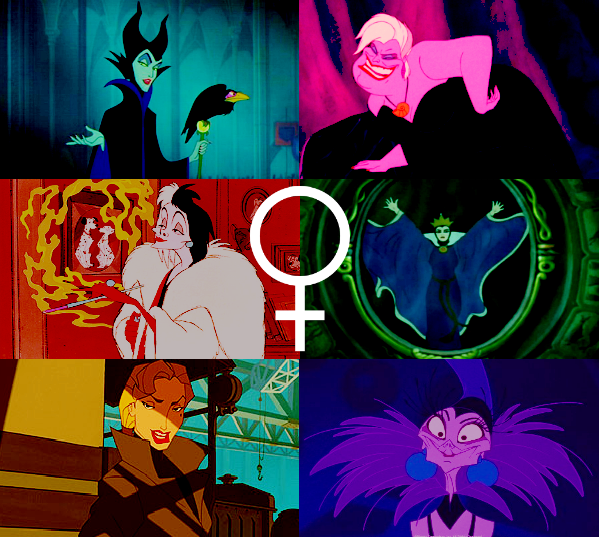 The villainesses who stand against the aforementioned princesses are some of the best characters to bear the stamp of the Mouse. They are fierce and fearless divas who get it done, play with gender, and rely on motivations outside of heterolove. Their female masculinity stands out in contrast to the soft and light femininity of the protagonists — all of the female Disney villains are drawn in such a way that they might as well be drag queens, but they are doing their gender in a campy and hard femme way that's pretty hard to resist. They deserve a major shoutout, so here in no real order are the best of the Disney villainesses who are super badass (and might play for our team).
1. Maleficent. Sleeping Beauty, 1959.
Maleficent is undoubtedly the most powerful individual in the kingdom, if not the entire universe. She is referred to as the Mistress of All Evil and can assemble armies of death and destruction at will and on a whim. Intense and long-term curses are doled out like it's no big deal. Need to singlehandedly take down an armed fortress? No problem. Maleficent turns into a fucking dragon. A dragon. She teleports, she shape-shifts, she does whatever she wants. She is insanely impressive and the fact that she is not invited to the birthday of a mortal princess is a major slight. It's also the final straw in a tall stack of instances of Maleficent being ignored by people who should be paying attention. This is literally the Mistress of All Evil, guys. Damn right she curses your stupid daughter, and so what? Curses are like level one 0 EXP to Maleficent. Maleficent is putting your daughters to sleep for breakfast, Maleficent don't give a shit.
At this point, Maleficent sets out to destroy the lives of the king and queen and murder Aurora because she can. The kingdom has disrespected her long enough, and she is one fierce queen you do not disrespect. For giggles, she captures and tortures Aurora's boyfriend. For giggles. She could easily unleash an entire legion of demons to destroy everything in her path, but instead she executes a slow and painful manipulation to get back at everyone who has ever wronged her. It's so masterful that it's actually playful to her. When the prince tries to take her down because his bright and shining masculinity compels him to destroy dark female power and reclaim his child bride (sorry, was that biased? I can't tell anymore), she just plain toys with him. Then she turns into a dragon, which is awesome until she's defeated.
It is truly awful that Maleficent is killed because Prince Phillip impales her on his phallic symbol. I could weep at how awful it is that the last time we see Maleficent, she is a ragged cloak trying to free itself from beneath the shiny penis substitute of the Sword of Truth. Screw you, Walt Disney.
Bonus! Queer Relevancy:
Not-Straight-For-Many-Reasons-But-Mostly-Foxfire Angelina Jolie will be playing Maleficent in a liveaction Disney reboot about the Mistress of All Evil. Elle Fanning will be Aurora, and Juno Temple will be someone named…Thistletwit. The film is supposed to come out in 2014 and hopefully will be better than Kristen Stewart Noticeably Not Making Out With Charlize Theron.
2. Ursula. The Little Mermaid, 1989.
Since magical abilities don't seem to be a universal mer-quality, the fact that Ursula is a powerful sea witch is something to note, especially considering she's not of royal blood like King Triton. She's the ultimate Other of the merworld, as different as she can be. She doesn't have the prepubescent supermodel body of every other merperson — she's fat and totally fierce in her body. She's also a cephalopod with tentacles, distinct from the traditional fishtails. She works the femme with super bright makeup, amazing eyebrows, and girl's nails are always matching her lipstick. Her ultimate accessory is a necklace that holds people's souls.
In "Poor Unfortunate Souls," which might as well be the opening number at Drag Night, Ursula sarcastically comments on the fact that men don't like vocal women, that it's preferred for ladies "not to say a word." She also throws in that "true gentlemen" completely reject a woman who speaks her mind, and that it's "she who holds her tongue who gets the man." Essentially, Ursula is saying that if you're willing to give up your voice for some dude you just met, you're a pathetic fool. And she's right, but she's the only character with the balls (ovaries? octopus reproductive organs?) to vocalize it.
Bonus! Queer Relevancy Ursula's design was based on Divine, so you know she's fabulous.
3. Yzma, The Emperor's New Groove, 2000.
Let's cut the girl a break — Yzma is trying to overthrow the absolute rule of a despot! Kuzco is a spoiled piece of shit who has been given complete control of an empire with a highly stratified society and, one can imagine from the emperor's spending, considerable debt. He takes no responsibility for his position, wasting time and energy on selfish endeavors, and is running the empire into the ground. He has chosen to completely ignore the workings of the government and all dealings with the public: these tasks have fallen onto Yzma, who is the uncredited puppet running the empire. Girl raised this waste of oxygen ("Yeah, you'd think he would've have turned out better." "Yeah, go figure.") and gets no respect. For all her faults, she is still a much more qualified candidate to take control of the empire, and after all those years of not being acknowledged ever, of course she's pissed off.
Yzma has pretty fantastic outfits and a boy toy named Kronk. Girl single-handedly brings purple back and turns the emperor's bachelor pad into a full-on Diva Palace. No one does diva the way that Yzma does diva. This entire movie is a comedic masterpiece, but Eartha Kitt making a low purring noise before unleashing her plot to turn the emperor into a flea, a harmless little flea, makes me laugh like nothing else. I'm not even going to lie, I root for her every time.
Bonus! Queer Relevancy: Eartha Kitt as Catwoman on the original Batman series is like…I can't even. She lives on Pussyfoot Road and her henchmen wear leopard man blouses with black ascots and leather hats. Just watch this video.
4. Helga Sinclair, Atlantis: The Lost Empire, 2001.
Helga Sinclair, where do I even begin? Here's the first time she appears on screen. Here's Helga in action being a super action hard femme heroine. Do you need a cold shower? I do. Sorry if I have, like, a disturbingly huge crush on Helga Sinclair. First, she does this lip curl that's kind of like a sneer, except it's sassy. Does that make sense? I don't care. I'm a thirteen year old girl drawing Mrs. Kate Sinclair on my trapper keeper. Helga is all kinds of sass and she is all kinds of woman making it in a man's world. She is the mind and muscle that runs the entire mission: master of arms, strategic and highly intelligent, level-headed in a crisis. She's a 30 year old woman, and she's second in command on what is portrayed as the most impressive scientific and militaristic expedition of its time. The fact that she does what she does for reasons that do not involve romance, a dude, or anything but her own cold hard drive to the top is just…sigh. Plus, girl looks so damn good in a white tank, swinging guns around and being in charge. Excuse me while I swoon.
She's the villain because unbeknownst to the protagonist, the mission she is running is trying to find Atlantis to plunder its riches and harness the power of their superweapon. The movie tries to swing things around in her favor by revealing that they had expected to find ruins, and did not intend on actually killing the Atlanteans. Also spoiler alert, she singlehandedly saves the entire movie and the civilization of Atlantis. I wouldn't care if she killed a hundred bajillion Atlanteans, because Helga is still queen of my heart.
Bonus! Queer Relevancy: Claudia Christian, the voice of Helga, is kind of a babe in real life. Like for serious.