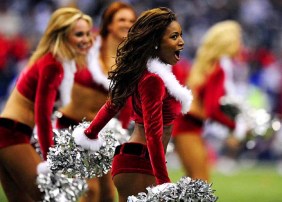 Hello ladies & male allies! We had such a good time sharing all of our homo-holiday feelings with you during Thanksgiving that we thought we should probably do it again for Christmas. It's so hard to be away from each other this holiday season and so here is a space for all ye lesbians, bisexuals, girls, bois, strais, muppets, stuffed animals, mothers, fathers, and twin sisters to share your terrible/AWESOME Christmas-related feelings from Christmas Eve to Christmas Day and beyond!
It doesn't really matter if you celebrate or not, because at least in America where we have no separation of church & state, this is pretty much a nationally imposed holiday. Or perhaps you are a poor Jew like me having Christmas with your Puerto Rican Atheist Girlfriend because you cannot afford to fly to Ohio to drink copious amounts of alcohol with the Quaker/Native American side of your family. Perhaps you are a Jew having Chinese food at the movies or perhaps you are Buddhist or Islam or Hindu or Bahá'í or PAGAN or something. You are all welcome here, bitches witches!
How's it going? Are you decked out in tinsel and figgie pudding? Is your Dad drunk? Is your daughter crying because you're just too feministy to give her the Barbie she asked for? Did you burn the giant animal in the oven? Is the health care debate at your dinner table anything like the one we've been watching on the TV? Are you shoving lots of food down your gullet while your aunt tries to convince you that you're pretty enough to get a boyfriend? Did you get a flannel?
Don't drink too much eggnog, you big Lez!
But it wouldn't be Christmas without presents, right? So whomever comments with the most Terrible/AWESOME holiday story ever will win A YET TO BE DETERMINED PRIZE WHICH WILL PROBS BE AWESOME AND MIGHT BE LESBIAN EROTICA.
Oh, here's the Muppet Family Christmas 1987. You can watch the entire thing on this playlist, here's the first video:
Associate Editor Sarah is currently having lunch at Hooters with her parents, so really, beat that.