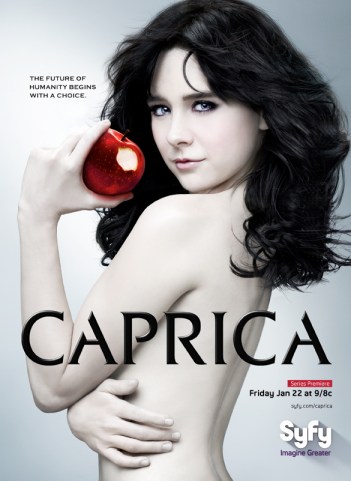 Hey folks! It's Christmas eve, and that's a bummer, right? Maybe you celebrate Christmas maybe you don't, maybe you love absolutely wallowing in obscene consumerism (me), maybe you are eating a pint of Haagen-Dazs by yourself (also me), or maybe you are trashed and accidentally outing yourself with the fam (please god, not me)- Who cares!
Feel like getting away for a sec with some sci-fi escapism? Sweet, me too. Stream the pilot episode for the upcoming super-promising looking Battlestar Galactica prequel series, Caprica.
The pilot's been around for a while, but it was exclusive for DVD for a bit there, so don't miss it in case in sneaks away! Futuristic queer sex clubs! Crazy holotechnology! Alessandra Torresani, Eric Stoltz & pre-cylons! Sign me up!
If the Hulu link fails you, Syfy's got it too. Caprica will be hitting our funboxes (televisions) on January 22, 2010. That's year two-thousand-and-mofoing-ten! The future is now!