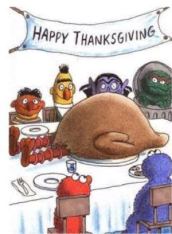 Hi! How's your American Thanksgiving, ladies all over the world? We miss you or perhaps we've never met you, but this thread exists for all you lesbians, bisexuals, girls, bois, straight dudes, straight ladies, and muppets to share your terrible/AWESOME Thanksgiving feelings.
We're beginning to feel it was slightly unfair for Adam Lambert to pull that stunt so close to the holidays, almost guaranteeing you have to deal with that conversation today. Are your relatives extolling the virtues of Going Rogue or bitching about Our Socialist President?  Or perhaps they are extolling the virtues of Rachel Maddow, wondering what will happen next on Glee and fawning over your cute girlfriend? Or maybe you're a girl with a cute Life Partner making pie for your adorable ideally-raised children? Also we changed our mind, Adam Lambert wins and is awesome for making that conversation happen.
So tell us how you feel. To get you started, here's some feelings shared by Autostraddle Interns and Team in private emails they were not warned would be released to the public: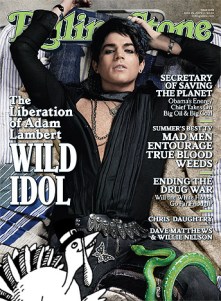 Intern Laura – My family just spent twenty minutes talking about a drink called a wet pussy. now we're talking about Adam Lambert. y'all are invited next year.
Alex – Surprisingly, my cousin just defended Adam Lambert like whoa. I'm surprised and that makes me feel good.
Intern Lily – I'd just like to point out that my thanksgiving involved my mother inviting every old person that we know to come over. Also our conservative 90 year old neighbor talked for 20 minutes about how much she loves Rachel Maddow, she just calls her "Rachel". She also loves the fact that I'm taking Womens Studies and that we better be thankful for all that her generation of women did for us.  But then she talked about saints and catholicism and it was awkward.
Tell us your stories, ladies. Yes, lurkers, this is a perfect time to de-lurk!
+
+