LINDSAY LOHAN:
"Lindsay is making the garlic mashed potatoes," Dinah Lohan told PEOPLE, because she makes amazing potatoes! See. She's fine! Much like Lohan, I am constantly working but have no economic evidence of alleged hard work, so I appreciate their continued assurance that LiLo is constantly working, as Dina continues: "Lindsay is doing great right now. She's happy and very busy working. She works a lot and so we're excited to have her home for Thanksgiving."
Dina also has a BRILLIANT THANKSGIVING TRADITION VERY UNIQUE TO THE SPECIAL LOHAN FAMILY: "We go around the table and say what we are thankful for," says Dina. "I grew up with it and it's just a Thanksgiving tradition we have going on at our house that we grabbed onto … We are so blessed and it's important to share what we are thankful for, and not to take things for granted." Hear that Samantha? Time to get back together!
We actually LOVE Purple Magazine BTW, so this'll be AWESOME: "Lindsay Lohan turned down $700,000 to pose topless for Playboy, but the young actress still decided to do the exact same thing for French magazine Purple. She will be photographed by Terry Richardson, and the shoot is not exactly of the tame variety. Reportedly she can be seen acting out a sex scene with both a man and a woman.
GOOD MORNING HYPOCRISY: ABC has booked Rihanna-beater Chris Brown for an interview and a performance on "Good Morning America" — right after the network canceled Adam Lambert: "TV insiders say the appearance, slated to air the week after next, has outraged feminists and gay activists who wonder why a convicted girlfriend abuser is more palatable to the network than an openly gay man who broke no laws with his raunchy performance on the "American Music Awards."
The top ABC insider added: "Chris Brown's interview was booked way before Adam Lambert took to the stage. It is to give him a chance to respond to Rihanna's interview. The possibility of him performing a song will be worked out next week."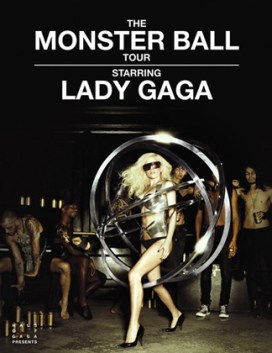 GLEE: At the peak of it's popularity, Glee is going on hiatus for 4 months meaning Sue Sylvester will be silenced between December 9 and April 13. Jesus, that's a long time people! Hopefully that's enough time for them to come up with a legit explanation of how the fuck Mr. Schuster hasn't noticed that his wife isn't actually pregnant. Also, when the show returns in April it will move to Tuesdays where it will have American Idol as it's lead in. (@ew)
LADY GAGA: Gaga gives some in depth analysis of her new single "Telephone": "I don't go to nightclubs. You don't see pictures of me falling out of a club drunk. I don't go — and that's because I usually go and then, you know, a whiskey and a half into it, I got to get back to work." She explains the phone on the song isn't just a physical phone, but also that person in her head telling her to keep working harder and harder. "That's my fear — that the phone's ringing and my head's ringing," she explained. "Whether it's a telephone or it's just the thoughts in your head, that's another fear." (@mtv)
Our very own Carlytron's interview with Gaga is airing on Logo's NewNowNext Poplab. (@logo)
GAYONCE: Our friends from Candy Slice Comedy made this amazing "making of" video for Gaga and Beyonce's "Video Phone." Perez Hilton liked it too! Except we'd be breaking our own self-imposed policy to link to him, just trust us:
Finally, can't afford tickets to the Monster Ball?  Fear not, VH1 is launching a new live music show, "Friday Night Alright" and will air the Monster Ball in April. Pink kicks off the series premiere January 1 with the Funhouse show, live from Sydney.
GLAMBERT: After The Advocate (and Autostraddle) slammed CBS for blurring the kiss from Adam Lambert's AMA performance, moments before showing the Britney/Madonna kiss from the 2003 VMAs, CBS has finally released a statement: "We gave this some real thought. The Madonna image is very familiar and has appeared countless times including many times on morning television. The Adam Lambert image is a subject of great current controversy, has not been nearly as widely disseminated, and for all we know, may still lead to legal consequences." We gotta give 'em credit for at least attempting to look at reality and nuance as opposed to just releasing some ambiguos statement about decency and agression that sounds like it was written by Elisabeth Hassleback. (@extra)
Also, continuing his new trend of not blowing guys on stage, Adam Lambert appeared on Letterman last night singing "Whataya Want From Me".
HAVILAND STILLWELL: Out lesbian actress, Haviland Stillwell, was featured on the ABC show, Eastwick, last night. Unfortunately, Eastwick has been canceled but there's still hope it could be picked up by another network.
COMING OUT FOR THE HOLIDAYS: Judy Gold, Jeffery Self and Kevin Meany on Joy Behar talking about coming out for Thanksgiving! I love Judy Gold, and I love Jeffery Self, and I love Joy Behar, and even though I just met Kevin I love him too, but I wish we could get away from stereotypes like "loves interior decorating" as an indicator of sexuality. Anyhoo!