I'm not going to bury the lede today so let's jump in.
---
My Lesbian Immigration Marriage Feelings, Part 4
21. My visa got approved!!!
This is the first feeling and also the introduction to this post because it's the most narrative and I'm interpreting the style of these lists very loosely.
Before I even applied for a visa I knew there would be an interview and I knew I would be better at it if Shannon were there, because she makes me better at everything.
So Shannon arrived on a red eye Wednesday morning and went day drinking with my mom after a nap while I worked before we went downtown to do Toronto things. Thursday we drove to Montreal for my K1 visa interview at the consulate. I haven't been to Montreal since I moved in March and being back for sixteen hours for this one thing, and staying in a hotel and acting like it isn't mine because it's not any more felt really weird. We walked around just a little and went out for dinner in one of my favorite neighborhoods and then went immediately to the hotel and did not leave.
Instead of leaving, I worried about the following things: forgetting some of the paperwork even though we'd both gone over it a dozen times; not waking up for the alarm; Shannon not being allowed into the building or up to the interview or into the interview with me; not being able to hear someone talking to me through a window in a crowded room; not being able to speak loud enough that someone could hear me through a window in a crowded room, because I get quiet when I am a certain type of nervous; the interviewer being homophobic; the interview being an asshole; not getting the visa for some other reason that I hadn't thought of yet but would definitely somehow be my fault; not getting the visa and then not being allowed in the States for a certain time period; that time period being years. I know most of these things are relatively trivial but my brain was fixated anyway.
Shannon watched Naked and Afraid until I made her turn it off.
We lined up for the interview outside the US consulate, which was strategically less than a block from the hotel, around quarter to seven with just my envelope of paperwork, Shannon's passport, and a hotel key and credit card each. (Anyone here for the wedding stuff should feel free to skip ahead but anyone here who's into reading visa walkthroughs right now should stick with me.) My sense of time is a little fuzzy because you can't bring a cellphone or bag into the building and I do not own a watch, but the line behind us stretched down the block by just after seven. I tried to make hopeful gay eye contact with a probable lesbian power couple but otherwise everyone read as straight. After explaining who Shannon was in relation to me, we were let in to go through airport-like security around 7:40, I was handed a laminated piece of paper with "Applicant 1" on it and an accompanying feeling of having won at waiting in line, and we were let up to the floor for the interview at 8.
Upstairs, we waited a little more, and I worried more about not being able to hear anything before my number was called. The first window was open to the waiting room, Shannon came up with me, and I handed over my application in pieces: proof of payment for the interview and courier, my passport and a copy, my original police certificate, my sealed medical exam, two passport photos, my long-form birth certificate and a copy, Shannon's certified divorce certificate and a copy, and the I-134 and evidence of support (letters from her work and bank, proof of life insurance and a copy of her taxes). I also got fingerprinted and handed a pamphlet on domestic abuse and sexual assault, and then called back to the window to give an updated "letter of intent to marry" from Shannon.
Just before 9, I was called up to another window in a closet-sized room a few steps from the waiting area. Shannon came with me, but was told to go sit down, which is the point at which I almost threw up. I had to read an oath and swear by giving more fingerprints, and then the interviewer asked where I'd seen that Shannon could come to the interview, why she came to the interview, how we met, what Shannon does for work, when we got engaged and when we decided to get married (after I said we only got formally engaged a few weeks ago). There was a lot of him looking at papers and writing or typing things and a lot of me casually trying to see what he was writing or typing. Then he gave me a letter that said "Welcome to the United States" on it and told me I'd have my passport back with my visa in it in one to two weeks and then, when I was too relieved to respond, that I could go now.
I went back to the waiting room to find that in the meantime Shannon had befriended the lesbian power couple, and then we grinned at them and then at each other like idiots and almost made it into the elevator before making out but not quite. We speculated on whether anyone has ever had sex in the consulate bathroom. We were relieved the hotel was less than a block away.
22. Then we went on a tiny Canadian road trip.
Because we'd already driven around Toronto and then from Toronto to Montreal we went to Ottawa to have a lingering lunch with my ex-partner/now awesome friend and then through Algonquin Park at dusk and then to a cottage. Over the course of basically a few hours I was in or within highway signage of everywhere I've ever lived and everywhere a good many of the people related to me were born or lived and I wish that it made me arrive at some sort of single tidy feeling about leaving for probably ever but instead I mostly wanted to be not sitting in a car any more. There was a lot of Canada. Shannon bought unfortunate flip flops with maple leaves on them at one point, and got to experience butter tarts and roadside chip trucks and a small part of my extended family and a large part of my parents' emotional range, and while I am glad she got to experience these things it also made me feel really nostalgic for them even as they were happening. I don't need or want partners who know everything about me, but there will always be another place I wish we had time to visit.
23. And now Shannon's back in LA.
And I miss her. Right now we're both getting through the more intense post-visit period by planning our bedroom, the only section of the apartment to currently look like hot garbage, which is helping. (From one point of view, we've been living together since February. From another point of view, we won't be living together until right before we get married. Either way, we need somewhere for the art and laundry to live.) Also I can't book my flight just yet — or anything, officially — even though I really want to because:
24. A few key people still don't know we're getting married in fiveish weeks.
Oops?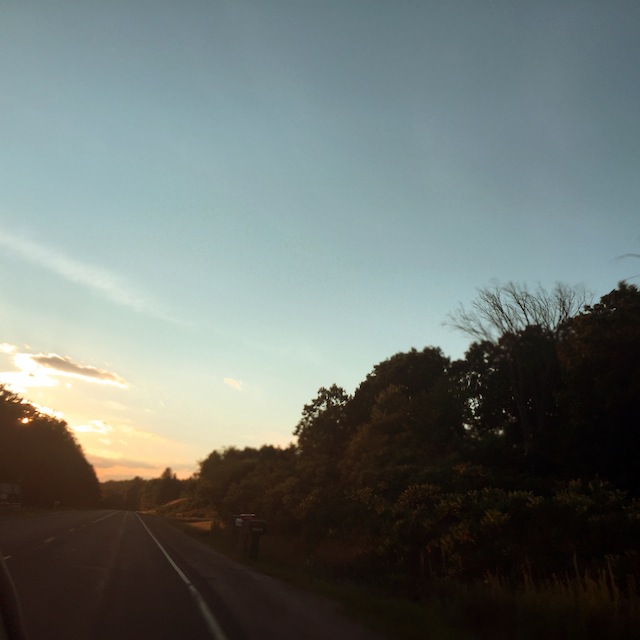 ---
Feelings? Advice? Wedding questions? Immigration questions? Email our team of married/getting married/immigrating/immigrated humans at youneedhelp @ autostraddle dot com or leave a question/feeling in the comments!