I like to buy flowers and plants to help brighten up my space. So when I found these really amazing (and precarious) hanging vases on Modcloth, I knew I had to have them. But why pay $23 for something you can make for $7?
Yep, I made this for $6.55 before tax. I bought everything at Michaels, where the bud vases were only $1.19 and the twine was $2.99. I used a 40% coupon on the twine – I know I say this every week, but you should always use the weekly 40% coupon at Michaels. (You can scan off your phone, I even have a Michaels' shopping app for it, so there's zero excuse.)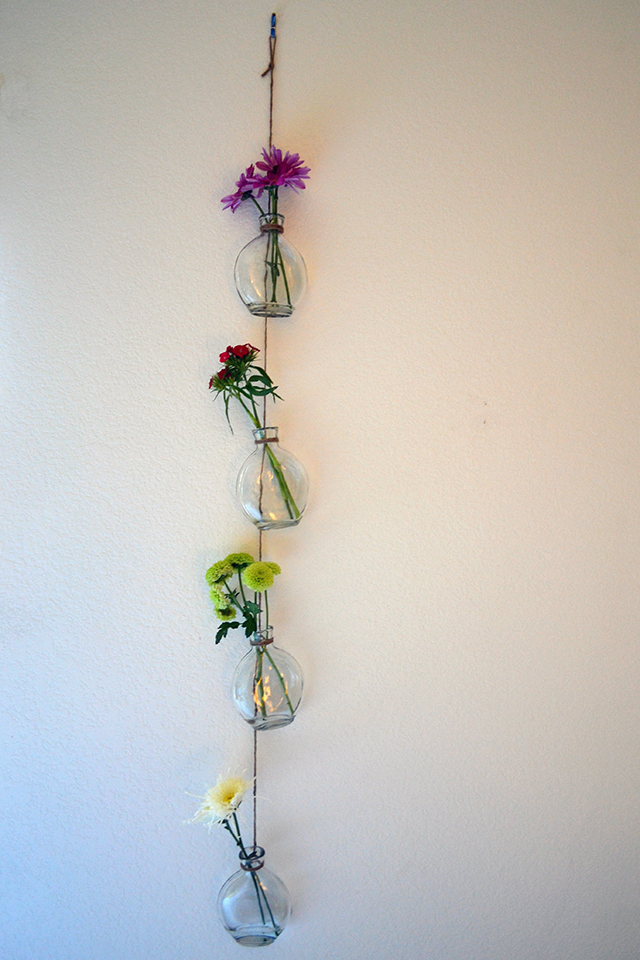 Hanging Wallflowers
Okay, I know these seem precarious. I was really nervous they wouldn't hold or they'd be up for a few hours and then slip out of the twine, but I've had mine up for four days now and it's still going strong!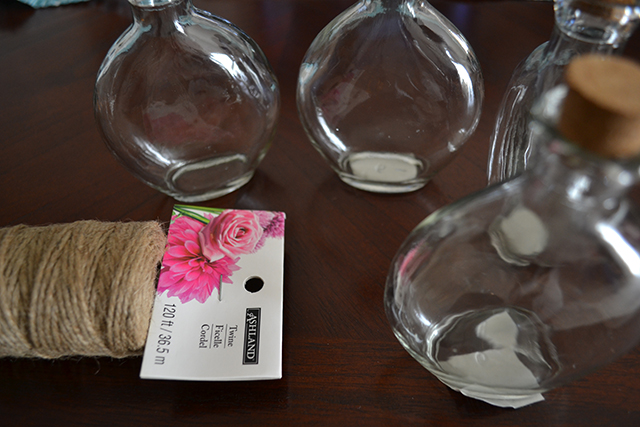 Supplies Needed: 
+ Bud vases (Michaels floral department)
+ Twine (you can find in the ribbon or floral section)
+ Scissors
+ Photo hanger and nail
+ Flowers!
Level of Difficulty: Easier than teaching my mom how to Snapchat.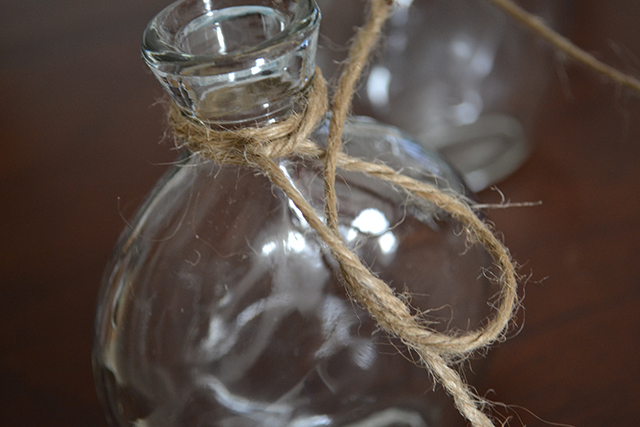 1. Lead out about 18 inches of twine (you can cut off excess) and wrap it twice around the neck of the bud vase.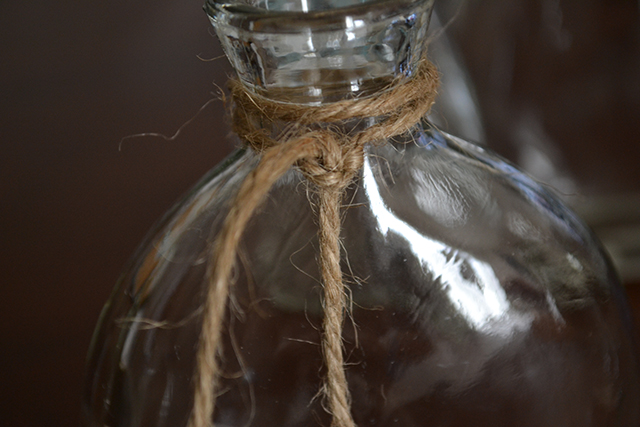 2. Secure it with a double knot.
3. Position them however far apart you'd like (I did about 12 inches, but if you tie them all together and decide you want to switch positions, they're just knots and super easy to untie). Then use the very technical measurement of "This looks about the same as that" to position them all the same length apart.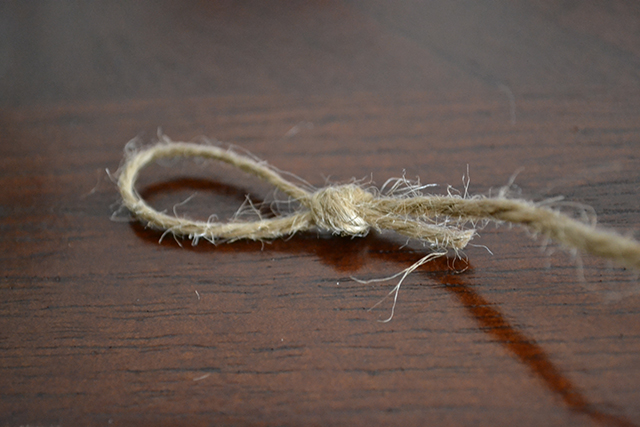 4. Make a knot with a loop (technical term) to hang onto the picture hanger.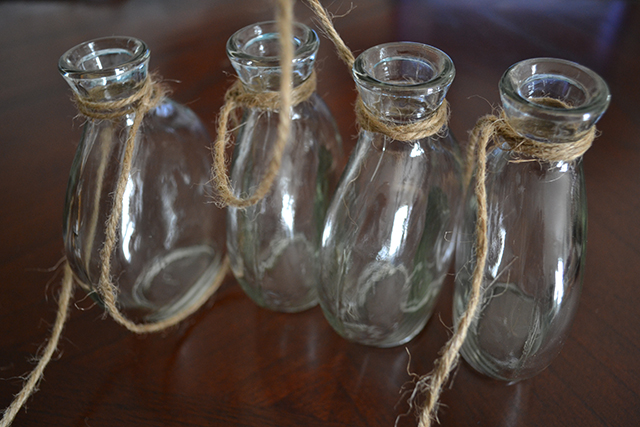 5. Decide whether or not you like the placement. All together I think I used around five feet of twine?
6. I hung my picture hanger and then hooked the hanging vases onto them to make sure they'd stay before I added water and flowers to the vases. I also didn't trim the tail of my twine in case I wanted to reposition the vases.
7. Put in your flowers! I trimmed my flowers so they'd fit better in the vases, which are about 5″ high.
8. You only need to add a tiny amount of water, and then you're all done!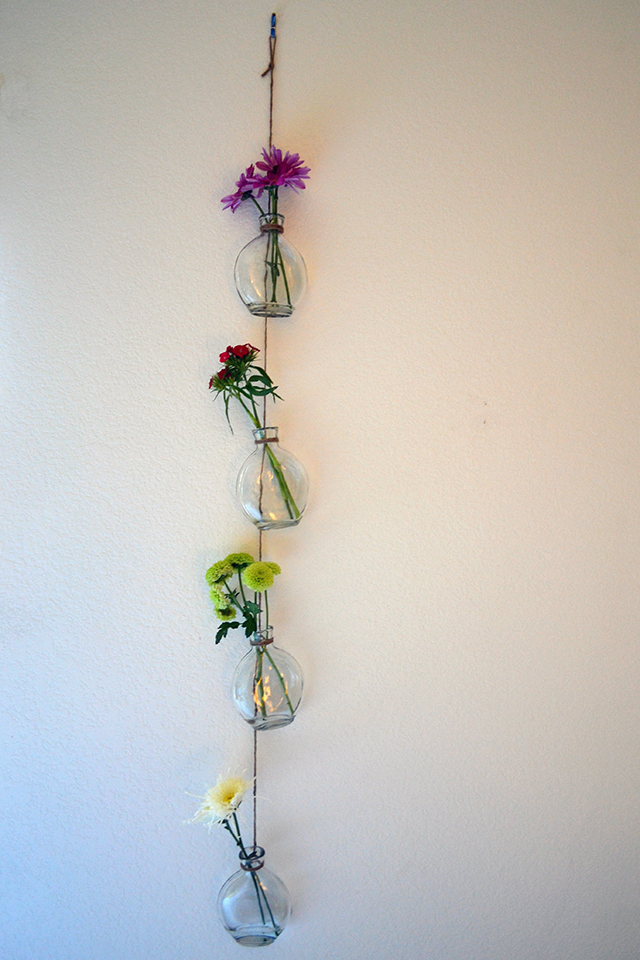 They only took me about ten minutes to make, including the hanging part. I love how bright and cheerful my wallflowers make my room!
---
Thanks for reading this week's Make A Thing, where we make things with our hands for ourselves or other people we love.
Header by Rory Midhani