It's one thing to get a 'digital' business off the ground, where start-up costs — and therefore risk — are often limited to a laptop, a website and your precious time.
It's something else entirely to build a physical business from scratch, where cash is needed from the get-go to develop products and get them out under customers' noses. Your products are real and tangible — so who will make them, and where? How will you get them out there? How will you fund this start-up, and can you afford the risk?
Footwear designer NiK Kacy faced these questions when setting out to build a gender-neutral shoe company — a niche, luxury offering in a busy, fast-moving market. Formed in early 2015, NiK Kacy Footwear is a US-based company with a team of artisan shoemakers hundreds of miles away in Portugal, and it's already making waves in the shoe industry.
Here, NiK talks us through some of the challenges and successes of building a luxury fashion brand from the ground up.
Age 40, Los Angeles, CA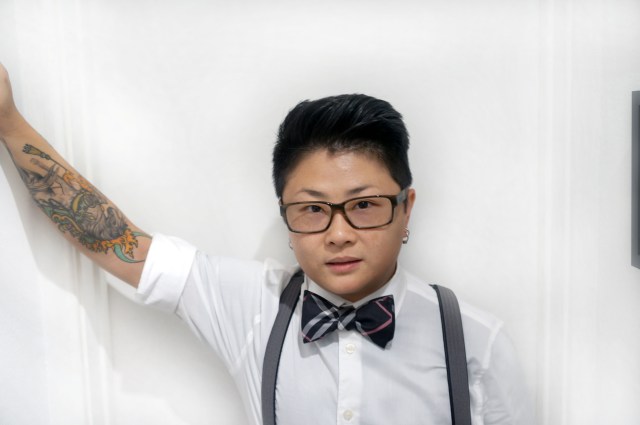 Tell us about your business. What's your mission? Who do you serve? What are your key products or services?
NiK Kacy Footwear is the first gender-neutral and gender-equal footwear company created by a genderfluid identified individual. The concept was first inspired by my own need for masculine presenting shoes and the fact that I could never find them in my size. The mission of this company is to create footwear and fashion that fits all identities because style should not be limited by gender.
The immediate goal is to serve traditional masculine presenting shoes that will fit all genders and identities. Ranging from a women's size 4 to men's 14, the first collection is based on five traditionally masculine-styled derby-based designs. I want to alleviate the under-representation of this market.
Currently, I am in research and development for a feminine of center high-heel line which will run in a wide range of sizes for all genders as well. Clients can purchase online on our website, nikkacy.com. We ship globally.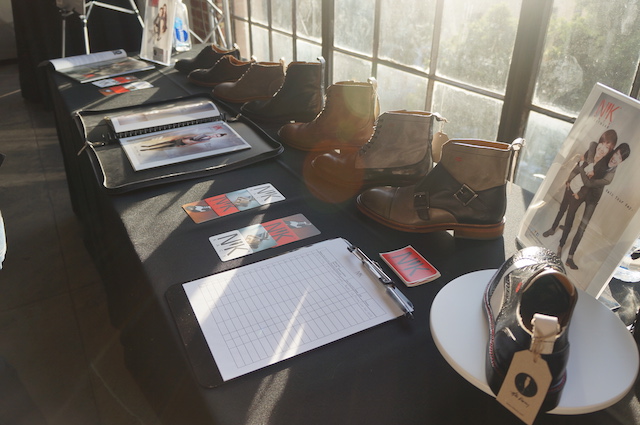 How would you describe your approach to business? And what personal qualities inform your approach?
My approach is to have fun, be creative and work hard. I began with the mentality of making shoes I want and hoping others might also find a need for it. As I realized more and more members of my LGBTQ community were excited and enthusiastic about what I was doing, I learned that I wasn't only fulfilling my needs but also of my community at large, which made this endeavor even more worthwhile.
My background as a producer in the advertising industry has prepared me with the skills necessary to run the day to day as well as strategize on what needs to be done to build a successful brand. As for the design skills, my fine arts and graphic design background gave me the skills (and perhaps talent) necessary to develop the designs I have created as well as do most of the photography of the shoes.
What does a typical day look like for you? Do you have a routine? And what is your workspace like?
There is no typical day for me. I can spend some days designing shoes, photoshopping advertising campaigns,  developing my online boutique or figuring out e-commerce technicalities. Other days I am in meetings all day, sometimes very early with my agent who is in Portugal. There are also days where I focus on social media or attend important events within the LGBTQ community to help network or share my brand. I usually work at my home office, which basically consists of my shoe samples, my computer, a wacom tablet, and some leathers and tools laying around.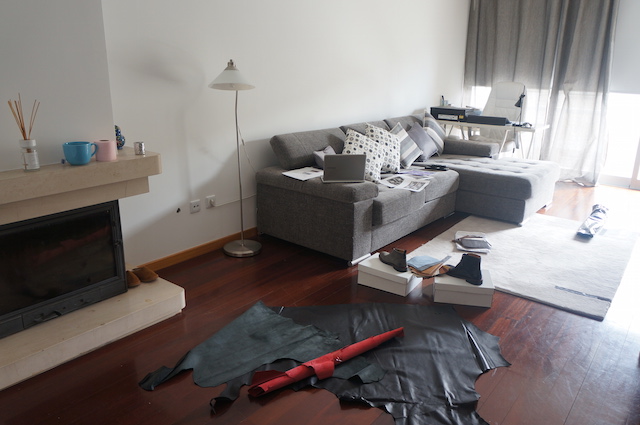 A typical work week can range anywhere from 10 hours to 60. Being my own boss means being able to manage my own time. Sometimes I like to work late in the wee hours of the night to get something done and then I'll decide to take the next day off and spend quality time with my friends. On my off time, I enjoy being on the Board of Sparkleblob, a non-profit organization dedicated to arts and culture as well as being on the committee of the Los Angeles LGBT Center's An Evening with Women. Being an animal lover, I also like to volunteer at a local animal shelter when time permits.
When did you know that this was what you wanted to do? And what were your early goals, your first steps? 
Ever since I was a child I knew one day I would make shoes I wanted to wear if no other company was going to make them. However, being a workaholic for so many years, I never found time to pursue this dream. It wasn't until I had the opportunity at Google to re-evaluate my position and my role that I took upon this time to face this challenge.
In addition, I also used this time to have transitional surgery and travel throughout Europe, both also things I've wanted to do most of my life.
It must have been hard to get something like this off the ground. Can you tell us a little more about the finance element of your business, and the steps you've taken to get started?
When I left my job, I had saved up some money in my savings. It was the first time in my life that I felt financially secure and wasn't just trying to keep my head above water. It was a hard choice to choose to leave my job especially because I finally had the taste for financial security. When I began my research and development into the shoe industry, I funded everything using my savings — travel, lodging, leathers, materials, agent fees, meals, shoe fairs, etc.
Once I finished my designs and was ready to make prototypes, I realized in order to truly get this company off the ground, I needed to have inventory. Without being able to show my shoes off to the world, people may not be able to catch on to its existence. So by the end of 2014, I planned a Kickstarter campaign. I wanted to use a crowdfunding platform because I truly believed in having my community help turn this dream into a reality. The inspiration was to provide representation to an under-represented community so it seemed more impactful to ask the community to participate. Together we can make change and show society we exist.
The plan was to raise enough to get the first collection into production and to also use this platform to increase visibility for our local LGBT Center and do some good. I decided to make some shoes for the Los Angeles LGBT Center's Youth Center so that I can begin my mission of providing gender-nonconforming shoes to the Center's young adults who are working hard to improve their lives and pave a future for themselves. I want them to be able to prepare for a job interview and know they will have something to wear that is authentic to their identity.
My Kickstarter campaign raised 134% of its goal through supporters from all over the world. 50% of the projects donors were new members to Kickstarter, yet 100% of donor pledges were confirmed at the end of the five week campaign. We have begun production now in Portugal and I will be traveling there in September to examine each pair of shoes by hand before shipping to the US. I want my clients to know that I take my products very seriously and I appreciate their faith in me. I want them to open the box and love what they ordered and when they put their shoes on, to feel like "finally" they got what they've been looking for.
Currently, the first collection is available online only. I will begin considering making them available elsewhere once I feel the brand has been properly established. I will begin development for the "feminine of center" collection as well as expanding the "masculine of center" collection and incorporating vegan options into the line in the near future. The most important thing I remind myself each day though is "one step at a time." I want my brand to succeed and stay authentic. I'd rather take my time and build my audience and retain them with my attention to detail and my thoughtfulness then to try to race to the finish line by sacrificing quality.
Why do you do this? What makes you spring out of bed in the morning? What's the best thing about the work you do?
I am passionate about advancing our culture and society into a world where we are not discriminated by our gender or identities. The best thing about my work is when I have people from all over the world write me about how excited they are to find my shoes or learn about my company and how it inspires them. Having so many others who shared my pain and experience of not finding shoes that represent my style really motivates me to keep pushing to turn this dream into a reality.
And the worst?
The worst part about my new career is missing all the amazing people I used to work with and being able to go into an office and work and be challenged by your peers on projects. Working from home can often lead to cabin fever and I miss the liveliness of a big company. Hopefully one day I'll be able to have an actual office and build a strong team to run the company.
What are the key challenges you face in your work? What are your tactics for overcoming these?
Convincing people who have been in the shoe industry for decades that my vision is worthy and that the need for gender-neutral shoes is prominent. Helping them understand that style should not be limited by gender and earning their respect as someone new to the industry. Another major challenge in my first entry into the older European shoe manufacturing world was due to my appearance as a masculine presenting, trans/genderqueer individual. I received many stares and whispers while walking through countless factories and shoe fairs. Finding artisans and experts who were willing to speak to me was challenging but I was lucky enough to be referred to some really great people with invaluable experience who were generous enough to show me the way and guide me along my journey.
Photo credit Alex Schmider
How do you approach time management?
As a former project manager and producer, time management is definitely one of my strong points. Working with people who are in vastly different time zones can be challenging but luckily I'm a night owl so it all balances out. Making the transition into being my own boss has helped give me the ability to balance work and fun and I definitely make time for quality time spent with friends, community and loved ones.
Where would you like to be in five, ten years' time?
In five years, I would like to see my brand more widely known as being in the forefront of gender-neutral/equal footwear, as well as an inspiration for more companies (queer and mainstream) to make footwear for all identities. I'd also like to open up some boutique stores where clients can see the shoes in person and try them on in major cities around the world so that they can truly be more accessible to everyone.
In ten years, I'd love to see my brand grow into a line of not only a series of collections of various styles of shoes but also accessories and clothing for all.
How do you market your business?  
Currently, I'm mostly utilizing online presence and word of mouth. I'd love to eventually have a budget for some high fashion shoots and runway shows, be seen in major magazines to get the word out as well as have some key LGBTQIA ambassadors, who believe in the vision, represent the brand.
NiK Kacy Footwear at a DapperQ fashion show
What's the most valuable tool in your kit?
Probably my passion, creativity, attention to detail, and perfectionism. I tested all the shoes first hand and worked side by side with experts totaling 6 decades of shoemaking experience to refine my designs into shoes that are fit to be considered gender-neutral. The craftsmanship of the shoes I leave to the experienced artisans in Portugal.
In addition to that, I have the most amazing agent in Portugal who believes in me and I consider to not only be the most important arsenal in my toolkit but who also has become my mentor and is like family to me.
How does being LGBTQ impact on your business (if at all)? Do you mention it, make a big deal out of it, hide it, not really think about it…?
I am proud to be a trans/queer business owner, making my mark and increasing visibility for my community. I also created this FOR my community and hope that this helps their shopping experience and gives them the opportunity to dress in a way that is authentic to them so I really love being loud and proud of that heritage.
What three websites, blogs, books or people do you rate for business advice or ideas about your work?
I refer to social media a lot for what's trending… and see what my fans are excited about. I also love DapperQ who's been a huge inspiration in increasing the understanding and visibility of masculine presenting individuals. I also am hugely inspired by the work and passion of fellow LGBTQ entrepreneurs like Sharpe Suiting, DapperBoi, Butch Basix and Saint Harridan.
What's your hot tip for queer women who want to start their own business?
Be authentic and passionate, and never take no for an answer. When I first started, I was told I couldn't do this because if it was so easy someone would have done this already. I was told I needed lots of money. I was told there was no market for gender neutral shoes. I was told I couldn't make shoes that would be different than what companies have already done for women in men's styles. I was told no no no… but I didn't care. I just kept pushing until I convinced people that my passion was worth the chance and here I am now with my first collection.
Never give up on your dream or you will always wonder "what if". Even if this doesn't end up turning into a profitable business, I'll always know that I made shoes that I've always wanted and that I've made a difference in someone's life.
---
NiK Kacy Footwear is a certified LGBT Business Enterprise (LGBTBE) by the National Gay & Lesbian Chamber of Commerce. You can view NiK's gorgeous footwear at nikkacy.com (make mine the grey Monk boot…) or follow on Instagram and Twitter @nikkacyfootwear!