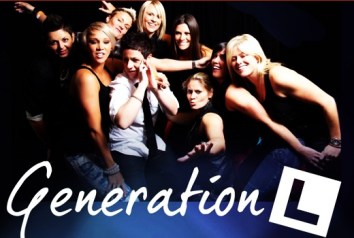 Last month we told you about Generation L, a reality web series documenting the adventures of a group of lesbians from Sydney, Australia during the biggest weekend on the queer calendar. The series has now come to an end and, as Autostraddle's resident Sydney queer, it would be remiss of me to not do some sort of recap.
There's been some confusion about what Generation L actually is. To be clear, Generation L currently exists as a web series, with aspirations of attracting network interest and evolving into a reality television show. Its 8 short episodes have offered a glimpse into the Sydney lesbian scene and left international viewers asking rather valid questions like 'What's a starfish?', 'What's a dud root?' and 'Pussy burger? Really Papi?'
If you missed it, here's the full Generation L: The Road To Mardi Gras episode list:
Intro / extended trailer
Generation L Episode 1
Generation L Episode 2
Generation L Episode 3
Generation L Episode 4
Generation L Episode 5
Generation L Episode 6
Generation L Episode 7
Below is the final episode, which ends with message from the Generation L creators about the future of the show.
If you watched the entire series, what did you think?
I enjoyed the show, overall. While there were a few moments that caused me to cringe, I appreciated their honesty. Sometimes I feel like we're so used to seeing shiny polished people on screen that it's quite easy to forget that the unedited and unscripted versions are a little rougher around the edges, and that's part of what makes us interesting. Unlike with Ilene Chaiken's The Real L Word, I didn't feel like Generation L's message was look what hot trendy creatures those lesbians are.

Admittedly it took a while to warm up to the series. It wasn't easy to make an emotional connection to a person and their story when it was developed over the span of a 3-4 minute webisode. However I persevered and by the end found that I had become completely enamored with the Generation L girls, particularly Amber the starfish and Rachel the seahorse. I'm sure that if I ever left the office and stepped out onto the 'scene' then I'd want to befriend them all.
Generation L appears to be the work of a group of girls who are trying to boost lesbian visibility with limited funding and resources. It's a mission that's easy for me to relate to. If you think the series has potential, I hope you'll get behind it.