The last time we talked lesbian romance novels, a handful of enthusiasts came out of the closet and admitted to sharing my love for this genre. It was all the encouragement I needed to tell you about even more of these modern day girl-on-girl bodice busters.
The Lesbian Romance Formula
Lesbian romance novels are will-they-or-won't-they slow burners that are loosely based on the following premise: Girl A meets Girl B and thinks she's cocky / reckless / mysterious / looking very Shane today. An often work-related situation forces the girls to spend every waking moment together, and Girl A realizes that there's more to Girl B than nice arms and a smokin' hot swagger.
However! Despite their sexual tension, Girl A keeps Girl B at arm's length as she undergoes a brief but intense struggle to overcome her deep dark secret and/or crippling emotional baggage. The tide typically turns when a confusing figure from either girl's past shows up and/or a tragic accident forces Girl A to consider life without Girl B in it. They say "I love you" and have "earth shattering" sex. The end.
In case there's any confusion, I genuinely love the lesbian romance genre. Sometimes I'll make fun of the cover art and the character names and the work-related circumstances, but it's only because mockery is the only way I can deal with matters of the heart.

Top 10 Lesbian Romance Novels
(Currently on Crystal's Kindle)
Hostage Moon by A.J. Quinn
e-book
paperback
Hunter Roswell is a 'painfully beautiful and intimidatingly intelligent' multi-millionaire CEO who's being hunted by a serial killer holding a decade-long grudge. Sadly no amount of money, jet planes or Maseratis are gonna protect her. But do you know who can? Sara Wilder, former FBI profiler and current lesbian. Tasked with finding the connection between Hunter and her prospective murderer, Sara gets inside Hunter's head. And also her pants.
Sometimes when the mystery/thriller genre meets the lesbian/romance genre, those little literary devices that build suspense are sacrificed for countless descriptions of how the leading ladies' pupils cloud with desire. That's not the case with Hostage Moon. The mystery part is just as suspenseful as the romance part and I was invested until the final page. Solid debut right here.
Tags: work-related circumstance, hot lady cop, raunch, hot girl has swagger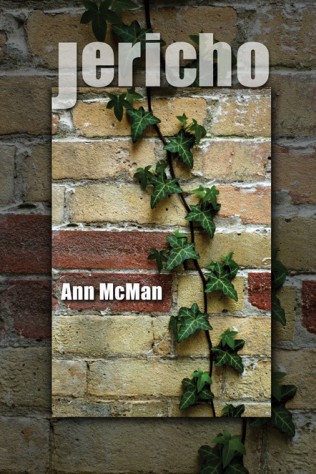 Jericho by Ann McMan
e-book
paperback
This story starts when newly-separated and seemingly straight librarian Syd Murphy accepts a new job in Jericho, a small Virginian town that's serviced by an attractive doctor named Maddie. The two ladies meet on the road to Jericho, literally – when Syd gets stranded roadside with a flat tire, Dr. McHotpants gets her butch on and comes to the rescue. A beautiful friendship is formed.
Lesbian romance novels are typically quite short and reading short books can be an expensive habit, particularly if you skim-read the scenes where no-one makes out. Jericho is nearly twice the length of the norm and the extra character and story development really pays off, I was so into Syd and Maddie that as soon as I finished their story I was compelled to read it again. If the uncontested 5-star rating on Amazon is any indication then you will be equally charmed, I'm sure.
Tags: tragic accident, confusing figure from the past, somebody call a doctor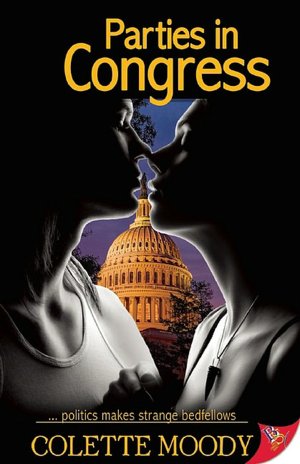 Parties in Congress by Collette Moody
e-book
paperback
When Bijal Rao starts working for a Republican candidate who's running for U.S. Congress, she's sent to spy on the enemy: Congresswoman Colleen O'Bannon. O'Bannon is a democrat and Rao is a republican and these loyalties prevent them from ripping each other's finely tailored suits off, at least for a while.
Politically themed novels don't exactly get my heart racing and so Parties In Congress almost didn't get read. That would have been a loss, as Bijal is hands down the most awkward and inappropriate character in lesbian fiction and her stalkerish, hide-in-shrubs-with-a-video-camera approach to courting really won my heart.
Tags: work-related circumstance, lesbian power-suits, deceased lover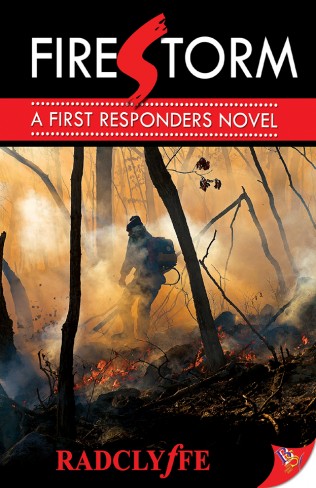 Firestorm by Radclyffe
e-book
paperback
Firefighter and paramedic Mallory "Ice" James is a smokejumper, which means that it's her job to parachute into forest fires. When reckless newbie Jac Russo is hired onto Mallory's smokejumping team without her approval — thanks to strings pulled by Jac's presidential candidate father — Mallory is understandably… fuming.
At first, things between Jac and Mallory are… heated. Not friends, those two. Mallory takes her job seriously and she's got no time for "hot shot" Jac's cowboi antics. However, Jac thinks that her new boss is "hotter than the blazes they're supposed to be dousing" and her desire to see Mallory naked will not be… extinguished.
This is another novel that I wasn't certain I'd be crazy about, as I am a devout city girl and this story is set entirely in the wilderness. But in the end, the romance won me over. It was… sizzling.
Tags: work-related circumstance, tragic accident, raunch, hot girl has swagger 
Snowbound by Cari Hunter
e-book
paperback
Police officer Sam Lucas interrupts a jewellery store heist, gets badly injured and is then taken hostage by violent criminals. Enter Kate Myles, a beautiful doctor who hands herself over to the abductors in order to give medical attention to the wounded. This story is set in England and so during their fight for survival, Sam and Kate drink a lot of tea and communicate using cute British phrases.
This novel is jam-packed with action and as such, Sam and Kate don't admit or act on their feelings for a really long time, like for most of the novel. Does this sound like complaining? I'm not complaining. The moment the two lead characters hook up is the same moment that I tend to lose interest, so I'm all for sexual tension being dragged out until the final chapters.
Tags: work-related circumstance, tragic accident, hot lady cop, somebody call a doctor
Focus of Desire by Kim Baldwin
e-book
paperback
When Isabel Sterling's best friend enters her in Sophisticated Women magazine's 'Watch Your Dreams Come True' contest, she wins an all expenses paid trip to exotic locations. Accompanying Isabelle and her BFF on this trip is infamous lesbian photographer and womanizer Natasha "Kash" Kashnikova, who has reluctantly agreed to document their travels for the cover story.
Isabelle is a sweet, caring and optimistic girl from Smalltown USA, who's not at all interested in her 15 minutes of fame. Kash, on the other hand, is a total douchelord who uses her celebrity to bed a different model each day and who doesn't trust women who claim they have no desire to be in the spotlight. Both girls have different ideas about romance, for example Kash wants a threesome while Isabelle wants candlelit dinners and cuddles. They work out their differences half-naked in a Roman alley.
Tags: work-related circumstance, raunch, hot girl has swagger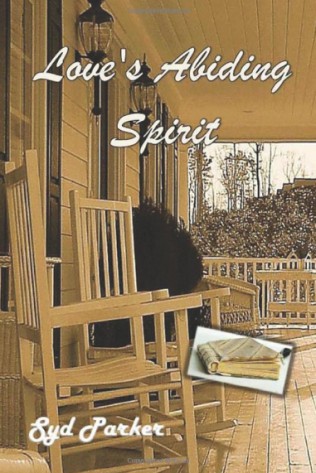 Loves Abiding Spirit by Syd Parker
e-book
paperback
When famous songwriter Soren Lockhart's ex-wife takes out a restraining order on behalf their young daughter Olivia, Soren gets the hell out of dodge and purchases a dilapidated haunted house in Savannah, Georgia. Who's she gonna call? Merritt Tanner, hunky lesbian and proprietor of a construction business.
Within the first minute of meeting, Merritt and Soren want to jump each other's bones. Unfortunately, Merritt's cheating alcoholic girlfriend prevents them from doing so straight away. Soren pursues Merritt like a tiger and eventually wins her heart, but not without assistance from the young lesbian ghost who is haunting her house. The dialogue in this book is funny, $4.99 is a good price for a few lols.
Tags: work-related circumstance, confusing figure from the past, hot girl has swagger
LA Metro by RJ Nolan
e-book
paperback
After getting burned by her closeted lover, Dr. Kimberly Donovan transfers to the psych unit at LA Metropolitan Hospital. It's there that she meets Dr. Jess McKenna, the attractive Chief of the ER who has a reputation for being bit of a bitch when really she's just misunderstood.
Dr Kim and Dr Jess form a cute friendship, they bond over shared interests such as shitty ex-lovers and a secret desire to tear each other's scrubs off. Not much else happens, this is just a story of two health care professionals falling in love.
Tags: work-related circumstance, somebody call a doctor
Waiting in the Wings by Melissa Brayden
e-book
paperback
Jenna McGovern graduates from a prestigious musical theater program and lands a sweet role in a Broadway production starring one of her favorite television actors, Adrienne Kenyon. Jenna and Adrienne start dating and everything is golden, at least until Jenna accepts a career-breaking role on the other side of the country and Adrienne drops her like she's hot.
That's only the start of their story. Jenna and Adrienne meet 4 years later under another work-related circumstance and realise that they never moved on.
Tags: work-related circumstance, confusing figure from the past
Kiss The Rain by Larkin Rose
e-book
paperback
Jodi Connelly, aka 'Lexi,' is a high-end lesbian escort and phone sex operator living in London. Her favorite phone client is American fashion designer Eve Harris, a power femme who avoids relationships because she's so busy and important and already has a smokin' hot butch on speed-dial who knows exactly how she likes it.
When Eve's fashion show travels to London, Jodi is recruited by her best friend to help construct props for the set. Jodi and Eve meet and have lots of wild sex, and Eve remains unaware that Jodi is the same person who makes her come over the phone every night. Jodi falls in love with Eve but Eve is already in love with 'Lexi.' Eve also thinks that Jodi is pretty swell, however Jodi is a real person and Eve prefers not to do real people. Are you following? It's complicated, you should probably just read the book. It has a lot of sex in it.
Tags: work-related circumstance, raunch, hot girl has swagger, it's complicated

Have you read any good lesbian romance novels lately? Tell me about them.