The Advocate released their 2011's Most Googled Gays and Lesbians on Monday. Ranking things by how much they're Googled is awesome because it's sort of like a bizarro-land popularity contest of curiosity. I particularly appreciated their color blocking number photos.
20. Zachary Quinto
19. Suze Orman
18. RuPaul
17. Portia De Rossi
16. Jane Lynch
15. Nate Berkus
14. Chris Colfer
13. Jillian Michaels
12. Tom Ford
11. Rachel Maddow
10. Dan Choi
9. Alexander McQueen
8. Neil Patrick Harris
7. George Michael
6. Ellen DeGeneres
5. Adam Lambert
4. Marc Jacobs
3. Perez Hilton
2. Elton John
1. Ricky Martin
Newcomers not appearing in 2009's list were Zachary Quinto, Suze Orman, Nate Berkus and Jillian Michaels. It's pretty clear that Quinto's new to the list due to his previous non-outness. As for the others, it varies. Orman's rise was perhaps do to the March 2011 release of her new book, The Money Class: Learn to Create Your New American Dream. Michaels is even less clear. I think maybe after she left the Biggest Loser in 2010, everyone who didn't hear about it went to Google her when the new season came on?
Topping the list were Perez Hilton, Elton John and Ricky Martin. Perez Hilton dropped from first last year and Elton moved up from fourth. I thought Ricky Martin's move from fifth to first was fascinating in light of his coming out actually having occurred back in March 2010. "What could have happened?" I thought. "Did I miss a hilarious video of Ricky Martin confronting Michele Bachmann?" Then I realized I'm a giant self centered idiot. Martin put out his first album since 2005, Música + alma + sexo. To everyone who listens to Latin music this is a big fucking deal. It went number one all over the place. Ricky Martin was likely Googled like crazy as people looked for CD and concert tickets.
Another hilarious point of the Advocate's list was George Michael. As Riese said, "Who Googles George Michael is what I wanna know, it's not 1992." I was highly suspicious that the Google numbers have been upped by Arrested Development and the upcoming movie. But then I did some deeply serious investigative research and discovered that George Michael was actually hospitalized and had to cancel his European tour making everyone in Europe cry.
In addition to the celebrities the Advocate came up with, I thought of a few more Googleable queermos who might make the list. Using the handy-dandy Google Trends I mapped out their Google frequency. I've displayed them below in terms of Rachel Maddow's Google numbers. The unit will henceforth be referred to as "One Maddow."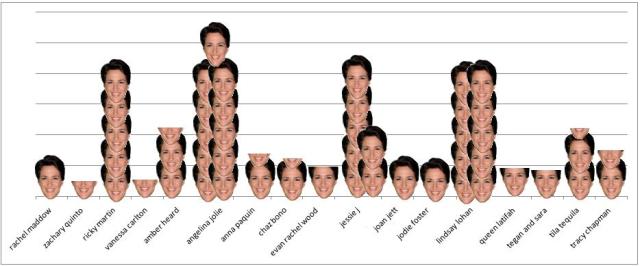 I wanted to add Lady Gaga to the graph above, but she just didn't fit.
I think what's so fascinating about the Advocate's list is how it shows us the intersection of social progression and technological progression. Whether celebrities are Googled because they have an enormous fan base or because they just came out of the closet or because someone thinks they're awful and corrupting children, we now have a way to track not just what people like or what people buy, but what people are just thinking about. Ten years ago a list of the Top 20 Most Googled Gays wouldn't have just been impossible, it would have been unimaginable. And now we have The Maddow! If that's not progress, then I didn't just make a series of graphs using only an MSNBC commentator's face.