This review contains light spoilers for The L Word: Generation Q.
870 days.
I did the math on this, and it has been 870 days that I've anxiously awaited The L Word: Generation Q. 870 days since "a sequel series to The L Word" was officially announced. I clasped my hands over my mouth and immediately felt my heart leap somewhere very exciting, but also just this side short of a panic.
It's not that I didn't have faith that new showrunner Marja-Lewis Ryan could pull it off. It's that for a generation of lesbian, bisexual, queer women and non-binary people — The L Word's become something of a superhero origin story. That's not mere poetic exaggeration; hot pink DVDs, illegal downloads and deleted DVR queues, YouTube compilations, and (eventually) Netflix recommendations have been smuggled between hands of baby gays for the last ten years. The original series remains so embedded in our culture — from the elevation of Bette Porter as the consummate power dyke to every womanizer in your friend group being dubbed as a Shane — that it doesn't even feel like a decade since Bette, Shane, and Alice almost went down for Jenny's murder (the whereabouts and concluding storyline of the venerable Ms. Schecter is addressed in the new series, but I wouldn't dare spoil it for you). The L Word is personal. It's a homing beacon. It's impact was nothing short of molecular.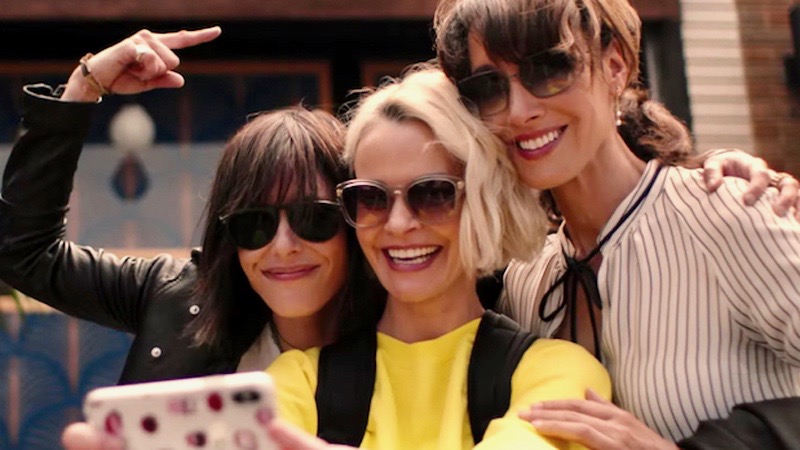 In 2019, Shane McCutcheon deplanes her private jet. There are in-show reasons for her sudden wealth over the last ten years, but admittedly it's a stretch of the imagination to buy in. Whatever, at least she's finally home. There's yet another heartbreak in her wake, and right away there's a sense that this time, perhaps for the first real time in her life, someone else broke her heart before she could run away. There's a sadness just behind her temples that, even for Shane, is intense. Her first stop is the set of Alice's daytime television show, now in its second season.
Alice tells her live studio audience that even though they were only apart for the summer hiatus, it already feels "like ten years" — a not so subtle wink to the audience at home, who hasn't heard Alice Pieszecki's one-of-a-kind voice performing new lines since 2009. Her work appears to be satisfying (and will treat us with a few scream-worthy, real life celesbian cameos. The first one appears in episode three and is a WHAMMY), but Hollywood is full of old straight white men who'd rather Alice just be the fictional Ellen Degeneres, making moms in Midwestern America laugh into their morning coffee, than the politicized version of herself that brought her to the national stage to begin with.
When a campaign scandal threatens to upchuck Bette's world, she invites her two oldest friends over to watch her meltdown. The Bette we knew always quickened to anger, but this time she's frazzled. She paces in her living room. Her advisors think she should drop out, and she doesn't even recognize who she is anymore. Shane looks at her with those same deep-set hazel eyes that — all these years later — I could picture in crystal detail, even with my own closed. Her voice hoarse, but her conviction unwavering: "You are Bette Fucking Porter."
And that, takes care of that. However out of sync their lives may had been during our time away, the three women we've loved with our full hearts for so long, are banded together again.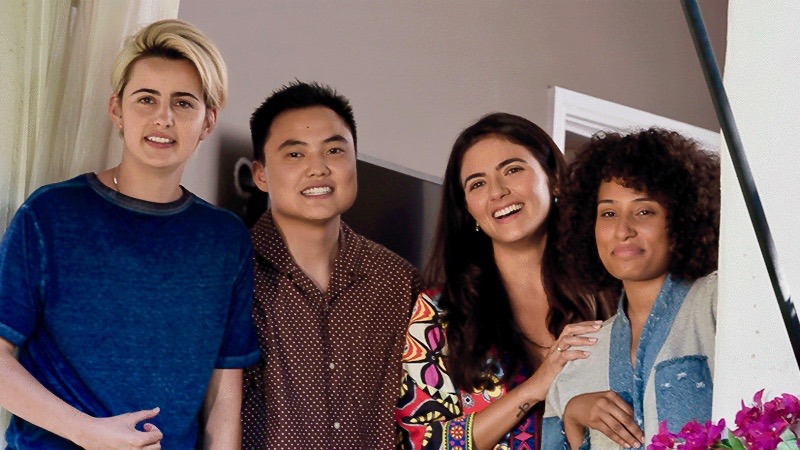 Warm and fuzzy reunion feelings aside, the original L Word series was not perfect. Like any artifact of a bygone era, a lot its content is shaming in retrospect (and parts of The L Word were outright offensive even as it aired). There was rampant biphobia. The representation of queer sex workers implied that the only reason someone would enter the industry was if they'd experienced trauma or desperation. For the majority of its seasons The L Word was almost categorically white. When they finally incorporated two Latina characters, both of them were ensnarled in painful racial stereotypes and neither of them were even played by Latinas! This show created a shorthand for lesbian culture as thin, white, and conventionally attractive that our community is still reckoning with a full decade later. That's nothing compared to its inexcusable transphobic storylines, beginning with Lisa "the male lesbian" in Season One and continuing through everything about how they dealt with Max in the later years. I realize that I sound like I'm arguing against the show, but it's important to acknowledge that The L Word harmed at least almost as much as it did good. There's a much needed call for improvement — for healing.
Over the first three episodes, Shane, Bette and Alice find themselves becoming unwitting mentors for a "new class" of late 20somethings. Sarah Finley (Jacqueline Toboni, an honest-to-goodness breakout star in the making) is goofy and instantly lovable. A puppy in soft butch human form. She's also a self-described "traditional lesbian" when it comes to being handy with a tool belt, which helps her score a spot crashing in Shane's new and unfurnished mansion (Shane Shane Shane, forever taking in strays). For all the promises that the rebooted series would be "a little browner and a little less cis," I worried about the central lead character being yet another young, attractive, cis white lesbian. In practice I found her role to be significantly less grating than I expected; that has a lot to do with the people surrounding her. Save her sister Kit, Bette Porter was the only black woman in her immediate social circle. Finley is the only white person in hers.
Finley's best friend and bro is Afro-Latina lesbian Sophie Suarez (Rosanny Zayas) who works as an booking producer on Alice's show. Sophie's swagger is next level and she lays her hair edges down with a toothbrush, so you already know I love her. Sophie's partner, Dani Núñez (Arienne Mandi), is also Latina. Her father works for a powerful and potentially shady investment firm; unfortunately everything I've loved about Sophie's characterization so far, I cringed at for Dani, whose storyline remains haunted at the edges with a few remaining Latinx telenovela stereotypes that the show would be better without. However, Dani and Sophie's relationship together deftly digs into class conflict and racism internal to Latinx communities that are almost never explored on screen.
Dani and Sophie live with Micah (Leo Sheng), an Asian trans man and graduate student TA. Micah's a sensitive heartthrob whose opening love story with the friends' gay cis Latino next door neighbor absolutely left me in the throes of big swing emotions and palpitations. There's a scene where Dani and Sophie, along with their new neighbor, attempt to teach Micah how to salsa and bachata. They fall into each other in a pile of giggles and  I have to tell you — I was ready to put down my life for this QTPOC crew.
The original L Word friendship group also gets a few upgrades with new women of color faces filling out Bette, Alice, and Shane's world (including black actress Latarsha Rose and two new Persian characters, finally reflecting to the actual racial make up of Los Angeles). There are four new trans characters —  Micah, as well as Jamie Clayton (be still my heart) as bartender Tess, Brian Michael as Bette's campaign manager, and Sophie Giannamore, as Angie Porter-Kennard's teen crush Jordi. Yes, you read that correctly — "Baby Angie" is nearly all grown up, and Jordan Hull is absolutely delightful in the role. Her relationship with Bette is simultaneously warm and challenging.
What's most true about The L Word: Generation Q is that it doesn't at all feel dated, while still feeling wholly like itself. Gen Q opens with a fully nude oral sex scene that's immediately going down in lesbian television history, contending with the best of what Tanya Saracho's done with Vida. More than once I declared the young love between Angie and Jodi as "THIS IS MY EUPHORIA" (no offense to Euphoria fans! Rue + Jules Forever, I just hate most of the straight characters around them). Sophie Suarez is wonderful not just because it's rare to see a queer Afro-Latina on television, but because she's allowed to bring her full self — and her large, boisterous Latinx family full of women, not unlike One Day at a Time's Alvarezes, right down to the loving, cry fest mother-daughter moments — to the screen. This is an L Word that slips seamlessly into the TV landscape of the children it once helped to create.
And maybe that's the real, hard part. There's danger in dusting off our memories. Nothing's ever quite as alive or freeing as when we first experienced it. Ground can't be broken twice. There will never be another The L Word. As much as the more nostalgic of us may clamor for it, there won't be another time where seemingly all of queer women's worlds stop for one hour every week, to be played at bars and watch parties on our friends' couches and relived in explicit detail until we can quote scenes from memory. We can't go back there because we're already living in The After.
When The L Word premiered 15 years ago, it was a bright shot into the pitch black night. Now? It's not even the first lesbian lead series this year. Autostraddle began as an L Word recap blog. Now it's the largest independently owned LGBT women's site on the internet and there are so many queer and trans women characters on television, that our team of seven television critics are constantly scrambling — and we can't even cover them all. What can a reboot of our mothership bring of added value to the conversation that it started?
I think it has a lot left to say. By my count, in its first season Generation Q will have at least 10 queer or trans people of color characters in regular or reoccurring roles. Those raw numbers weigh equal or greater than what we've seen from Orange is the New Black or Vida, and never before in a single year. By that measure alone, it's certainly primed to be a seismic shift. But I also think it's an unfair burden to expect for any show, even the almighty L Word, to carry the responsibility of "changing the game" on its sole shoulders.
Generation Q is objectively speaking not the best queer representation I've seen in the last ten years. It doesn't rival Tanya Sarracho's critical acclaim, painstaking attention to detail, and sublime writing in Vida — or Janet Mock with Pose, or Desiree Akhavan with The Bisexual, or Lena Waithe across a variety of platforms. I'm not sure we should ask it to. The L Word: Generation Q is full of the kind of queer friendships and chosen family that made the first series the stuff of legends. It's playful and endearing without trying too hard. It's familiar without being overly nostalgic. It's damn loving.
870 days ago, when the announcement for The L Word reboot first happened, I think that all our anxieties —  what they really were about underneath the surface, was rooting for is for the show to win, you know? Rooting for it to not break our hearts. In the episodes I've seen, Generation Q makes a strong argument that it's ready to pull it off. I'm ready to let it.