Has there ever been a time when we didn't know what power lesbians were?
Certainly, when my best friend at uni (circa 2001) casually referred to one of his English Lit classmates as a "medieval power dyke" I immediately conjured a picture in my head, and it wasn't Joan of Arc. My own lesbianism pre-dates this millennium, hewn from an ancient world before The L Word existed and Ellen hadn't even come out. So, how did it come to pass that this phrase immediately evokes such strong images of shoulder-padded suits and tough, queer women getting shit done (probably while shouting a lot)? I don't think there was a specific cultural inception, but rather a percolation of various feminist ideals that bubbled over during the 1980s, the decade that female masculinity went mainstream.
Probably the first intentional spotlighting of the power lesbians is in the second season of Sex and the City, in an episode which has a proper title, but let's just call it by its more relevant name: "The one with the Power Lesbians."
As per Carrie's trademark annoying voiceover: "Charlotte had discovered Manhattan's latest group to flaunt their disposable income — the Power Lesbian. They seem to have everything. Great shoes. Killer eye-wear. And the secrets to invisible make-up."
The storyline revolves around Charlotte being dazzled by the power lesbian clique, who she says are smart and funny (but let's be real, she's lusting after their giant mansions and art collections). Ultimately, Charlotte is rejected because you can dress yourself up in the sharpest suit, but you can't be a powerdyke if you do not have at least some essential element of dyke within.
Thanks to the enduring appeal of a show you may have heard of called The L Word, there's little doubt about who is everyone's first-choice of fictional power lesbian: Bette Porter. She's got it all: the suits, the shouting (bonus points if it's into a flip-phone), the attitude that she can get whatever or whoever she wants. For me, that's what distinguishes a true power lesbian; these aren't women who've had a fortune dropped in their lap, they demonstrably crave control and aren't afraid to take it, sometimes at any cost. That's why although a bunch of The L Word cast wore suits throughout the show, it's only the likes of Helena or Catherine Rothberg that really have the internal avarice to match the looks. I'm also going to throw Peggy Peabody into the ring because I think that all characters played by Holland Taylor automatically qualify as power lesbians.
In recent years, we've had a proliferation of queer representation on TV, and though I'm not sure that the number of power lesbians has increased proportionally, there have been a few of note: Jeri Hogarth on Jessica Jones, Mimi Whitman in Empire, Tegan from How to Get Away With Murder, and Annalise Keating herself (I don't care if she's bi, she's blatantly a power lesbian). While it's sketchy as fuck that these women are usually dabbling in the greyer areas of morality (if not downright evil), it's for pretty obvious reasons: these are all women trying to succeed in a man's world, usually playing by men's rules. How much they're punished for that is generally an indicator of how shitty the showrunner is.
While it's easy to understand the trope and motivations of these fictional powerdykes inhabiting worlds of endless melodrama, I get rather more unstuck when it comes to real-life power lesbians. Dykes in suits remain exotically alluring, perhaps because a steady job that involves business attire is but a dream for so many queers. But a cursory search for lists of power lesbians or couples shows that our definition gets a lot more flexible, littered with as many casually-dressed entertainment stars as besuited figureheads from the world of business or politics. Is there a difference between a "power lesbian" and a queer woman who just happens to have power? Or fame or money? Are those qualities all interchangeable?
Take Ellen DeGeneres — by any measure a successful lesbian, with wads of cash, and enormous cultural capital thanks to her subtle infiltration of living rooms across America and beyond. But can she be a Power Lesbian if her whole persona is built on subverting the stereotype, by playing the unthreatening dyke next door? I feel like any compiler of power lesbians that puts Ellen at the top just hasn't sufficiently overthought it, which is surely a crime against queer culture. Whenever she pairs a dykey-looking blazer with a pair of trainers (which is to say always), is she purposefully downgrading the potentially dominant masculinity of sharp brogues or boxy heels to a more acceptable tomboyishness, or is she merely beholden to every lesbian's desire for comfortable footwear?
At the other end of the spectrum, the tough-talking aggression of Jillian Michaels and Jackie Warner fits my arbitrary definition of the power lesbian personality type, and yet sportswear is their uniform. When Jennifer Lawrence made her infamous off-hand comment about "slutty power lesbians" I thought I knew exactly what she was talking about… how did this all get so complicated?!
Let's get back to the basics. What exactly are the components we are all looking for in a power lesbian? For me, there's got to be a suit, or at least a blazer. And it can't be any old blazer, it must be a Lesbian Blazer. I once got a (straight) friend of mine into trouble when I introduced her to the concept of a lesbian blazer, which she then discussed loudly in an Oxfam with her mum, which attracted the attention of a presumed lesbian who had a go at them for ascribing sexuality to clothing, which just goes to show you should really be careful when charity shopping in the Isle of Wight. But I digress! What then is a Lesbian Blazer? I think it's best illustrated by comparing it to not-a-lesbian-blazer, as so:
If that wasn't clear enough, then try this:
Still confused? What about:
Excellent, glad we've cleared that up.
While our fictional lesbians were usually in it for their personal gain, I think I'm more interested in those who use real-life power for a wider purpose. That's not just in the political sphere, where the de facto dress code of female politicians of the Western world for the past three decades have had sapphic overtones, with all those pantsuits and short haircuts making things terribly confusing. Thank heavens for Tammy Baldwin, Ruth Davidson, Jóhanna Sigurðardóttir, Ana Brnabić and many others who have actually put the lesbian into the power.
Yes, titans of the entertainment industry undoubtedly wield huge amounts of influence over our lives, but I'm not always convinced it's for any purposes beyond perpetuating existing power structures. It's mildly galling that Ilene Chaiken seems to tick all my traditional power lesbian boxes, but that's only to be expected considering she used herself as the template for Bette Porter.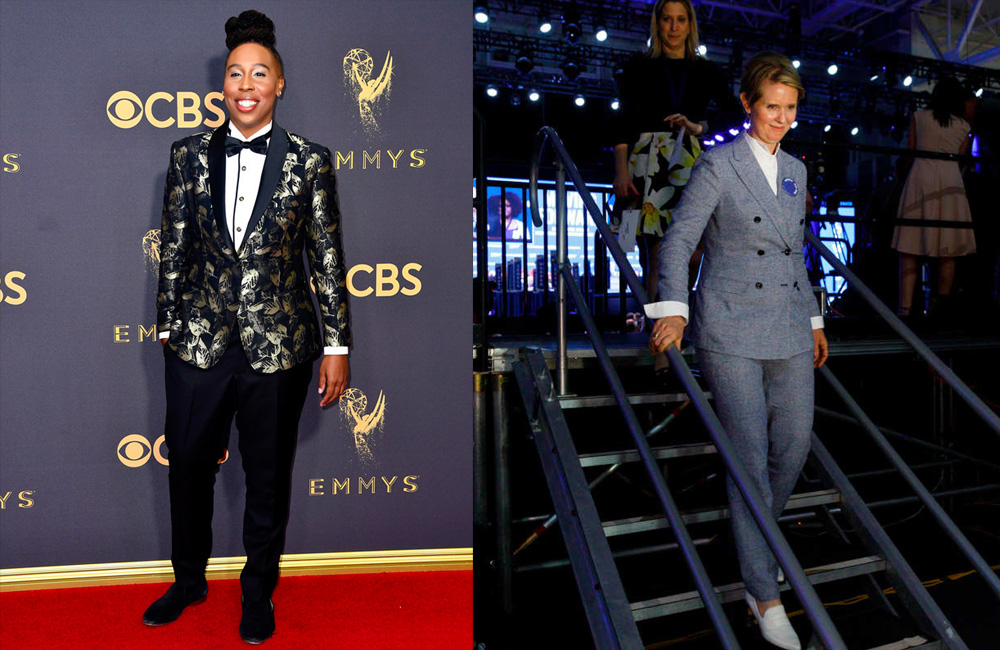 If I could pick two people to be my modern day standard of what a power lesbian should be, I'd go for Cynthia Nixon and Lena Waithe. Both are using the influence gained in one sphere to actively, positively change the world around them, from Waithe's mentoring of hundreds of diverse screenwriters to Nixon literally sticking it to the man in the NYC gubernatorial campaign. Most importantly, they can both absolutely rock it in a power suit.⚡
​
Edited by Heather
​