Today, the Huffington Post reported that Jennifer Lawrence instructs her stylist to dress her as a "slutty power lesbian." Said the Hunger Games actress to Glamour:
"Slutty power lesbian." That is literally what I say to a stylist. [Laughs.] I don't know if that's offensive…. You don't see me as a slutty power lesbian on the red carpet a lot, because I'm embodying the Dior woman, which is an honor.… But [also] I've got tits and an ass. And there are things that are made for skinny people—like a lot of embroidery, or it covers a lot—and those make me look fat. I have to show the lumps. If you have boobs, you have to show, like, 'These are boobs. This isn't cellulite.' [Laughs.] Not that there's anything wrong with that.
HMM. Well I'm not quite sure what the size of your boobs and butt have to do with all this, J. Law, but I'm definitely on board with the "slutty power lesbian" concept! I've got to say, though: the execution here was pretty disappointing. Two bodycon dresses and a swimsuit does not a slutty power lesbian make.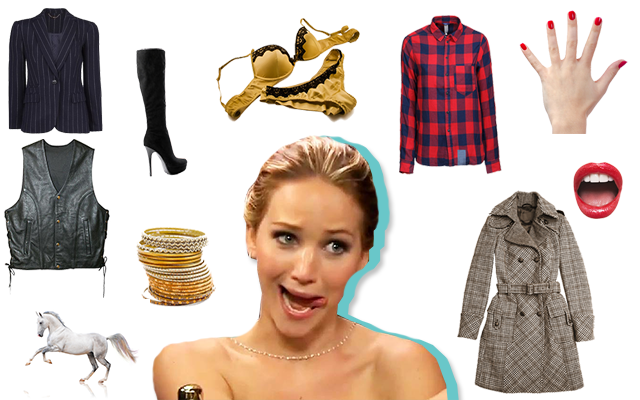 As a part-time slutty power lesbian myself, I'd be happy to help Ms. Lawrence correct course on her aesthetic. Some suggestions to get things started:
'70s inspired powder blue pant suit with massive shoulder pads, deep v-neck, and nothing underneath.
Bright red nails, bright red lips, bright red pleather catsuit.
ALH, pinstripes, expensive briefcase filled with dildos and single-use lube samples.
Oversize black leather vest, gold lace bra, hot pants, and 27 bracelets on each arm.
Anything Helena Peabody ever wore.
Flannel button down and garters.
That light-up bowtie Mal Blum brought to A-Camp. Nothing else.
Sleek trenchcoat, stiletto stocking boots, Lady Gaga's horse.
Hiking boots, rattail, and a copy of Inferno.
DJ equipment.
ALH, muscle tee, full sleeve tattoos on both arms. Suggestive flexing.
William McKinley High School cheerleading outfit with shiny hair, judgmental eyes, and an arsenal of cutting insults.
Any shirt with a pussy bow and a smirk.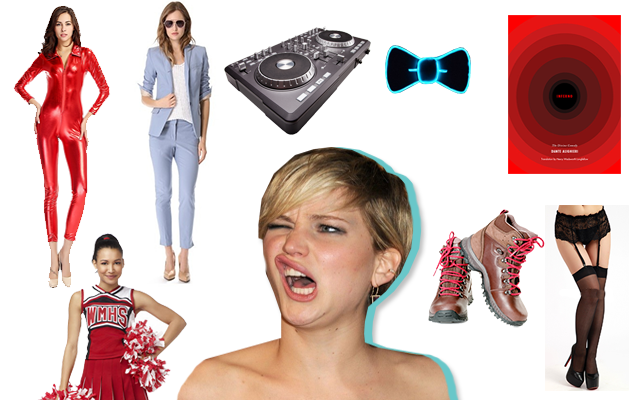 I mean, just some ideas. Give me a call anytime, Jen, I'd be happy to make you an inspirational Pinterest board or whatever.