Welcome to Hidden Gems of Queer Lit! This column is for those of you who found the first reflections of your desires in a dusty corner of the library, and for those of you who know that important histories and new ways of looking at the world are nestled in yellowed pages as well as flickering screens. Every two weeks I'll profile a queer lit title that's outside of the public eye for one reason or another: obscure, small-press, older, aimed at a different niche, or otherwise underrated. It's my hope that you'll connect with some of these books and treasure them as I have.
---
As a fan of her vibrant and gutsy poetry, I was excited for Leah Lakshmi Piepzna-Samarasinha's memoir, Dirty River: A Queer Femme of Color Dreaming Her Way Home, to come out. Much like her other work, this fragmented narrative is a survivor's love song about finding identity and freedom.
The book opens with 21-year-old Leah running away from home, leaving her parents for Toronto with a backpack stuffed with fancy clothes, books, and a sex toy. Piepzna-Samarasinha writes gripping journey stories, and the pace picks up as the memoir moves forward. There's border interrogation. There's riotous activism. There's an intense romantic relationship with Rafael, "the mixed-brown-survivor-separated-at-birth brother I've been looking for" — a dream that turns into a nightmare when he becomes violent. There's poverty, illness, escape from abusive family members, and joyous reclamation of a heritage they'd denied. If you've ever run away from a rough situation, or wanted to, this memoir will resonate.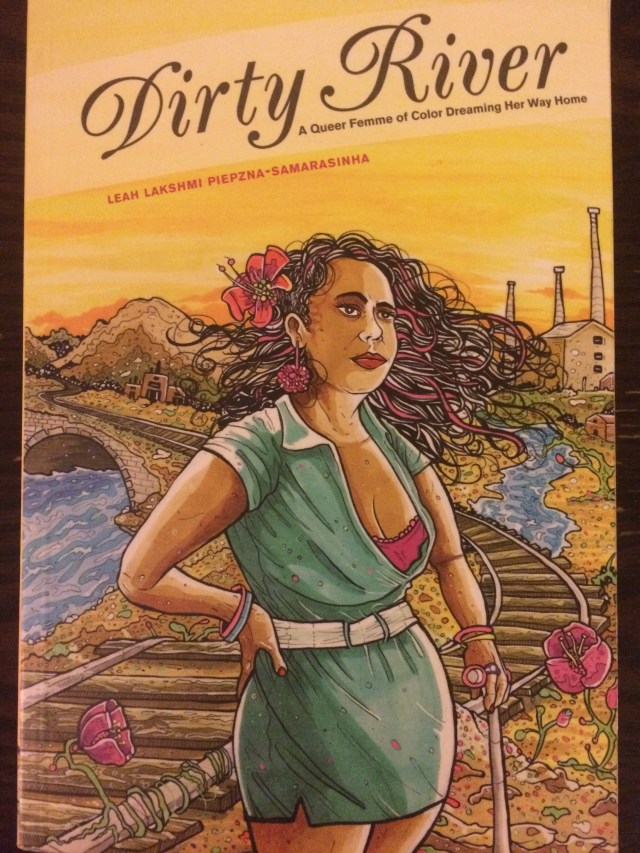 Dirty River is a non-chronological narrative, told in fragments. The sequences and relationships of events are not always clear, but the short sections create a frenzied energy. Sometimes the prose breaks into poetry, or diverges into multiple versions of a story, allowing parallel truths to speak. One heart-wrenching example is Piepzna-Samarasinha's nuanced writing about her mother, who's both a perpetrator of sexual abuse and a teacher of tools for survival. Delving beyond the written word into the senses of hearing and taste, she includes a "Healing Justice Mix Tape" track list and a two-dollar menu for a "Hard Times Survival Dinner." This is an honest work that defies neat and tidy narratives, acknowledging that "there's uplift, but it's not a straight shot."
The book shines brightest in its stories of identity. Piepzna-Samarasinha's white mother raised her to "pass," while her Sri Lankan father was silent and angry about the history of a family he ran from. The memoir is full of wobbly steps toward learning to "be brown," owning her Tamil roots, and finding community among punks and activists of color. Reading This Bridge Called My Back, a young Leah realizes: "You can relate to it more than anything else you've read, but that's wrong. The women in the book are that term, 'women of color.' You must be faking — what is that? You are just normal. And weird… Are you?" In Toronto, she finds a "place where people were talking, out loud, about a queer/woman of color feminism, culture, and community," and other Sri Lankans are part of it. There's a sense of triumph in her re-learning of history, hairstyles, and recipes, and finding allies to fight systemic oppression with. Piepzna-Samarasinha's coming to terms with childhood abuse is heartbreaking, but equally important. There's also her claiming of femme identity, associated with rituals of dressing up, navigating the streets, and owning one's sense of beauty, as well as opening up to lust that transcends past wounds. While Dirty River has fewer sexy encounters with women than poetry collections like Love Cake (though what's there is great), this memoir will appeal to those seeking a gritty, glorious, multi-layered story of homecoming and self-healing.