A few weeks ago, Riese let it be known in a message to the editors that she had recently acquired apple cider flavored Chapstick.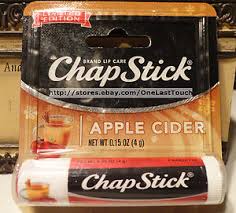 Whoa. Right?
This announcement stirred something deep within me. Something I have not been able to shake for weeks.
I never knew such a delicious and exquisite sounding flavor of chapstick even existed. I consider myself to be someone who stays pretty up on their chapstick game, but this opened up a whole new world of possibilities. What amazing flavor sensations had I been missing out on all along? I began to consider and research feverishly. I needed all the best flavor combinations.
This gave me an idea.
Hear me out on this one.
I think I have something you can do that will be fun, tasty and get you hella made out with. I have your full attention now, right?
You know how Jelly Belly makes those cute little recipes where you can mix different jelly bean flavors together and make new intricate jelly bean delicacies?
As a kid, I was partial to "lemon lime + toasted marshmallow = key lime pie."
Ok, so what if you do that same general idea BUT WITH CHAPSTICK AND ANOTHER PERSON'S MOUTH.
Yeah, I'm talking putting one flavor of chapstick on your lips and another flavor of chapstick on the lips of the person you intend to make out with and then mixin' that stuff together with your faces to make a new flavor that you can both taste. It's all of the innocence of the Jelly Belly recipes meets all the reasons to put your lips on someone else's lips.
Oh y'all, it will either be terrible or great beyond your wildest dreams. Either way I think we have to do it. Collectively. We need to try this. I think it will be great. And come on, you'll surely be a date night hero when you suggest to your special friend that you wanna do a little experimental "cooking" and make out with their face. Plus you can increase your chapstick and lip balm collection, and we know you love you some chapstick. You're probably making your own chapstick as you read this, I bet.
So come along with me on this sexy science fair project, my chapstick lesbians! My lip glossy posse. My lipstick clique. Let's do this!
I have taken the liberty of creating some recipes to get you started: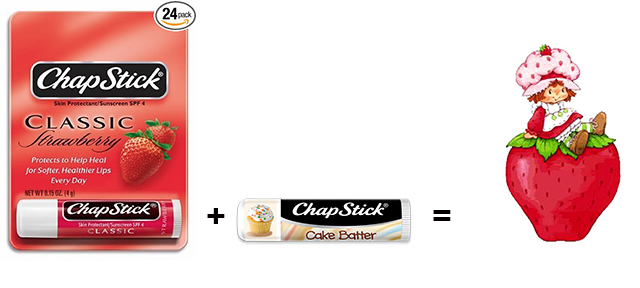 D'aww. Try mixing Strawberry and Cake Batter for a strawberry shawtcake with your shawty.

Remember Lip Smackers? Want to update that childhood memory by making it taste like a delicious alcoholic beverage that you made by smashing your face into someone else's face? Yeah, I think you do.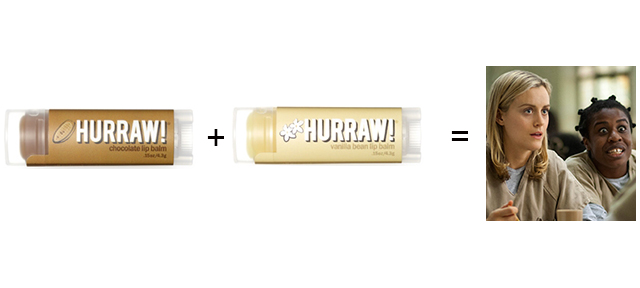 I'm also dubbing this classic flavor combination the "Piper and Sue," in honor of your favorite original song from Orange is the New Black. Chocolate and Vanilla. Swirl, swirl. Bonus points: HURRAW! uses "premium organic, vegan, and raw ingredients!" How extra sweet is that?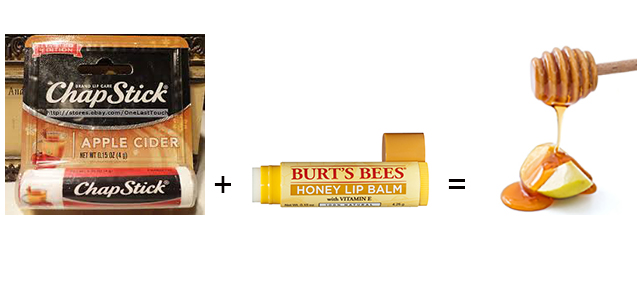 I'm so certain the aforementioned Apple Cider Chapstick will pair well with Burt's Bees Honey Lip Balm. Save this kiss to celebrate the Jewish new year! After you make you delicious honey cake and want to make out with your honey pie.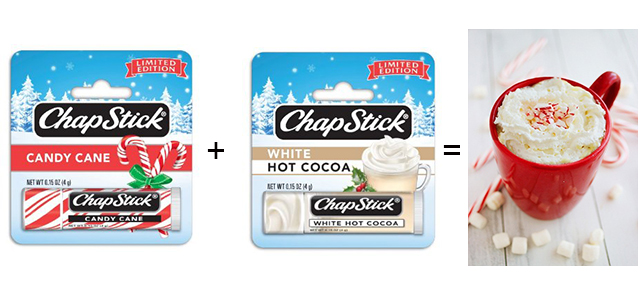 Oh now we're getting really delicious. You'll be extra impressive when you suggest this kiss thanks to the fact that these are limited edition Chapstick products. Limited edition, y'all. Please be that queer with the limited edition Chapstick collection. This Peppermint Candy Cane plus White Hot Cocoa makes for a rare and seasonable combination.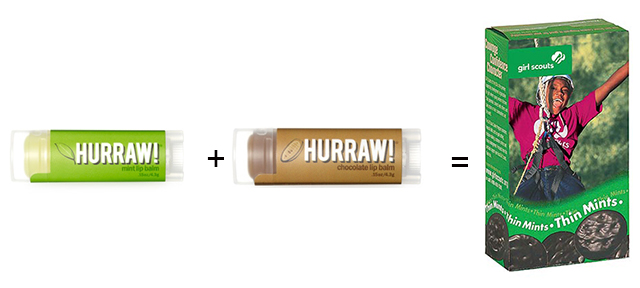 Girl Scouts are badass. I remember when I was little I really wanted to be the girl on the box of Thin Mints. I wonder where she is now. What's her life like? Anyways, just like everyone knows Thin Mints are better frozen, I bet this kiss is extra nice with cold lips. Just add ice?
Cherry + Coke = Cherry Coke Kiss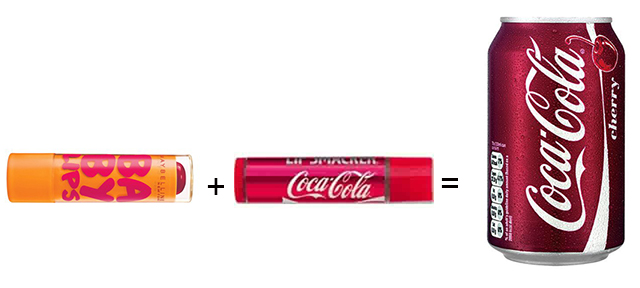 Girls love Baby Lips Cherry Me. Girls love Coke. Win win. If you're so inclined you'd probably enjoy eating peanuts after this one. No? just me? Ok.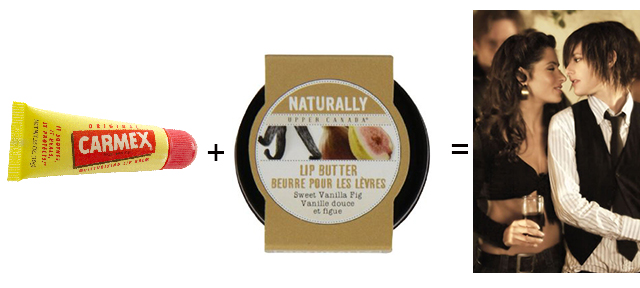 I just had to do a kiss in honor of Shane and Carmen. Carmen sounds like Carmex. And Shane likes those sweet little figs, you know? Now I know you're probably thinking, "Lauren that sounds awful." Well yeah. It would taste bitter and awful if you got left at the altar wouldn't it? I mean, I don't know, I bet this might actually taste pretty good! Carmex is my jam.
Well, have fun trying them out! Chapstick and lip balm do make for lovely stocking stuffers, so maybe you can have play this game under the mistletoe. And for the love of all that is right and holy in the world, please report back on your findings. Guys please.
Feature Image via ourbeautyandfashionlife.blogspot.com