Let's just go right ahead and kick off this recap with a gif of Alex. Let's make that a thing that we do, okay? Okay. This one comes to us courtesy of tumblr user ladyadventuress, and it's a great way to respond to homophobes, crazy exes, and all those angry men whose girlfriends you've stolen over the years.
Hey queermos, what time is it? FFFLLLAASSSSHHHBBAAACCCKKKKK TTTIIIMMMEEEEE!
We're in the burnt-out ruins of a house. A firefighter is taking cell phone photos of financial documents leftover from the fire. I smell fraud. It smells like burnt toast, or the charred blackened ruins of my soul in the wake of Bomb Girls being canceled. Yes, it's still a war zone in there, and yes, my heart still bleeds Betty McRae. Which reminds me: If you've swept through this show like a sapphic tornado and are looking for more lesbian shows to consume in your natural disaster-like state, please download both seasons of Bomb Girls and then join the rest of us in our emotional prisons.
But back to the ffffflllllaaassshhhhhbbbbaaaccckkkkk. The same firefighter is getting changed post-fire situation, and wow, isn't that the cutest bra ever? Maybe I'm biased because I love a girl who can rock even the tackiest pink lingerie. We realize this is Sophia, and then we flash forward to her current amazing self.
Pornstache is ogling Piper while she gets changed. Yes, that's his character's name. Pornstache is one of those interesting blends of misogynistic nasty and comedic relief that this show does pretty darn well; he's such a caricature of macho bullshit that he's almost completely neutered in terms of his threat to the prisoners, but he has his moments where you feel the shitstorm of patriarchal rape culture he represents. This is one of those moments.
We find out how the prison divides up its prisoners and surprise, it's by race. Nicky calls Piper out on being afraid that she could be bunking near Alex soon. Nicky sees your dyke drama and she calls you on your dyke drama, and that's the sign of a true lesbro.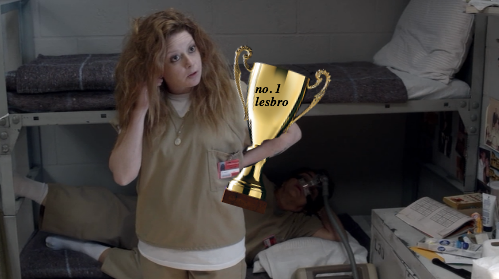 Piper needs to pee but ah, the blasted Satan stall is taken. Yes, there is a stall occupied by a woman talking to the devil. Yes, it is the only stall with a door on it. As someone who had to strategically plan their shits around perfect timing and hidden campus bathroom locales, I cannot imagine the hell that is completely non-private bathrooms. Ladies, don't tell me you have not done this either. I don't know at what point I internalized the socially popular fact that girls don't poop, but damn, it is hard to shake.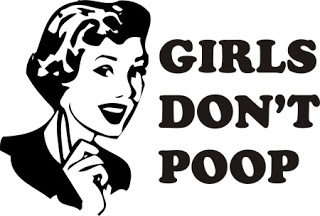 Sophia is also in the bathroom, and she lets Piper know the 411 on the bathroom situation. She also shows off her homemade duct tape flip-flops.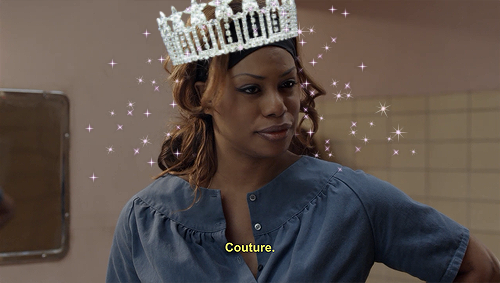 She is amazing, and I'm in love with her, whatever.
Sue (or Crazy Eyes, but I'll refer to her as Sue because I have a lot of feelings about this character and her dehumanization) comes in as Piper is peeing. Sue is making romantic eye expressions at Piper during said peeing. I can see how this might be awkward. To make it less awkward, I've inserted a cat into this scene, as cats improve everything that could possibly go bad for a homo.
Bennett, who is the nice cute guard, is talking to Pornstache, the creepy misogynistic guard, about having sex with the prisoners. This is ironic because Bennett has that nice cute little thing going with Daya, and Pornstache is an uninformed idiot who thinks when ladies are kept together in a small space and deprived of dick, they go mad for the hetero sex. Buddy has clearly never been to a women's college or Girl Scout camp. Pornstache makes a move on Sophia, and she turns his ass down as she is incredible and I love her.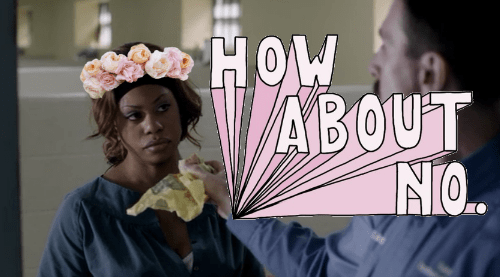 Pornstache and Bennett have a moment discussing Sophia, and wow, Bennett, way to be a transphobic piece of shit? I can't tell if he's trying to fit in by talking some macho transphobic bullshit, or if those are his real feelings, but wow, okay, no. Even Pornstache doesn't talk that kind of shit about Sophia, despite totally objectifying her and focusing on her genitalia. Bennett, I know you were in Afghanistan and have a nice cute face, but your words are neither nice nor cute and I am judging you and your moves super hard from now on.
Sophia is in line for her meds, only to find out they have cut her off her regular hormone treatments. The pharmacist tells her she'll need to talk to her counselor about this Grade A bullshit. Oh, she will talk to her counselor alright.
Watson, one of the new inmates, has been assigned to bunk with Miss Claudette. If you recall, no one fucks with Miss Claudette even more than no one fucks with Red, and Watson goes right ahead and fucks with Miss Claudette. We assume this will not be ending well for Watson.
Piper is picking up her new uniform. Alex is there, too, looking like her usual hot snarky self. Alex remembers Piper's shoe size because anyone in a lesbian relationship knows that you memorize your partner's shoe size by the second date. Hello, you need to know your optimum clothing-borrowing options. Why rock one flawless dyke wardrobe when you can combine your powers and rock two-in-one?
Piper is going for a run on the prison track, which is somehow still nicer than any of our athletic fields at Catholic school. I guess the prison system cares more about fitness than the Pope? Sue catches up with Piper and recites a poem she wrote for her. I wish I could say that writing poems to woo girls is not something I have done multiple times in my life, but that would be a lie. I have written a lot of poems pre- and post-sex. A lot. Piper is not really into what the poem implies, and brings up her fiance. Sue doesn't give a shit about your heteronormative institutions, Piper.
Unfortunately, the track is being closed due to budget cuts, and Piper and Sue are informed that their swirling must be taken elsewhere. I hear swirl and all I can think about is how deprived I am of soft serve ice cream.
Sophia tells Healy that she needs her hormones, no ifs, ands or buts. Healy says she can't see a doctor unless it's an emergency. She does this, courtesy of pipeschapman's gifs:
I just want to kiss her face because everything she does makes me love her even more.
Piper's sitting alone at lunch until Alex tries to sit down across from her. Oh, Alex. Unpopular opinion: Alex, you can do so much better. Sue notices this development and asks Piper if Alex is bothering her. Alex is just trying to have a conversation about boundaries or whatever, but Piper takes this opportunity to say that yes, Alex is totally bothering her, and she's a meanie. I'm not sure Piper knows what she's dealing with, but it soon involves the throwing of pie and Sue calling Piper "her wife." I wish throwing pastries at people's faces was all it took to get gay married these days. I might actually have a wedding if I just got to throw pie at my wife's face and then eat a lot of it.
You know what? On second thought, you're all invited to my wedding, where I will be throwing and eating lots of pie.
Sophia gets to see the doctor because there's a corgi bobblehead in her colon, and she finds out that they're now taking her off her hormones entirely because they fear liver damage. Sophia knows this is bullshit and calls the situation on its bullshit, but the doctor isn't budging. I'm ridiculously pissed for her at this point.
But what time is it? FFFLLLLAAAASSSSHHHBBBAAACCCCKKKKK TTTIIIMMMMEEEE.
This flashback made me cry, so please prepare yourself for the crying. Sophia is trying on outfits, and her wife is trying to help. Crystal tells her she needs to look like a mature lady, and gives her a less teenage-girl-vibes dress. Crystal pleads with Sophia to at least keep her penis if she's going to go through with the surgery, and the conversation is one that'll rip out your heart. You can see Sophia's inner struggle to honor her own needs and identity while simultaneously wanting to make her wife and family happy. When Sophia and Crystal kiss, their son walks in on them, and quickly leaves in a huff. Yeah, my heart is breaking all over the place on this one.
Piper calls Larry and they have a fairly hilarious conversation where Larry slowly and sexily describes the organic fair trade groceries to her. Oh, yuppies. What would we do without you? NPR probably wouldn't be funded, for one. Then Larry attempts to move into the realm of actual phone sex, which crashes and burns for him because Piper would rather listen to a description of buffalo mozzarella than contemplate sex with Larry. I'm with you, Piper. I will listen to someone graphically describe the contents of their gym locker over a graphic description of hetero sex. Am I biased? Yeah, I'm biased, and these recaps are biased, but if you came to a lesbian site and don't want me to show a lesbian bias, then I don't know what you expected.
Daya's new roommate does not want her posting her art on their walls. Bennett says the art is allowed. Bennett, you're being nice and cute now, but that does not excuse your bullshit transphobia earlier and you will be on watch.
Piper gets a visit from Polly and Piper's mom. Piper's mom is everyone's favorite brand of WASP mom with Tory Burch Limited Edition Stick up her ass, and makes this conversation about Piper's dwindling fertility. Polly seems pissed at Piper for not being present during business decisions, which okay, we'll hand it to her, Piper going to jail at the start of their joint business venture is a shit situation that is technically Piper's fault. And Piper's contribution to all of this is that she really doesn't want a prison wife.
In Red's kitchen, it is noted that vegetables that could be doubled for dildos have been disappearing. Woooooow. I look forward to your defensive comments re: using vegetables for dildos. Sophia tells Red that she needs estrogen, but Red's not going to start pushing estrogen, despite the fact that we are to assume her kitchen deals in a lot of other substances. Red does say she'll give her some natural solutions to low estrogen, which is very 1970s wiccan lesbian of her.
FFFLLLLAAASSSSHHHHBBBBAAACCCCKKKKK to Sophia buying sneakers with her son Michael. Michael is a little man after my own heart, as I too am a sucker for expensive shoes that appeal to boys. Sophia has a lot of credit cards in her wallet, and I'm willing to bet they are not all hers. An old firefighter friend recognizes Michael, and then does a doubletake at Sophia. The exchange is awkward and sad, and sends Michael running out the door. Again, why does my heart have to hurt this much?
Piper goes to see Healy, only to find out that there's been a request for her and Sue to bunk together. And if we know anything about Healy and lesbianism, well. Here's a priceless set of lines:
Um.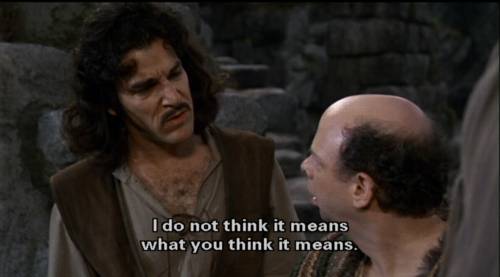 Anyway. FFFFLLLLAASSSSHHHBBBAAACCCKKKKKKK. Piper is applying for a job at a bar where Alex just so happens to be drinking with her friends. If I recall, this was the era of long corduroy pioneer skirts at H&M (which I owned in dark brown, whatever, middle school was fun) so her pioneer outfit is right on track. Alex is really working that circa 2003 rockabilly riot grrrl thing, and I just don't understand how there isn't a line of girls waiting to smash their mouth into her mouth at all times. Piper orders a margarita and Alex comes over and tease-flirts her. Oh man, I love tease-flirting. That's my brand of flirting right there.
Back to life, back to reality. Larry is hanging out with Piper's brother, who is pulling a Lars and the Real Girl except with more banjos. They talk about masturbating until you're about to orgasm, and then stopping yourself. Apparently this is called edging and it sounds like the most miserable shit in the world. I look forward to your defensive angry comments re: the benefits of edging.
Piper now has prison money to spend at the prison store, so she's handing out prison presents in return for past prison favors. Prison Christmas has come early this prison year! Sue's there to visit her prison wife, but Piper takes her aside and explains that she definitely can't be prison married because she's got a not-prison future husband and she's really prison sorry. Sue seems to take this a little too well, so we can assume this will blow up gloriously at a later time.
Sophia is at her visitation with Crystal, and she's begging Crystal to sneak in estrogen for her. Crystal does not react well, and tells her she's not going to risk the penalties. There's a lot to her critique that sounds like the typical "your trans* identity and its needs are all selfish pursuit" rhetoric, and that hurts my damn heart. Crystal tells Sophia to "man up" and come home to their son. God fucking damn it.
Miss Claudette gets Watson kicked out, because again, you don't fuck with Miss Claudette. We don't yet know why Miss Claudette is a) a total badass and b) feared by everyone in the prison, but definitely look forward to our finding out.
There's a scene involving Larry and masturbating to porn, but we won't be talking about it here. Things this recap doesn't give a shit about: Straight guys jerkin' it. Big ol' what to the ever.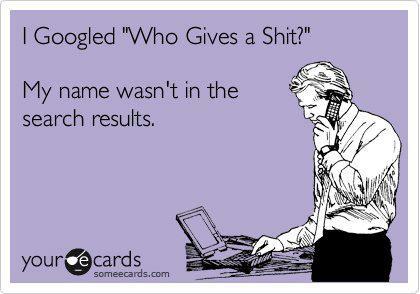 Piper runs into Alex in the bathroom, and confronts her about Alex naming Piper and thus getting her thrown in prison. Alex denies this, but also points out that Piper was conscious of what she was doing, even excited by the possibility of being a bad girl for a while. She kind of has a point, guys. I get why Piper is mad at her, but I also don't get why Piper is acting like an innocent girl who did nothing wrong when she was just as guilty and conscious of her decisions as Alex. Alex, I love you, I want you to be happy and continue being the grey area badass you are, but damn you could probably do better. I will still root for this if you want this to happen, but honey. Your fellow top thinks you need a more considerate bottom.
Daya and Bennett have a moment. God damn everything, I do not know how I feel about this anymore.
Piper calls Larry and tells him to find out if Alex is the one who snitched on her. Larry says okay, but clearly little buddy is starting to pick up on the fact that his fiancee is awfully obsessed with her ex-girlfriend. Some day this will all make sense, Larry.
Piper gets reassigned as Miss Claudette's roommate! This could either be terrifying or really wonderful for all parties involved.
Sophia sees Pornstache has just traded a blow job with an inmate for drugs. This triggers a FFFLLLAAASSSHHHBBBAAACCCKKKKK to Sophia getting arrested in her home. Her son Michael is sitting on the stairs with her wallet, and I think we're supposed to assume he somehow was the one who got her arrested? Urgh. Little pains in my heart all over the place.
Back to the modern dayo, and Pornstache is straight up propositioning Sophia. Thank goddesses she turns him down, and I just want to give her a gigantic hug and a flower crown and take her away from this shit mess. The panic in her face when she's tweezing her chin in the mirror…phew.
Later that evening, Piper and Miss Claudette are snuggled like two bugs in a prison rug, when surprise! Surprise urination on floor courtesy of Sue! Oh, that's really lovely. Part of me was kind of like, well, it's a linoleum floor and it's just pee, but then I realized that the cells don't come with paper towels and Swiffers.