Welcome to the eighth installment of Style Thief, where I steal the clothes off queer style icons' backs. Metaphorically, that is. I'll try figure out just exactly what makes queer style icons tick by breaking down their look into itty bitty bite size pieces. I get a lot of questions about how to look like different celebrities/characters, so I'm finally tackling the question "How the hell do I dress like that?"
Header by Rory Midhani
Bette Porter was my very first lesbian style icon. Ever. Now, you may being thinking, don't you mean Jennifer Beals? No, I don't. As a budding high school queer I saw The L Word for the first time by downloading each individual episode on Limewire after seeing an ad in Newsweek in a doctors office waiting room. I like to assume that's how everyone saw The L Word for the first time. I was, of course, immediately attracted to Shane, but more importantly, I immediately identified with Bette.
I had seen lesbians like Ellen and Rosie, and I was pretty heavily into Bikini Kill, but I very secretly felt that I didn't really identify with those women. I had a hard time then, and yes sometimes even now, reconciling what it meant to be a conventionally attractive lesbian who likes jewelry and makeup but who is also strong, smart and driven towards a very specific type of business and academic oriented success. I had never encountered a Power Dyke. So while I think that Jennifer Beals is a lovely, wonderful actress, I don't really care about what she wears to go shopping or her latest red carpet gown. I just really want to dress like Bette.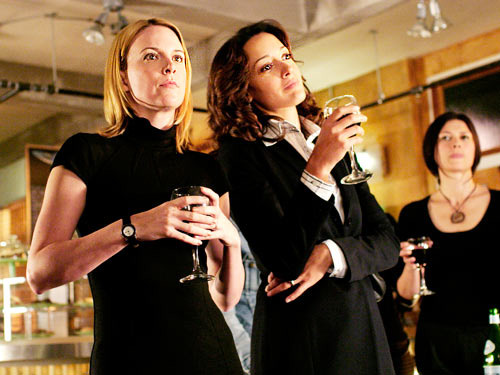 The most important and basic part of Bette's wardrobe is the power suit. Particularly in Season One, Bette barely wore anything besides a black, tan or grey pants suit. Honestly, thank G-d, because someone had to show me how to wear a suit without feeling like a flight attendant. When I was buying my nice suit I honestly shopped around until I found a suit that made me feel like Bette. What Bette taught me about suits is that you want something so classic that if someone takes a picture (or films you in a long running TV show) your suit will still look good almost ten years later.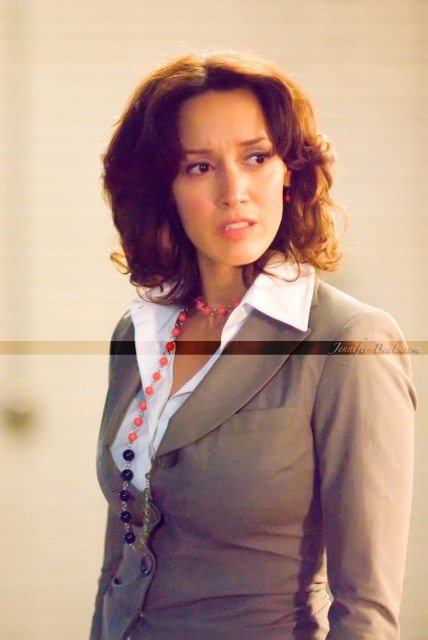 While the best way to embody that power dyke spirit is to find a suit you're most comfortable in, there are a few standard Bette-suit properties to keep in mind. Your suit pants should go as high as your natural waist and be a straight-wide leg. I know slim cropped pants are all the rage right now, and that's totally fine as part of a pants and blazer work look, but if you want your suit to stand the test of time you gotta go for a more classic silhouette. No flares, no taper, not so wide that you're wearing a skirt. Basically, you pants should fit you at the waist and hips but then go straight down from the widest part of your hips. Remember to avoid pants with belt loops, as Bette rarely wears a belt at her hips. As for a Bette Porter suit jacket, it should be fitted in cut, but still able to button. You want the bottom of the jacket to hug your hips but not cover your crotch. Finally, the sleeves should be short enough that you can see the cuffs of your sleeve.
A key component to Bette's power suit is not in the suit at all! It's those crisp white button-ups. Bette always seems to have hers buttoned down such that the top button is at the fullest part of her bust. I'm not sure there exists a work environment where this is appropriate, but it certainly is appealing. While it looks slightly disco 70's, one important feature is that Bette always wears her collar out of her jacket. Combined with the unbuttoned shirt, this creates a V-neckline, which is quite flattering on most people. It also prevents the rigidness of the suit jacket from making you look too uptight. Bette generally tucked these shirts in, but occasionally she'd wear one that was short enough that you could see a little belly. In my opinion this is not a great look for anyone.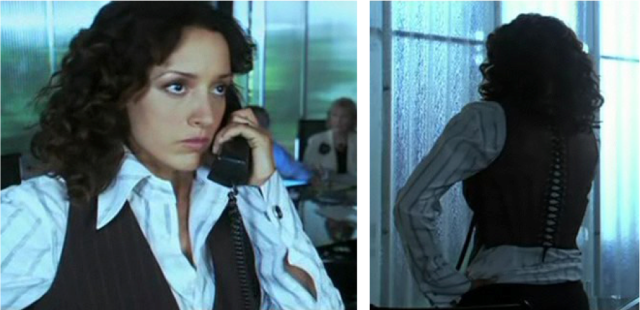 When Bette skips the suit jacket, she often pairs her suit pants and white button-up with a vest. I'm not sure if this should be attributed to Bette or to the mid-2000s, but Bette generally wears a cropped vest that is buttoned just below the bust. Cropped suit vests are a little hard to find right now, but don't worry, they'll come back around. This look, black pants, white collared shit and a black cropped vest, has become for many young queers the uniform for hot to look hot when going out. One of the last girls I went out with wore this exact outfit to go dancing. It's a thing.
One of my favorite aspects of Bette's wardrobe is that it's extremely versitile. You can just swap the button up for a blouse and wear it with or without the jacket. For blouses, Bette usually wears something loose, billowy, silk and either ruffled or ruched. While she would never be caught rolling up her blazer sleeves, her blouses are often short sleeved or elbow length. This allows her shirts to be loose without looking like she accidentally wore something too big.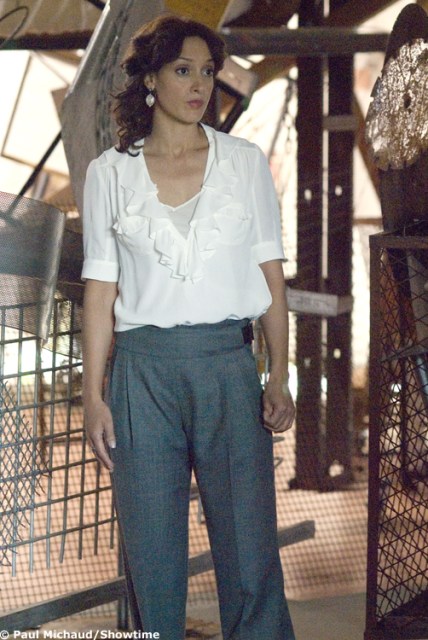 Similarly, you can swap the suit pants out for a fitted pencil skirt. While Bette is generally a pants wearing kind of lady, she always seems to know the perfect time to bust out a skirt that hits her hips just right. Her billowy blouses show a little skin and soften the harsh lines of a pencil skirt, but are never vulgar in professional settings. It's exactly enough sex appeal to make you ask yourself, "Is that super professional or super hot?" But in a good way.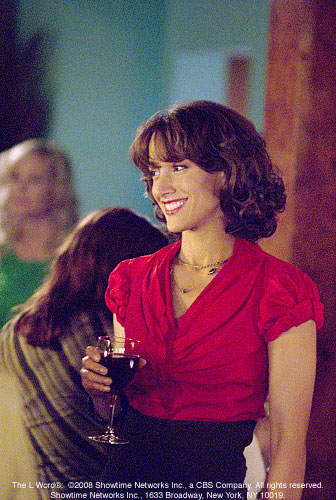 The same sort of concept applies to the dresses Bette wears. They are fitted and professional, but there's just a hint of confident and sexy.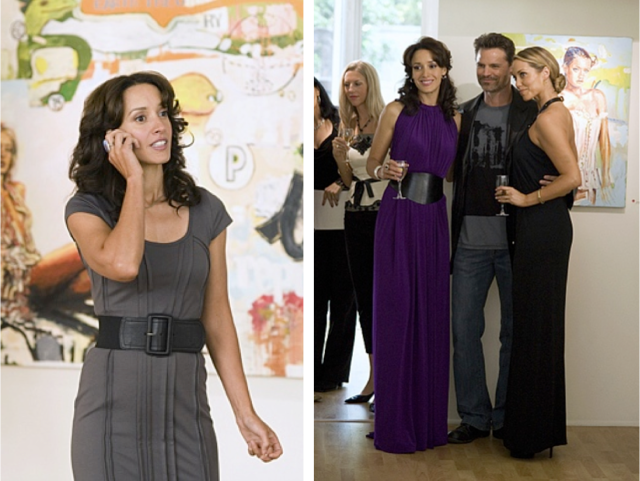 Remember what I said about versatility? That applies here too. Bette can take the same simple accessories and change her dress to completely change her look. She can go from a business casual day dress to a formal dress for a gallery opening or cocktail party without having to overhaul everything she owns.
One thing to keep in mind while trying to steal Bette's look, is that you don't need to look like uptight all the time. In fact, Bette has been known to spend many a day with her shoulders bare. Why not? She lives in LA after all. Plus she has basically the nicest arms ever.
A staple of Bette's wardrobe is the classic black scoopneck tank, but she mixes in a wide variety of silk or synthetic blend sleeveless blouses. This further enables her to create a wide range of styles simply by changing her top. Still, even when Bette exercises her right to bare arms, she maintains a certain level of sophistication. Primarily, she skips teeny tiny spaghetti straps and instead wears wider strapped but lower cut or cowlneck tanks. While skinny strap tanks often lose their appeal after high school, an extremely deep neckline can look very sexy on small busted women of all ages.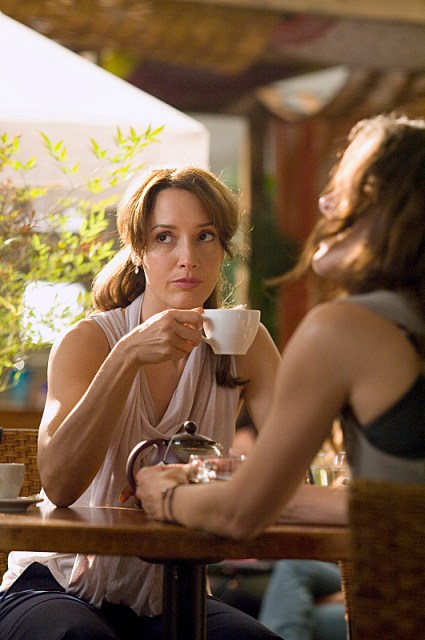 Even if you are bustier than Bette, a higher cut cowlneck can be a fun way to take a break from the same old necklines you wear every day (read: V-neck and scoopneck, i.e. a busty girl's best friends). Plus, a more unique neckline can make you feel like you're showing more skin than you necessarily are.
The key to Bette's look is the power suit, but it's also that she has a complete and cohesive wardrobe. That's the benefit of being a fictional character dressed by a costume department. Her outfit pieces are chosen for their ability to mix and match. But indeed this can work for you too! Following Bette's lead by choosing classic but fun pieces appropriate for work and play and even you can master power dyke style.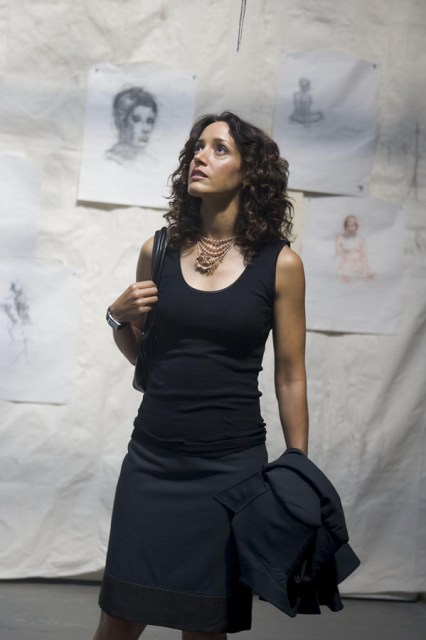 So cut her out, dress her up and figure out all the different Bette combinations! Don't forget to visit Rose Middleton's website to see more of our favorite paper doll artist's amazing artwork.

---
If there's a queer style icon you'd like to see stripped down in Style Thief, send me an ASS message, ask on my formspring, or tweet me @Ohheyitslizz