Hi crush monsters, this is the ninth installment of Straddler On The Street, a feature where I celebrate all of you incredible Autostraddle readers by hunting you down, demanding you chat with me, and then writing about you on the Internet so we can all crush on you. Get excited, because butterflies in your stomach 24/7 is a fantastic way to live.
Header by Rory Midhani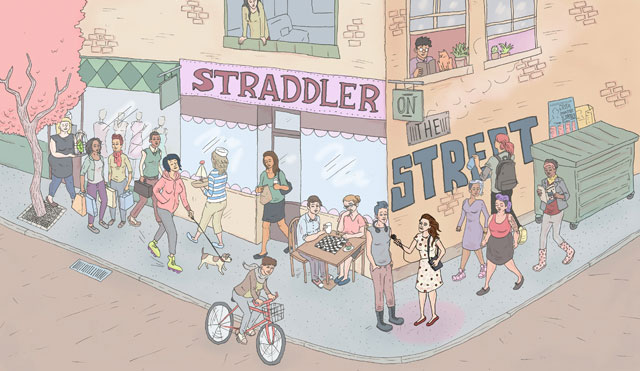 ---
Straddler On The Street: Nikki, 22
I met Nikki less than a year ago via one of my roommates, but I already have so many happy and positive memories of her. She projects a confident, comfortable vibe wherever she goes, and a room seems to instantly become happier (and more sparkly!) when she enters.
Nikki is currently living in New York and attending NYU as a musical theater major and a theater education minor. She works at a bakery in Brooklyn "perfecting my latte art," and is always trying to find new ways to bring "gorgeous things like queer community and fat-positive community" into her life. "And if those communities can somehow intersect with my performing life," she told me, "I am the happiest clam!"
Okay, you have amazing style and clothes and you told me you're all about scouring the Internet for femme fashion. Where do you find all your amazing stuff?
So many different corners! Most of the stuff I wear is from Forever 21. I'm like a walking advertisement. I'm also a part of a Facebook group called Fattoo, where you can sell your size-14-and-up clothes to other fierce fat people and send it to them through the mail. It's kind of like the most digital form of thrifting possible. A lot of my stuff is from there.
‪C‬an anyone join?
Yup! You just need to be approved by an administrator, and you will be, as long as you're not a robot.
That is a really cool thing to know about. How did you go about finding a fierce femme fat-positive community? Did it happen organically or did you seek it out?
My search for amazing community is always in progress but it all started when I went to the Big Fat Flea, which is a plus-size clothing rummage sale for all genders, run as a fundraiser for NOLOSE. They happen yearly, and I went to my first one a little less than two years ago. I think that was the first time I had ever heard the word "fat" used in a non-negative way. I guess I first came to fat positivity through fat fashion. Other than that, I have found resources on the Internet, and intentional femme communities that talk about bodies in positive ways. I kind of just walk around speaking loudly about fatness, and I find that whoever doesn't cringe might be worth my time.
What is your dream outfit?
Probably something with a shit ton of colors and high heeled man-killer stilettos. My hair would be mohawked because, hot, and I'd wear blue lipstick.
And where would you wear it?
I'd wear it to some sort of queer femme extravaganza slash party.
Okay we need to find that event and you need to wear that outfit. Backtracking a bit, when you say "community," what does that word mean to you?
Shit, that's hard. There has to be intentionality. I picture a group of people who choose to find one another based around some hope, I think. Or some alternative world they envision. I think that oppression can sometimes be a huge part of community-building but I think people choose to continue to be a part of a community not because of a shared experience of oppression, but because of some hope everyone shares that feeds their soul.
Ugh okay now I'm crying. That's beautiful. But moving past my queer tears, what is your favorite thing about the NYC queer community?
That people both have their shit together and are fucking glamorous all the while. I feel like everyone is always trying to see connections and better themselves.
If someone were trying to get involved in the queer community here, or in any city, what advice would you give them?
Go to as many events, readings, parties, queer knitting circles, etc. as possible. A great way to find community is to know about everything that's out there, you know? And before you know it, you'll start to see some of the same faces at events.
So basically people should read Autostraddle and go everywhere we tell them to go, right?
YUP!
I knew I liked you! Can we talk about what you think is a good activity for a first date? I feel like you go on really fun dates.
Oh my god, haha! I'm actually a huge fan of the simple stuff. On a first date I want to be able to talk ad nauseam, so I generally stay away from loud bars. I'm a much bigger fan of the whole "let's walk around the neighborhood and see what crops up," because then you can stumble upon a park and be adorable, or grab coffee, or WALK BACK TO YOUR PLACE OH MAN. Possibilities are endless!
Ha! This seems like a good time to ask my favorite question. Do you have a celeb crush?
Okay, it's between Helena Bonham Carter and Natalie Imbruglia.
Oh my god Natalie Imbruglia. Let's talk about her.
Okay! So Torn is legit the only song of hers that I know but I remember this moment when I was 7, seeing her on MTV and being like, "Wow, I've never seen a girl with such cool hair, or who looked that incredible in baggy cargos and no bra." Queer, sign me up!
Hahaha! I remember MTV playing that song over and over and over, except I lived in Canada so it was Much Music.
I died whenever it came on the radio. Do you still listen to it regularly? Cause I do and I scream along with it in my room.
I do still listen to it regularly! Tell me more about why you love Helena Bonham Carter.
I feel like I can extrapolate a lot about her personality from the movies she's done. She's wild and craggy and intelligent and I feel like she would feel perfectly at home sucking on a fat cigar, you know? There's just something appealing about her.
I agree. I think because she so often plays wild women and wild women are sort of not the norm in the stories we are shown, or the stories we are told it's okay to see. At least, that's why I enjoy her.
Yeah, she portrays these characters, these wild women I guess, who are sometimes written in a very two-dimensional way because they're not actually written as people, you know? They're written as devices. But she, in her extraordinary intelligence and artistry, makes them so goddamn specific and whole.
That is it exactly! While we're chatting about performing, can you tell me a bit about your work? Have you always wanted to be a performer?
No, not always. I went through a bunch of phases. For a while I decided I wanted to be a marine biologist. I started to do the shows in my high school because I liked music, and I knew other people who did them. In my junior year I decided that theater was one of the only real, huge things that I could say I really loved, and that was a pretty hard decision. I do mainly musicals but I absolutely love learning about technique and bodies and voices and how everything is integrated. All those acting exercises where you see people rolling around on the floor, making noises? I love that stuff.
My final question is open-ended. Do you have anything else you'd like to say to the Autostraddle community?
Learn about as many communities as you possibly can. There are tons of communities within the queer community that are underrepresented. Search for those. I am forever searching for new communities.
---
If you would like to be featured as a future Straddler on the Street, please email vanessa [at] autostraddle [dot] com. Include a few photos, 3-5 sentences about yourself and put "Straddler Submission" in your subject line. Approximately a million people have submitted so far, so please be patient as Vanessa goes through her inbox — you're all sexy with really smart brains, and don't you forget it!