Tomorrow my girlfriend and I are absconding to the country, and while I couldn't be more excited, I also have that fear that maybe some of you are familiar with when traveling to a new place: what if we can't find vegan food? I'm going be proactive and make a big pile of vegan chick pea "tuna" salad because it's amazing and worst case scenario, we eat it for lunch and dinner for two days in a row. I mean that's actually not the worst case scenario. I might want to do that regardless of the food options in town.
Does it look like tuna? Yes. Does it taste like tuna? That's up for debate. It does, however, taste like something I want to eat right out of the bowl as I write this, so that's something.
Vegan Chick Pea "Tuna Salad"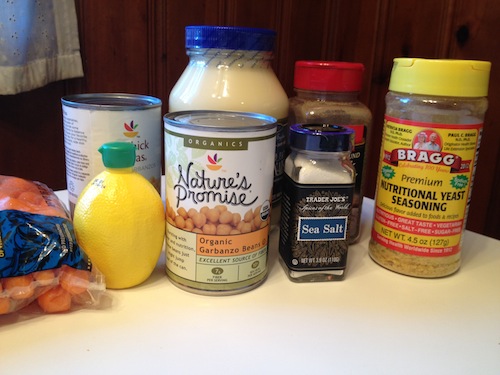 Ingredients:
2 cans of chickpeas, rinsed thoroughly
1 handful of baby carrots
2 tablespoons nutritional yeast
2-3 tablespoons vegan mayo
1 teaspoon lemon juice
salt and black pepper to taste
a food processor, or, a fork and a strong hand
Directions:
In a food processor, pulse the chickpeas until they are tiny pieces. Stop before it becomes hummus, but go until it looks kind of like tuna, about ten pulses. If you don't have a food processor, you can do this with a fork and some patience.


Remove the chickpea bits and put them in a large bowl. Now pulse the carrots in the food processor until they are tiny bits (or chop up by hand). Combine them with the chickpeas.


Add the nutritional yeast, vegan mayo, lemon juice, salt and pepper. Stir thoroughly yet gently; you don't want to mush it more than it's already been mushed.


You can eat this pretty much however you like it, but I recommend on a piece of toast with some leafy greens.