Hello and welcome to another edition of Autostraddle's College Lesbianage: a glimpse of college life through the wide eyes of six freshly fallen snowflake first-year queers. This month's update finds our Lesbianagelings finishing up their finals and heading back to their homelands. What have they learned about the world and themselves during this first semester of college?
---
Kate
Wellesley College
New Year, same me. This is the one where I should talk about my New Year's Resolutions and how college has made me a different person, but I haven't made any New Year's Resolutions and I don't intend to. Last year's were things like "go to college," "maybe make friends or something?," "don't cry," and they were resolutions in name, not intent.
The only thing I can think to Resolve is to do more things. I don't mean that in the sense of time value or number or words on my resume, I'm plenty busy (bordering on too busy). I mean the little things. When you do improv (or if you've read Tina Fey's Bossypants, which you should) the first thing they teach you is to Always Say Yes. "Yes, and…" is the key phrase. My goal is to say "Yes, and…" more often. The few things I've regretted this year were missed opportunities that I could have taken. "Do you want to come out tonight?" I'm learning to say yes and trust that I have good people around who will look out for me. "Do you want to trade papers?" I earned my place in this school and I don't need to be ashamed of my work. "Do you want to take on [leadership role]?" I have the skills to do this job, and if I mess up, I have people who will help me. Yes, yes, and yes.
This is becoming more of a credo than a New Year's Resolution, but suffice to say I am lucky to be happy and confident enough to start letting myself do things I want to do, not just quietly learning the ropes. Four years is pretty short when you think about how much there is to do, and there is no time for me to waste when I could be having fun.
Quick life update – four days after writing my last article, I was in the home stretch of finals and three of my favorite people left in the same day. I was behind on my work and low on sleep and somehow managed to develop a weird case of separation anxiety that morning, so at 9am after the first person left I found myself curled on her empty bed sobbing uncontrollably into her roommate's shoulder. She made me peach tea and we ate cold pizza for breakfast and talked until I stopped sniffling. This kindness made me sad because she was leaving at 6pm, but I had work to do so I went down the hall back to my room.
I went back to my room and packed and wrote with intermittent visits from friends who had come in response to a pitiful Facebook status. Two first years came to chat for 30 minutes. A senior who I deeply admire came by and silently read a book just to keep me company for over an hour as I finished my Philosophy final. I typed the last few words and screamed DONE, and she closed her book and hugged me and went back to her room. Less than a minute later, my roommate came home from her night out and we finished cleaning and had a fantastic last night.
The next morning, I slept through my alarms and woke up two hours later than I had hoped, about the time that I needed to be in a cab on my way to the airport. I turned in my final without rereading it and made it to the plane and back to Minnesota. When I walked through the door of my mom's new house, I saw my cat, screamed, dropped my bag, and burst into tears. I didn't let go of him until he bit me in the arm.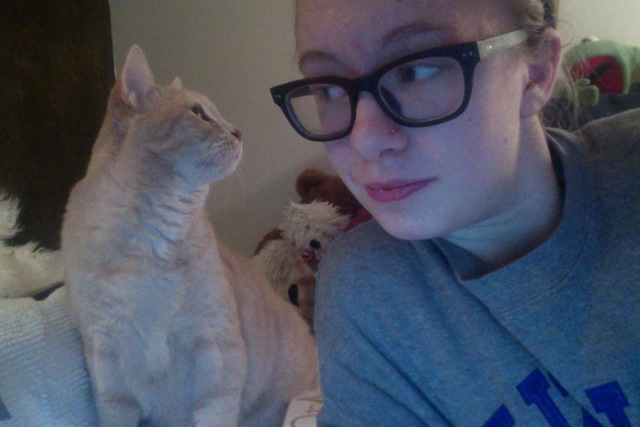 I love being home, and despite the terrible last 24 hours I had at Wellesley, I can't wait to go back. Ten days from the day I write this article, I'll be back in my room with my people and the lamp posts I love so much.
---
Lillian
Vassar
This winter vacation has gone on far too long. I've been back for a little over a month and the novelty and charm of home has completely run out. To combat the period of my life I'd like to call l'interminable l'ennui (stealing from you, Paul Verlaine), I've been given the responsibility of taking care of myself and my sister for the next few days while my parents are out of town. I've found that throughout this break my responsibilities at home have increased twofold. I arrived at home thinking that I was a visitor and did nothing but sit on the couch, sleep until noon and watch reruns of Chopped because that's how I roll. Now because of a number of incidents over which I had no control, I find myself in loco parentis. And let me just say, it's hard out here for an eighteen-year-old posing as a parent even if it is just for a few days.
I think we need to talk about how much I don't want to grow up. To me, adult life is like if Magnolia and American Beauty had a baby—it seems mundane and disappointing. And I know, it doesn't have to be that way but I've seen one too many flustered and sad-looking moms or too many dysfunctional families at the airport to make me excited about growing up and having a family. Perhaps I'll live alone with a dog and eat ice cream for dinner.
Being outside of the Vassar bubble – or just the bubble of college life in general – is scary and feels altogether foreign. When I come home I feel like an adult, having only a hint of understanding of what that actually means. When I see my past mentors or teachers, I must appear like an adult to them. I present myself with an air of maturity and politely answer whatever questions they have asked. All of this, however, is an act—I'm just an imposter in the adult world. Eventually I will retreat back to Poughkeepsie where my Holden Caulfield syndrome will continue to develop and infest the rest of my body. I'll go back inside the bubble where I will be safe, cuddling with a certain special someone.
---
Kelsey
Bryn Mawr
I pulled the wrapping paper from the corner, tearing around the writing ("To Kelsey, Merry Christmas, Love Grandma and Grandpa") until it slid off, revealing the book's cover: In One Person, by John Irving. "This is the book that you told me Grandpa read," I said to my mother. "The one about the man who's bisexual."
Although I'm not completely in the closet to my extended family, I've never come out to most of them. Other than one cousin, to whom I announced my sexuality abruptly at the dinner table last year, I've chosen to say nothing but not purposely keep my sexuality a secret. If my family finds out through Facebook, or through my mother talking to them, I'm fine with that; I'm just too scared to start the conversation. I know that all of my family would accept me, but there's something inherently scary about revealing something as personal as your sexuality, even if you think you know what the reaction will be. So I try to not think too much about what I'm not saying and tell myself that, when (hopefully) I get a girlfriend, I'll use that opportunity to come out.
My grandparents both know I'm queer, and I'm fine with that. They haven't treated me differently and I never thought that they would, but we haven't talked about it. Mostly I'm glad that I'm not the one who came out to them. Choosing not to talk about it means that I have to infer their acceptance from their actions instead of hearing it firsthand. Before Christmas, those actions were all negative: the lack of prejudice, the lack of ostracization. But looking at the cover of In One Person, it felt as if my grandparents were sending me a message, saying, "We know you're queer and it's okay. We accept you for who you are."
I still haven't talked to my grandparents about my sexuality, and I can only hope that I'll be brave enough to do so one day. But I'm not worried about being brave enough right now because I know they'll love me regardless.
What I've noticed during winter break is that I think about my sexuality a lot more at home than I do at Bryn Mawr. Of course, my sexuality is an important part of my identity no matter where I am, and I spend a lot of time at Bryn Mawr talking about queer-related things, but there my sexuality makes me feel the same as so many people and at home, it makes me feel different. So even though I am not looking forward to doing homework after a month off, I cannot wait to go back in three days.
One other thing I want you to know about my winter break:
1) I got a ukulele for Christmas. It's awesome.
---
Pages: 1 2See entire article on one page