Friends, hi! Welcome back to Boobs on Your Tube, your weekly catch-up of all the queer lady things you maybe missed on TV. "Weekly?" you ask, arching your eyebrow like a cartoon witch. And yes, weekly; it's just that I missed two weeks due to the holidays and the fact that Ferguson coverage took precedence over TV coverage. And I still don't have a Time-Turner, so the hours in my day are finite. (I would use a Time-Turner to stay caught up on TV, though. You know I would.) But I'm back now and everything is going to be as right as that time when Paige McCullers dressed like the sexiest cowboy you have ever seen.
Sadly, Jane the Virgin and Gotham didn't pay out the lesbos on their midseason finales, but I have high hopes for them when they return in January.
Here's what else happened on TV these last two weeks:
The Good Wife
Sundays on CBS at 9:00 p.m.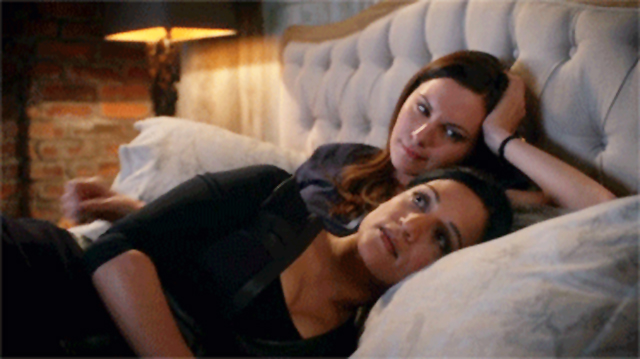 The words "Sleater-Kinney" were spoken aloud on The Good Wife before the midseason finale, which was a delightful shock in the pants. Even more delightful, though: Kalinda and Lana are kind of trying to make it as an actual couple. Two weeks ago, Lana told Kalinda, "I want you to take me more seriously. If this is nothing to you, then don't come by tonight, okay? There are other people that I wouldn't mind seeing."
If anyone had said something like that to season one Kalinda, she'd have been gone faster than a person can destroy a car with a baseball bat. But this Kalinda is a new Kalinda. Still a hard-ass, but also cautiously soft. After running around trying to save Cary — who pled guilty at the end of the midseason finale, by the way — Kalinda showed up at Lana's and cuddled up in bed with her and said, "I take you seriously. It's not easy. But I take you seriously."
I am now 100 percent convinced Archie Panjabi's time on The Good Wife is going to end with either Kalinda riding off into the sunset with Lana, in some kind of Olivia Pope island situation, or with Kalinda getting axe-murdered.
The Walking Dead
Sundays on AMC at 10:00 p.m.
Lesbian Tara survived another half-season of The Walking Dead! Also, the midseason finale included scissoring between two women! But not the good kind. Not the sweatshirt kind. Apparently one lady stabbed another lady in like the face with some scissors, which is why I cannot watch this show and only can relay to you what my girlfriend tells me. Have one more "cat zombie" stock photo, though, for the Holigays.
Top Chef: Boston
Wednesdays on Bravo at 10:00 p.m.

A lot of people in the online complaining community have serious issues with this season of Top Chef because the only guy that seemed like he might go HAM at some point and stab his fellow contestants with a knife got sent home for being a shitty chef, and now there's no drama. Basically, it's like ten people who really like each other and get along well and are competent chefs, and every week they cook delicious foods, and the judges are like, "Welp. More delicious foods." And then someone has to pack their knives and go home. Everyone hugs, everyone cries.
But I actually kind of love that, and it's the perfect environment for lesbian contestant Melissa King, who is The Nicest Guy, you guys. Every time they cut to the talking heads where the director is asking Melissa to talk shit about her competitors, she's always like, "I think I can win because I have a lot of training." And then she smiles so sweetly. Two weeks ago, she showed us all these letters her girlfriend sent with her. One for every day of the competition, calling her "Sugar Mama" and stuff.
Melissa almost went home that week, the week of Thanksgiving, because she cooked a vegetarian dish at THE SECOND MOST AWKWARD THANKSGIVING EVER. The whole thing took place at Plimoth Plantation, "home of the first Thanksgiving," and in addition to the judges, all these white descendents of the Pilgrims were there, and also a handful of Native Americans, and Padma kept being like, "Do you think this dish matches up to what was served at the first Thankgsiving?" to the Native Americans. They were so polite about it, but also, Padma, what was served at the first Thanksgiving was SMALLPOX WITH A SIDE OF GENOCIDE.
Anyway, Melissa did not go home, even though she was in the bottom three.
And this week, on the Restaurant Wars episode, her team was so breezy and awesome, there was hardly any drama at all. She was safe without a worry in the world.
Degrassi
Tuesdays on TeenNick at 9:00 p.m.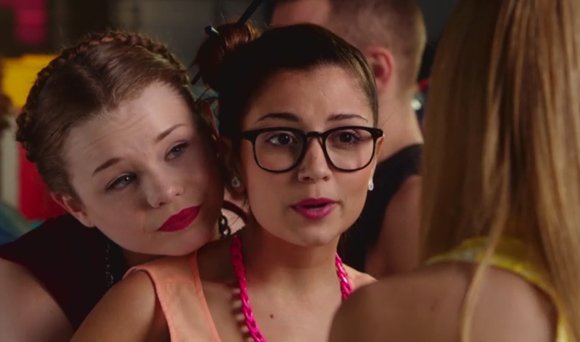 It's been a nearly Jackogen-less season of Degrassi so far, but the Fair Queer Ladies of Degrassi High finally showed up in the last two episodes to woo us with their quirky charms.
In an episode that focused mostly on the cheerleading squad deciding to raise money for new uniforms by selling nude selfies, Jack and Imogen tried to help Becky get over her broken heart by setting up a dating profile for her and escorting her on a double date with a family-loving Christian guy who had more enthusiasm for life than Richard Simmons. But Becky was not feeling a Christian zest for life anymore since her boyfriend cheated on her and got another girl pregnant, so she bounced to wander alone on the cold Canadian streets. It was all very Degrassi, so Jack and Imogen just canoodled at the roller derby and tried not to feel weird about everything.
But then! In the next episode! Imogen told Jack that she is in lesbians with her, and Jack responded with a furrowed brow and a high five, all, "Okay, cool! Thanks!" Jack explained to Imogen that she's not into monogamy, and Imogen tried to play it cool like, "I wear chopsticks in my hair; of course I am into polyamory too!" Jack actually said the word "heteronormative" out loud on Nickelodeon; it was pretty amazing. Imogen fretted about it for a while, and finally busted up Jack's ballet class to declare her love very publicly.
I love you, Jack Jones. And even though I barely understood any of that heteronormativity stuff, I think you only said it because you're scared. I get it. Commitment is scary, but I want to take that leap. And if we break each other's hearts in the end, so be it — but I'm a one-woman woman. That's just who I am!
Turns out Jack really was just scared. She called Imogen later to tell her she loves her too. Not the best introduction to polyamory, but it's Degrassi; the issue will circle around again really soon, I'm sure. Probably it will end with someone texting and driving and dying.
The Comeback
Sundays on HBO at 10:00 p.m.
I marathoned the new season of The Comeback on a plane this week, and you guys! Jane is back! And she's a lesbian! You remember Jane, right? She was the producer of Valerie's reality show back in season one. In between seasons, she won an Oscar for a documentary she produced with her partner — her homosexual lesbian lady partner — but became a recluse when her girlfriend broke up with her. In episode 2, Jane convinced her to direct a new show for her, a behind-the-scenes look at a new pilot she is filming called Seeing Red. And Jane is better than fucking ever. (So is Lisa Kudrow, honestly.)
In Seeing Red, Valerie plays a caricature of herself in a relationship with Seth Rogen, who is playing a caricature of Paulie G. Paulie G. takes every opportunity to try to embarrass and publicly shame Val, but Jane is at her side, every step of the way, defending her (and all women!) against misogynistic shitbirds.
Just watch it, OK? It's so good.
Marry Me
Tuesdays on NBC at 9:00 p.m.

Well, Marry Me's Kay continues to be my favorite new lesbian character on TV. This week, Jake correctly called her a "soft butch lipstick flannel queen," which she agreed with 100 percent. And then she and Dennah got sucked into a Law & Order wormhole and went bonkers when their best friend Gil went missing. They found him playing laser tag with a bunch of new (kid-sized) friends, but enticed him home with promises of more Jerry Orbach.
And last week, it was a kind of boring Thanksgiving with not much at all for Kay to do.
Marry Me is weird. In some ways, it's playing into those gender roles/gay stereotype sitcom tropes people thought were so funny in the '90s. Like, if you're making a joke Will & Grace or Everybody Loves Raymond already made, please just stop. But in other ways, it's subverting those cliches in exciting ways. I'm sticking with it as long as it's around because I cannot get enough Tymberlee Hill, and because New Girl and The Mindy Project sorted out their weirdly sexist stuff after one season, and I have hope.
Team TV Coverage You May Have Missed
+ Our Lady J Hired as Transparent's First Ever Trans Staff Writer
The hit Amazon series is making steps to include more trans women and make it's stories and characters more authentic.
+ Transparent 109 recap
In which we get a dozen different emotions for the price of one.
+ Transparent Episode 110 Recap: Would You Even Talk To Me
The season finale at long last!
+ Fan Fiction Friday: 7 Pretty Little Liars Stories to Set Your Heart (and Pants) on Fire
Alison knows you want to kiss her.
+ Fan Fiction Friday: Lost Girl's 10 Most Magical Lesbian Sex Scenes
When the actual show is practically crackfic, you know the fan fiction is going to be out of this world.
+ Salem Episodes 1 and 2 Recap: Thou Shalt Not Suffer a Basic Witch
We'll be covering Salem, a occult-themed historical drama full of canon queerness, witchy TV Tropes, magick panic, and horrible colonial patriarchy.
+ Salem Episodes 3 and 4 Recap: Dude, Where's My Skin
"Creepy doll teleports itself onto her bed and slowly turns its head. Clearly, Anne is made of braver stuff than I, because this is the moment I would've set the entire house on fire."
+ Faking It Episode 209 Recap: Heartbroken and Angry and Really Really Drunk
This week on "Faking It," Karma is really mad you guys. LIKE REALLY MAD.
+ Faking It Episode 210 Recap: I Was Happy Just To Share A Cardboard Castle With You
For the mid-season finale of "Faking It," we go to jail with Julie Goldman, which is basically my dream date.
+ Gotham Episode 109 Recap: Holy Lesbosexy Scissoring, Batman!
Renee and Barbara are in love, pass it on.
+ All 6 Seasons of The L Word Retold By Kittens and Puppies
Yes, Papi. Really.
+ 19 Reasons Pretty Little Liars' A is Probably Santa Claus
A necklace made of human teeth is the new lump of coal in your stocking. Ho ho ho, bitches.
+ Grey's Anatomy Recap Episodes 1107-1108: You're Gonna Miss Me When I'm Gone
It's the episode where instead of having sex Callie and Arizona have an emotional conversation in a quiet section of the hospital. Holy shit, aren't you excited? This is life mimicking art, y'all.
Lost Girl returns this Sunday night. The Fosters' Christmas special lands on Monday. And Pretty Little Liars' Christmas special will be here on Tuesday. Expect recaps for all three; it's going to be an awesome week!