A tipster recently wrote to tell us that Forever 21 didn't divide its wares into "men's" and "women's" categories — rather, its clothes were for "men" or "girls." We decided to investigate — and to take a look at what its competitors call their male and female customers. Below, a breakdown.
Forever 21: At first glance, Forever 21 does look like it's divided into "mens" and "girls" sections. However, a spokesperson explained to me that the "girls" section is actually for Forever 21's little girls' line, J. So really, the relevant adult categories on the site are "apparel" (which is all women's apparel) and "mens."
Urban Outfitters: "Men's" and "women's"
Zara: "Man" and "woman." Watch out, the swirling snow on this website will make your browser slow to a crawl.
Abercrombie & Fitch: "Mens" and "womens." It's disturbing how many retailers dispense with the necessary apostrophes in these possessive nouns. Their clotheses are for womenses.
American Eagle Outfitters: Again with the "mens" and "womens."
H&M: Changing it up a bit, H&M opts for "ladies" and "men."
American Apparel: "Men" and "women."
Aeropostale: "Guys" and "girls."
Hollister: In possibly my favorite gender-labeling decision, Hollister chooses "dudes" and "bettys."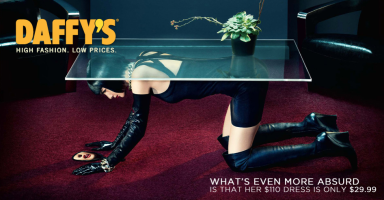 Daffy's: This northeastern retailer doesn't actually have gender categories on its website — I just included it in this list because holy shit, look at that splashscreen. This did not make me want to purchase clothing; it made me want to pinch myself to make sure I was awake/sober.
So Forever 21 isn't as much of an odd man (or girl) out here as it first appeared — in fact, clothing retailers' gender signifiers seem less indicative of a gender/age double standard (ie. boys want to be called men at 14 or so, women stay "girls" into their thirties and beyond) than they are extensions of each retailer's brand. Aeropostale, geared primarily toward teens, markets to "guys" and "girls" — H&M tries to project class by catering to "ladies." It's also worth noting that of the ten retailers (not counting absurd Daffy's) listed above, none offers a website design that's friendly to folks who don't identify as male or female, or who prefer not to buy their clothes according to such categories. Genderfork recommends 410 BC as a genderqueer-friendly clothing site (and notes that many American Apparel items are unisex, though the site may not label them as such). Other options include Marimacho, Rigged Out/fitters, or The Genderqueer Shop, which Brennan Williams founded "because I'm sick of shops making me choose between 'boy' and 'girl' clothes." Judging by the prevalence of these categories, he's probably not the only one with this problem.
Image via Vector/Shutterstock.com
Originally published on Jezebel. Republished WITH PERMISSION MOTHERF*CKERS.