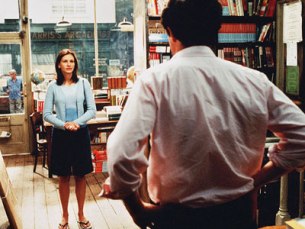 Tuesday morning, Obama signed the repeal of "don't ask, don't tell" in a symbolic, if not yet actual, end to the 17-year-old piece of legislation (the repeal will not actually go into effect for another 60 days, during which the military will examine its potential impact and take care of some other fine print). And this is basically amazing. But according to the New York Times, repealing DADT won't make dealing with other problem policies any easier.
While recent public opinion polls are in favour of equal rights, lawmakers still lag on several key issues. A Gallup poll from May of this year found that 50% of Americans found gay and lesbian relations "morally acceptable" (43% found them "morally wrong"), while a 2009 poll found 89% of respondents agreed that gay people should have equal job opportunities, and a poll from this December found that 67% supported repealing DADT.
On the other hand, the Employment Non-Discrimination Act, which would forbid discrimination due to sexual orientation or gender identity, has been around since 1994 with very little progress. Same-sex marriage is still only legal in Massachusetts, Connecticut, Washington, D.C., Iowa, New Hampshire, and Vermont, and the Defense of Marriage Act prevents recognition of those marriages at a federal level. Two-partner gay adoption is still illegal or problematic in several states. And before DADT got repealed, it almost failed. Repeatedly. And there were also months of jumping through legal and survey-based hoops, and 17 years of activism before that, and 48 years of being excluded from the military before that, in which not only was the possibility of an environment of non-discrimination not on the table, it hadn't even been invited to dinner.
According to the NYT, Tobias Wolff, a University of Pennsylvania law professor who advises Obama's government on gay issues, says there's still a "political gay panic," which means that even though the public is behind equality (sort of), politicians stay cautious.
Which is why it's more important than ever for people who are behind equality keep reminding everyone how important it is.
In the Washington Post, David Fahrenthoid writes:
"Activists are hoping that the repeal — which will allow gays to serve openly in the U.S. military — gives them significant new leverage. For the first time they can argue that if the Army trusts gay men and women with rifles, why shouldn't society trust them with wedding rings?"
But, as he goes on to point out, the great and problematic thing about repealing DADT is that it doesn't ask anyone to legitimize being gay, it asks them to just ignore it — and the two are very different things.
At the risk of discounting recent successes, it's important to remember we're not done yet; far from it. Homophobia isn't going away just because gay people can fight in the military or adopt in Florida. It won't even go away once gays, in the eyes of the laws, are completely equal to everyone else in every way. And it's not only important that we keep going now; it's important that we do not stop until there is nothing left to fight about, until it is absolutely impossible to pass more legislation protecting gay rights because the idea that someone might be discriminated against based on their sexual orientation is just as ridiculous as the idea that someone might be discriminated against based on their eye color or the shape of their nose or any one of a hundred ingrained traits that are as arbitrary to the way someone gets treated in public as sexual orientation should be.