Even the most "accessible" queer fashion can feel intimidating when you only see it on Kristen Stewart or the red carpet – that's why we've assembled this group of real-life gays, lesbians, bisexuals and queers to show you how real people are wearing queer wardrobe staples and celeb-inspired fashion. Pay it forward by sharing your own look with us; who knows, be your own style icon!
---
Carolyn, NSFW Consultant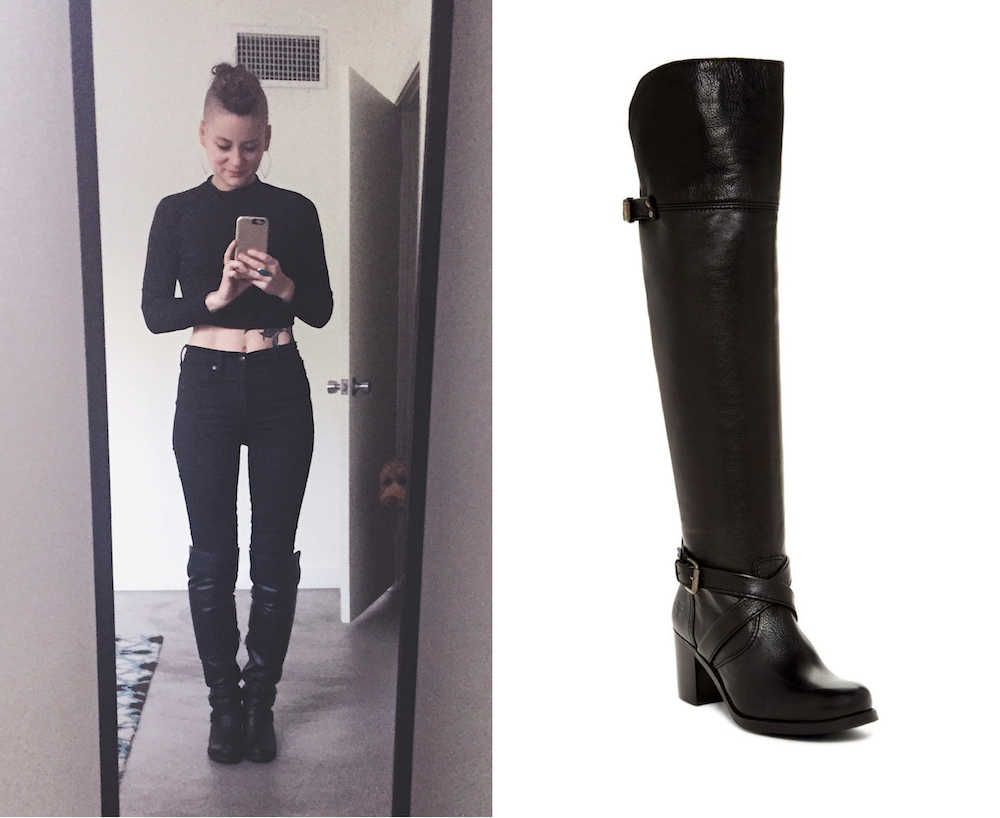 What are you wearing?
Mock neck crop top, jeans, boots
Where would you wear this look?
Los Angeles has destroyed my sense of what is appropriate to wear where, but places I have worn this include: bars, queer events, extremely casual meetings, and to have dinner with my parents. Key to this look is actually not anything I'm wearing at all but instead my dog photobombing in the background, adding a sense of playfulness and more importantly an explanation for the paw prints and dust adding "texturewp_poststo my jeans, which means I would most rather wear it "somewhere my dog can come too."
Where would you shop for this?
Boots: Frye circa 2015
Pants: Madewell
Cropped mock neck: Free People
Ring: vintage
What do you like most/least about this item?
I love that I feel really hot in these boots all the time. Am I allowed to say that? I'm going for it. I also love that they make a shirt plus the exact same pair of pants I wear every single day in any context look like "an outfit.wp_postsHOWEVER I do inside of the boots secretly have quarter-inch lifts because without them my feet somehow do not make contact with the insoles in a way that means I can walk without tripping over myself. Walking and not tripping over myself is ideal, but then the boots come up just a little less high, so win/lose/etc. Also my footfall is super heavy, and I purchased these boots in 2015 and have worn them consistently as everyday footwear for two winters in a row, so what I currently like least is that I will have to get them reheeled before it is warm enough to stop wearing them every time I leave the house.
Archie, Cartoonist
What are you wearing?
Boots are knock-off Doc Martens that a pal found in a dumpster for me, note the "vegetarian shoewp_postson the label. Also wearing mesh shirt and a satin over-shirt –The back of the satin shirt has a picture of a fist and says "My Body Is Church And You're Here To Worship.wp_postsSO!
Where would you wear this look?
I wore this to a coffee shop! So either day-to-day hangs or going out. Probably not an office job.
Where would you shop for this?
Anywhere Docs (or in my case very good knock-offs) are sold!
What do you like most/least about this item?
I think these boots are really versatile, they basically go with all outfits and are great for spring/fall. My least favorite thing is how slippery they are in the winter–they look like they have traction but honestly their soles just make walking harder!
Robin, A-Camp Senior Staff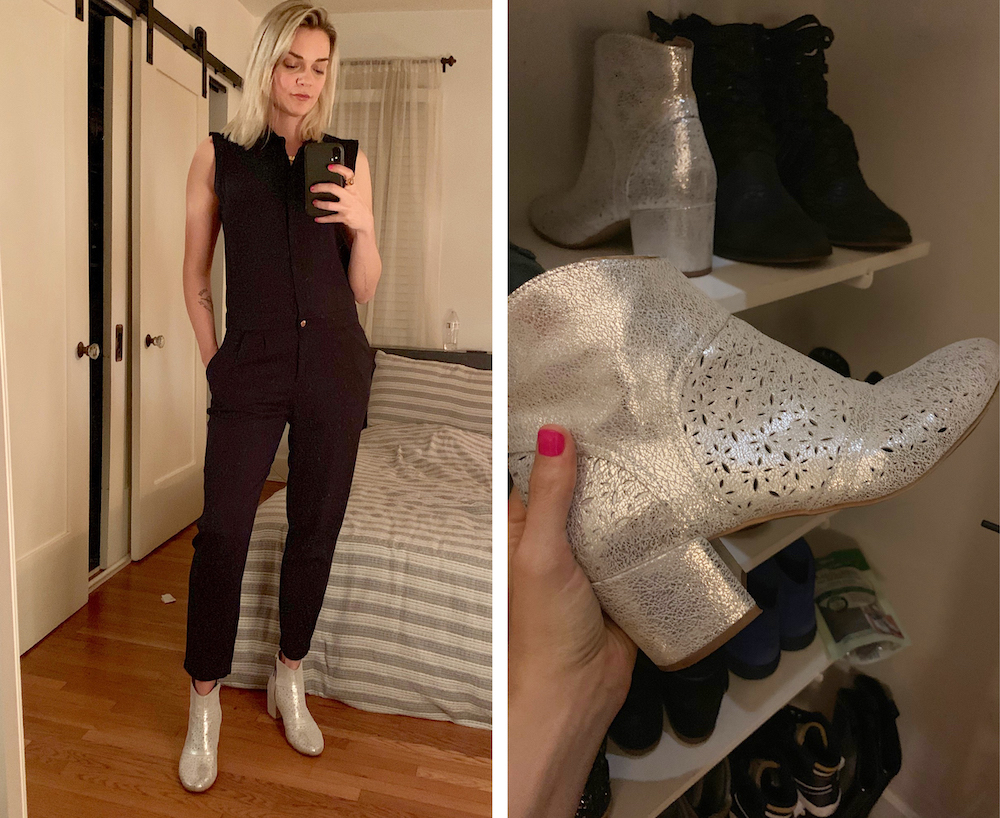 What are you wearing?
I'm wearing a navy jumpsuit, minimal jewels and silver boots.
Where would you wear this look?
I would wear this out to dinner, to a chill drinks event, to a meeting with a non-corporate-y client, or to a house/dinner party. I feel like this outfit is sort of "going outwp_postslite for me. If I wanted to dress it up, I'd probably add some more jewelry, maybe a bold lip and a real cute jacket, but it feels somewhat casual/comfy chic to me.
Where would you shop for this?
The jumpsuit I got from Alternative Apparel and the boots are from Anthropologie. Alternative Apparel is way up on my list when I need comfortable basics. I feel like Anthropologie is a little too bohemian flowy hippie for my taste but their shoes are always really elegant in a comfortable, not too trendy while still stylish way.
What do you like most/least about this item?
I love that these boots are super comfortable and cute. Metallic things generally catch a lot of attention so you get a lot of compliments. The only thing I don't love about them is because of their unique color and pattern, they don't really go with everything so I have to be choosey. I like wearing these boots with something simple like a dark jumpsuit/pant that falls just above the top of the boot.
Vanessa, Community Editor
What are you wearing?
I'm wearing a grey long sleeve Old Navy dress, black tights from Torrid, and Doc Martens. I'm also wearing an Earth pendant made by Beth and Warby Parker "Beckettwp_postsglasses.
Where would you wear this look?
This is very much my "winter uniformwp_postsso I would say I wear a version of this look almost every day. I wear it to school, to work, to a casual date, to dinner with friends…pretty much anywhere that isn't explicitly "formalwp_postsor "very sexy.wp_postsI own this dress in multiple colors and fabrics – the velvet pink version is nice for a slightly more formal setting, the spandex black version is great for a hot date where you don't want to look like you're trying too hard, and the sleeveless version makes transitioning this look from a winter vibe to a summer scenario very easy! – and cannot recommend it enough for fat femme babes on a budget.
Where would you shop for this?
Dress from Old Navy, tights from Torrid, boots are hand-me-downs from a pal but you can obviously purchase Doc Martens at a Doc Marten store!
What do you like most/least about this item?
The thing I like most about this item is how fucking gay these boots are. I've wanted Doc Martens my whole adult life and for some reason I've never pulled the trigger and purchased them. When a friend told me this pair no longer fit him post-transition and asked if I wanted them, I felt like I'd been blessed by the queer fashion fairy. I love that they're not black, because it makes them a little bit different from all the other black Doc Martens at the gay bar, and I love that no matter how femme my look is, I feel really fucking gay and seen when I wear these boots. The thing I like least about this item is that if I don't wear them with tights, they give me really terrible blisters on the back of my ankles, no matter how much I break them in or what kind of sock/bandaid combo I try. I can wear them for short amounts of time with very high socks, but eventually I get a blister. I've never gotten a blister with them when I wear tights, so I try to think of them as specific-to-tights boots. This has been fine all winter but I think is going to bum me out come summer.
Carmen, Associate Editor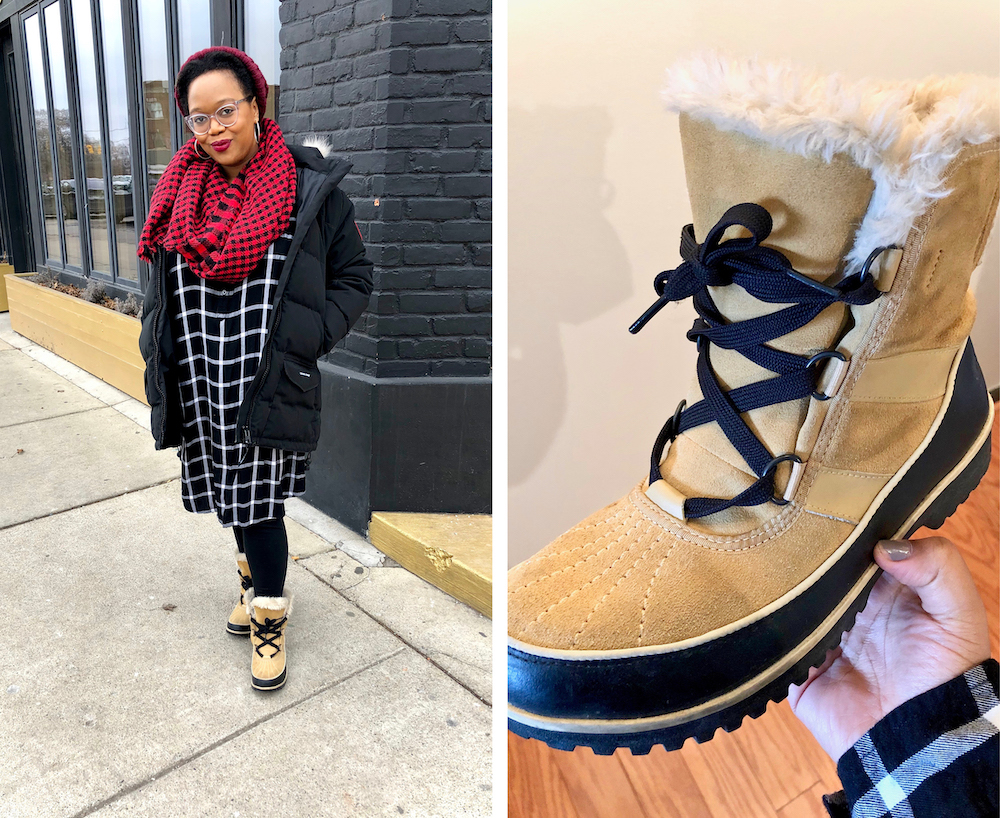 What are you wearing?
Long sleeve flannel dress (Old Navy, here's a similar one),
plus size Black Leggings (Forever 21),
Sorel winter boots
black puffy coat,
red checkered scarf,
red winter beanie with satin lining,
oh and since Vanessa mentioned it – my glasses are also Warby Parker, style "Louise." (I got mine in a see-through crystal color that is no longer available, but this rose water color is similar.)
Lipstick is Urban Decay. The color I'm wearing is discontinued, but this is a similar shaded red that I would recommend to someone with my skin tone. It's called "Gash,wp_postswhich I kind of hate, but here we are.
Where would you wear this look?
I literally took this photo outside of brunch, I guess that answers that question! This dress is one of my standbys for "casual fancywp_postssituations; I would also wear it on a date or out with friends. I'd even wear it to my office – without the beanie – if I worked somewhere casual enough. The vibe I'm going for here is: I'm trying, but I'm not trying too hard. You know?
Where would you shop for this?
My main go-to's for shopping are Old Navy/ the Gap, Target, and Forever 21. I'm willing to spend more on my winter outerwear than I am with my everyday clothes, because I live NORTH OF THE CANADIAN BORDER (What up, Detroit!) and I consider being warm and dry a worthwhile investment. To that point, my boots are Sorel, which admittedly can run expensive. However, I've worn these boots daily for five complete winters and they're still nearly pristine. They are soft and warm and when I put them on, my toes sigh in relief.
What do you like most/least about this item?
I think sometimes it can be hard to style a clunky winter boot as a femme, so I'm proud that this look is both functional and expressive! Also, there's something about wearing a down puffy coat with big hoop earrings that makes me feel like I'm in a Jennifer Lopez music video circa the mid-00s, and – from one Puerto Rican to another – I kind of love it.
The beanie I'm wearing in this picture is a huge find! Most winter hats are made of wool, which dries out and breaks off natural black hair. Grace Eleyae is a black woman genius who decided to start lining her wool caps in satin (ideal for dry, curly or kinky hair). That means I can be warm, look cute, AND keep my curls protected. I wear her hats almost every day and this is the very first winter that I haven't seen any major hair breakage by February. It's a game changer. I owe her everything.
Ok. Back to the boots, that's what we are here for afterall. I've lived in epically snowy, blizzard-prone, ice temperature, winter climates my entire life. Trust me when I say this: heavy, rubber bottomed boots are a must! This is non-negotiable. I also started looking for boots with faux fur lining a few years ago, and have greatly appreciated the improvement. No matter if it's negative 20 degrees fahrenheit or 13 inches of snow, I cannot feel it – and I like it that way. To style these boots, I've found it works best to lean in to the winter aesthetic. I go with soft chunky scarves that are so big they could double as blankets, thick leggings that work as tights, hats and gloves, etc. I feel like a hip hop snow bunny!
Heather Hogan, Managing Editor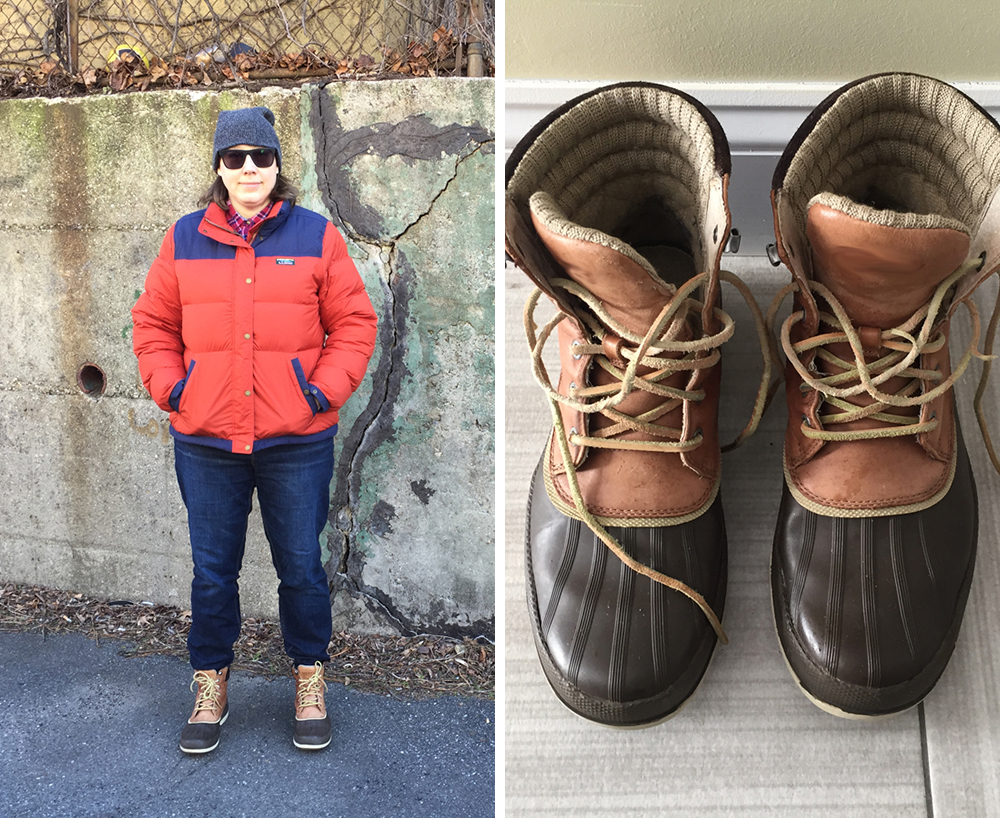 What are you wearing?
Men's L.L. Bean 8″ snow boots, Patagonia jeans, Costco flannel shirt, L.L. Bean women's classic down jacket, Costco beanie.
Where would you wear this look?
Literally everywhere I go when there's snow on the ground. I'd wear it for shoveling, to the doctor, to the grocery store, to the bookstore, to the pub, to the movies, to hang out with my friends, or on a non-fancy date with my partner.
Where would you shop for this?
L.L. Bean, REI, and Costco.
What do you like most/least about this item?
Growing up and spending most of my life in south, plus not being a particularly fashionable person means I didn't even own a pair of boots until I was in my 30s. I just didn't need them. The first winter I lived in Salt Lake City and I got a pair of snow boots, I fell in love with them because they made me feel extra dyke-y. That's what I love most about these boots too. Plus they're very durable. I bought them in 2013 and they're showing no signs of being worn out. They really go with my whole "your favorite gym teacher"/"lesbian presenter on Great British Bake Offwp_postsvibe.
Riese, Editor-in-Chief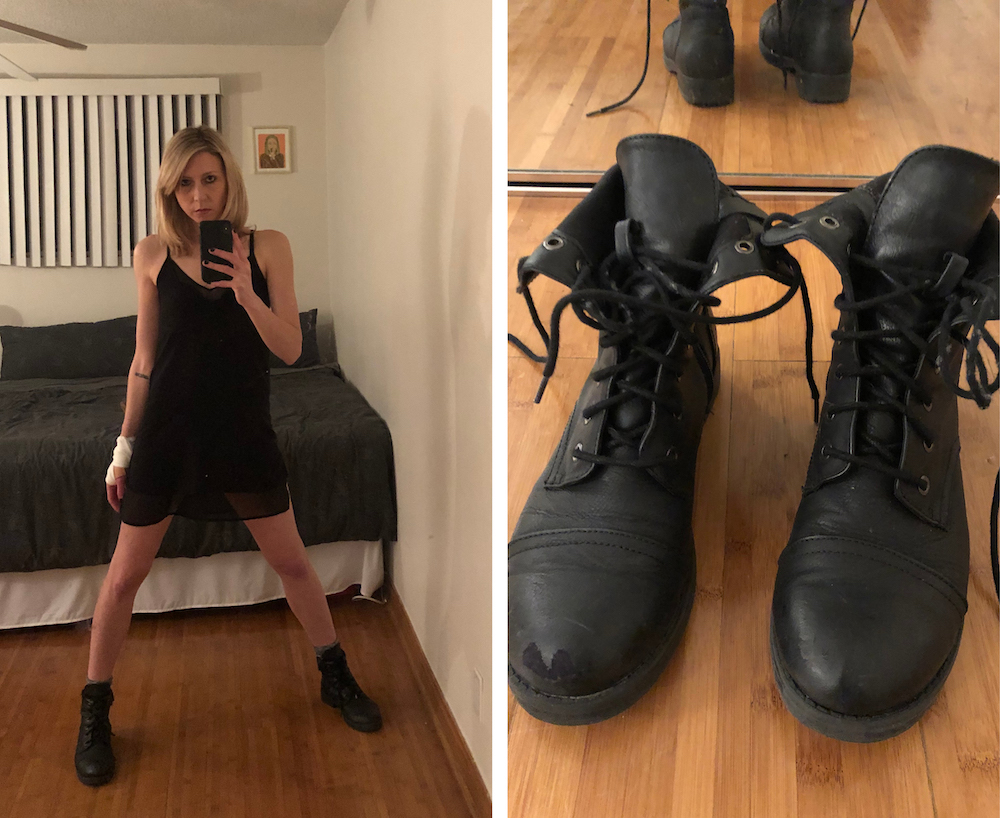 (Please also enjoy Riese's very gay BONUS LOOK she generously provided.)
What are you wearing?
#1: Black slip dress (H&M 2016), Black Boots (American Eagle 2016)
#2: High-waisted BD jeans (Urban Outfitters 2017), black bodysuit (H&M 2017), Mossimo Boyfriend Fit Flannel (Target 2016), Black boots (American Eagle 2016)
Also in both I have CVS Gauze ($8.99) wrapped around my hand/wrist from some severe burns suffered on Saturday evening.
Where would you wear this look?
#1: To a party in Loren's basement in 1996 / modern day equivalent
#2: To West Beverly High in 1996 / modern day equivalent (I didn't actually go to West Beverly High but if I had a chunky black belt then this outfit would be straight out of the Kelly Taylor / Brenda Walsh playbook)
Where would you shop for this?
#1: Asos design cami slip dress ($24, asos) (also comes in plus)
#2: Black bodysuit ($9.99, H&M), Hollister oversized flannel boyfriend shirt in plaid ($34.95, asos), BDG Girlfriend High-Rise Jean: Light Wash ($69)
Boots:
Monki Lace-Up Boots in Black ($72, asos)
Doc Marten Ankle Boots ($140, Barney's)
Frye Veronica Combat boots ($278, Shopbop)
UO Zoe Leather Combat Boots ($88, Urban Outfitters)
What do you like most/least about this item?
I cannot extract black boots from the '90s and place them into the present era so I have continued to dress black boots in '90s-style outfits my entire life. Luckily this has come back around and the '90s are in again. In addition to grounding these looks in a specific era they also feel very grounded in a specific location — the midwest.
I had Doc Martens that served the purpose these boots served for a while, but they gave me blisters every time I wore them and I got tired of applying moleskin to my feet every time I wanted to wear them and eventually in my most recent move it was time to say goodbye. These American Eagle boots are actually kinda shitty (whatever they're made of has already scratched and I literally have filled in the scuff with black permanent marker) — I like boots that I can fold over, and it's hard to find a style that's chunky enough to make me feel like Daria without being so chunky that I look like Bigfoot, since I have giant feet. I recommended combat boots because I feel like somehow everybody else but me can wear them without pain and strife!
Boots make me feel powerful and a little mean. They're also good for the rain.
Sarah Sarwar, Design and Marketing Director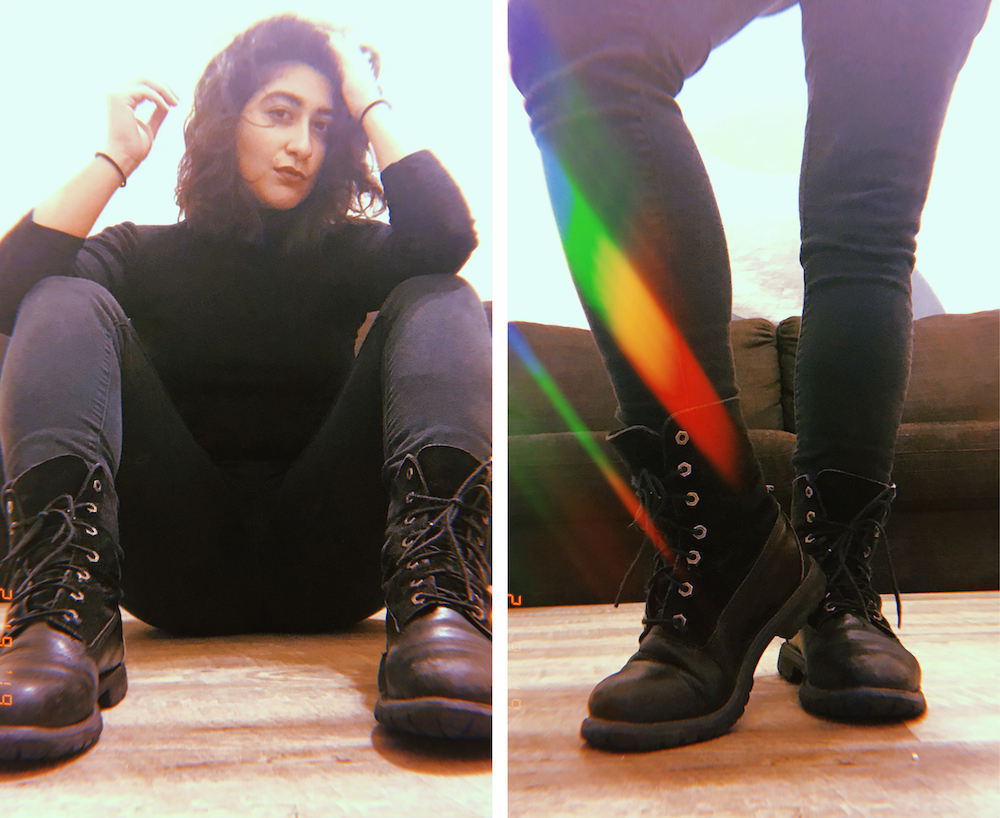 What are you wearing?
Black Timberland Boots, my mom's black turtleneck, and high-waisted black skinny jeans.
Where would you wear this look?
Literally anywhere and anytime. I love rocking this when I want to feel hot and powerful.
Where would you shop for this?
It's a v basic look — skinny jeans are ubiquitous as a clothing item and turtlenecks are back in, so you can find the clothes mostly anywhere! I think I got the boots from Journey but it's been like 6 years since I got them. They've held up REALLY well!
What do you like most/least about this item?
That they're versatile and can be worn with things that involve lots of colors and patterns, or more casual jeans and tees.
---
These are our team's faves; here are some suggestions to make them yours!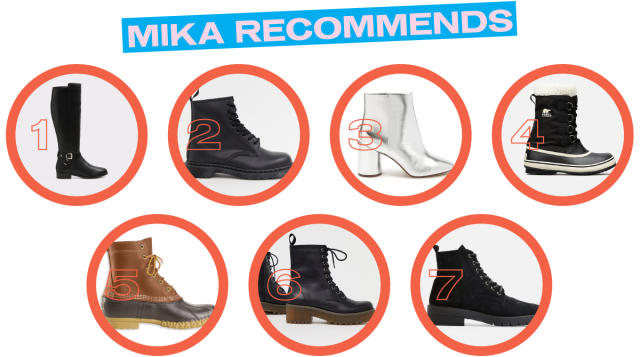 1 / Aldo's Ocoamma 2 / Dr. Marten's 1460 3 / Forever 21's Faux Leather Ankle Boots 4 / Sorel's Winter's Carnival Boot 5 / LL Bean's Bean Boots 6 / ASOS's Monki Lace up Boots 7 / Topshop's Brake Lace-Up Boot
What boots are you wearing to get through the last gasp of winter? Show us in the comments!