Welcome to the fourteenth installment of Style Thief, where I steal the clothes off queer style icons' backs. Metaphorically, that is. I'll try figure out just exactly what makes queer style icons tick by breaking down their look into itty bitty bite size pieces. I get a lot of questions about how to look like different celebrities/characters, so I'm finally tackling the question "How the hell do I dress like that?"
Header by Rory Midhani
This week on Style Thief we're doing something totally different! Instead of looking at individual's styles, I want to sneak a peek at a few great couples styles. Couples styles for fancy-pants parties. It's wedding season and DOMA just got struck down so you know you're about to attend a dozen engagement parties and weddings. If you're fortunate enough to have made your way out of the singles table, then you might just be trying to coordinate outfits with your lady friend. While it's, of course, totally okay to each wear whatever the heck you want, sometimes it's fun and refreshing to coordinate your outfits. I mean, just think of the pictures!
It's hard enough to put together cohesive outfit alone, let alone with with your significant other. There are no rules for lesbians the way there are for straight couples. You can't just say, "hints of the color scheme of her dress in his tie." Well, you can if you're rocking a traditional butch-femme look, but for many couples that's not their personal style. You have to find a balance where you like the way your outfits look together, but you avoid twinning out or looking like cheesy prom dates.
This week I'll be starting with TV couples because their outfits are optimized by a costume designer/stylist to best compliment each other without overshadowing one another.
Quick disclaimer: You might notice there are no butch-butch couples or even super MOC women in this article. I really tried but TV hates us BOTP.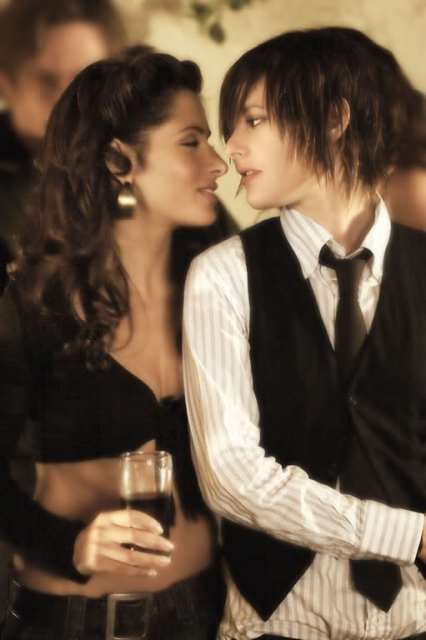 If ever you don't know how to coordinate outfits, black and white is a great place to start. Carmen (left) and Shane (right) are wearing outfits that have almost nothing in common. Between Shane's more formal tie and Carmen's crop-top, the two could practically be attending separate events. Yet, despite those inconsistencies, by wearing black their outfits appear to go together. That being said, it's good to incorporate some white in at least one outfit, as side-by-side all black tends to make you look like you're attending a funeral.

The Fosters is ABCFamily's new show staring a couple of good old fashioned lesbian moms. I know they look here like maybe they're getting married, but actually they're look super fresh to attend their daughter's quinceañera. Interestingly, Lena (left) tends to be the more hippy-dippy mom while Stef (right) is the hardcore cop mom. Instead of translating this into more traditionally masculine or feminine formal attire, here this translate into Lena's more free spirited outfit versus Stef's more "conventional" one.
Lena and Stef's outfits work so well together because, while they don't share a color palate, the two outfits are thematically similar. Fundamentally, both outfits have airy, light fabric that utilizes short lines at the hems. This gives both looks a similar "flow" to them. Additionally, both women utilize V shapes in different ways. The Vs of Lena's pant hem, pointed shoes and blouse neckline complement the V-neck of Stef's dress. Finally, both outfits incorporate just a hint of sparkly; Lena down the front of her blouse and Stef at her waistline.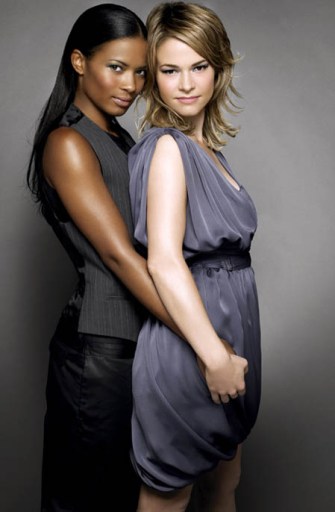 Tasha (left) and Alice (right) exemplify one of my favorite ways to tie together two outfits: using different shade of the same color. The key with using similar shades of the same color is to aim for shades that are distinctly different. If you end up with shades that just barely match, It appears that you've attempted to perfectly match and failed, and the look ends up sloppy. If you are successful in your perfect match, you often end up with the prom date effect.
While it can be really difficult to find those two perfect shades in a color, grey is a much easier way to begin. If one partner wears a true grey or charcoal, this leaves the other partner open to explore the vast shades of blue-greys and purple-greys. This is particularly great if one partner feels like they will have a more difficult time finding something to wear. It opens up a wide array of options without compromising cohesion.
Fiona and Imogen, Degrassi

Fiona (left) and Imogen (right), show us another great example of wearing complementing but vastly different colors side by side. While you might not initially think to put hot pink and tangerine together, they both pack a serious punch; Imogen and Fiona are widely successful.
Here, it's all about the accessories. While the outfits are different in shape and fabric, you could still transpose elements of each on to the other. Imogen and Fiona could easily swap shoes, and Fiona's leather jacket would look just as brilliant with Imogen's dress as Imogen's lace glove would look on Fiona.
A great trick here is to buy both outfits and/or accessories at from the same designer or store. Designers plan their clothing under the assumption that someone will wear individual pieces together, thus those same pieces often work well side by side. This is particularly handy when you can shop at a store that sells both men's and women's attire.
Santana and Brittany, Glee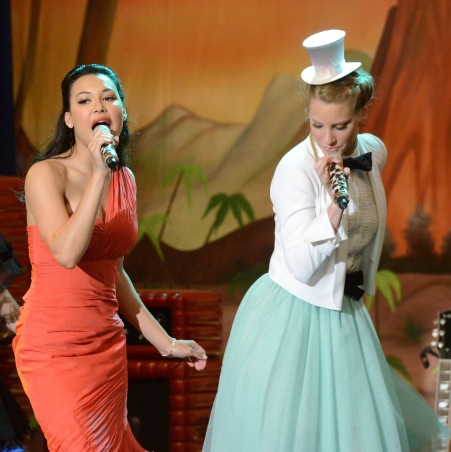 It's rare that I don't love anything about Santana (left) and Brittany (right), but I'm going to level with you. I don't like Brittany's outfit here. I'm just not crazy about little hats. What I am crazy about is the way in which Santana and Brittany's color schemes complement one another. This is the perfect example of how you can wear completely different outfits that still look nice together.
Both girls manage to wear different but in-style colors and shapes, while avoiding clashing with one another. No one on the planet looks better than Naya Rivera (Santana) in red tones, so it seems natural that she would wear her form fitted one shoulder dress. Brittany, on the other hand, goes to the entire opposite end of style spectrum with a big skirt in a cool color. Yet, together their outfits still work because the colors themselves go so nicely together.
The key here is finding colors that look nice together, but that is easier said than done. One big trick is to look at the colors currently used together in patterns and jewelry. Turquoise and coral are both extremely in style right now, and have appeared together all over the place. With this in mind, pairing together coral and turquoise dresses does not seem like such a big jump.
Of course, these are just a few of the ways you can look awesome with your beau all party season long. There are a million ways to coordinate regardless of your personal styles or the event your attending. With that in mind, we'll continue looking at couples next Style Thief when we move out of TV Land and into the real world!
---
If there's a queer style icon you'd like to see stripped down in Style Thief, send me an ASS message, ask on my tumblr, or tweet me @Ohheyitslizz