I have been conditioned by modern network TV marketing to believe that every show with the name "island" in it is a reality show about finding your One True Love, especially if "island" is coupled with another buzzword like Lust Island or Passion Island or Bachelor Island or Fear Island or Housewives Island. And so I thought Fox's new show, Fantasy Island, was absolutely a series where like two dozen Instagram influencers get thrown out of an airplane somewhere near Miami and do a lot of stunts and hijinks to get some roses and potentially a marriage.
Until Valerie Anne's dad told her that show is actually Love Island, and that he was planning to watch Fantasy Island, a scripted series, for the queer character for his queer daughter because Valerie Anne's dad is just rad like that. Anyway, so I also decided to watch for the queer character — and for the Golden Retriever named Mr. Jones, and for Roselyn Sánchez who stands on the beach in a white suit for like half the show (I'm only a lesbian, after all!). What I discovered — much like the guests who visit actual Fantasy Island — has blown my mind grapes. I have, shockingly, never seen this queer story before. In fact, it's kind of the opposite of half the queer storylines on network TV.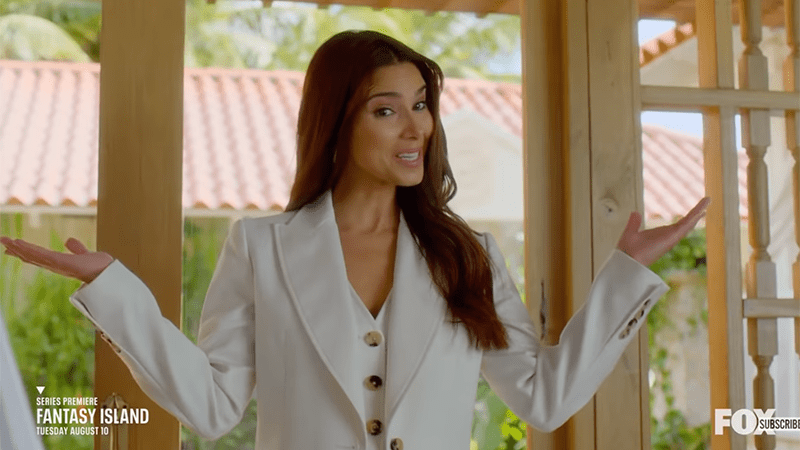 MAJOR FANTASY ISLAND SPOILERS BELOW! 
Fantasy Island is heavy on the fantasy. In fact, it's literally a magical paradise. The premise of the series is apparently the same as the original ABC series from the late 70s and early 80s: guests arrive on the island to live out their wildest dreams, and are accommodated by the island and its caretaker, the head of the Roarke family. In this case, it's Elena Roarke (Sánchez). It's on Fox, so we're not talking about the kind of dark fantasies you're gonna find in Black Mirror or on Westworld, or even the more mundane entitled fantasies of White Lotus. In the pilot, Bellamy Young plays a newscaster who goes viral after having an on-air meltdown about donuts, and shows up on the island to eat everything in sight. There's also an elderly Black couple, Mel and Ruby (Kiara Barnes), who want to enjoy one last getaway before Ruby's pancreatic cancer takes her life. You might be thinking to yourself, "Wait, now. Ruby? Isn't that the name of this promised queer character?" And, friends, it is.
While Bellamy Young works through the childhood trauma that caused her disordered eating and ends up hallucinating herself roasting her abusive step-dad on a spit and eating his literal guts, Mel and Ruby are transformed into their younger selves, the age they were when they fell in love and got married 50 years ago. They go hiking and skinny dip beneath a tropical waterfall, their knees and their backs feel great, they don't have acid reflux, their sex drive is back. They are absolutely delighted and enjoy every second they have together.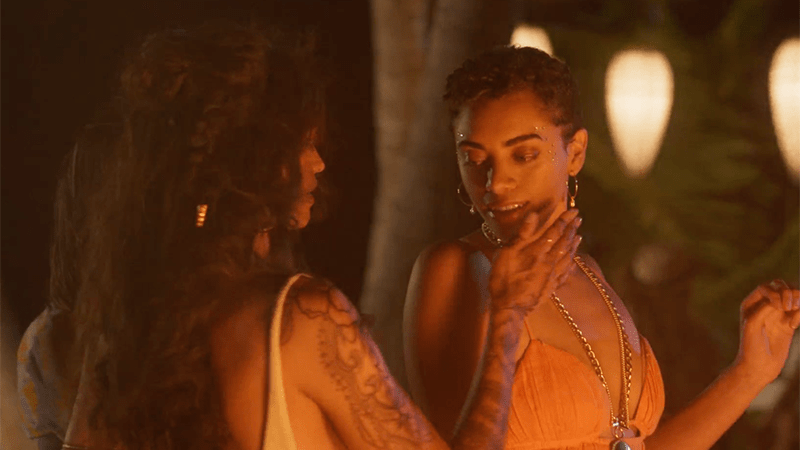 But Ruby goes wandering by herself a lot too, and she meets a young woman just called "La Isla," and they dance and caress each other's faces and La Isla gives Ruby a tattoo, one she chooses for herself out of an ancient-looking book. Elena can't understand why she's letting herself get so attached to Ruby; she's usually able to maintain emotional distance from her guests. When she sees the tattoo, she's throw off even further. Mel, too, is flummoxed by the tattoo and by La Isla and it makes him remember something he'd let go of decades ago. When he met Ruby and they fell in love, she had a friend, a best friend, who was closer to her than anyone in the world, and she kinda just disappeared. He's wondering now, so many years and kids and grandkids later, if Ruby and her friend were in love. And he's realizing they were. And he's realizing he hasn't really known the fullness of his beloved wife. And he's realizing no matter how much she loved him and took care of him and their whole family, no matter how happy they've been together, she couldn't love him the way she loved her best friend.
The tattoo Ruby chose for herself from La Isla is the tattoo of the Roarke family's right-hand, the island's helper, their companion. And so Elena asks Ruby to stay, because she believes the island wants her to stay, to be reborn, and to live again as her full self. Mel is heartbroken but also wholly on-board. He wants his wife, who lived her whole life for him, to live now for herself.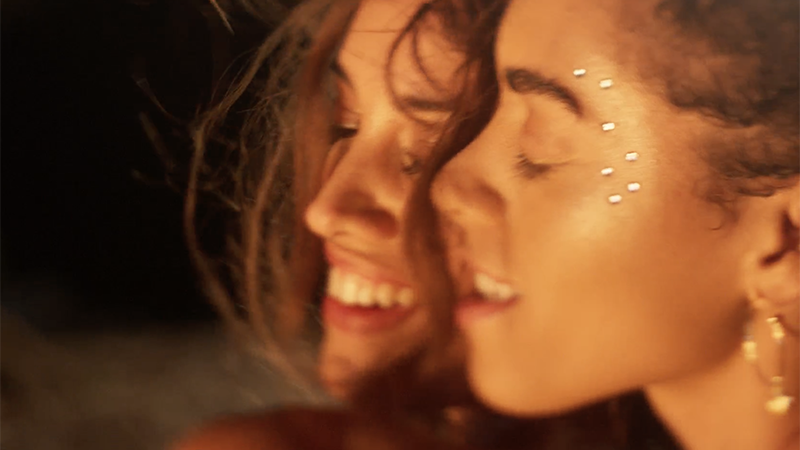 And so Ruby stays.
There is so much to unpack here from a critical lens, and I'm assuming that this show is going to have its problematic moments because it's going to try to address all these characters' deeply buried desires and fears. (I think there's even a gender swap episode coming up?) From a disability perspective, you've got Ruby, whose visible disability signifier is a cane, saying she would rather be dead than become a burden on her family, and that a life of suffering isn't really a life at all. She came to the island to take her life. That's troublesome! And from a bisexual perspective, you've got Mel saying that the fact of Ruby loving another woman somehow means she didn't love him with her whole self. But on the other hand, you've got a narrative that's got Bury Your Gays and another death of a Black woman written all over it, but instead those things, it becomes a story about queer rebirth, about a woman finding magic and literal life in her desire for another woman. It's way more than I expected Fox to tackle and while there are obvious stumbles, I found a whole lot about it to love.
As we get more and more and more queer TV, and as more and more and more queer people come out in real life, queer characters are relieved of the burden of being seen as monoliths and we can start to shade in these fictional portrayals a little bit more. I was shocked and delighted by Ruby, and I can't wait to see what happens next.