Welcome to the fourth recap of the third season of Faking It, a show that was supposed to be about lesbians but isn't, from the network that brought you my favorite show of all time I Want a Famous Face. This week Amy is going to make a documentary, so I had Grace prepare this inspirational graphic for you: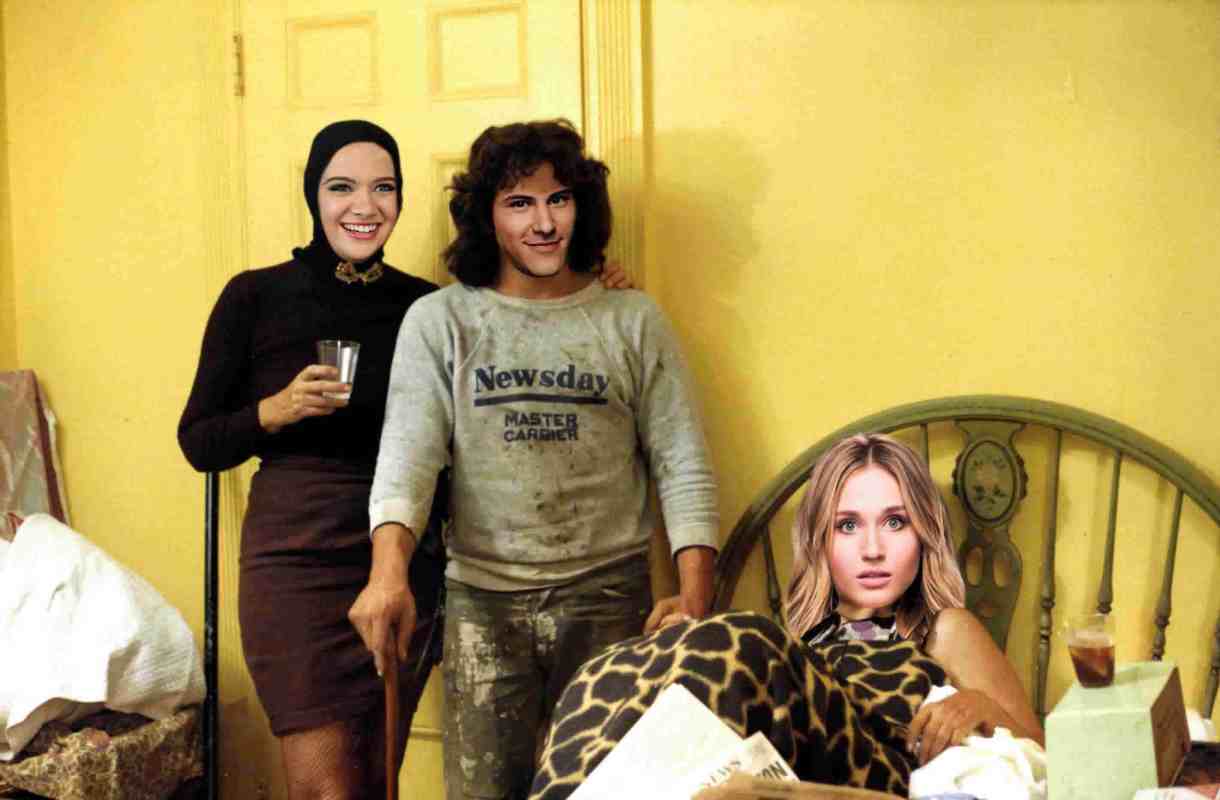 So guys. Should I keep recapping this show every week? Do you still care? Do you still look forward to this situation? Could I be doing something else with my time and just throwing a mini-cap into the Boobs Tube unless Amy kisses a girl? Because here's the thing: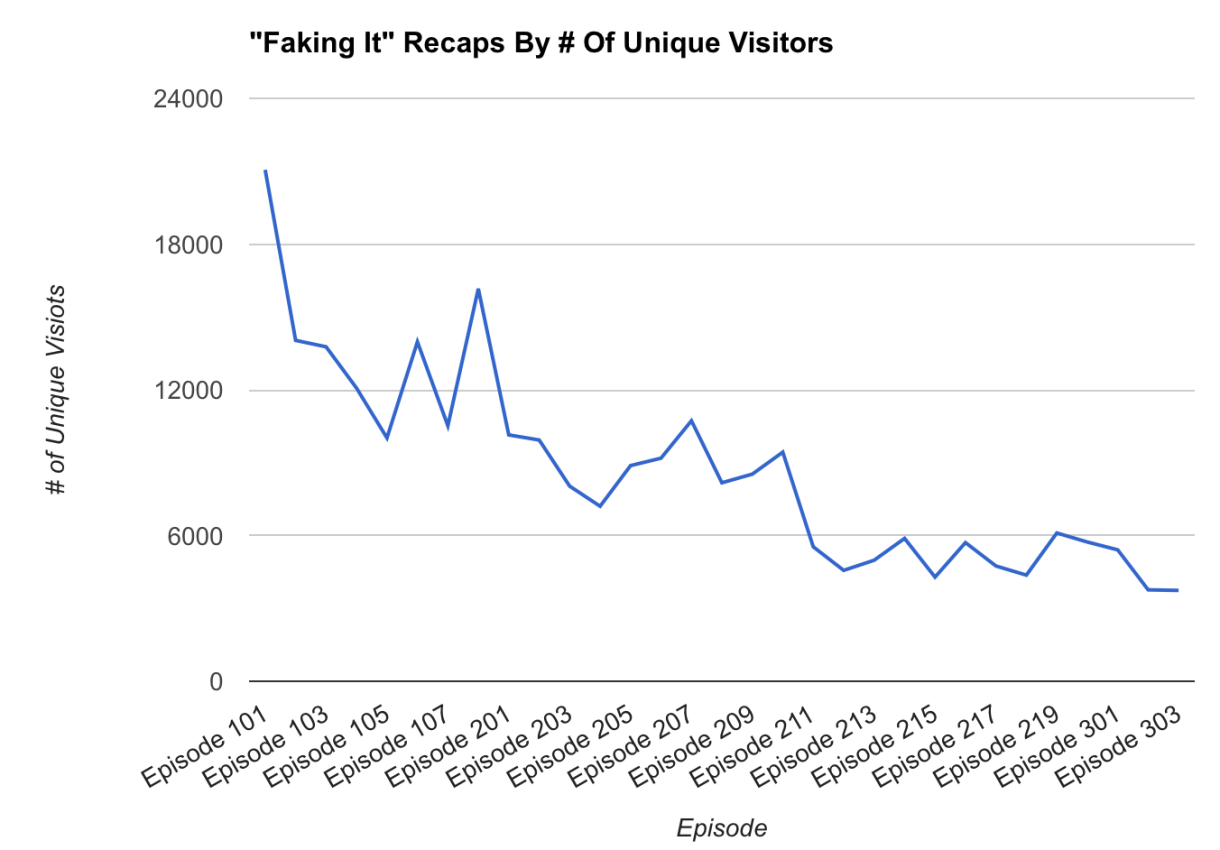 You may notice the biggest dip happened between Season 2A (which ended in November 2014 with Episode 210) and Season 2B (which began September 2015 with Episode 211). What happened between 2A and 2B besides an entire year of your lives? Well, I think that's when we found out that Amy wasn't going to be a lesbian after all, instead the show wanted to explore her sexual fluidity, champion the abandonment of labels (just for Amy though, not for Shane!) and leave Amy's options open w/r/t dating men. As I've said a million times, this is of course a realistic and honest journey that many people can relate to and everybody is entitled to be proud of their label or eschew labels altogether, but there are already plenty of shows out there about girls dating boys. Like pretty much all of them. Yet somehow the most liberal high school in Texas has yet to offer up even ONE girl for Amy. I don't care what her sexual orientation is as long as she dates girls on this show, okay? Just make Amy date girls. Thank you. And don't forget that Emily Fields did eventually get to have sex with Allison before she became chaste forever!
Faking It has been doing a really good job with exploring other LGBTQ identities — Lauren is the first intersex character I remember seeing on television since a two-episode arc on Freaks & Geeks, and this week they introduced a queer trans guy. But so far this season, Amy's love life has been a non-starter, just more of the same Karma/Amy can-we-be-friends thing. I hope this turns around soon.
---
We open with the most lesbianish scene of the whole episode, in which Amy has a large power tool and is using it to make or make an impact of some sort on, I believe, a chair. When she's done I'm gonna sit on the chair and yell MORE LESBIAN SEX while throwing dried cherries at the wall.
Amy: "I learned a lot about refinishing furniture with all the lesbians this summer."
Meanwhile, Lauren's facing a spiritual and social media crisis because her (now fired) New Lisbeth tweeted that Elisabeth Hassleback was Lauren's spirit animal, which is offensive to Native Americans. (Also to Team Rosie.) Amy's got an idea to turn this whole situation around: she and Lauren should make a documentary!
---
Good news at Karma's: her parents found the missing half of her Best Friends heart necklace!  Bad news: Karma doesn't care 'cause she's got no hope for an Amy/Karma reunion. She'd rather mope around and play music and then meet Shane for coffee.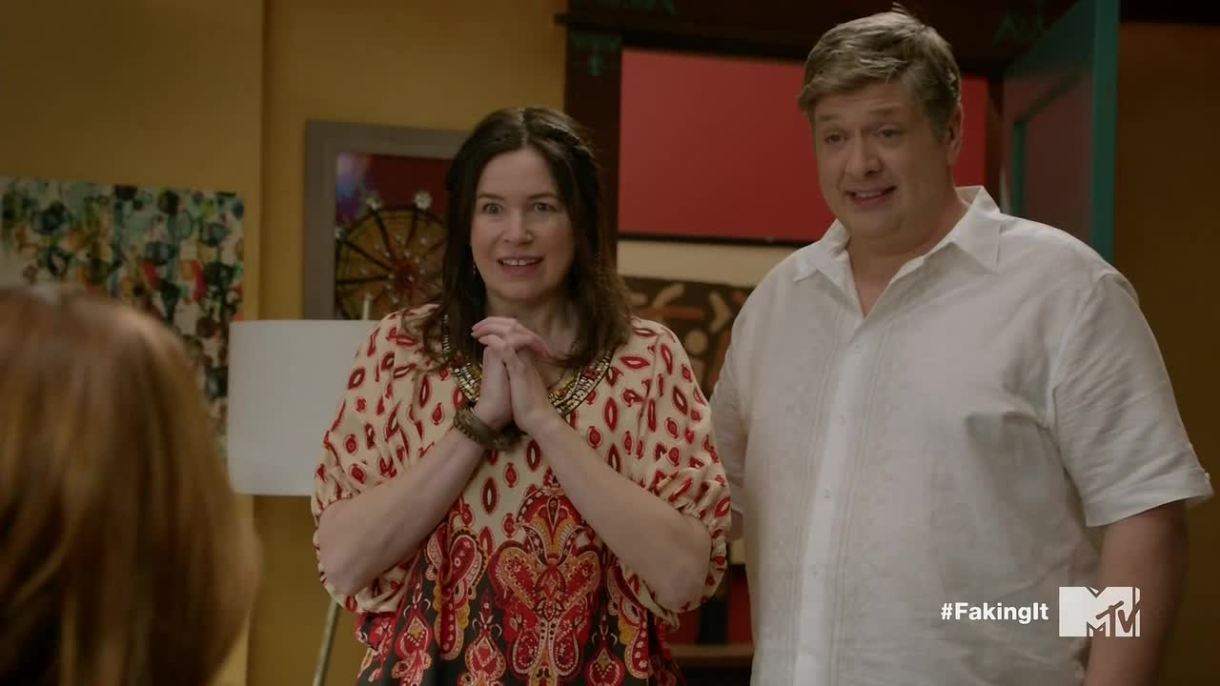 Karma throws her half of the heart necklace into the garbage can even though she should've re-used it to make art. That's what Liam would've done.
---
Back at Chez Fawcett, Lauren and Amy are prepping to begin shooting the documentary when who should arrive out of the blue but FELIX!
Farrah is pleased as punch to have the opportunity to present Felix to her progeny, as she clearly still hopes Amy could fall in love with a man and have his babies and make meatloaf or whatever.  "Even after a rehab reveal, your Mom still roots for me," said Felix. No surprise there!
My intensely negative feelings about this development aside, I have to admit that I like Felix's personality better than Karma's. But also he kinda reminds me of my friend's husband who was bisexual and had a British accent and was very nice, so I've sort of conflated them in my mind. Anyhow! Amy wants to know if he's free tonight but he says he can't date anyone for six months. It's a recovery rule. But she wasn't asking him on a date, silly! She just wants him to help her shoot her documentary! He says okay.
---
Cut to The Bohemian Surf Shack Coffee Shop Java the Hut, which now employs Liam Booker for some reason and decorates with those little fake lanterns you can get at IKEA for $3.
Shane is admiring a dude with a British accent playing a crappy song on his guitar. I can tell you one thing about this fellow: he isn't Tegan and/or Sara.
Although the show does not reveal this information to us, I have been made aware that this new character, Noah, is a trans guy, and he's being played by an actual trans guy actor, and he is the result of last year's search for trans actors! I predict that Shane and him are going to have a thing and Shane is gonna freak out about him being trans.
Liam brings Shane his drink, but then when Liam gets up to go back to work he takes the drink with him? I don't know what that's all about, but I'll tell you what it's NOT about: lesbians. Also not about lesbians: Shane thinks Liam's supervisor has a crush on him, which's probably true. Then Karma shows up and says she's fine. She's lying. Shane says Karma should do the Open Mic!
---
Chez Fawcett: Amy wants to make an intense documentary about being an intersex role model. Lauren wants to make a reality show about lip gloss with lots of product placement.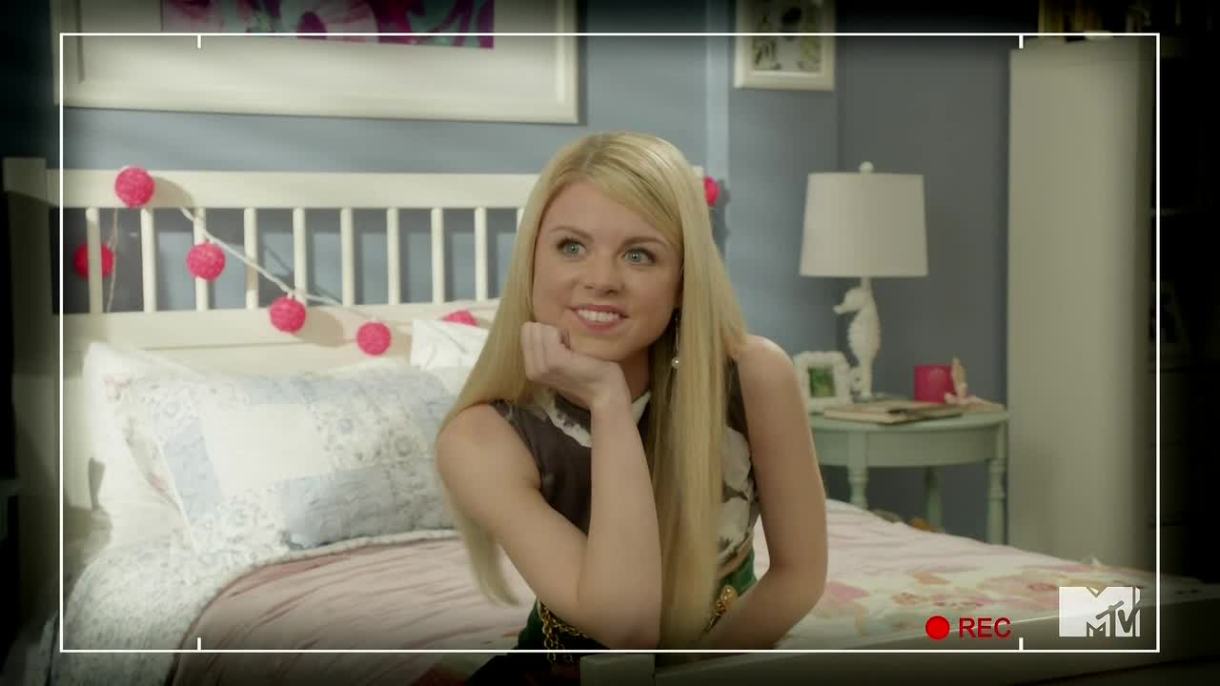 Amy thinks Lauren should really focus on the reason she's got so many social media followers to begin with: pictures of her boobs. No just kidding: being intersex. Lauren gets upset and leaves, and Felix says it's clear that what Lauren needs in order to get out of her shell and show her true self is One Special Person who can Just Listen and Won't Judge. (I think she's talking about me!!!)
---
Chew & Brew: Karma and Shane are doing the Open Mic together like two peas on a pod except instead of peas, they're PEOPLE, and instead of a pod, they're on a stage!
They're pretty good, despite not being Tegan and/or Sara, and that's good news for many reasons, especially this one: this open mic wasn't JUST an open mic, y'all. This open mic was also A CONTEST!
Turns out that Shane and Karma's band, Ze & Zim, are on their way to the grand contest extravaganza tomorrow night, where they might win $5,000! Their competition is going to be a band called "Noah's Ark," which unfortunately is not a spin-off band from the television show Noah's Arc nor is it a bunch of animals and wives on a boat. It's that guy Noah! He clearly also likes Shane. Also Noah tells Shane that if he wants to win, then HE should be the lead singer, not Karma. This is terrible advice and also Noah is "the competition," but Shane listens to him anyway because Shane is inclined to believe people who think he is the greatest.
Also Liam is still into Karma. Shane heads over to Karma's with a brand new plan for the battle of the bands. It involves Shane being the lead singer, a full band, and cover songs. Karma's not into it but also is stuck.
---
Pages: 1 2See entire article on one page