Because you deserve to be the best dressed homo in the office. Read previous posts here.
Header by Rory Midhani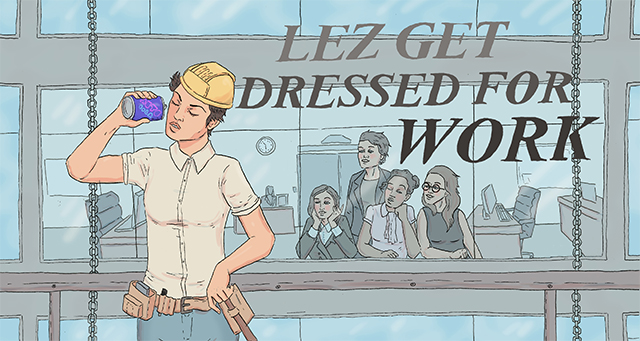 ---
A lot of you spend a lot of time thinking about your hair. This extremely scientific fact is supported by my very professional observations about how damn good your locks look. I think Autostraddle readers as a whole probably have the best looking hair around, statistically speaking. Of course, I'm not in charge of the universe, and what I think counts as great hair is not necessarily the same as, say, what your boss thinks.
If you're just starting out in the professional world, or if you're just starting out in the alternative lifestyle haircut world, it can be hard to figure out how to mediate the two. On the one hand, you have to be true to yourself and get whatever haircut makes you feel the best. On the other hand, you most likely need to work, and your coworkers might not understand that shaving the sides of your head is a queer signifier and instead think you're maybe a little too rebellious for the office. It's unfortunate, but true: the special element that gives your hair that super gay edge to it might be just the kind of attention grabbing look that is not encouraged in your line of work. As I've mentioned in this column, the hard part about dressing for work is that work isn't about you (usually), and so you really shouldn't be taking attention away from it. But hair is so central to happiness, to self-identification! What's a homo to do?
Do you get the haircut and risk your job? Do you take the job and risk your individuality? Or is it actually not as big of a deal as you might think it is? Like, maybe your boss will just think you have a "pixie cut" and you'll never correct her that what you actually have is a very specific "dyke cut" and it will just be whatever.
Maybe you saw this coming: there's no right answer here. Every situation is different, and you have to feel it out. Maybe your alternative lifestyle haircut is frowned upon because you work with a bunch of homophobes who don't deserve you anyway, or maybe you are just in the kind of office where everything on you needs to be proper and tidy (as an ALH tends to not be). Also likely is that it's your own fear holding you back — fear of being visible, of looking different.
Currently, I'm lucky enough to have a day job where my weirdo haircut is fodder for articles, but I wasn't always in such a situation. When I worked at an abortion clinic right out of college, my coworkers were constantly commenting on my hair, which at the time kind of looked like Baby Bowser. "You would look so pretty with long hair," they'd say to me, which was actually not a compliment. The patients would stare at me, too. I'm pretty sure it wasn't because I looked like a dyke, but because I looked unprofessional in comparison with the other people working there. "Unprofessional," of course, is a relative term. I looked unprofessional in the context of a medical facility, but would have looked very professional in the context of a blog for girl-on-girl culture. You know?
To further this discussion, I polled some other working queers of various professions to find out what their feelings are. It turns out there are a lot of feelings out there. No one is surprised. Read on to learn their stories.
Ashley, cashier: The day I came in with an undercut framed by my long hair, all hell broke loose. Several managers told me I couldn't have it displayed in public, that I'd have to part my hair on the far side of my head to cover up the "bald spot" (what if I had had surgery?). I agreed with a few managers that once the warehouse was closed I would be able to wear my hair however I'd like (much like our tattoo policy, as soon as we're closed, you may roll up long sleeves, take off covering bandages, etc). I conceded to this because I have to pick my battles. But on two separate occasions while the store was closed I had managers tell me to cover my head. I told them to walk around and make sure all our other employees were covered up too before I was covering anything. One manager even told me my lifestyle "connotates an alternative lifestyle," even though I am cool with saying I live one! I still don't expose my undercut while we're open, but as soon as those doors close and the last customer walks out, it's game over.
Allison, intern at Utah Clean Energy: About a year and a half ago I gave the ol' middle finger to society, cut off ten inches of my dark curly hair, shaved the sides of my head, and began my life as a true rebel without a cause. I didn't do it because I'm MOC and queer but because I needed a big change. My fauxhawk adds to my identity and I have enjoyed keeping my hair short and "alternative" ever since. I never saw it as a problem until I started interviewing for grown up jobs and internships. No matter how feminine or androgynous I dressed for my interviews my haircut stole the show and made it into Allison's Genderfuck Variety Hour. A feeling of uncertainty is always present after the person interviewing finds out I'm the Allison they will be speaking with, almost as if I can see them thinking, "We were just expecting someone… different." Ever been misgendered several times by the person interviewing you during the interview? I know this feeling well. There are very few vague laws protecting LGBTQ+ folk from workplace discrimination in Utah and the ones that exist in Salt Lake don't stop institutionalized discrimination from happening. My hair makes it known that I am not a part of normalized society. I'll never know if it was the true cause of me not getting hired but I know it has sometimes made a negative impression.
Abby, works in the legal field: I'd had long to very long hair for basically my whole life when I finally decided to cut it all off. I was nervous that I couldn't really pull off short hair, but also I worked at a law firm and was nervous that if I got an ALH, I might get fired. Not because my bosses were homophobic, but because it was an environment that expected a certain level of professionalism in behavior and appearance. And despite being on the more casual side for law firms, you were still expected to dress on the conservative side. Also, people had been fired for a lot less. When I went to get my haircut, I hedged it with, "I want to go really short. I want something kinda gay, but I also work in a law office, so I need to be able to look professional too." And the woman cutting my hair totally got it. Despite being a little nervous, I got only compliments on my hair when I went into the office the next day.
Rae, archivist: When I graduated from college , I was determined to get a job at the main research library of the NYPL. I was 22 and still had College Hair, specifically a College Mohawk. When the human resources department contacted me for an interview, I didn't go out and get a new hairstyle (instead I went out and got a new button-down), but I instinctively combed my hair differently to make it look more like Job Hair. I still remember what it felt like to tuck the tail of my mohawk into my new shirt. So much meaning is invested in personal style, so I don't necessarily advocate getting a hairstyle you don't feel any connection to, or one that makes you feel like you're doing an impression of somebody else. When I was just out of college, I basically started doing an impression of a version of myself that didn't exist yet. In terms of what I think is appropriate First Job Hair, I'd say washing it is the most important thing. And starting to get more regular haircuts. And never underestimate the value of a comb or pomade. The NYPL hired me, so my mohawk didn't sabotage me. And I was fortunate enough to be hired for a union position, so I probably could've kept my College Hair. But I wanted to start transitioning into the next version of myself as soon as possible.
Okay, now it's your turn!