by Riese & Heather
We've spent a lot of time over the past month talking about how not to write (or kill off) a queer female television character, so it seemed like it'd be worth taking a minute to applaud the shows who are actively getting it right.
---
Back in 2005 when almost nobody was getting it right, Degrassi brought us Palex. It's a franchise that's been a trailblazer since its initial incarnation in the '80s, and remains so today. The relationship between Paige and Alex was fresh and angsty and the show stayed loyal both to Paige's bisexuality and Alex's lesbianism. Degrassi has consistently introduced new queer female characters every season — Fiona, Imogen, Jack — even providing some with more than one love interest (!!!) over the course of her time on the show.
---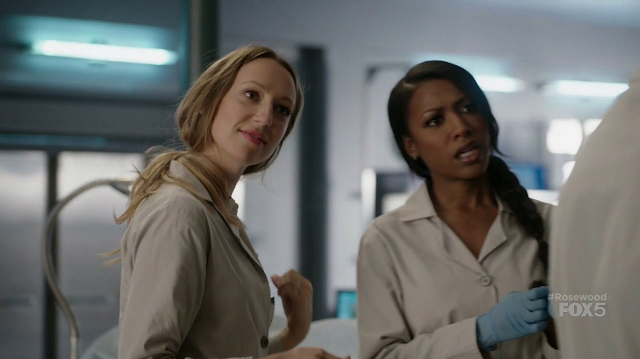 Rosewood is mainstream and formulaic, with a cocky male lead, a sexy/stubborn female lead, shiny cars, dead bodies, and lots of beach scenes. And then, buried inside this relatively uninspired premise is this interracial lesbian couple who work together and could probably kiss more but they're never, not ever, obscuring or playing down exactly who they are to each other. There's also been a really nice storyline with Pippy's Mom trying to stop TMI's Mom from being the asshole about her daughter being gay that Pippy's Mom was once upon a time. It's gonna be a hella cute wedding, y'all.
---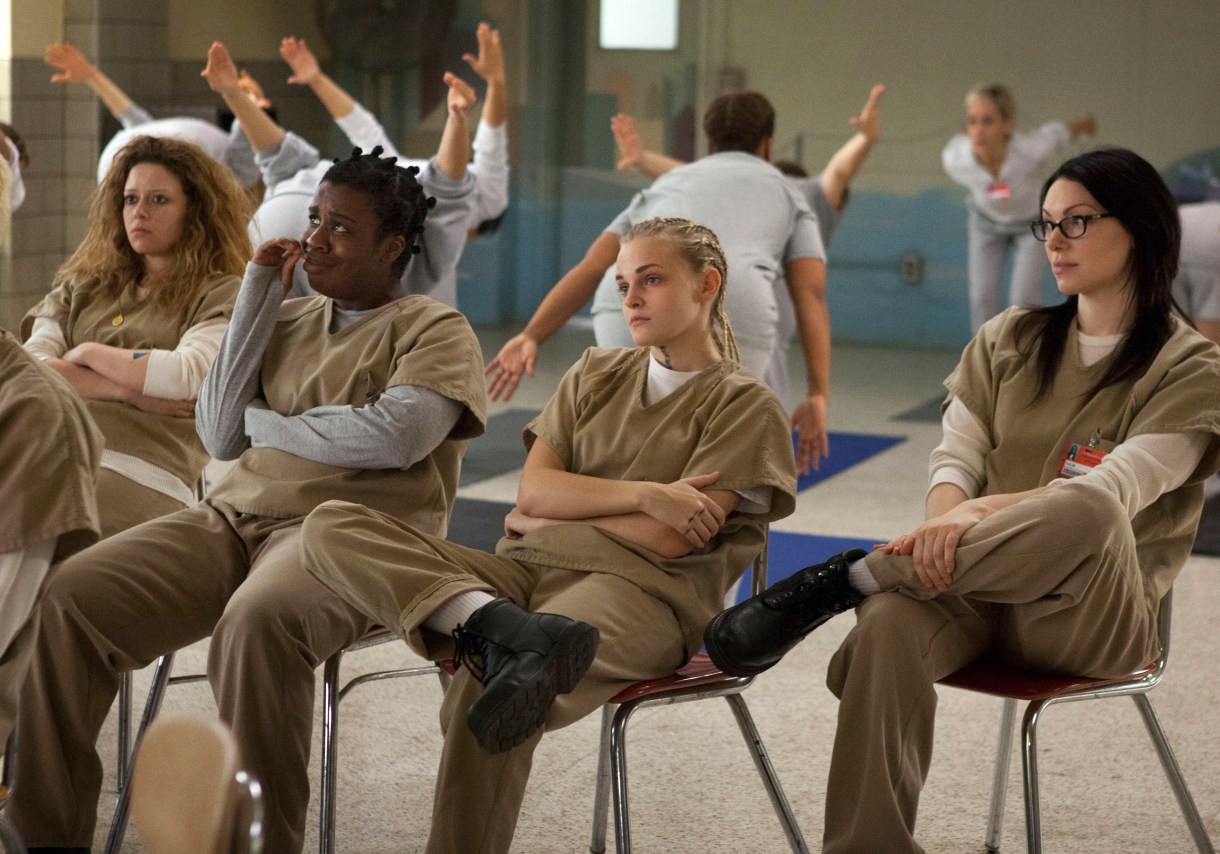 My jaw fell right off my face within 45 seconds of Season One, Episode One — was this really happening? The relationship that started the story that started the show is a relationship between two women? This couldn't possibly be happening! Turns out that was only the tip of the iceberg, though. Underneath all that we have one of the most racially and generationally diverse shows of all time, a cast that is 90% women, and twelve lead or recurring queer female characters. Look: we do well in prison. As a people.
---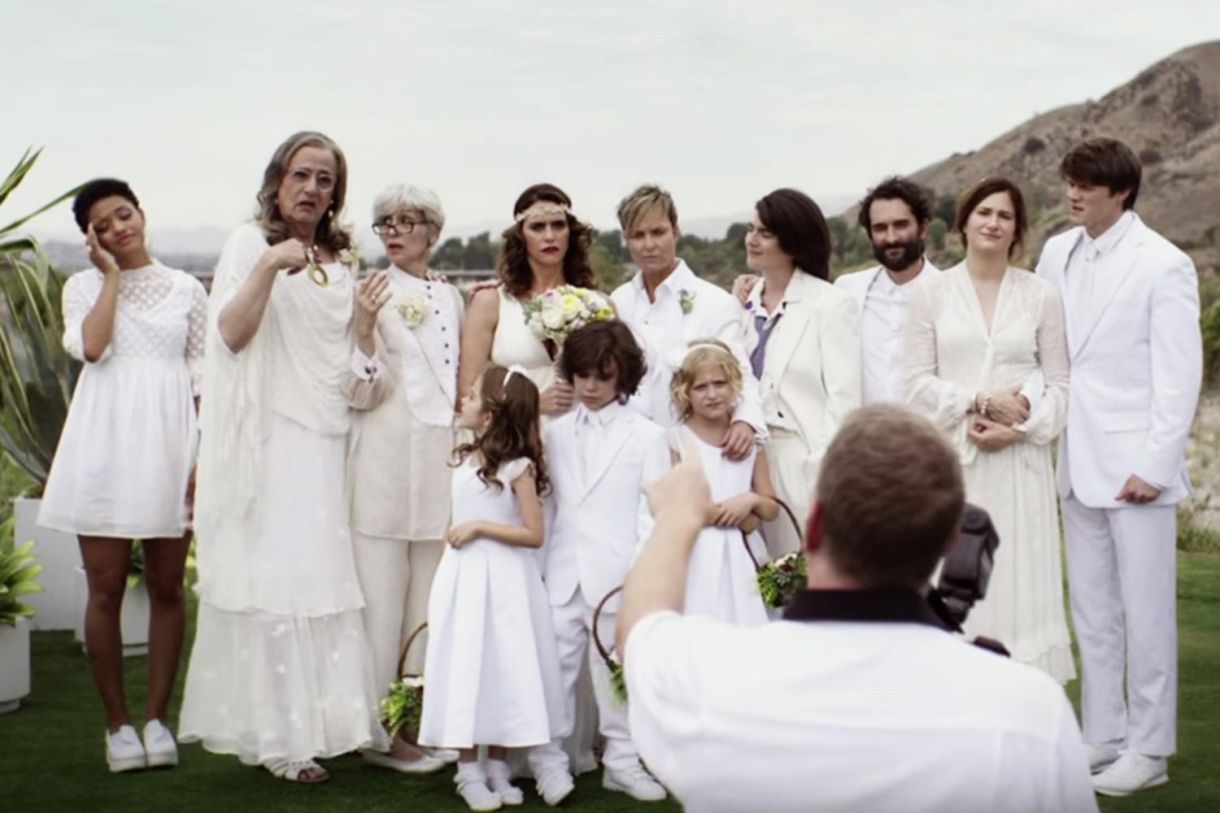 So basically we've only made it to Season Two and already pretty much every single Pfefferman is queer. THE WHOLE DAMN FAMILY. Moppa is a trans woman named Maura, Mom starts hooking up with Maura again even though they'd been divorced and both daughters are bisexual. There's explicit lesbian sex and no privileging of straight relationships over gay ones — so much so that Josh's mere existence and his relentlessly heterosexual pairings feel, irrationally, like a personal insult. There are more trans women actresses playing trans women characters on this show than ever before in the history of television. Queer and trans icons like Carrie Brownstein and Trace Lysette have recurring roles, and others have shown up for guest spots, like Eileen Myles, Cherry Jones, Zackary Drucker, Ali Liebegott, Brittani Nichols, Our Lady J, Jiz Lee and Ian Harvie.
---
Like so many TV shows in the news right now, Orphan Black made the dangerous decision to kill of a beloved bisexual character at the end of last season. Or at least to shoot in her in the head and leave the rest to our imaginations. However, Oprhan Black is the only show I can think of that preemptively addressed every issue queer women have with killing off queer TV characters. They introduced another love interest for Cosima very early on in the season and gave them a plenty of romantic scenes, more than any straight character received in season three. They killed off Paul, a straight male character whose story mirrored Delphine's from day one, several episodes before Delphine was shot. And, like Paul, they gave Delphine a hero's death, one that signified the ending of a season-long redemptive arc. When you add those things to the fact that Cosima is one of the main four clones and receives equal screen time and story depth, and that Orphan Black is the only show that shrugs at the Born This Way debate because sexual orientation is a non-issue in their universe, and the unapologetic misandry on display on the regular, the sum is an exhilarating and progressive drama.
---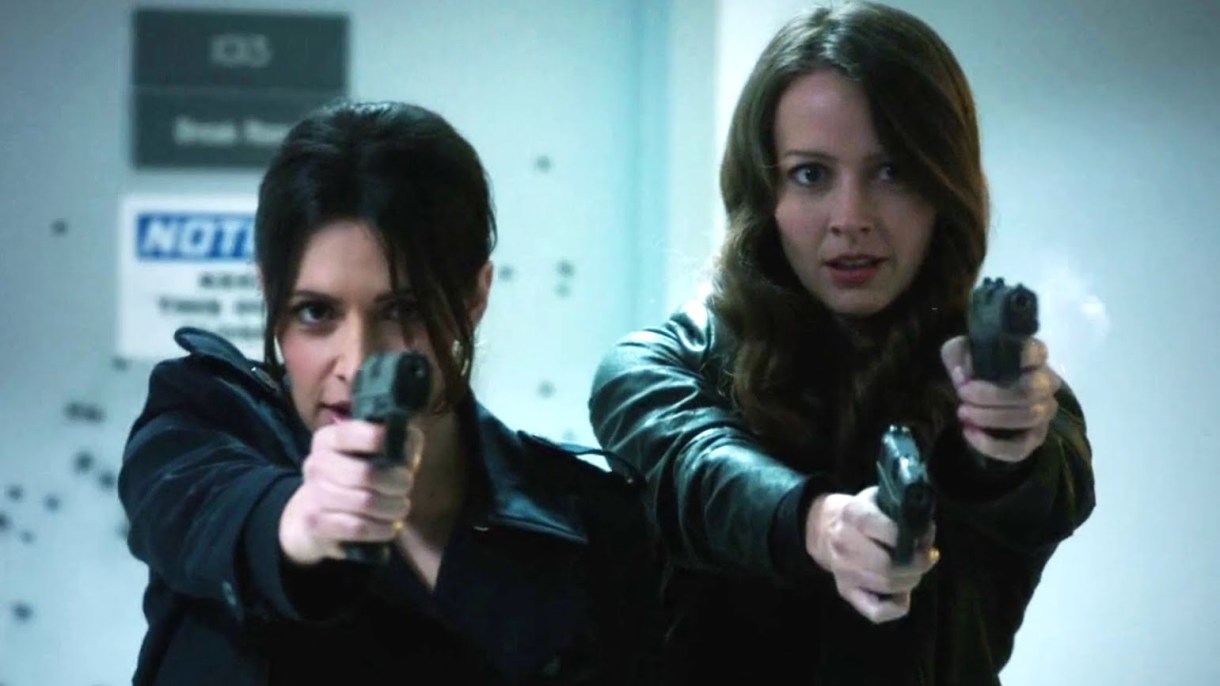 Person of Interest walks the line between being a procedural and being something else altogether, which's maybe why despite its evident quality, it's never garnered the audience it deserves. But the romance between computer hacker Root and sociopathic assassin Shaw deserves recognition here because it has been allowed to proceed and flourish on a show in which nobody gets a love story (aside from the never-consumated sexual/romantic tension between Reese and Joss). Root and Shaw get sexual tension when nobody else is even thinking about sex. This is unprecedented. Every episode where the potential fling between Root and Shaw is explored and literally nobody else's relationship is explored makes me feel like I'm in the Twilight Zone.
---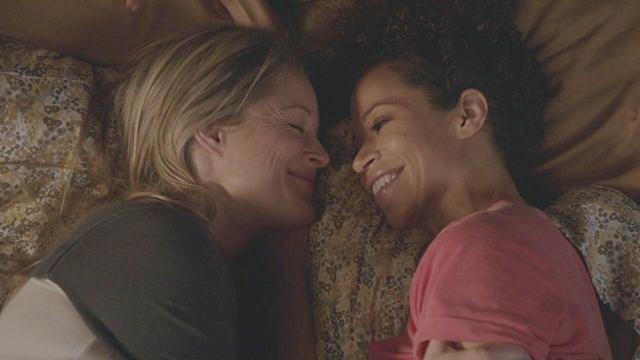 The Fosters isn't flawless in its depiction of queer characters. Season three, for example, set up an unnecessary and troubling conflict between bisexual Anchor Beach principal Monte and a student who said Monte made inappropriate advances at her. (The result of which was either going to be a predatorial bisexual educator or a young woman lying about assault, neither of which false stereotypes need anymore play on television.)
However, The Fosters is the only show in the history of TV to orbit a cast of dramatic teenage storylines around a married lesbian couple. Stef and Lena are Coach and Tami Taylor, they're Mike and Carol Brady, they're Elyse and Steven Keaton. Their relationship is central to the show, and the writers don't shy away from exploring the ups and downs of their relationship — even sexually. They struggle to make time for each other; they have different communication styles; they suffer through sickness and depression. But at the end of the day, they lean into each other and their children lean into them. They are home with each other, right where they belong. (Bonus: The Fosters features Cole, one of television's few trans male characters, and he's played by a trans male actor!)
---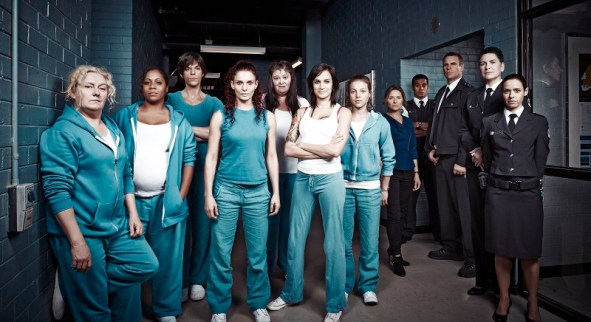 Bless Netflix for bringing this Australian drama — a remake of one of the first shows to ever have multiple central lesbian characters, Prisoner, which aired in Australia from 1979-1986 — to the states so we can all enjoy some lady-prisoners in hoodies. Despite being a show about criminals that takes place in prison, no queer women have died yet (even the one who I really was hoping would die in a fire) (literally). It's not quite as queer as Orange is the New Black, but it's still centered entirely on women, has a queer hearththrob (Frankie Doyle) and a surprising number of queer prison employees. Plus there's transgender inmate Maxine, who manages to defy tropes and is accepted as "one of the girls" in a way we see all too rarely with trans characters on television, even prison shows.
---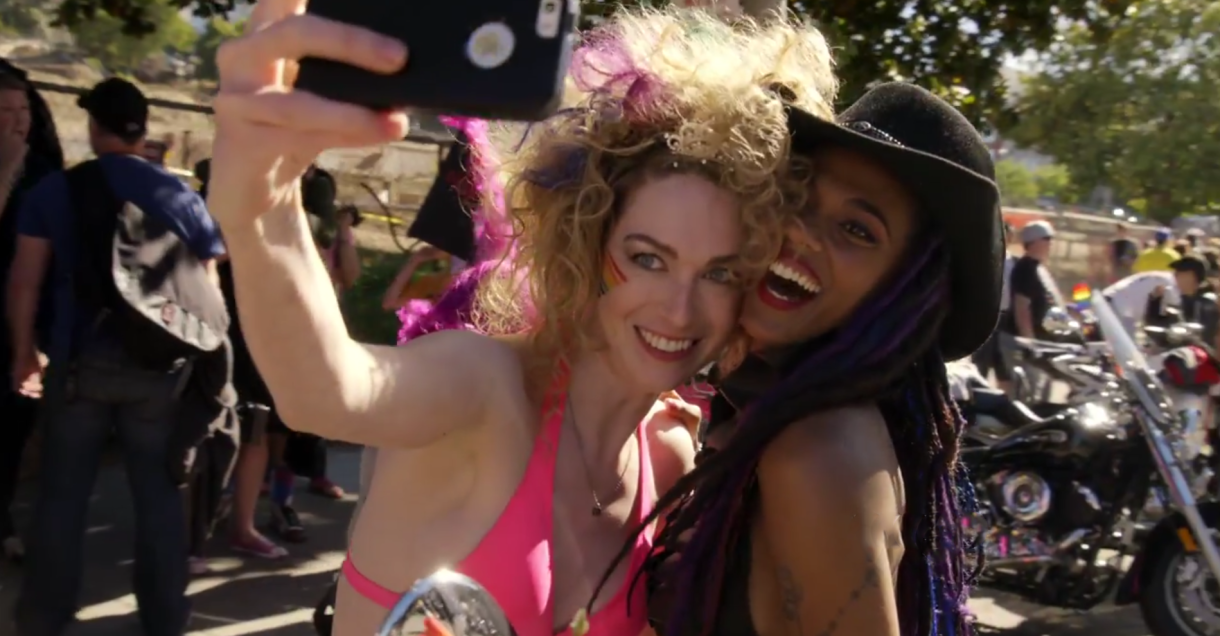 There's a lot to criticize about Sense8, particularly its handling of race and non-Western cultures. But when it comes its treatment of sexual orientation and gender identity, the show really excels. (In my opinion the gay male couple and their female companion was the only story that I found even vaguely entertaining, but that is perhaps neither here nor there.) It's doing a revolutionary thing by showing a healthy, functional and openly sexual romantic relationship between a black lesbian and a trans lesbian.
---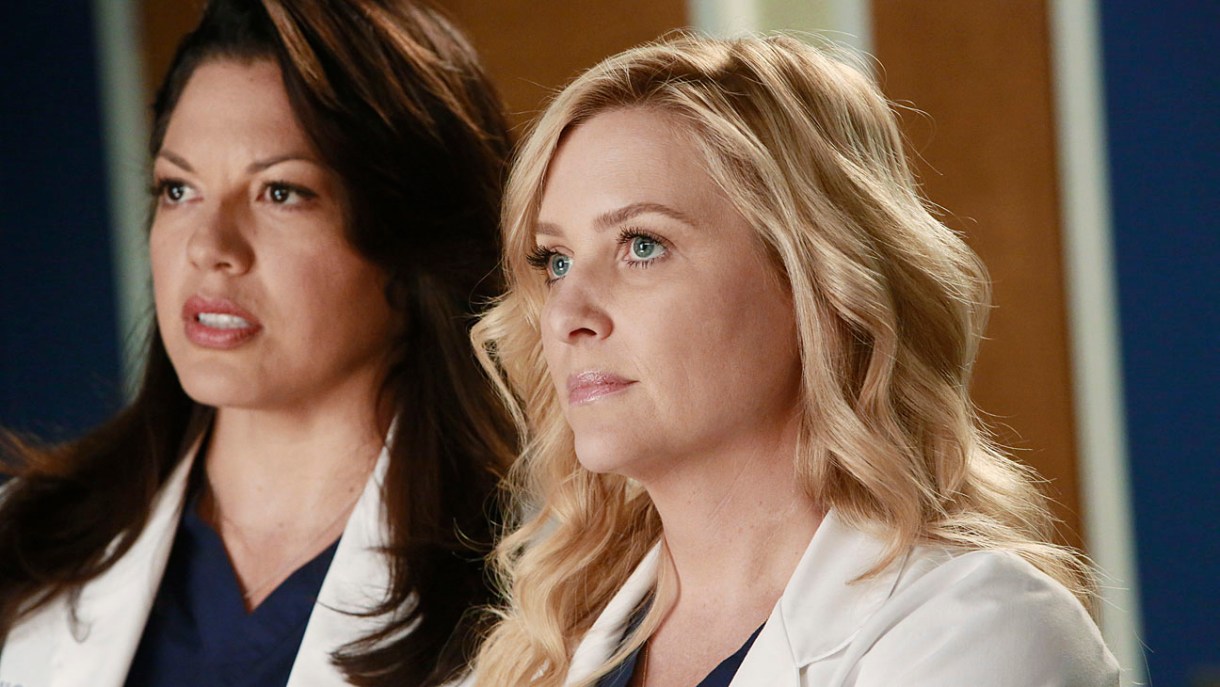 Back when only Degrassi was doing multi-character arcs for queer characters on mainstream primetime American television, Grey's introduced Erica Hahn, a character who enabled Callie to realize her bisexuality. The way they handled her departure was very much not "getting it right" but since then, Grey's has remained pretty dedicated to its queer characters, even giving us a long-term love story for Callie and Arizona, from love to tragedy to marriage to children to cheating to an eventual divorce. Unfortunately Callie is now dating a piece of actual cardboard named "Penny," but you know… it happens!
Sometimes our favorite bisexuals date pieces of dry toast. As Heather wrote in our post on the most influential queer television shows of the last seven years, "when the majority of Americans were making up their minds about marriage equality, Callie and Arizona were the most-watched lesbian couple on TV, and they were enjoying the same kind of emotionally dense and sexy relationship as all the straight couples at Seattle Grace." Grey's has also done a few episodes about trans issues that were handled really well for their time, including one involving Ben's sister last year.
---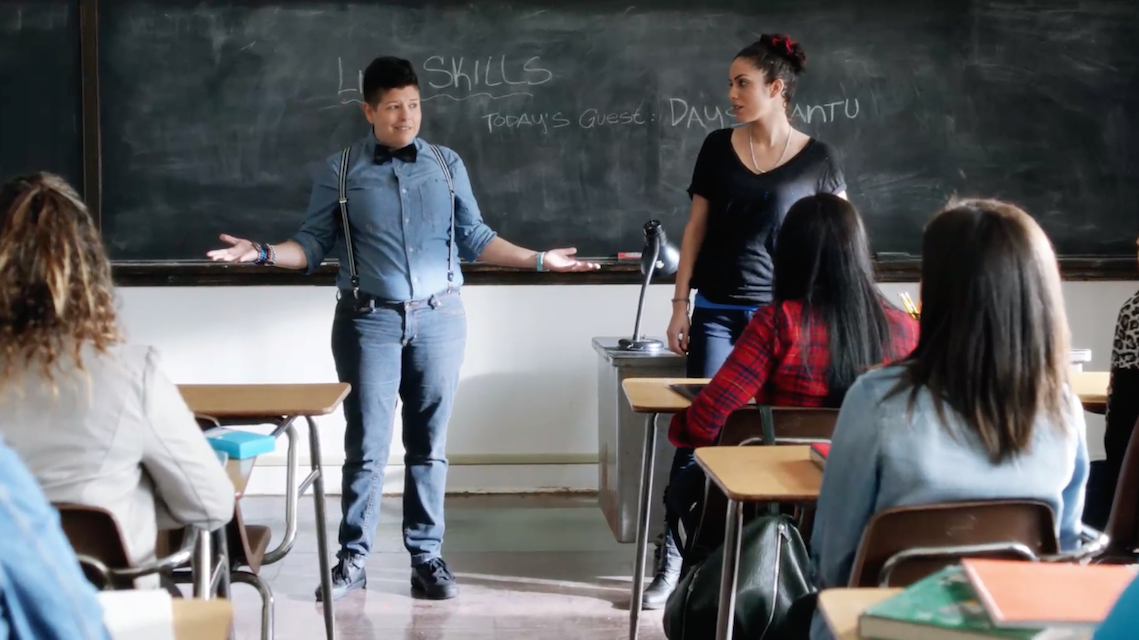 You're maybe not even aware that this show exists, but you could fix that right now! It's on Hulu and NPR describes it as "a Latino Degrassi meets Gossip Girl meets Glee." Although the coming out storyline in Season Two fell into a few of our least favorite tropes, Jocelyn recovered from a tumultuous situation with her best friend Camilla and is now dating Daysi, a masculine-of-center Latino lesbian — not the type of character you usually see on television, let alone on a teen soap.
---
There's never been a black bisexual character headlining her own show on broadcast network television until How to Get Away With Murder. And it's on TGIT, the most consistently popular night of TV. And it's the incomparable Viola Davis! I honestly don't think it's possible to oversell what a big deal this year. The Golden Age of Television was ushered in and sustained by stories about straight white male antiheroes doing both dastardly and compassionate things, and asking the audience to trace their decision-making skills back to their origin points and empathize with these guys. How to Get Away With Murder brilliantly, subversively asks if our culture will extend that same interest and compassion when it's a black bisexual woman playing the role of Don Draper. Annalise's relationship with Eve is the most emotionally resonant and solid one on the show, so much so that we all kind of want her to quit the show and D.C. and move away with Eve to New York!
---
Steven Universe isn't just getting gay stuff right; it's consistently one of the most brilliant shows on television, full-stop. When the show revealed that Crystal Gem Garnet is actually the marriage and intimate full-time fuse of Crystal Gems Ruby and Sapphire, I honestly couldn't believe it. That they continue to explore that relationship in more depth blows my mind every time. Their relationship may be animated, but it feels more real than 98 percent of the live-actions queer relationships I've seen in my time. One is fire, the other is ice. One is royalty, the other is a peasant. One is the brains, one is the heart. Together, they form the soul around which every person and Gem on the show rotates.
---
Honorable Mentions:
+ Master of None: Your girlfriend Lena Waithe is awesome as Denise in this new Netflix series.
+ Grandfathered: Other Annalise doesn't get as much screen time as she deserves, but for reasons I don't understand, lesbians on sitcoms have never really recovered from Ellen coming out. Only about ten, total, have existed since 1996. So Annalie is a big deal, even if she only plays a small part.
+ Survivor's Remorse: M-Chuck needs more screen time but the time she does get is time very well spent.
+ Younger: The first original TV Land show to feature a queer woman. Like with Grandfathered, she doesn't have enough to do, but the fact of her existence — sandwiched between reruns of Everybody Loves Raymond, on your granmda's favorite channel — is a pretty big dang deal.
+ Jessica Jones: They did a rare thing — took a male character from the comics and turned her into a lesbian for the TV show! This should happen more often.